Frank Quitely: The Art of Comics
The Glaswegian comic-book superstar Frank Quitely is celebrated in this new exhibition of his famous work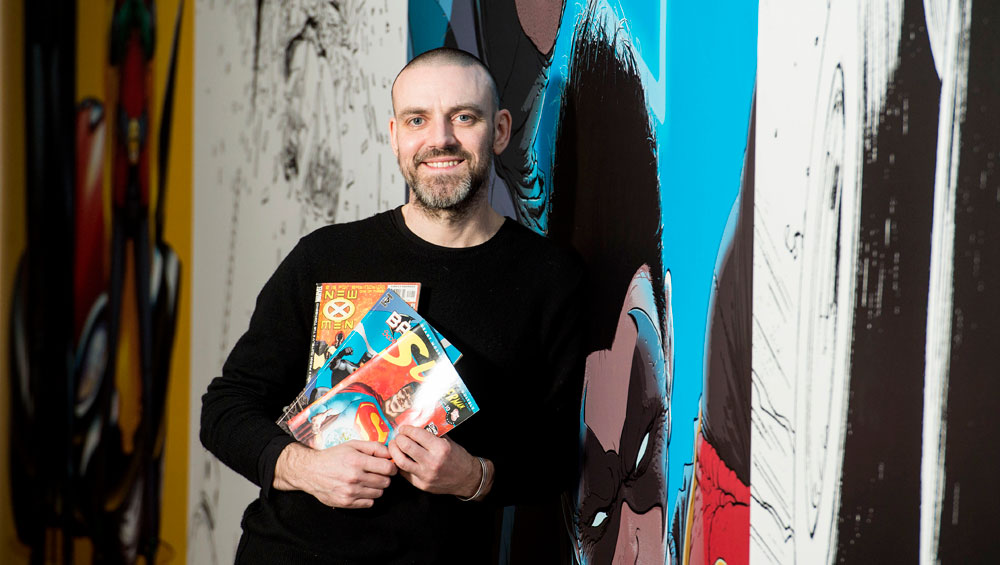 Kelvingrove Gallery, Glasgow
1 April – 1 October 2017
by CHRISTIANA SPENS
Although the characters of Superman, Batman and the X-Men are globally recognisable and iconic, the man behind the drawn versions for the past two decades tends to be known mainly in the circles of comic-book fans and fellow creatives. This new exhibition at Kelvingrove Gallery in Glasgow aims not only to celebrate Glaswegian Vincent "Vin" Deighan (b1968) – better known by his pen name of Frank Quitely – and his work, but also to illuminate the Glasgow scene of which he is part, and especially how comic books and the city are intrinsically tied together. Glasgow Museums curator Martin Craig said recently: "We are delighted to work with Vin Deighan to bring this magnificent exhibition to Kelvingrove. Frank Quitely's work is beautiful, it's meticulous and it has helped cement the amazing impact Scotland has had on the comic-book world. Once you see the work in person it is easy to see why Vin is considered to be one of the top comic-book artists working in the world today."
Deighan's upbringing in Glasgow played an important role in the development of his work. Influenced early on by Scottish comics such as The Beano and The Broons, he began drawing under the pen name Frank Quitely for the cult publication Electric Soup while at Glasgow School of Art. During this time, he met and began collaborating with fellow Glaswegians, including writer Grant Morrison and later on, Mark Millar and Alan Grant. In the past 20 years, he has become extremely well regarded, drawing Judge Dredd, the X-Men, Batman, Superman and Neil Gaiman's Sandman.
Many of these characters now line the walls (and in some cases take up the entire wall) of the Kelvingrove Gallery. Original comic pages and illustrations are shown – the result of a two-year preparation and archiving of Deighan's work. What emerges is the largest collection of Frank Quitely drawings ever shown, and a remarkable survey of comic-book art rooted in Glasgow, including work by Frank Millar and Neal Adams, in addition to Deighan's artwork. It becomes clear, in seeing different artists' and writers' approaches to the same character or story (such as an original comic strip by Batman creator Bob Kane alongside Frank Quitely's later interpretation), how interesting the collaborative process is, whether between peers on a single project, or in terms of influence and development across decades.
In particular, it is fascinating to see how iconic characters, such as Batman and Superman, especially, are developed over time, responding to new decades and new interpretations, but remaining powerfully archetypal. Within the structures of heroic myths and legends, rooted in Greek and Norse mythology among other cultural history, these modern myths present age-old stories for ever-evolving audiences, in ways that become valuable historical documents as well as art and entertainment. Indeed, comic-book art is often played down by conservative art historians, or merely dismissed, but it combines visuality and storytelling with cultural heritage in fascinating and innovative ways, drawing on historical tropes and structures to engage modern audiences on a deeper level.
Quitely's work often subverts these tropes and cliches, too, from his very early parody of The Broons, titled The Greens, to Girl on Bucket – a feminist cyberpunk reimagining of Oor Wullie. His generation brought a sense of subversion, wit and grittiness to comic-book art, moving on from the work of previous American artists. Superheroes, especially in Quitely's work, became dark and complex, giving depth to characters who had become cliched through their own repetition.
Along with writers such as Morrison, Quitely pushed assumptions of what makes a hero – moving beyond the cheesiness of American dreams to a far more challenging (and Glaswegian) sense of heroism and, with it, ideas of what it means to be good or evil. While there is a lot of talk, these days, of subverting boundaries and social constructions, Quitely and his collaborators had done this humorously and intelligently decades before it became commonplace (and at times rather jarring – certain forms becoming cliches in themselves). These comic books, however, are full of doubt and conflict, making them not only of the current zeitgeist, but winningly engaging and exciting, too.
At the centre of a lot of this subversion and compelling characterisation is the exploration, over the years and through hundreds of drawings and comics, of why we, as a society, want and need superheroes. Why do we need to tell these surreal stories? Why is it satisfying to engage with such drama? And what happens when we change them up – when a character looks like a hero but does dark things? As Deighan's long-time collaborator, Morrison has written: "These heroes are not simply characters, but powerful archetypes whose ongoing story arcs reflect and predict the lives we live."1
In seeming to subvert typical storylines, and reinterpret archetypes, Quitely, like Morrison, simply moves these stories closer to the lives we live. Although it seems unlikely to those not already engaged in the world of comic books, these characters are drawn with a sort of realism so that their stories confuse, jar and excite just as real life does. In a world of bland photography and pretentious literary novels posing as realism, the comic-book art of Quitely presents a genius vision of what it really is to struggle and to triumph through our days on this bizarre planet.
Reference
1. Supergods: Our World in the Age of the Superhero by Grant Morrison, published by Vintage, 2012.