Dress Code: Are You Playing Fashion?
How did you choose the clothes you are wearing today, and what do they say about you? This show picked apart fashion and the meaning of dress codes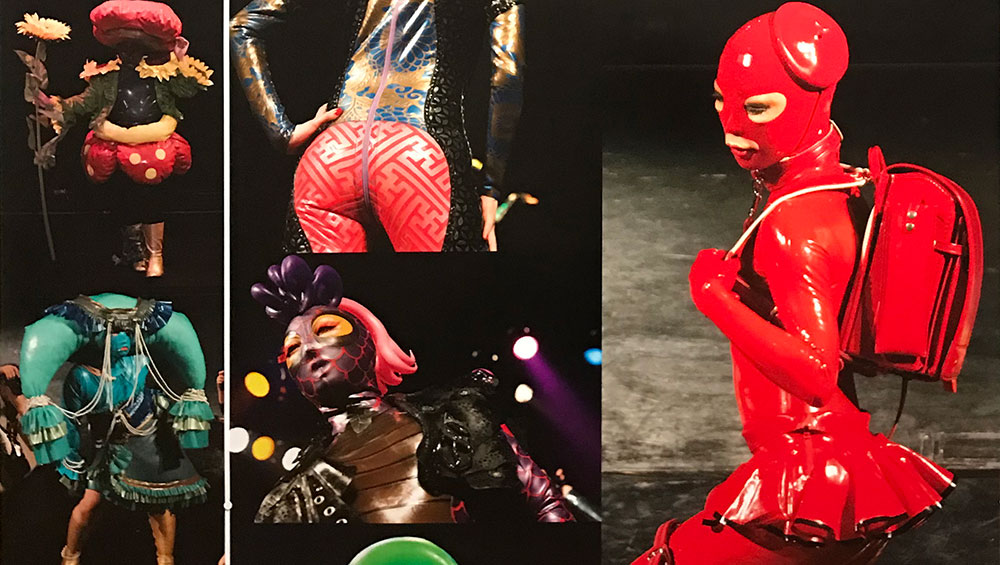 Kyoichi Tsuzuki, Latex Extravaganza, 2018.
Tokyo Opera City Art Gallery
4 July – 30 August 2020

by KANAE HASEGAWA
Dress Code: Are You Playing Fashion, at Tokyo Opera City Art Gallery, Japan, looked at how we decide what to wear and what our choices mean. It considers what those choices mean to us and to those who see us, how dress codes and fashion are a sort of language.
The exhibition works on the premise that fashion is not merely an act of wearing certain clothes, but is also an act of seeing and being seen. Every culture, society and group has its own codes. With the advent of the internet, it has become easy for people to post images of what they are wearing, leading to a new way in which we engage with fashion. The exhibition sets out 13 questions surrounding fashion codes, starting with the very basic: Is it a violation of the code to walk around outside naked? It continues with questions such as: Do you have to follow organisational rules?; Do you have to determine an item's authenticity?; Is it necessary to be artistically and culturally literate?: Do you have to be aware of how others look at you?; Can everybody be fashionable?; and Is fashion an endless game?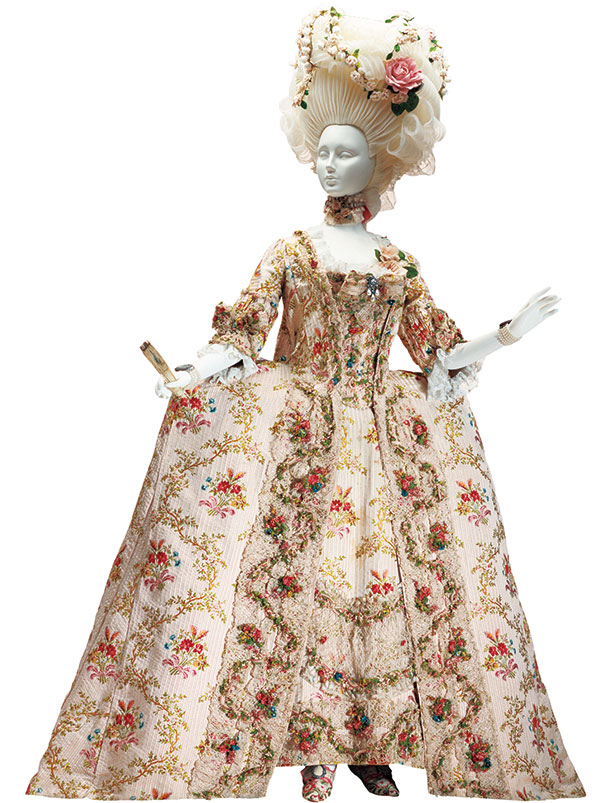 Robe à la française, 1775-1779 (fabric 1750s-1760s). Collection of the Kyoto Costume Institute. Photo: Taishi Hirokawa

About 90 items of clothing are on show, ranging from an authentic 18th-century court dress to contemporary looks that have integrated old master paintings into ready-to-wear fashion to disrupt the hierarchy between high art and consumable fashion. There are pieces from fashion labels including Alaïa, JW Anderson, Burberry, Comme des Garçons, Dior, Uniqlo, Louis Vuitton and Yohji Yamamoto. Complementing the fashion items are photographs, films and manga media, prompting visitors to consider their own rules on dress codes.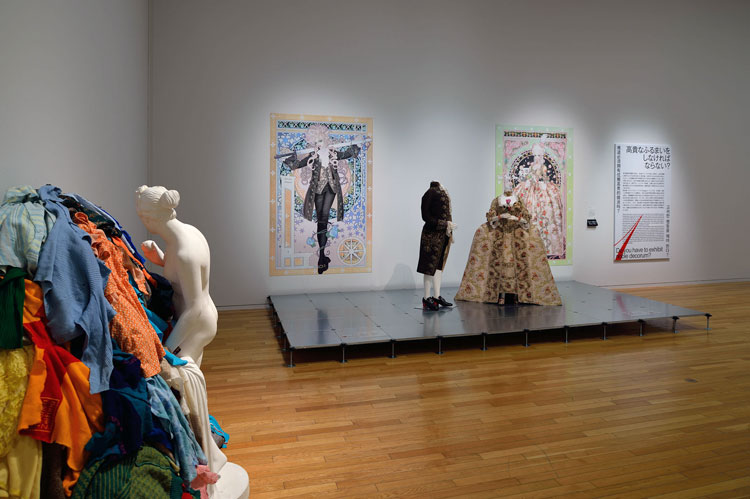 Exhibition view, Dress Code: Are You Playing Fashion? Left: Michelangelo Pistoletto, Venus of the Rags, 1967. Photo: Naoya Hatakeyama.

The exhibition starts with Michelangelo Pistoletto's 1967 Venus of the Rags, in which a larger than life-size statue of a nude Venus stares into a pile of colourful ragged clothes. The classical nude sculpture has traditionally been seen as a thing of beauty and Venus was the goddess of love, sex and beauty. Viewers of Pistoletto's work might speculate that perhaps humans do not need to wear clothes: there are some ethnic minorities who do not see the need to wear garments. Hence the invitation to visitors to the show to consider: "Is it a violation of the code to walk around outside naked?" That brings us back to the idea of "collectiveness" that rules certain dress codes. If no one in the town is wearing clothes, then it is unlikely that anyone will raise an eyebrow if they see someone who is not dressed.
This collective behaviour comes from a sense of belonging, of identification. What you wear is a visual statement that you are part of a certain organisation or group. Uniforms, for example, were invented to differentiate one organisation or school from another. Uniform proved important in the military, enabling soldiers to easily tell their allies from their enemies. It also added to a stronger sense of belonging and nurtured brotherhood.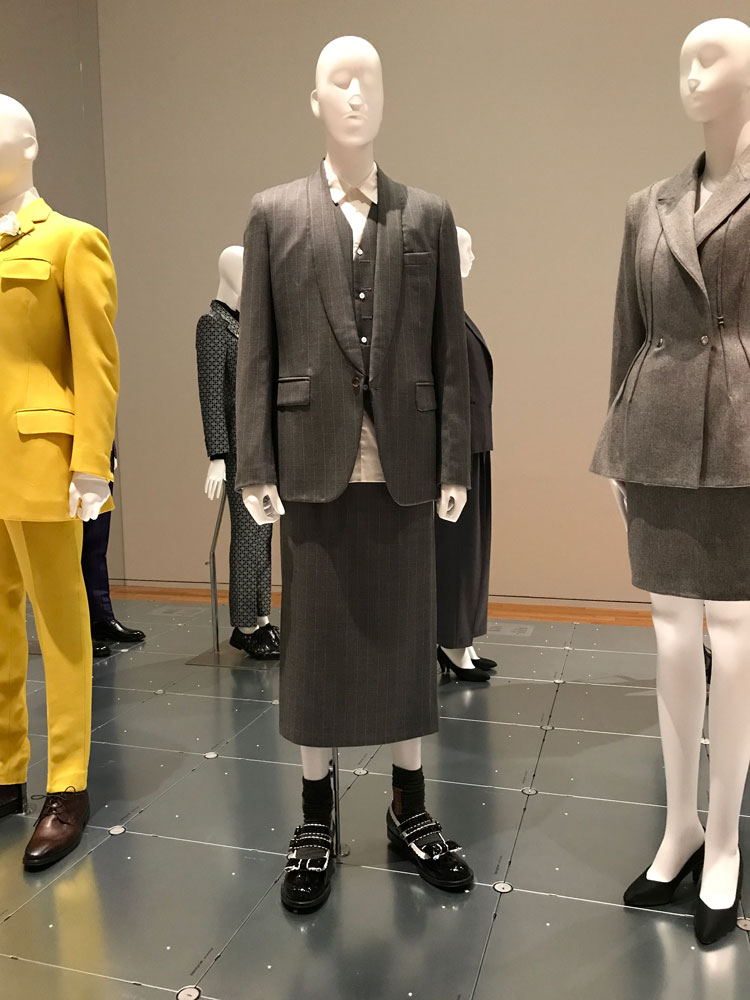 Suit (jacket, skirt and shirt), Comme des Garçons, Homme Plus / Rei Kawakubo, 2009, Fall Winter.

In Japan, when going for a job interview, most men wear almost identical suits, which makes it hard to distinguish one person from another. If you are wearing a suit, but with a twist, you are more likely to stand out. Uniforms and suits are a sort of barometer of compliance. From a gentleman's suit from the 1900s to a women's trouser suit by Giorgio Armani, from skirt suiting for men by Rei Kawakubo to flamboyantly printed men's suiting by Paul Smith, the exhibition shows how designers respected the typical typology of suiting, but played with different perception of images associated with it.

News From Nowhere (Gaga). Embroidery and drawing on magazine, gold leaf. Satoru Aoyama, 2016.

While uniforms and suits are closely associated with images of certain groups and organisations, fashion is often communicated through images of celebrity figures. The Japanese artist Satoru Aoyama uses images from old newspapers, such an Illustrated London News from 100 years ago, and collages them with drawing and embroidery to present images of contemporary celebrities. In his series News from Nowhere, Aoyama meticulously embroidered a Lady Gaga costume, a dress worn by Michelle Obama and the Duchess of Cambridge's hat over illustrations from Victorian newspapers. The context of the image in a 100-year-old newspaper and the aura surrounding these contemporary celebrities are so far apart that viewers will not immediately identify the well-known figures. Even fashion is no longer iconic when removed from original context.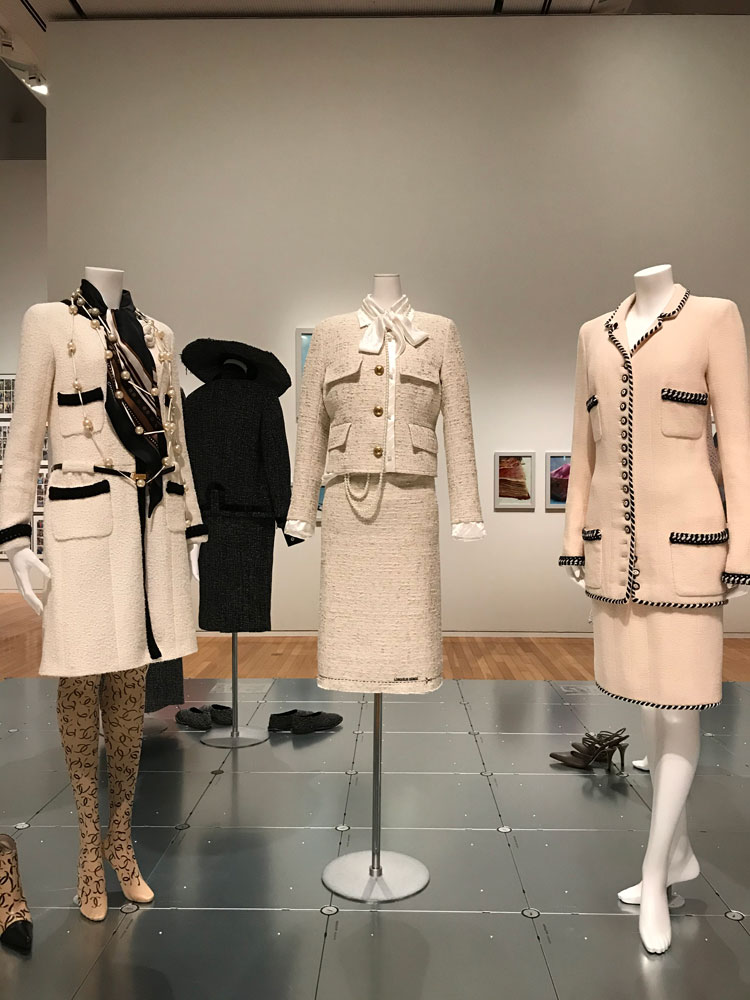 Day Ensemble, from left, Chanel / Karl Lagerfeld 2002; centre, Vetements / Demna Gvasalia, 2017; right, Chanel / Karl Lagerfeld, 1995.

But there is one fashion items that would be recognised regardless of context – the Chanel suit. The collarless tweed jacket and straight tweed skirt became synonymous with Coco Chanel herself. It is still so popular that many generic designs are made in the style of the original. For people who crave this type of suit, it is often not about wearing a Chanel suit as such, but wearing something that represents an independent, self-motivated woman like Chanel. It is the code of Chanel that attracts women. Even Vêtements (meaning clothes in French), a cult label that creates fashion focusing on down-to-earth clothing inspired from street life, resorted to appropriating the Chanel suit in order to make its own statement of street wear.
Like Chanel Hermès has its own timeless icon – the Chaine d'Ancre (anchor chain) bracelet, which even after 80 years, still has cult status. While Hermès had previously drawn much of its inspiration from the equestrian field, the Chaine d'Ancre bracelet came into being after Robert Dumas, son-in-law of the founder Thierry Hermès, saw the purity of the links in an anchor chain. At high-end fashion parties, boys in T-shirts and worn-out jeans sport these bracelets, probably as a statement to show they are part of the Hermès community.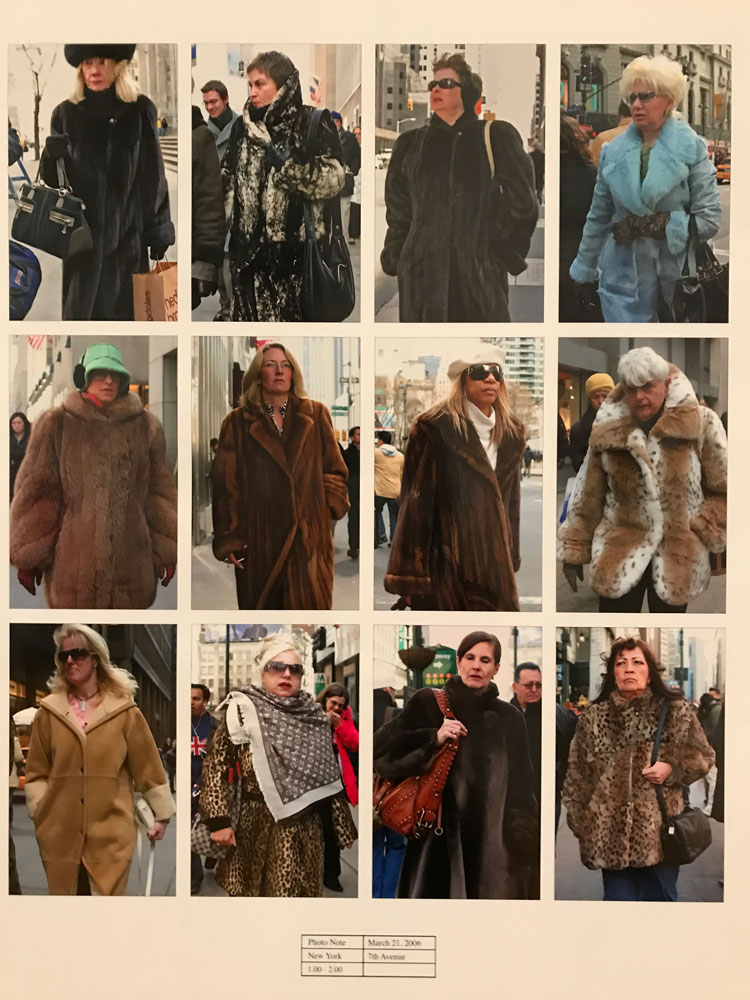 Photo Notes, 21 March, 2006 (New York), Hans Eijkelboom.

In the above case, it is likely that people wear the bracelet assuming that others are wearing it similarly: it is a form of "code", of being "aware of how others look at you". However, the Dutch photographer Hans Eijkelboom take shots that show that, even though people take time to think about what to wear each day, there is not that much individuality to be seen, but rather a great deal of conformity in the way people dress. He goes to a city, picks a street and, after alighting on a theme, takes a series of what he Calls Photo Notes. His Photo Notes from 26 November 1997, taken in New York City over the course of just 30 minutes, revealed how many people, strangers to one another, were wearing similar camouflage clothes at a single location in a limited time span.
What you wear is an act of making a personal statement. That act exists in relation to others in society who look at your attire and make value judgments. Whether you play it seriously, or neglect the act, wearing is very much a social game.