Drawing Biennial 2017
The eighth edition of the Drawing Biennial, which includes more than 200 works on paper, prompts a reflection both on the status of drawing today and the world around us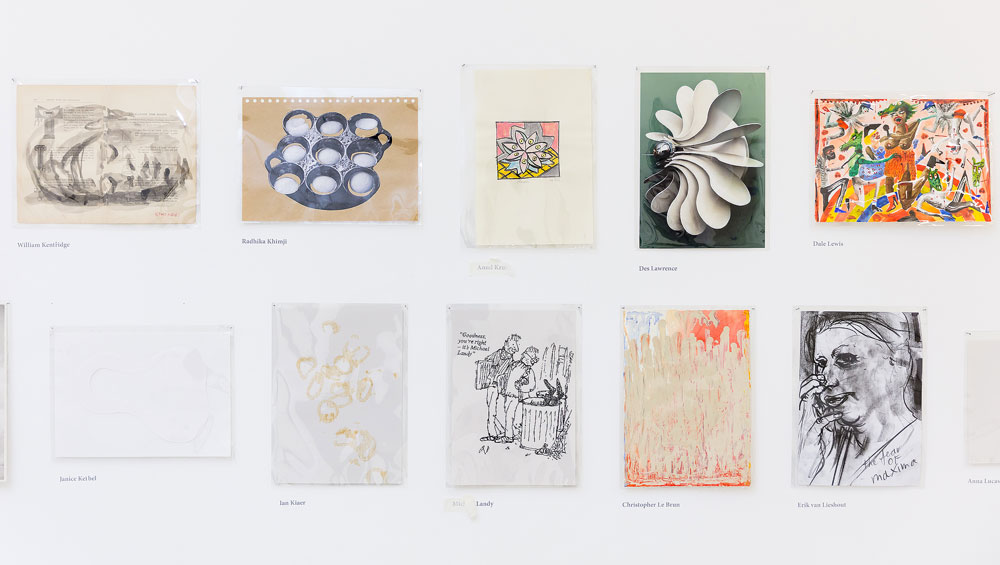 The Drawing Room, London
2 March – 26 April 2017
by HARRIET THORPE
The Drawing Biennial returns to the Drawing Room in London for its eighth edition, which includes more than 200 drawings from artists of different nationalities, emerging and established. Curated by the Drawing Room's co-founders and directors, Kate Macfarlane, Mary Doyle and Katharine Stout, the biennial is a survey of how artists use drawing today and is also a useful research project for the future programme of the non-commercial space, used as a way of connecting with new artists and catching up with those they have worked with in the past. This year it is working with a lot of new artists and the pool is younger than ever before.
The curators are fairly flexible in their approach, leaving it up to the artists to define the status of contemporary drawing. They post out guidelines to artists across the world, but, says Doyle: "We keep it quite open in the invitation so, as long as it's A4 or thereabouts, you can make something in any media." The fact that the remit is so open-ended sometimes leaves artists struggling with the format. Macfarlane explains: "For an artist who doesn't usually work on paper in their practice, getting a piece of paper through the door means that they suddenly have to think – 'OK, what am I going to do with a piece of paper.' A lot of artists say it's really good to be told to work to a format because it's actually really challenging."
Looking back over previous editions of the Drawing Biennial, the curators see clear patterns of development in the drawings they have received: "When we started out, there were more sketches for other work and a more traditional idea of drawing as preparatory, whereas now I feel most of the works in this exhibition are autonomous works in themselves," says Macfarlane, who sees the number of sketches decreasing and the number of "substantial statements" by artists increasing.
The drawings are displayed simply, pinned on the wall in acetate sleeves, and neatly organised alphabetically in three layers stretching all the way around the gallery. This is the first display of the Drawing Biennial in Drawing Room's new quarters, which, similarly industrial and in the same area of London as the former building, has less wall space but is a denser shape, more interesting to work with. "It feels more compact and, because it's so full, I feel as if all these drawings are like little voices speaking to each other. There's more of a conversation going on between the different pieces because there's more intimacy in the space," says Macfarlane.
There are certainly many works in the show that spark discussion. Doyle says: "I think there is definitely an element of reflection of what is going on in the world today – particularly US politics – that's definitely come through. Bob and Roberta Smith are particularly desperate about the situation," she says, gesturing to the piece 34 Lines of Nihilism (2016), which repeats the slogan "There is still art, there is still hope" over and over.
Other works that reflect the current situation are Layla Curtis's World Political (Europe), 2017, which reorganises a map of Europe and North Africa, mixing up the locations of the countries and offering up an alternative geography, and consequently activating a reimagining of history. Joy Gerrard's Protest Disrupts Trump Rally, Chicago, March 2016 (2017), shows a drawing in Japanese ink on paper of protesters gathering at a crossroads. The work is so detailed and cleanly graphic that it appears halfway between a photograph and a Lowry painting. Simon Periton's Defence Against the Dark Art (2017) and John Smith's Funny Old World (2016) take crass and darkly humorous approaches to the situation in the US, mocking Donald Trump's image.
"Then you have George Shaw," says Doyle, "who always gives to us every time. He always draws, very carefully, a character from a 70s or 80s B movie or a terrible sitcom – usually quite a disturbing character – and in this case, it's Tim Roth playing a character in Made in Britain which came out in 1983." The character is a violent, disenfranchised loner with swastika tattooed on his forehead. "Shaw doesn't do drawing like that in the normal course of his work; he just does it for us," Doyle adds.
"Calling it the Drawing Biennial can be problematic when you get a work that is definitely not a drawing. Something like Peter Jones's is a painting – but it's on paper," says Doyle. Jones's Eelke Monkey (2016) is an oil painting of a worn toy monkey. Not quite a study, more of an informal portrait, the paper brings an approachability to the image that would have differed on canvas.
Macfarlane adds: "By including work like that, you really highlight what drawing is now – how do artists use it and what does it mean to them? And the materials that you traditionally associate with drawing – how are artists today using these materials, how are they pushing them?" She pauses at Ian Kiaers's work, Magic Architecture (2017), in which the paper is printed with greasy circles in soy sauce and squid juice.
Across the other side of the gallery, Tonico Lemos Auad's Indio (2017) stands out texturally from the other works – he uses paper thread, cotton and linen on paper for his piece, which follows the shape of an Indian motif. Steven Claydon's readymade, an A4-sized acetate medicine bag, Rob Chavasse's striking use of ethanol on paper to draw a haunting image of the eyes of an animal (Maya, 2016), and Peter Matthews's use of pen, rust and water from the Atlantic Ocean on paper (2 hours in and with the Atlantic Ocean (England), 2017) all show the diverse material experimentation that Macfarlane speaks of.
"Frank Ammerlaan is a really interesting artist," Macfarlane continues. He's known for his painting/sculptures really, and he's very interested in the properties of metal. Usually, his work is huge in scale, but here, in Cycles of Periodicity (2017), he's used a kind of adhesive and then dust from a meteorite to create the drawing." Doyle adds: "He's done it on cardboard, but to that format of A4, so he's really engaged with the idea of something on a form of paper anyway, with different materials."
Macfarlane says: "You get a contrast between an artist such as Catherine Anyango Grünewald (Walter Scott 4.4.15), where the mark-making is all important and, then on the other hand, artists who are avoiding that act of individual mark-making. With Jeff McMillan, all of his work is about avoiding actually painting or drawing a mark, so in this instance – Untitled (Portuguese Matchbox), 2016 – he's covered the sides of a box in paint and then wrapped that box with the paper, so the paint gets transferred that way. He hasn't actually physically had to make that mark.
"And then you get someone like Sam Messenger, who has really, truly made every single one of those marks by hand without using any kind of machine or measuring device." Messenger's drawing in ink on paper, Without (2016), is made up of tiny lines that evoke darkness with white space used to communicate a leakage of light from a pinprick source at the end of a tunnel, communicating humanity and motion, movement and static all at once, in a surprisingly powerful and interesting piece.
As well as style and materiality, certain themes arise across the drawings. Technology is a theme that emerges in the formal language of the works as well as being represented in the subject matter. In Untitled Sculpture (2017) by Kelly Best, a graphic white outline of a rectangle sits in the centre of a street like a Google map, while David Haines's Still Life With Screen and Heart (2016) is a pencil on paper drawing of a man taking a selfie in a mirror, an abstract graffiti style face over his own that looks as if it has been drawn on with a computer application. Julian Opie presents one of his recognisable characters in the vinyl on paper work, Beard, headphones (2016), which shows a man with a beard walking and wearing headphones. The drawings all echo the culture that has grown from our use of technology, which is now embedded within our society and our daily routines.
The drawings are positioned alphabetically, but we all agree how remarkable it is how visual and thematical patterns have appeared. Macfarlane points out that, interestingly, Andrea Bowers's Fight Like a Girl (2017) sits next to Sonia Boyce's I'm With Her (2017), which both use slogans of female power, yet while thematically similar, their drawings are different in how they communicate their messages; Boyce's message is small and powerful while Bowers's is bold and direct.
Macfarlane says: "Andrea Bowers, who is a Los Angeles-based artist, is involved in a lot of campaigns, in particular with Mexicans and their mistreatment. She goes out and demonstrates, taking photographs and making drawings from the photographs, focusing in on an individual involved in the campaign. She also does a lot of text work – a lot of slogans that are used on placards as part of the campaign."
Bowers will feature in the next exhibition at the Drawing Room, Graphic Witness. "It's looking at a range of artists both working today and in the 20th century, such as Leon Golub, Nancy Spero and George Grosz, and some works that Eugenio Dittborn made in the 1980s in Chile. It's looking at the power of drawing to describe conflict and suffering but also as a tool for protest," says Macfarlane.
She continues: "Another young artist who has contributed to the biennial and is going to be in the Graphic Witness exhibition is Grünewald, a Kenyan/Swedish artist who has done a series of drawings called Last Scene. She takes images from the internet of crime scenes. This one is of a man shot dead by a police marksman while running away – it's all shot on somebody's iPhone. She makes graphic novels and large-scale drawings where she puts on many layers of graphite. In the production of animated drawings, she scores them and reworks them, a bit like the technique that William Kentridge uses.
"She's made a film in which she's made 50 different drawings altered numerous times and rephotographed them to make the film, so there's a real investment of time [in the process]. She feels that it seems so cold-blooded that you have these images just circulating on the internet of somebody's last few moments of life and that they're given no value at all, so that the process of drawing them and her time invested is like reinvesting the value of their life. So she is very interesting, even though it is a terribly modest work that you have to get close to in order to see it. Again, that's all part of it really."
While Graphic Witness will focus on drawings with a political motive, some of which have been previewed at the Drawing Biennial, what defines the selection of drawings within the biennial is their fascinating processes, the diversity of materials used that broaden what the medium of drawing and challenge how drawing is perceived. With the same responsive and experimental spirit, the process of putting pencil to paper has been translated across mediums and that deliberate and considered journey can be seen in the formal qualities of these works.
• The auction for works in the Drawing Biennial 2017 takes place from 10am on 12 April to 9pm on 26 April 2017. Graphic Witness is at the Drawing Room, London, 18 May – 9 July 2017.