Dan Graham on Rock'n'Roll
As Dan Graham's new show opens at the Lisson Gallery in London, he talks about his early days as a New York gallerist, his love of music and why he doesn't believe his famous pavilions are important
Dan Graham (b1942, Illinois) has had a varied and fascinating career. A self-taught artist, his first real engagement with the world of contemporary art was in 1964, when he and some friends opened the John Daniels Gallery in Manhattan. Here he put on Sol LeWitt's first one-man show and exhibited works by Donald Judd, Dan Flavin and Robert Smithson. It was common at that time for all artists to consider themselves artist-writers, he says, and he rapidly established a name for himself as a social and cultural analyst, reviewing everything from rock music and TV shows to architecture and urban planning. He has kept up his writing while developing a multimedia practice that includes photography, performance, installation and sculpture.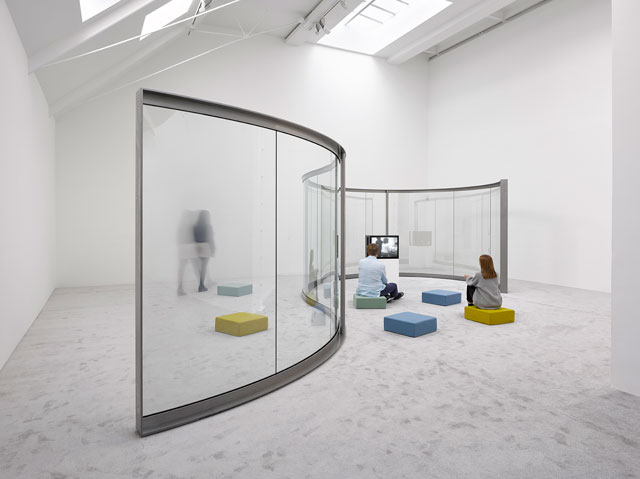 Dan Graham. Two V's Entrance-Way, 2016. Laminated glass, stainless steel, 235 x 827 x 508 cm (92 1/2 x 325 5/8 x 200 in). © Dan Graham. Photo: Jack Hems. Courtesy Lisson Gallery.

Over the past three decades, his two-way mirrored or half-mirrored glass and steel pavilions – often described as halfway between architecture and sculpture - have become familiar sights on the rooftops and in the landscapes of leading cultural institutions, including the Dia Art Foundation in New York, Documenta, the Hayward Gallery in London and Hauser & Wirth Somerset. Combining the glassy perfection of corporate atria (another topic Graham has written about) with the inviting curves and tactility of children's play equipment, and the optical illusions of fairground mirrors, he has described his more recent pavilion series – including Child's Play (2015-16) for the Museum of Modern Art's Sculpture Garden – as "fun houses for children and photo ops for parents".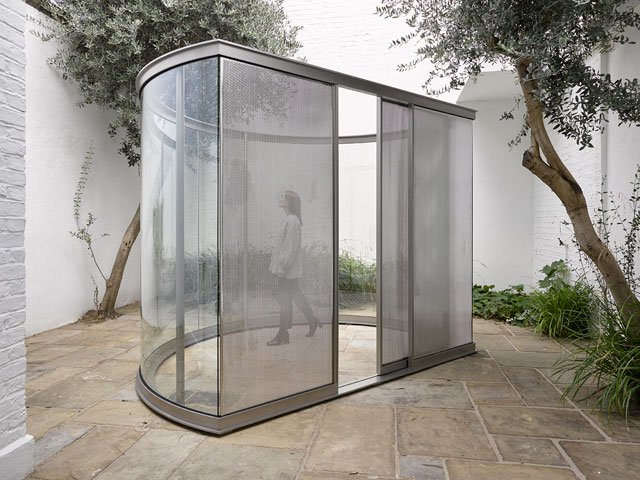 Dan Graham. Play Pen for Play Pals, 2018. Stainless steel, glass and two way mirror, 230 x 233.4 x 308.4 cm (90 1/2 x 91 7/8 x 121 3/8 in). © Dan Graham. Photo: Jack Hems. Courtesy Lisson Gallery.

Graham, who is based in New York, talked with Studio International in London as his 10th exhibition for the Lisson Gallery opened. For this show, he presents a new curvilinear stage-set along with oversized models that demonstrate his work within both urban and natural landscapes, and a courtyard pavilion, all of which are designed to interrogate the relationship between audience and performer. He is also showing a video of a puppet show he devised 12 years ago, called Don't Trust Anyone Over 30. He devised the piece, which is set in the 1970s, as a conversation starter for grandparents to reminisce with their offspring over the hippy heyday in the 1960s. It was produced by Sandra Antelo-Suarez, with set design by Laurent Bergen, music by Japanther and the theme tune was by Rodney Graham. The puppet master was Phillip Huber.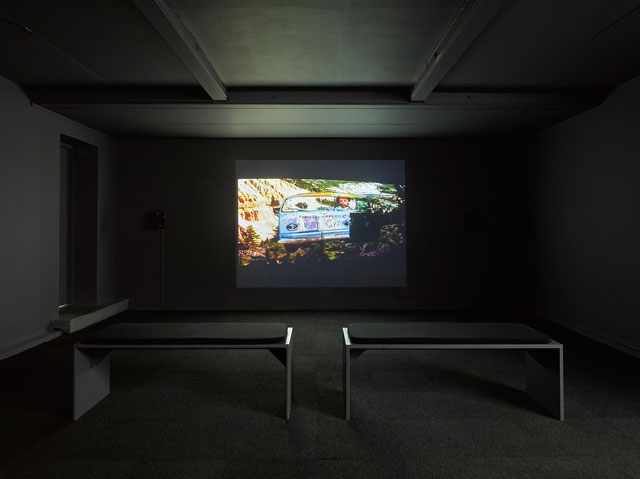 Dan Graham. Don't Trust Anyone over 30, 2004. Video. © Dan Graham. Photo: Jack Hems. Courtesy Lisson Gallery.

Dan Graham: Rock'n'Roll
Lisson Gallery, London
3 October – 3 November 2018
Interview by VERONICA SIMPSON
Filmed by MARTIN KENNEDY