Cedric Morris – portraits, places and flowers: three exhibitions
Three exhibitions capture a slice of 20th-century bohemia with portraits of people, places and, most vividly, flowers, by the award-winning artist-plantsman Cedric Morris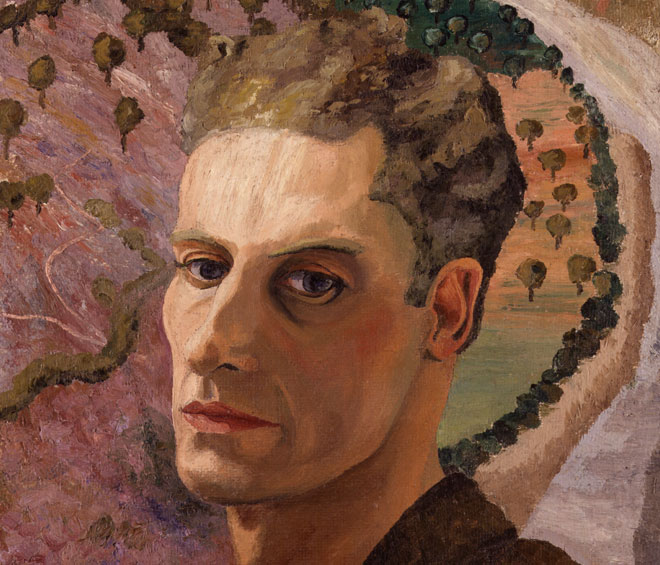 Cedric Morris at Gainsborough's House
Gainsborough's House, Sudbury
10 February – 17 June 2018
Cedric Morris: Artist Plantsman
The Garden Museum, London
18 April – 22 July 2018
Cedric Morris: Beyond the Garden Wall
Philip Mould & Company, London
18 April – 22 July 2018
by ANNA McNAY
I have to confess that, until recently, I had not heard the name Cedric Morris. I even missed the hype surrounding Philip Mould's Fake or Fortune television programme about the artist and Lucian Freud in 2016 and the ensuing leap in prices being fetched at auction from c£3,500 in 2014 to almost £57,000 in 2017 – an increase of almost 1,500%. But now, all of a sudden, there are three exhibitions celebrating the work – portraits, landscapes and flower paintings – of this 20th-century British painter, founder (together with his partner and fellow painter Arthur Lett-Haines) of the East Anglian School of Painting and Drawing, tutor of (among many other big names) Lucian Freud and Maggi Hambling, and prize-winning iris-breeder, who described himself as an "artist-plantsman" and is accordingly thus remembered on his humble tombstone in the village churchyard at Hadleigh in Suffolk. It is not an anniversary year, and, seemingly, the exhibition at Gainsborough's House in Sudbury (near to Benton End in Hadleigh, where Morris and Lett-Haines lived out their final four decades) has no connection to the two others (both in London, one at Philip Mould & Company, the other at the Garden Museum, but also sponsored by Mould). Nevertheless, taken as a trio, these individually small showcases offer a wonderful insight into Morris's life and work and, hopefully, will go some way towards restoring his somewhat waned reputation.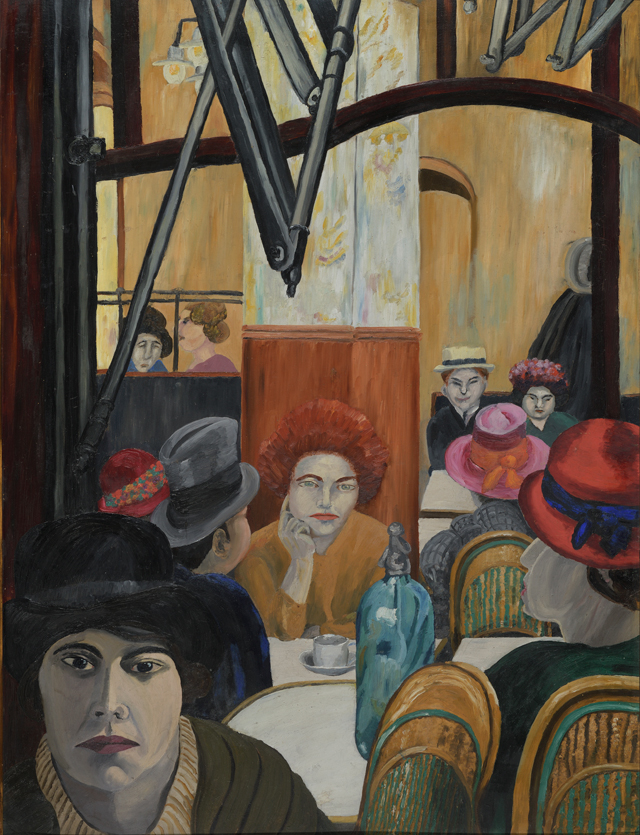 Cedric Morris. Café Rotonde, Paris, 1924. Oil on canvas, 103.5 x 78.5 cm. © Gainsborough's House, Sudbury.

During his lifetime, Morris (1889-1982) was widely admired, even though, for the most part, he kept himself on the outside of society, even turning down an invitation to become a Royal Academician. Nevertheless, his first solo show at Arthur Tooth's gallery in London in 1928 had been a sellout, with 31 paintings bought at the private view alone, and he showed at the Venice Biennale three times, and secured such prestigious commissions as painting two large flower murals on the liner Queen Mary as well as posters for Shell and BP.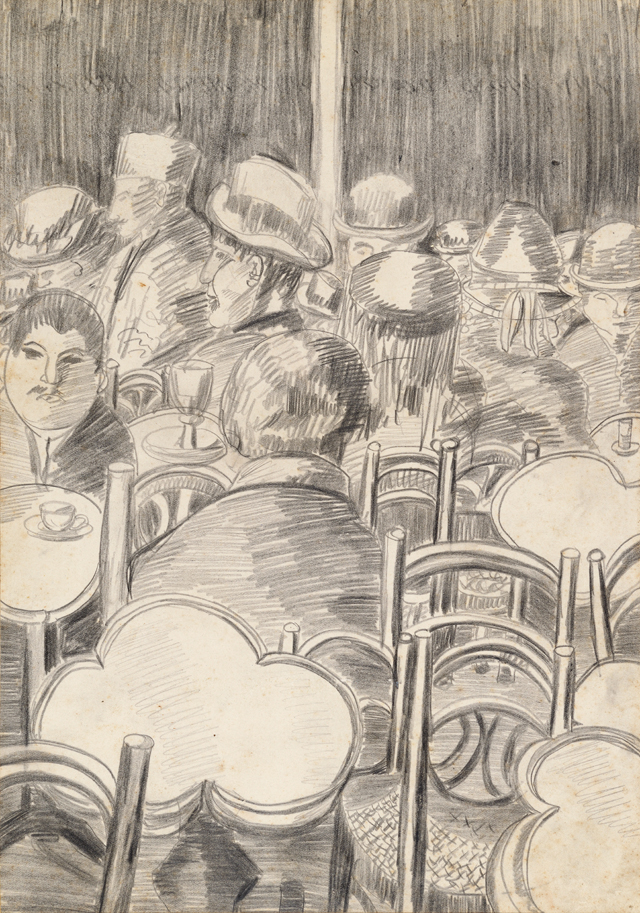 Cedric Morris. Arabs in a Café, Algiers, 1922. Pencil on paper, 35 x 24.7 cm. © Gainsborough's House, Sudbury.

Morris was born the son of a baronet in a mansion in South Wales. Following time working as a rancher in Canada and as a liftboy in New York, the young Morris tried first to train as a baritone (unsuccessfully) before moving to Paris to study art. This was interrupted, however, by the first world war. It was at a party on Armistice Day that he met Lett-Haines, who left his wife to spend six decades as Morris's partner and biggest promoter. Together they moved to Cornwall, before spending the first half of the 1920s amid the avant-garde artistic circle in Paris's Montparnasse, then briefly returning to London, before retiring to the peace and quiet of the Suffolk countryside in 1930, initially at Pound Farm – where Morris had his first garden, began collecting seeds from abroad, and bred birds – and ultimately at Benton End, a 16th-century longhouse with three-and-a-half acres of garden, which had been abandoned for 15 years when Morris found it in 1940. It was here that Morris began breeding irises – something at which he became so successful that his reputation as a plantsman almost outstripped his name as an artist, winning him awards, and with his ultimately being offered (but also turning down) the presidency of the Iris Society.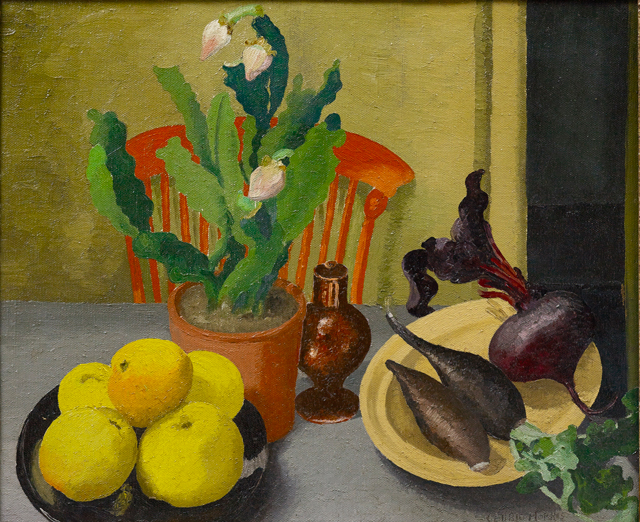 Cedric Morris. The Orange Chair, 1944. Oil on canvas. © Philip Mould & Company. Courtesy the Cedric Morris Estate.

Today, Morris is most recognised for his flower paintings, which, as indeed makes sense, are largely what are on show at the Garden Museum. However, when asked to talk about them in an interview in 1970 for Leisure Painter, he replied: "Why do you want to talk about flower painting? I paint infinitely more landscapes." Such landscapes – depicting Morris's many European travels – make up half of the display at Gainsborough's House, as well as most of the selling exhibition at Philip Mould. The Gainsborough's House works have been selected by former pupil and friend Maggi Hambling, from a collection of 46 oil paintings and 58 works on paper recently gifted to the property.
One particular scene that speaks to me is Arcachon (1925), depicting simple houses near the beach in the Bordeaux seaside town. I know the place well, having holidayed there as a child, and the sweet scent of the tall pine trees, in the forests that grow right up to the sand, is brought strongly back to me by this charming picture. As is the case with many of Morris's other landscape works, it is, in fact, the foliage and the shrubbery that take precedence over the architecture and buildings. Many of the later landscapes were, additionally, painted largely on winter travels made to collect rare seeds to bring back to Benton End.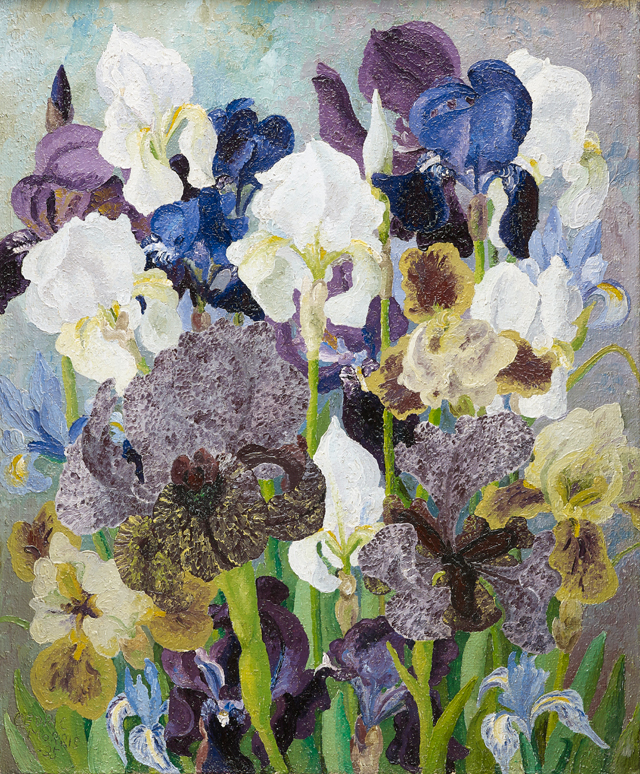 Cedric Morris. May Flowering Irises No. 2, 1935. Oil on canvas. © Philip Mould & Company. Courtesy the Cedric Morris Estate.

In a 1942 article for The Studio, Morris distinguished between "flower painting and a good painting of flowers; the former being painted by one who loved and therefore comprehended flowers and the latter by any good painter who happened to choose flowers as one of his subjects much as he might any other still-life". Certainly, his flower paintings show an understanding and familiarity, capturing the blooms in their full glory, radiating colour, filling the canvas, only depicting stalks, as I overheard a fellow visitor to the Garden Museum's exhibition noting, when absolutely necessary, so as to give full place of honour to the "faces" of the flowers. Indeed, Morris spoke of being intrigued by what he described as a flower's "apprehension" – the way in which it finds its own identity within an arena of competing species, the source of its charm and character. His flower paintings are certainly more portrait-like than still-life, full of vitality and energy, hope and promise. The largest flower painting on show at the Garden Museum, Floreat (1933), is one of his most ambitious from that decade. At what must be nearly 3m x 2m, the canvas vibrates with a rainbow palette of rich red and oranges, peaches, pinks, purples, blues, lilacs, greens and aquamarine. "What is a flower without its colour?" asked the artist, and this sentiment reverberates throughout his work.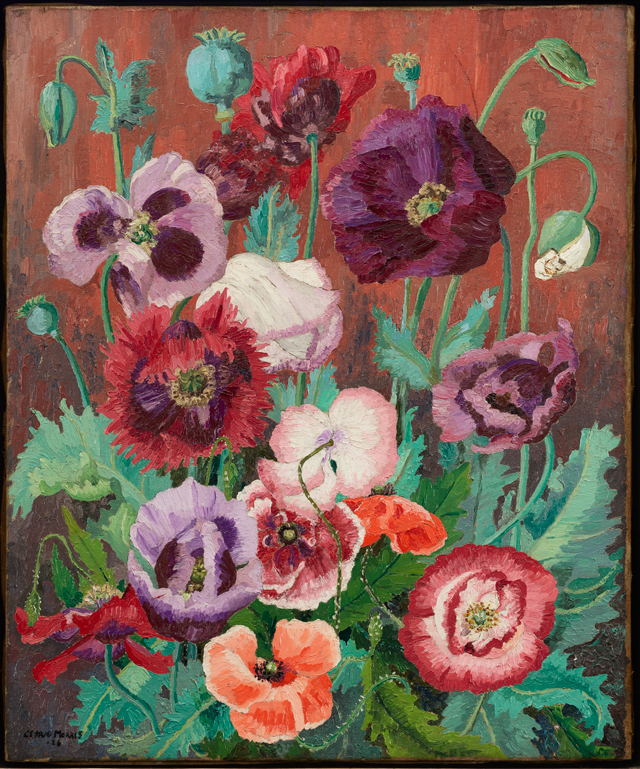 Cedric Morris. Poppies, 1926. Oil on canvas. © Philip Mould & Company. Courtesy the Cedric Morris Estate.

Morris was, however, selective in his species, known to get up at 6am to begin work outdoors, weeding out the red poppies, preferring those tinted with grey and pink, and being notoriously damning of certain colours, including salmon pink, which he derided as "knicker pink". In many compositions – always painted from top left to bottom right-hand corner, often propping the canvas against his knee in a squat, in thick but even oils, with no underdrawing or preparatory sketching – the bouquets fill the entire canvas, while in others, they are arranged in decorated pots and vases (often also acquired on Morris's travels), and, in some, including Floreat, the Stour Valley appears as the backdrop, making me think of Giovanni Bellini's placing of the Madonna in a meadow.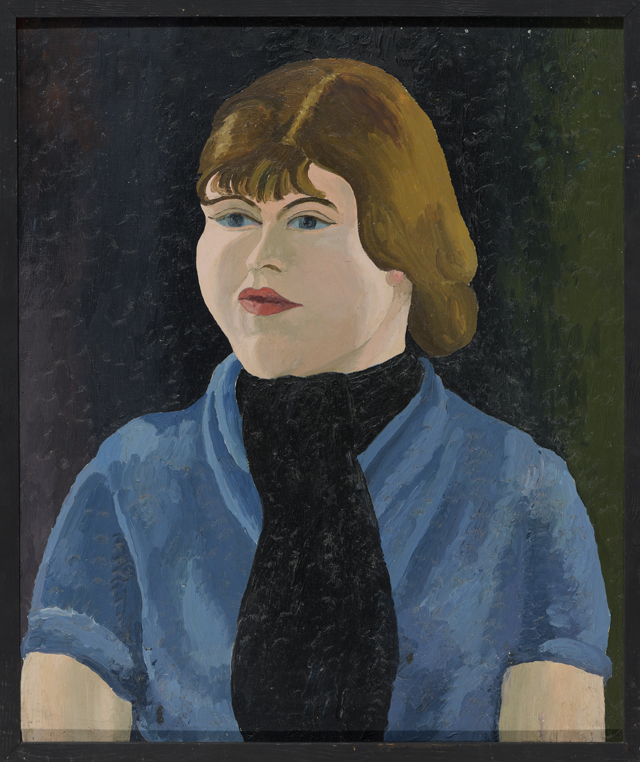 Cedric Morris. Ena Douglas, 1926. Oil on hardboard, 56.5 x 47.2 cm. © Gainsborough's House, Sudbury.

The second section of the Gainsborough's House exhibition comprises portraits and Parisian cafe scenes. The latter – mostly pencil, but some pen and ink sketches, and one larger painting – capture the hustle and bustle, and noise and chatter (largely all that which Morris sought to escape in Suffolk, despite inviting visitors and also boarding pupils to Benton End), while the portraits offer an interesting counterpart to his flower paintings. Both sets of faces are approached head on, flattened out, with the people portraits appearing stylised, simplified and, at times, distorted. Ena Douglas (1926), for example, one of 50 portraits by Morris exhibited at his one-man show in 1938 at Peggy Guggenheim's Jeune Gallery in London, combines aspects of Neue Sachlichkeit (primarily those verging on the grotesque) and cubism, whereby the viewer is almost able to see both sides of the subject's face at once. While in his portraits this can be displeasing at times, in his flower paintings, this only adds to their glory – hence, perhaps, why these remain his most preferred genre.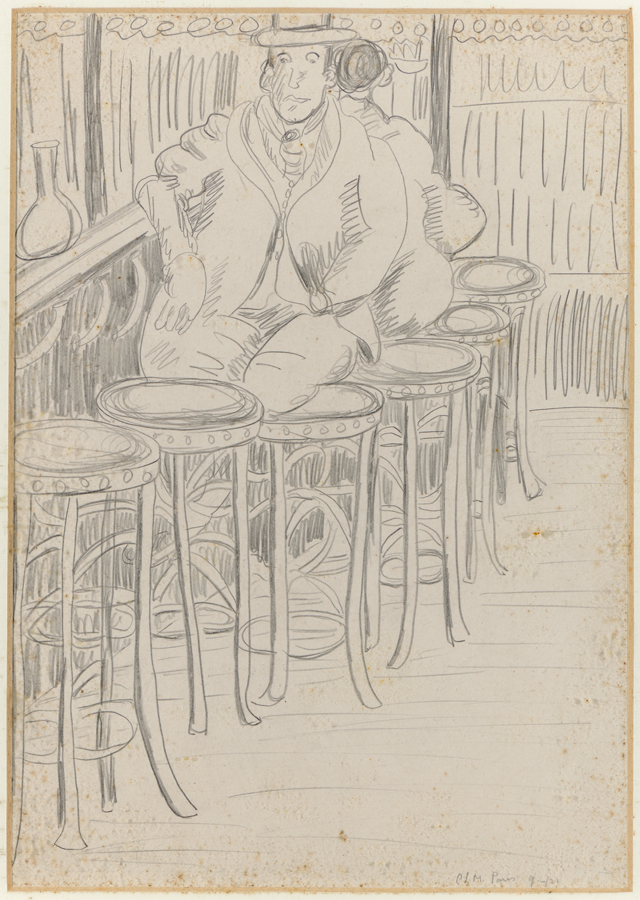 Cedric Morris. Americans in Paris, 1921. Pencil on paper, 35 x 24.6 cm. © Gainsborough's House, Sudbury.

While visiting Gainsborough's House, I asked to be driven past Benton End as well. The property is up for sale, which seems a tragedy, when it holds such a history and was known, in its day, as "the Artists' House". Why, I wonder (monetary issues aside), could it not have been preserved as such, in much the same way as Charleston farmhouse or Barbara Hepworth's studio and garden? (The plants were sadly already dispersed by plantswoman Jenny Robinson, appointed as horticultural executor, following Morris's death.) Instead, we must rejoice in the fact that Morris's paintings, when hung together as they are at the Garden Museum, recreate a sense – and almost a scent – of this marvellous garden, and the portraits, hung as they are at Gainsborough's House, evoke something of the lively conviviality that might have gone on inside the house and school. These exhibitions are, therefore, true celebrations of a bohemia lost and never again to be recaptured.