Berlin Gallery Weekend 2017
The biggest week of the year for Berlin's contemporary art scene saw the opening of dozens of exhibitions. Here are some highlights and impressions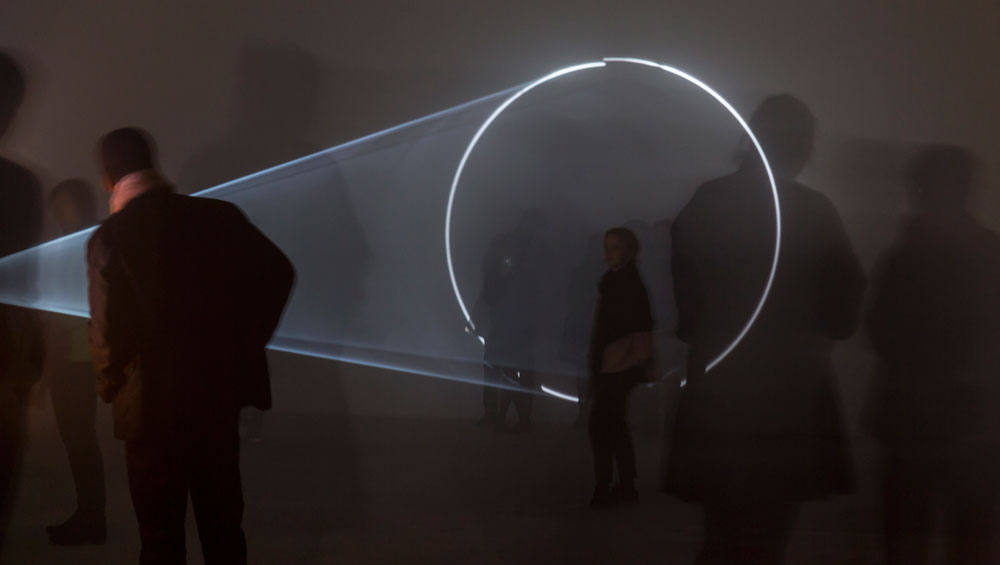 Anthony McCall. Line Describing a Cone, 1973. Courtesy Julia Stoschek Foundation e. V. and Sprüth Magers. Photograph: Frank Sperling.
28-30 April 2017
by KRISTIAN VISTRUP MADSEN
Berlin's Gallery Weekend floods the city like water bursting through a dam: weeks of quiet leading up to it, and then the flow of busses from art associations in Hamburg and Hanover, collectors snatching all the taxis, and the poor but hip lingering in the courtyards along Potsdamer Strasse as galleries run out of IPA, and the more distinguished leave for their dinners in Grunewald. Although the shows will be open for weeks, there is an energy to the circus that encourages an extraordinary art binge, even for those of us who live here.
In a move thought by some to anticipate a further clash, this year, Cologne's major international fair overlapped with the weekend. But word is Berlin was not the one to suffer. At Carlier-Gebauer, sculptures by Thomas Schütte were said to go for half a million pounds, and many had already sold by Friday afternoon. However, otherworldly prices are no guard against real-world problems: even collectors with wallets of that size, I heard during my visit to the French-owned gallery, were going to vote for Marine Le Pen.
At the same end of the spectrum, with its presentation of a nearly 20-metre long painting by Jonas Burgert, Blain Southern became the stage for the age-old question: "Is big good?" While this question remains unanswered, perhaps ad infinitum, Burgert's neo-baroque oil on canvas pointed to a trend in the complex. At neighbouring Galerie Judin, the painter Hugo Wilson showed a series of exotic animals in complex constellations with deep art-historical references. Although Wilson's wife, the Princess Maria von Thurn und Taxis was nowhere to be seen, a fantastic royal poodle did grace the event, already fairly glitzy with Juerg Judin's characteristically handsome waiters serving peach bellinis.
My weekend started rather more soberly on Wednesday evening at the KW Institute for Contemporary Art with a projection of Anthony McCall's Line Describing a Cone. Produced in 1973 as a response to Ian Wilson's chalk circle from the late 60s, currently on view in the gallery, in this work a circle of light emerges on to the wall over the course of 30 minutes. In the dark hall, the circle forms a three-dimensional cone: its tip at the 16mm projector, its walls the haptic velvet of white machine-supplied smoke.
The slow monotony of the work infected the audience, who, surprisingly, were in no hurry to move on, even as it became apparent that nothing unexpected would happen: the circle would complete, and the projection would end. For half an hour, we shared the silence together, thinking we could touch the light, or capture it in a photograph. Many people gathered inside the circle, as if under a spotlight. What were they doing there? Getting a better view of the work, or a place at the centre of the spectacle? What anyone was doing this weekend, probably: a bit of both.
At Arratia Beer, Fernanda Fragateiro's exhibition DEMO also went to the 1970s. In a sophisticated revision of that decade's history of protest and minimal aesthetics, the Portuguese artist begins with a photograph of a demonstration in Frankfurt am Main in 1974 from the cover of a book documenting the history of protests in what was then West Germany. From that, she locates a series of details, and transforms them into stylish objects. Images Are Acts (all works 2017), tall handmade notebooks with fabric covers leaning against the wall, indexes the shades of blue found in the image, from articles of clothing to details of the architecture. Concrete Wall references a barely noticeable feature of a building in the background, and Time Is lends the abstract pattern of a tote bag for a steel sculpture. In this way, Fragateiro carefully installs the traces of struggle in the too-clean surface of Donald Judd-esque minimalism, while the image of political unrest becomes recognisable as at once classical composition and site of profound mundanity.
The American painter Stanley Whitney, Niels Borch Jensen tells me, is someone who fell in between two stools in the 70s, as painting was largely abandoned for the conceptual works of McCall and Wilson, and the aesthetic line quoted by Fragateiro. Borch Jensen presents a collection of black-and-white etchings by Whitney alongside two colour monotypes, as part of the wave of renewed interest in the artist, who is now prominently represented at documenta 14. Whitney's messy coloured grids, heavily textured and vivid, crumple historical distinctions between abstract and minimal painting, while the etchings provide valuable insight into an oeuvre that has yet to be fully represented in Europe.
The display of Whitney's works are a great match to the immense stringency of Grey Crawford's photographs of 1970s Los Angeles streetscapes at Gallery Taik Persons, with whom Borch Jensen shares a floor in the Lindenstrasse complex. Crawford's motifs, so minimal as to be almost illegible as buildings, provide a fascinating counterpoint to those by Irmel Kamp at Galerie Thomas Fischer back at Potsdamer Strasse. Kamp, who photographed new architecture in Tel Aviv and Brussels in the 1930s, disrupts the sombre authority of the international style, in portraying modern structures as local and poetic. Together, these exhibitions, from McCall to Kamp, contribute to an invigorating, and much needed, rereading of the 20th-century canon.
Going still further back in time, Pamela Rosenkranz's first exhibition with Sprüth Magers, She Has No Mouth, is designed as an affront to prehistoric human reflexes. Recent research shows that the tabby patterns of cats are an evolutionary development signalling not only danger to humans, but sexual dominance. Transparent acrylic paint in skin- and earth-tones applied to images of various cats and their furs, make for a series of eerie, abstract surfaces that play with the figure of the cat between fear and arousal, cultural construct and biological evolution. A circle of sand on the floor bathed in shifting hues of pink and sharp blue lights, complete with the sound of incessant meowing, emulate the natural environments in which we would encounter the cats. However, looking closely behind the layers of dripping pigment, the cat portraits break the already tenuous illusion by including one of Hello Kitty. Rosenkranz mixes the language of pseudo-science with that of plastic consumer capitalism, making the famous Kitty speak, even while she has no mouth.
A polyphony of voices emanate from the many headphones installed by six monitors at KOW for Candice Breitz's ambitious video installation Love Story (2016). The voices belong to six men and women from Angola, the Democratie Republic of the Congo, India, Somalia, Syria and Venezuela relaying their experiences as refugees to Breitz. But before we get there, a synthesis of their testimonies are performed by actors Julianne Moore and Alec Baldwin in an equal parts captivating and absurd larger-than life projection. "I was a dirty woman who was just walking," Moore says, with great skill, while her perfect skin and studied intonation alienates the content somewhat from her delivery. But returning to the famous pair after encountering the voices of the people in question, I am relieved to have heard the most violent passages spoken only in a soft Hollywood cadence. To tell the pain of others erases specificity, but in doing so declutters the lines of communication. Through constant awareness of this problem, Breitz's work achieves at least an extent of what it claims is not possible: to empathise, and to understand.
Coming full circle, I finished the weekend where I started it, at the KW. On Sunday afternoon the courtyard filled up as the sunshine created a spotlight for Adam Pendleton, his Black Dada: A Reader, fresh from the printers at Koenig Books, launching on the occasion of his current exhibition at the institute. "I need Monday morning, a prick in my mouth and coffee / a cigarette and coffee for two," Pendleton read from his poem-manifesto, making for one of the most resonant statements of the weekend. "White Dada remains within the framework of European weakness," he continued. "Black Dada is a way to talk about the future while talking about the past; it is our present moment." Pendleton's performance was rhythmic and engrossing, and his concept one that might enlighten several of the exhibitions now showing in Berlin. A serious and intelligent bunch, in spite of the annual hectic.