Art Brussels 2017
This 35th annual incarnation of Art Brussels was taglined 'From Discovery to Rediscovery'. Here is a roundup of some of the rising talent that you may have missed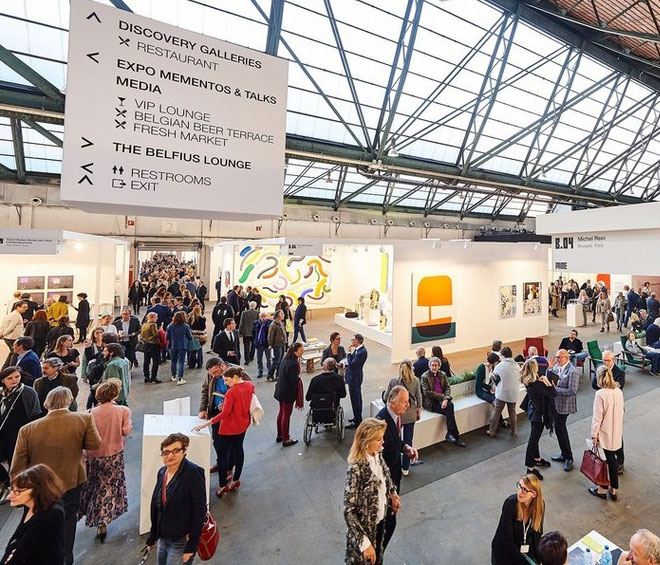 Tour & Taxis, Brussels
21-23 April 2017
by EMILY SPICER
Art Brussels is one of the best art fairs in Europe for collectors seeking to take a punt on emerging talent. It prides itself, in fact, on being a discovery fair, with a whole section dedicated to galleries putting forward fresh finds. Housed in the airy Tour & Taxis building, a dignified 19th-century brick warehouse with a roof of green steel girders and terracotta tiles, this fair has been elegantly composed, to lessen the feeling that you are walking through an art superstore.
Among the most promising "discoveries" is Caroline Delieutraz (b1982). Her work is a reaction to the internet age and populated by found imagery, which she arranges like a scientist trying to make sense of a messy ecosystem. In doing so, she questions the visual idioms we have largely absorbed subconsciously. Blue Skins (2017), for example, is a neatly framed row of small images of blue faces from popular culture that Delieutraz has captured from the web. It is an interesting exercise, revealing the conventions used in popular culture to create humanoid "others". And Delieutraz has given each a little colour swatch, as though you could walk into a hardware store and ask for Avatar Blue. I expect somewhere you can.
Delieutraz works in a range of media. A video piece comparing an absurd-looking workstation chair with a scorpion, overlaid with a 1980s pop soundtrack is another, strangely hypnotic, example of Delieutraz's interest in making connections and ordering the seemingly random. It would have been easy to walk past this stand in the noisy melange of attention-grabbing artworks that are two metres high or light up, or spin.
Leander Schönweger (b1986, Italy) is another artist whose work might have been easily missed, were it not for the gentle noise of water spouting from a cabinet. Drawn to the possibilities inherent in the quotidian, his work subverts the expected functions of basic items. The Inner Human III (2017) is the source of the tinkling sound that certainly made me stop mid-stride and the humble piece of furniture in question triggered memories of my grandmother's cottage. That seems to be Schönweger's aim – adding a touch of magic realism to the everyday.
In Waseem Ahmed's work, east meets west and produces intricate hybrids dripping with symbolism. The artist employs the aesthetics of Indian miniature painting and combines them with references to western art history – Pan copulating with a goat, the patterned silhouette of Perseus slays Medusa. Sex and violence run through Ahmed's beautiful paintings, bound up with politics, references to the Taliban and the promise of paradise. A graduate of the National College of Arts, Lahore – which has an entire programme dedicated to miniature painting – Ahmed (b1976, Hyderabad), is not alone in employing this mixture of tradition and current affairs, but his paintings are tremendously accomplished and powerful in their own right.
Artist Manuel Mathieu, who was born in Haiti in 1986, was exhibited outside of the Discoveries section of the fair, but he is every bit the young, rising star. A recent graduate of Goldsmith's (2016), he has already had a solo show at the Institute of Contemporary Art in London after winning the fig-2 open call. Although painting is not his only outlet, it has been his main focus this past year, and his use of colour is particularly effective.
Greens, mauves and flesh tones hint at decay and anthropomorphised figures with truncated limbs speak of violent undercurrents. While Mathieu's paintings are not obviously routed in a particular time or place, his childhood in Haiti has been a source of inspiration. His biography cites the fact that he was born in the year of the uprising that marked the end of the Duvalier era, a regime coloured by murder and exile. When I spoke to him, he was navigating the interested crowds on crutches. I asked him what happened to his leg and he told me, all smiles, that he was hit by a car: "I won't tell you any more, because you'll think I'm unlucky guy to be around." He might be unlucky with moving vehicles, but he is set to do well in his career.
The more established Saudi artist Manal Al Dowayan (b1973) uses silkscreen printing on canvas to reproduce photographs from her family collection, which, since her father lost his memory from Alzheimer's, are full of anonymous faces. Parts of the image are etched on copper plate, as they were once etched on a mind that can no longer remember. But for Al Dowayan the fear of forgetting extends beyond that of her family; collective memory is also important.
Her past work has focused on the high mortality rate of female teachers in Saudi Arabia, who are placed in schools in remote villages where it is too dangerous for them to live. Forced to commute vast distances in minivans, as it is illegal for them to drive, they are vulnerable to the high number of crashes that occur on the poorly maintained roads. These incidents are reported, but the women remain nameless and faceless in the national press. Al Dowayan's project Crash worked to give them back their humanity. For Al Dowayan, preserving the image is everything.