Andrew Lacon: Fragments – Kate V Robertson: This Mess Is Kept Afloat
Two exhibitions at Dundee Contemporary Arts confront and explore the relationships between the viewer, the art itself and the gallery space, in playful and thought-provoking ways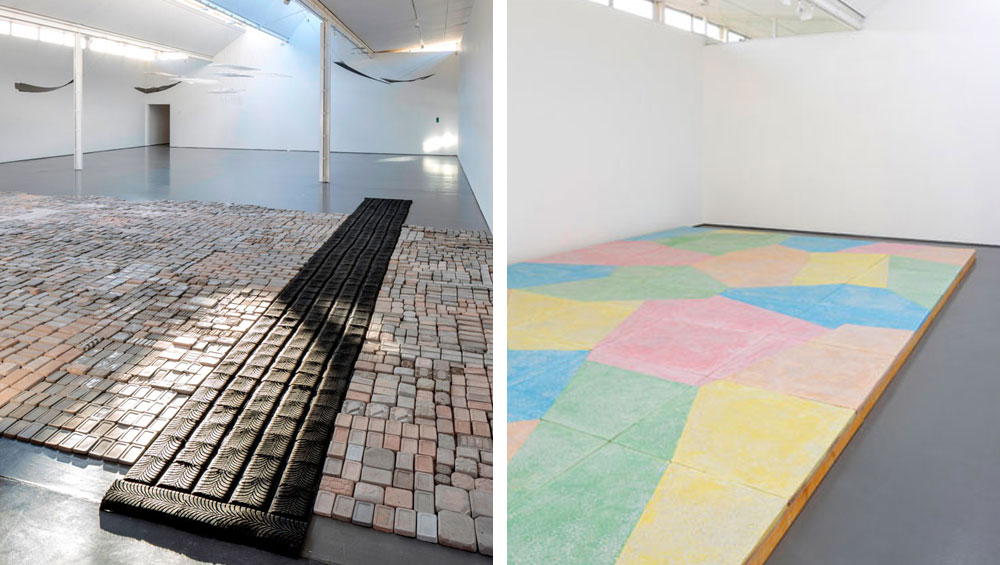 Kate V Robertson: This Mess Is Kept Afloat (left); Andrew Lacon: Fragments (right). Photographs: Ruth Clark.
Dundee Contemporary Arts
9 December 2017 – 25 February 2018
by CHRISTIANA SPENS
Although Dundee Contemporary Arts usually presents one exhibition at a time (over its two galleries), this spring it has chosen two conceptual artists – Kate V Robertson and Andrew Lacon – exploring the same themes in complementary ways.
In the first gallery, the Birmingham-based, Royal College-educated Andrew Lacon (b1985, Dudley) has installed a work – or works – that takes up almost the entire floor space. Pastel-coloured fragments slot together to form a large rectangular piece of blue, pink and yellow, appearing at first sight like a floor made of old-fashioned sherbet candy. Even the chalky texture resembles it, betraying the material itself, a handcrafted layer of marble. With its many connotations in the history of art and architecture, this choice, and the way that the material is presented in the exhibition, is clearly a statement about elitism and the public, bringing a rich and symbolic material to floor level and giving it the appearance of commonly available, easily consumable (and destructible) sweets. There is something quite appealing and funny about this subtle but loaded comment on the relationship between raw materials, money and status, and the implications for the art world (including, of course, the artist and viewer, as well as the gallery).

Andrew Lacon. Fragments, 2017. Installation view, Dundee Contemporary Arts. Photograph: Ruth Clark.

Lacon's interest in the public display of objects is longstanding, and a prism through which he has previously explored the connections between various cultures, social hierarchies and the role of the artist. This current exploration, in Fragments, began in 2015 when he was returning from a trip to Mexico City and attempted to carry a cotton rucksack filled with a stack of Mexican pink marble through customs. In that journey alone, the meaning and value of this raw material was questioned, doubted and transformed – and, ultimately, it became the starting point for a broader investigation into the complex political lives of materials, which culminates here.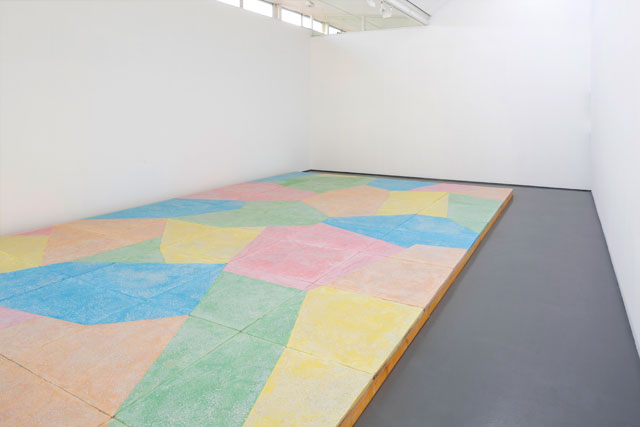 Andrew Lacon. Fragments, 2017. Installation view, Dundee Contemporary Arts. Photograph: Ruth Clark.

Furthermore, Lacon invites participants to walk on the structure itself, although this is at first ambiguous. In reality, some viewers instinctively walk around the artwork, while others think nothing of walking over it immediately, as they would any other gallery floor. There is something quite comical about these divergent assumptions; while the artist and gallery allow people to walk on it or not as they choose, the choices visitors make tell us something interesting about social attitudes to art and space.
On this point, Glasgow-based Kate V Robertson (b1980, Edinburgh) inspires a similar discussion and participation in her exhibition in Gallery 2. Her first solo show in a UK institution, This Mess Is Kept Afloat presents new sculptural work that draws attentions to the floor (similarly to Lacon's work) as well as the walls, ceiling and windows. Known for constructing environments and installations that change and shift over time, Robertson explores the characteristics and limits of various physical materials, as a prism through which to discuss ideas of instability, dysfunction, waste and decay. In particular, she considers what it means to live in, and therefore experience, these processes in urban environments.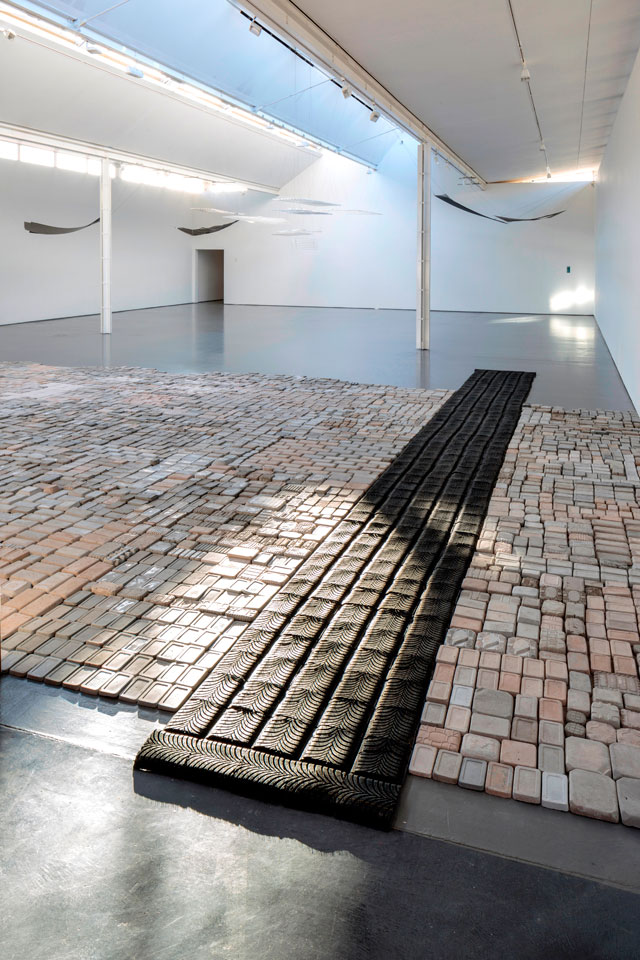 Kate V Robertson: This Mess Is Kept Afloat, 2017. Installation view, Dundee Contemporary Arts. Photograph: Ruth Clark.

In Gallery 2, these ideas manifest as a rectangular portion of the gallery floor covered in palm-sized concrete bricks that are prone to break when walked on. As a result, there is some trepidation among the "viewers" (or in this case participants), who must walk over these surfaces to reach the other parts of the exhibition. There is also, inevitably and intentionally, a transformation of the materials as the show goes on; this microcosmic urban environment disintegrates before our eyes (and under our feet) as it is lived in over the course of the exhibition. On a personal level, we become aware of our own destructive tendencies, which are simply inherent to our being – a revelation that is nevertheless strangely surprising.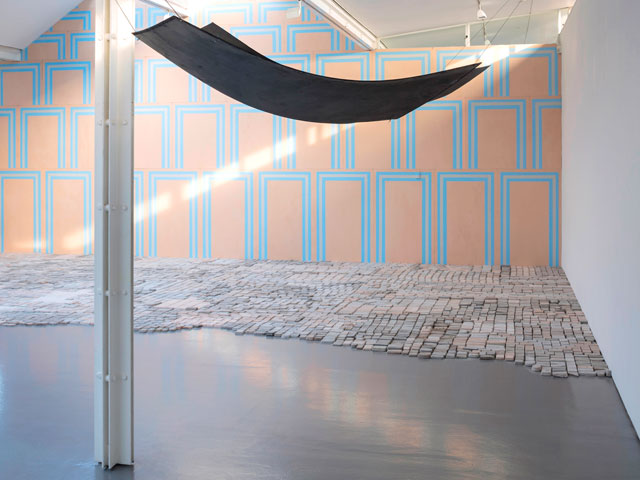 Kate V Robertson. This Mess Is Kept Afloat, 2017. Installation view, Dundee Contemporary Arts. Photograph: Ruth Clark.

In this part of the installation, and elsewhere, Robertson highlights the use of rectangular shapes in construction, in different sizes and using various surfaces and materials. These explorations invite thought about the optical illusions inherent in some geometric designs, through the manipulation of the appearance of depth therein. While commenting on the way our cities are built and experienced, these experimental installations also reference the evident "flatness" and "groundlessness" of society's now screen-based lifestyles, and indeed the dissonance of those two aspects of modern life. The destructible, physical urban setting sits uncomfortably alongside interior lives usurped by technology.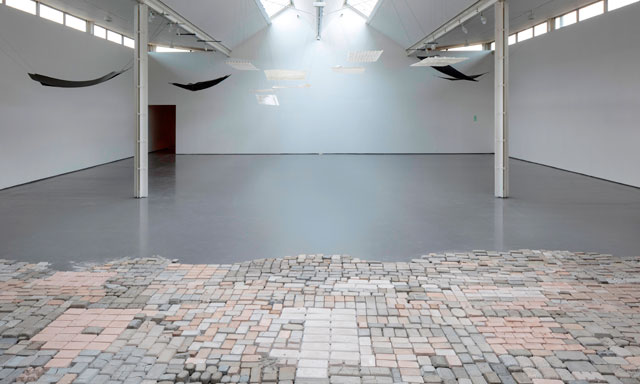 Kate V Robertson. This Mess Is Kept Afloat, 2017. Installation view, Dundee Contemporary Arts. Photograph: Ruth Clark.

As with Lacon's Fragments, Robertson's This Mess Is Kept Afloat invites its viewer-participants to engage with sculpture and art generally in a way we have likely not been encouraged to previously. It brings "art", and indeed intellectual discussion, down to a basic level, implying that art is not only for the masses, but concerned with them, too ­– and in particular with the everyday experiences of urban living and its relationship to everything else that people typically live through. Disruptive, dissonant, but, above all, social, these two exhibitions carefully reframe several important discussions, not least the role of art in modern society, and the relevance of art for modern people.