Amelie von Wulffen: The Misjudged Bimpfi
For her first solo exhibition in the UK, Amelie von Wulffen deals with themes of guilt, marginalisation, sexual fantasy and emotional trauma through an aesthetic influenced by historical genre painters – and a talking mushroom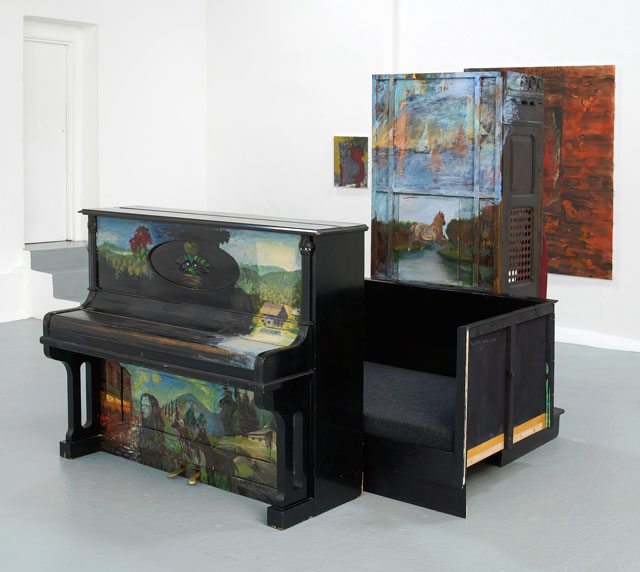 Studio Voltaire, London
10 February – 2 April 2017
by ALEXANDER GLOVER
The avant-garde artist and composer John Cage said in Music Lovers' Field Companion (1954): "I have come to the conclusion that much can be learned about music by devoting oneself to the mushroom." But can you learn anything about fault, estrangement or exclusion from a mushroom? Well, actually, yes you can (sort of). If you spent your childhood in Germany, you might have come across the children's book Der verkannte Bimpfi, which centred around an anthropomorphised mushroom called Bimpfi. This protagonist, and also the theoretical protagonist for this exhibition by artist Amelie von Wulffen, is a cartoon character who is ostracised from society for crimes he did not commit. It is a useful analogy for an artist who focuses her work around themes of guilt and marginalisation. Von Wulffen was born in Germany in 1966 and was part of a generation that grew up in an environment beset by blame and restraint. In a bid to deal with the guilt she encountered during her adolescence, Von Wulffen makes direct references throughout this exhibition to some of the emotions and feelings she and her generation experienced in Germany.
The centrepiece for this exhibition is The Unjudged Bimpfi (2016), the only titled piece in a show consisting of 14 works. The work could quite easily be interchangeably described as either an assemblage piece or a painted sculpture. The Unjudged Bimpfi consists of three objects that have been placed close together: a piano, a bed and Catholic confessional box. The only obvious connecting factor is that they are all made from wood and collectively look as though they belong in an antique shop. On the Catholic confessional, which directly relates to the show's theme of guilt, Von Wulffen has painted a romantic sunset scene outside a row of Parisian bars. Although the image itself is purposefully distasteful and quite nauseating on its own, the effect of it being painted on a Catholic confessional is largely unsettling and disarmingly poignant. The bed and piano also feature Von Wulffen's painting, with subject matter ranging from jumping horses to images of people from unknown 70s sitcoms. There is also an ominous dinner fork attached directly to the piano, which could be situated there ironically to suggest a musical tuning fork.
On the walls surrounding The Unjudged Bimpfi are 16 paintings, all from 2016 and all titled Ohne Titel (translated from German as "untitled"). As you walk in from the entrance, the first painting on show is a direct reference to the peasant scenes of the Austrian historical genre painter Franz von Defregger (1835-1921). Von Defregger's depictions of rural German life were greatly admired and subsequently co-opted by the National Socialists. This haunting backstory to these nostalgic paintings sets an uneasy tone for the whole exhibition, which is perpetuated in other paintings that reference the dark imagery of symbolist Alfred Kubin (1877-1959). Kubin's work consisted of nightmarish compositions often depicting human suffering in the face of horrifying creatures through heavily symbolic gesture. His drawings were usually monotone with the subjects often shrouded in darkness: he went on to illustrate covers for Edgar Allan Poe and Fyodor Dostoevsky. The influence of Kubin can be seen throughout Von Wulffen's body of work in this exhibition. But rather than just simply recreating Kubin's haunting visuals, Von Wulffen has managed to make this style even more sinister by situating children in disturbing and warped dreamlike scenarios.
There is one particular painting in this exhibition that encapsulates the thematic concerns of the show, as well as Von Wulffen's artistic points of reference. The work's composition features a Von Defregger-esque rural scene in a wooden house. Inside the house are seven naked figures whose facial details are fairly skewed, in a manner similar to that of Kubin's drawings. Some of the characters appear to be engaged in manual labour, with one carrying something heavy on his or her back and another scrubbing the floor. Nestled in between these two labourers is what appears to be a man defecating directly on to the floor. In the foreground, there is the only character who appears to have hair and, paired with a glass of red wine, he appears to be the proprietor giving instructions to the others. Right above this surreal yet domestic scene is a kitschy image of a fruit bowl and an assortment of wine jugs. This picture is probably a found image of an unknown artist that Von Wulffen has pasted on to her own work. If you had to point towards a work that summarised Von Wulffen's current practice, it would certainly be this. But then again, it would be naive to suggest that the deeply complex historical narrative present throughout her work could ever really be summarised in a single composition.