A Perfect Chemistry: Photographs by Hill and Adamson
A celebration of collaboration, friendship and innovative spirit, A Perfect Chemistry illuminates the groundbreaking photography produced by David Hill and Robert Adamson in early-19th century Scotland, and the touching story surrounding its production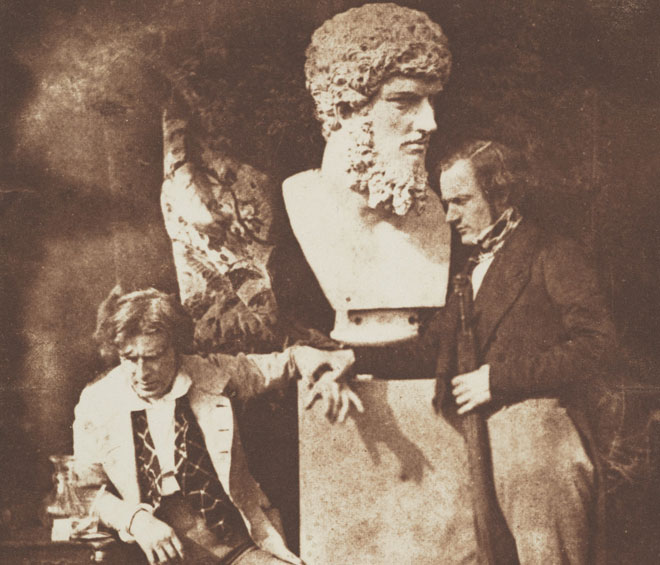 Scottish National Portrait Gallery, Edinburgh
27 May – 1 October 2017
by CHRISTIANA SPENS
When I was 16, at school at Madras College in St Andrews, our art teacher, Mr Barclay, taught black-and-white photography in his spare time. I remember being mesmerised, learning about capturing time – the more time, the slower the shutter speed, and the more stillness was required. Photography seemed to me meditative and philosophical as well as creative, an inspired fusion of physics and expression. I went on to photograph my younger sister at home, swinging from a tree – back and forth on an old swing.
A hundred and seventy-five years before I would first learn about the magic and science of photography, Robert Adamson (1821-48) attended the same school in St Andrews. At that time, photography was only just being invented and developed, at the University of St Andrews, just streets away. Shortly after Adamson left school, in 1839, the invention of photography was formally announced to the world. Having grown up one of 10 children, the son of a farmer and his wife, Adamson showed early promise in chemistry, mathematics and mechanics, and was on track to become an engineer, before ill health rendered that too strenuous. Instead, he was introduced to photography in the late 1830s by his brother John (also a photographer) and the physicist David Brewster at the University of St Andrews. Adamson's talents were quickly recognised, and by the age of 21, he was already well known for his innovative and elegant grasp of the new invention.

David Octavius Hill and Robert Adamson. St Andrews Harbour, 1843–1847. Calotype print, 20.80 x 15.70 cm. Scottish National Portrait Gallery

Meanwhile, in Edinburgh, David Octavius Hill (1802-70), who was 19 years older than Adamson, was an established painter of Romantic landscapes. He had lived and worked in the city from the age of 16, and was well respected and connected. In 1843, he began his most challenging work to date – a large painting depicting the signing of the declaration of the Free Church of Scotland, which was inspired by the protest of church ministers against the state at that time. Hill's vision, to communicate the democratic spirit of the protest and the church, was to include portraits of the hundreds of signatories of the deed of demission. Overwhelmed by the task at hand – to depict, with true likeness, more than 400 individuals – he began to think of other options for the completion of his project.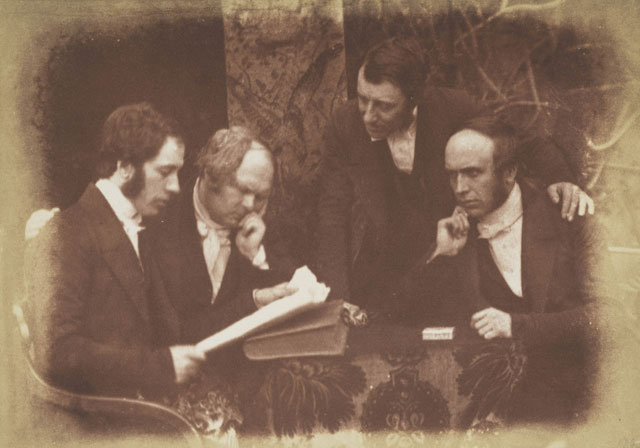 David Octavius Hill and Robert Adamson. Dumbarton Presbytery. Rev. William Alexander, – McMillan of Cardross, Rev. James Smith (or Goodsir) and Rev. John Pollock, 1843-1847. Calotype print, 13.60 x 19.30 cm. Scottish National Portrait Gallery.

At this time, in 1843, Adamson moved to Edinburgh himself, to set up a photography studio in Rock House, at the foot of Carlton Hill. Brewster, who had taught Adamson photography, suggested to Hill that he seek the young photographer's help in realising his ambitious vision. This introduction would spark four years of intense collaboration and the production of a great wealth of groundbreaking photographs – signalling, with it, the birth of photography as an art form.
As well as cityscapes and other landscapes, taking cue from Hill's background in painting, the pair photographed many of the people who surrounded them –either sought out or already close and familiar – as this thorough and illuminating exhibition shows so well. The painterly effect of calotype, along with Hill's background in fine art, contributed to the elevation of photography to an art form, even from this early stage, and in less than ideal conditions. Indeed, the mastering of such an innovative technique, in such harsh conditions as the Scottish climate, is breathtaking in itself. Due to the necessity of bright light for their photographs, Hill and Adamson had to work outdoors for long periods, as did their models, who were required to remain perfectly still for the duration of the shot. Nevertheless, the pair managed to communicate their subjects' nuances and character in a way that seemed candid and relaxed – never betraying the patience and organisation that was required for their success. In The Morning After "He Greatly Daring Dined" (c1845), for instance, a man gracefully nurses a hangover, his friend's hand tenderly touching his, a statue behind them. Their poses and demeanour are composed, but never forced; there is a real sense of humanity and candour.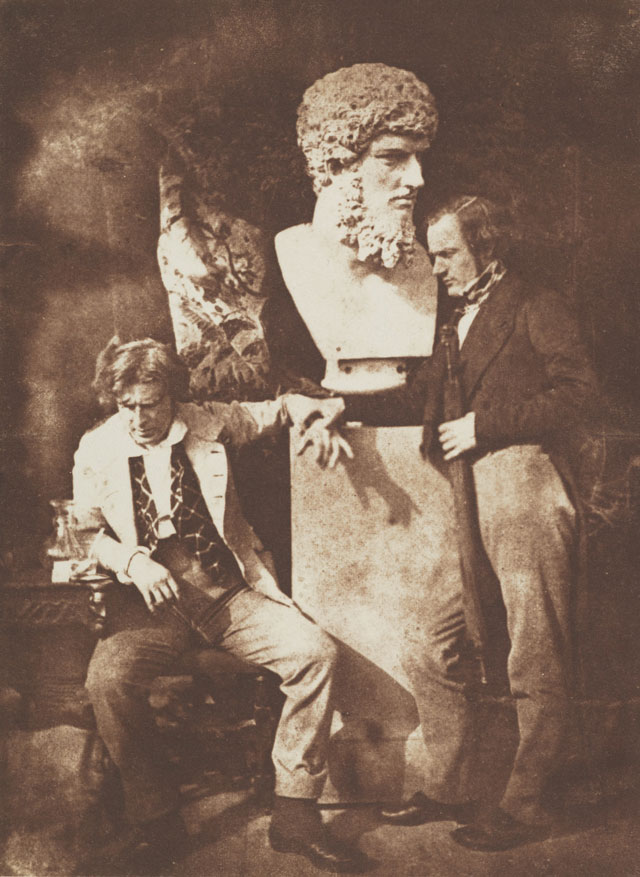 David Octavius Hill and Robert Adamson. David Octavius Hill and Professor James Miller. Known as The Morning After 'He greatly daring dined', c1845. Calotype print, 19.80 x 14.60 cm. Scottish National Portrait Gallery.

Along with the hundreds of portraits of the signatories of the declaration, which had sparked their collaboration, Hill and Adamson's studio went on to photograph many more people – from the aforementioned ministers to artists and writers, including Sir William Allan, Thomas Duncan, William Etty, Sir George Harvey, Horatio McCulloch, David Roberts, William Bell Scott and his brother David. They also sought to record other Scottish communities, such as the fishwives and fishermen of Newhaven – a set of images considered to be the first social documentary photographs taken. Jeanie Wilson and Annie Linton, fishwives of Newhaven (1843-7) is particularly compelling: the dark stripes of the women's traditional dress, and the enigmatic gazes of the subjects invoke a singular and stirring atmosphere, both gothic and Realist. Adamson and Hill also imagined scenes from the novels of Sir Walter Scott, using their friends as models, and providing a sense of artistry and inventiveness that further elevated their work to the realm of fine art.
Hill, who was widowed and had a young, moved in with his younger collaborator, and for the next four and a half years they lived and worked together, going outside whenever it was light enough, to take the many exceptional photographs for which they are now renowned. Their partnership was only cut short when, in January 1848 at the age of 26, Adamson died of tuberculosis.
After this untimely loss, Hill barely produced any photographs, and the painting that had sparked their collaboration took another 20 years to complete. During their four years together, however, Adamson and Hill produced a vast array of magnificent and enigmatic images. The directness and candour of each portrait is moving in subtle but unforgettable ways. In this sense, Adamson and Hill truly captured time, their friends and their lives together, as well and as originally as they possibly could, a fact to which this moving exhibition pays testament.