Zineb Sedira – interview: 'It makes sense to include part of my life, part of me, in the work'
Sedira discusses her acclaimed French Pavilion for the 2022 Venice Biennale, as well as how the sea became a leitmotif for transnational identity in Can't You See the Sea Changing?, her solo exhibition at De Le Warr Pavilion and Dundee Contemporary Arts
For Zineb Sedira, the personal is political. Over the course of her 25-year career, Sedira, who describes herself as "a film-maker at heart", has mined personal history and autobiography to explore postcolonial memory, movement and relationality.
Can't You See the Sea Changing? is Sedira's first solo show in a UK public gallery for 12 years. At consecutive coastal locations, the De La Warr Pavilion in Bexhill and then Dundee Contemporary Arts, the artist presents a body of work that riffs on the sea as passage, border and site of displacement and perpetual motion. At the same time, her project for the French Pavilion at the 2022 Venice Biennale, Dreams Have No Titles, which received the Jury's Special Mention, is preparing to travel to Berlin's Hamburger Bahnhof.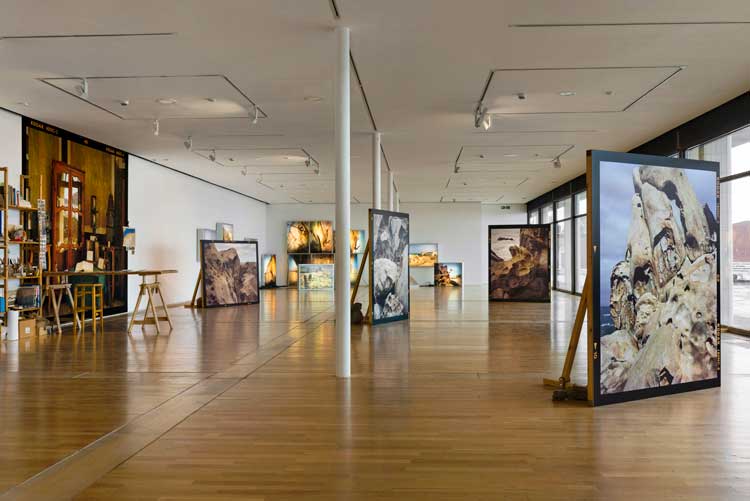 Zineb Sedira, Can't You See the Sea Changing?, installation view, De La Warr Pavilion, 2022. Photo: Thierry Bal.

We meet in Sedira's south London living room, which is uncannily familiar from models and dioramas that present the artist's home as a sort of stage set or mise en abyme (an iteration of this work, Way of Life, was presented at the Jeu de Paume, Paris, in 2019, before Venice). Sedira notes that, with its 1960s furniture and vintage Algerian records and posters, the room is a stand-in for the sort of discursive spaces that allowed for debate, collaboration and, crucially, friendship, during the liberation movements of the 60s in Algeria.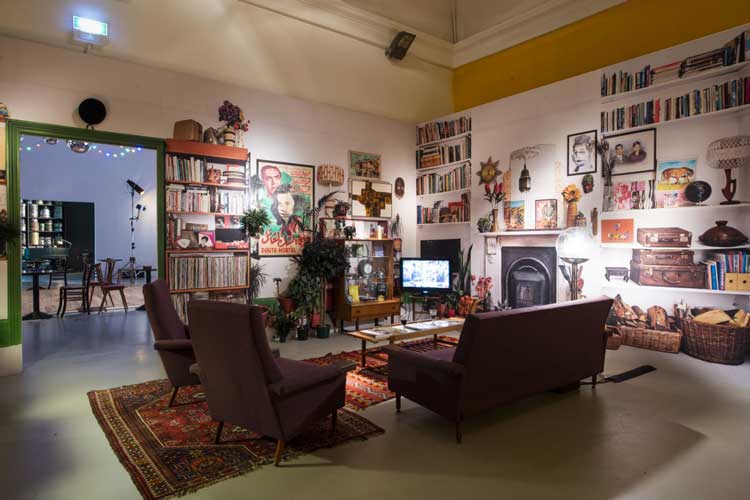 Zineb Sedira, Les ràves n'ont pas de titre (Dreams Have No Titles), France Pavilion, Venice Biennale, 2022. Photo: Thierry Bal.

Algeria gained independence from France in 1962 and was known during that era as "the Mecca of revolutionaries". The energy of the period is captured in militant films of the 60s and 70s, many of them co-productions between Algeria, France and Italy. Cinema is arguably Sedira's greatest passion and in Dreams Have No Titles, a number of those productions, seminal works such as Gillo Pontecorvo's The Battle of Algiers (1966) and Ettore Scola's Le Bal (1983), form the basis of sets and recreated scenes. It is a rigorous and moving work, radical in its subject matter and playfulness. Though Sedira makes clear in our conversation that she does not consider herself an activist, it is a spirit she retains in her collaborative approach to art-making; the Venice project features footage of friends such as Sedira's former neighbour, Sonia Boyce, and curator Gilane Tawadros in conversation, and the Pavilion's curators are cast as actors in the recreated scenes.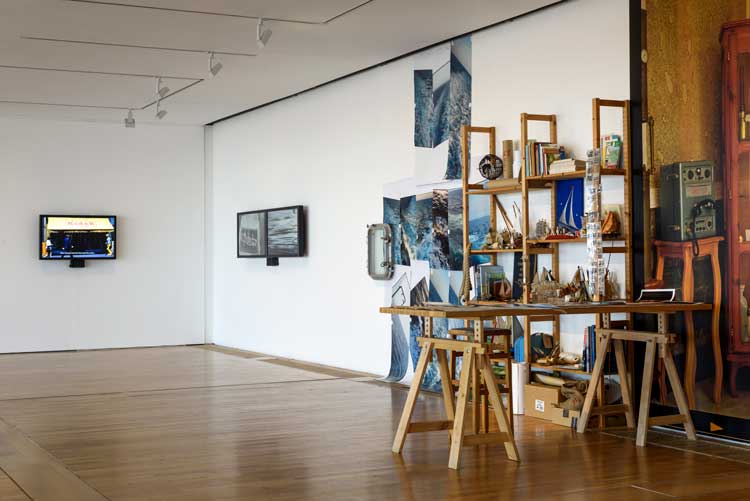 Zineb Sedira, Can't You See the Sea Changing?, installation view, De La Warr Pavilion, 2022. Photo: Thierry Bal.

Can't You See the Sea Changing, meanwhile, transports a section of the artist's studio space, in nearby Brixton, to the gallery. This shows a personal archive, objects collaged together to paint a portrait of Sedira's fascination with the sea in its physical as well as socio-political manifestations. The archive, both personal and state, is central to Sedira's work and her research practices remain visibly present. The exhibition opens with facsimiles of logbook entries for the Cap Caxine lighthouse in Algeria (Registre du Phare, 2011). Through subtle detail – the names of the keepers – the logbooks trace the slow and continuing process of decolonisation. In Transmettre en Abyme (2012), Sedira is shown interviewing a French archivist, Hélène Detaille, who has meticulously catalogued the somewhat mysterious work of Yvon Colas, a photographer who spent 50 years capturing the boats coming in and out of the port of Marseille.
Just as it can be a site of movement and change, the ocean also bears witness to unspeakable dangers and acts of dehumanisation. Sedira notes during our conversation that migrant sea crossings are nothing new. Her photographic series Shattered Carcasses and Architecture of the Forsaken (2009) shows fragments of derelict sunken ships in foaming acid-brown water off the coast of Mauritania. Mauritania is one of the main regions in Africa from which migrants set off for Europe. It is also used as a dumping ground for waste from the west.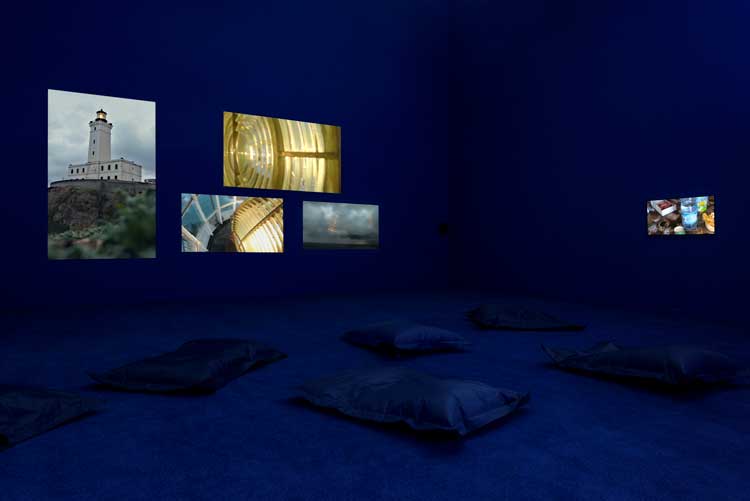 Zineb Sedira, Lighthouse in the Sea of Time (2011), installation view, Can't You See the Sea Changing?, De La Warr Pavilion, 2022. Photo: Thierry Bal.

The focal work in the exhibition is Lighthouse in the Sea of Time (2011), a six-screen video installation commissioned for Folkestone Triennial. Here, Sedira combines talking-head, documentary footage of the keeper of another lighthouse, Cap Sigli, with a four-screen projection of exquisite 16mm footage of Sigli, Cap Caxine and their surroundings. The former records the fascinating minutiae of the keeper's solitary life, within a building bearing all the hallmarks of imperialism; both Caxine, which dates from 1868, and Sigli, from 1906, were built by the French in a "colonial" style. The latter part of the installation, meanwhile, is a melancholic rumination on the beauty and brutality of the locations. Of the sharp aesthetic distinction between these elements, Sedira notes that it is important for her work to balance the lyrical poetry of the photographic image while remaining "anchored in some kind of reality" by way of documentary. The approach is typical of an artist invested in the political potential, as well as the magic and mystery, of film.
Sedira, who was born in 1963 in Paris) works between Algiers, Paris and London. Her parents emigrated to France from Algiers in the 60s and she moved from Paris to London in 1986. Her work has been the subject of solo exhibitions, including: in 2006, at the Photographers' Gallery, London; in 2009, Finland's Pori Art Museum; in 2010, Palais de Tokyo, Paris, and the Prefix Institute of Contemporary Art, Toronto; in 2013, the Blaffer Art Museum, Houston; in 2018, Beirut Art Center, Lebanon; in 2019, the Jeu de Paume, Paris; and in 2021, Bildmuseet, Umeå.
Sedira represented France in the 2022 Venice Biennale. She is the founder of Aria (artist residency in Algiers), a residency programme that supports the development of the contemporary art scene in Algeria through international cross-cultural exchanges and collaborations.
Zineb Sedira: Can't You See the Sea Changing?
De La Warr Pavilion, Bexhill-on-Sea
24 September 2022 – 8 January 2023
and
Dundee Contemporary Arts
29 April – 6 August 2023
Dreams Have No Titles (from the French Pavilion at the Venice Biennale 2022)
Hamburger Bahnhof, Berlin
24 February – 30 July 2023
Interview by AMIE CORRY
Filmed by MARTIN KENNEDY