Visionaries: Making Another Perspective
Contemporary Japanese artists celebrate their country's traditional ancient crafts using natural products as well as looking to the future of design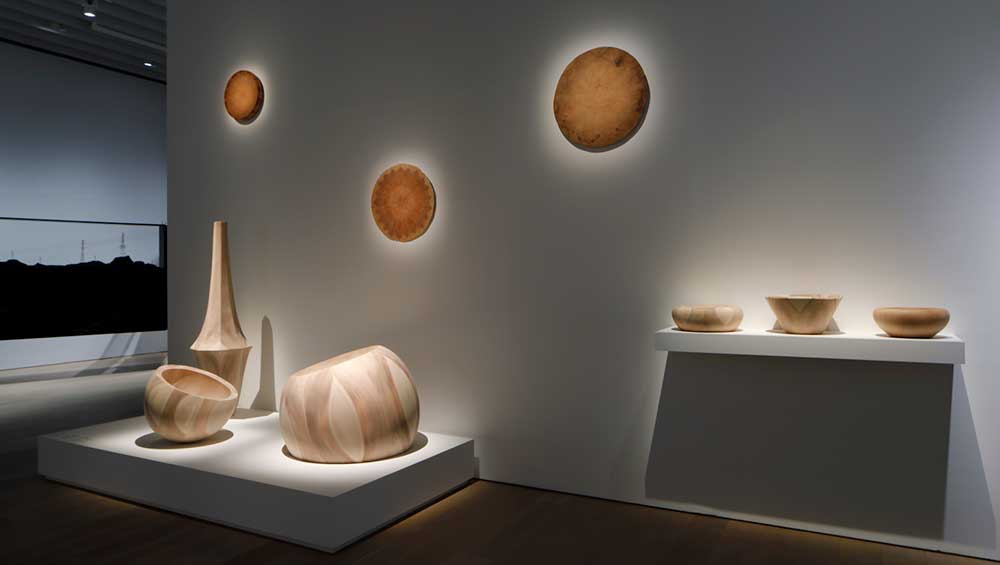 Shuji Nakagawa. Installation view of Moon from the series Born Planets, 2022. Cedar wood. Photo: Koroda Takeru.
Kyoto City Kyocera Museum of Art, Japan
9 March – 4 June 2023
by KANAE HASEGAWA
Twenty contemporary Japanese artists and designers who respect human history and the planet have contributed to Visionaries: Making Another Perspective. The exhibition consists of four sections: Dialogue in strata, Germination from insight, Laboratories connecting 100 years past and 100 years ahead, and Researches and messages: visionaries' logs. Most of the works have been newly commissioned by the exhibition curator, Noriko Kawakami, responding to her theme of bringing another perspective to humans and the world through the medium of art, design and technology. As a result, the works are an embodiment of ongoing exploration by each designer and artist.
The first section, Dialogue in strata, explores the artists' interactions with natural materials, such as clay, wood and glass. Wood craftsman Shuji Nakagawa uses Yoshino cedar for his work Born Planets, using a technique called "masa-awase", which involves aligning the grains of the pieces of timber at a specific angle. Reading and combining the grain of the wood is important for Nakagawa as the shrinkage of the wood varies depending on the orientation of the tree rings once it is cut down. His works also reflect his reverence for cedar wood, which was not naturally grown but planted as part of the postwar policy of expanding afforestation to replenish the lost forest.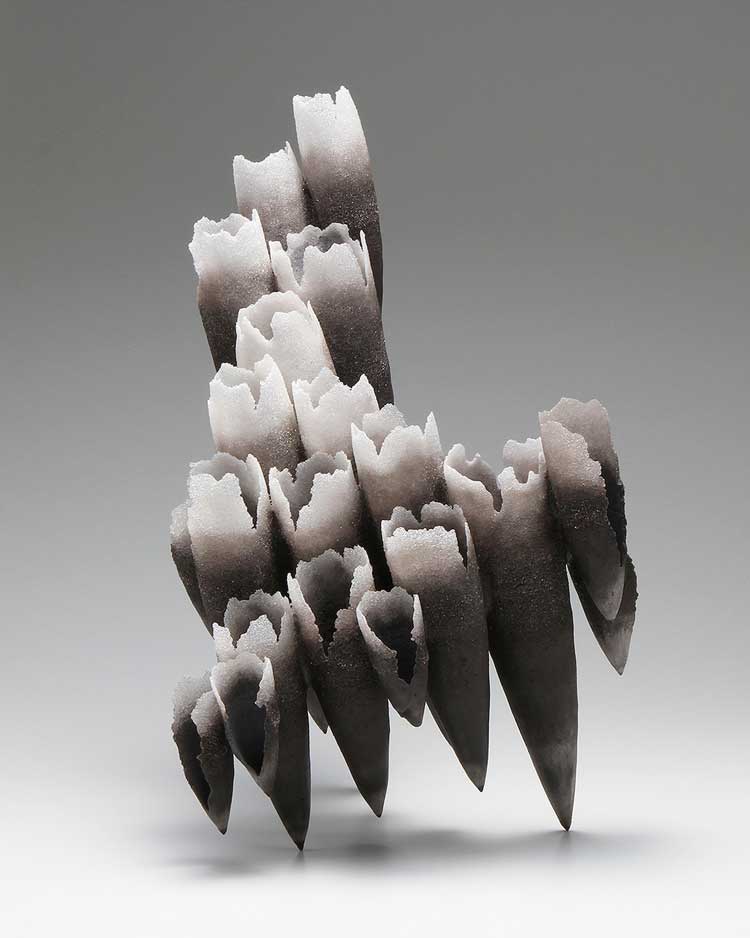 Hidenori Tsumori. Remnants Of, 2018. Glass, clay; mixed firing, kiln work.

Artist Hidenori Tsumori works in glass, but his unique technique involves mixed-firing glass and clay in pursuit of expression and forms that emerge through heating. Although Tsumori was formally trained in the technique of glass working, his approach can be assimilated into pottery-making. Rather than covering the clay with an over-glaze as is normal in making earthenware, Tsumori incorporates the glass within the clay. The result is that the glass behaves like strata emerging from earth. His Oscillation series emerge from the firing kiln, as if past and present co-exist in these static objects.
The second section of the exhibition, Germination from Insight, explores works by artists whose insight into our society has led to the creation of unique forms. Takao Inoue shows 50 tulip flowers, each encased in an acrylic cube and all of which have petals with complex variegated patterns. While the life cycle of some artefacts or plants has become increasingly short due to fleeting trends, and everything seems to be ephemeral, Inoue is drawn to the mystery of how some things continue to exist despite receiving no care or consideration from people.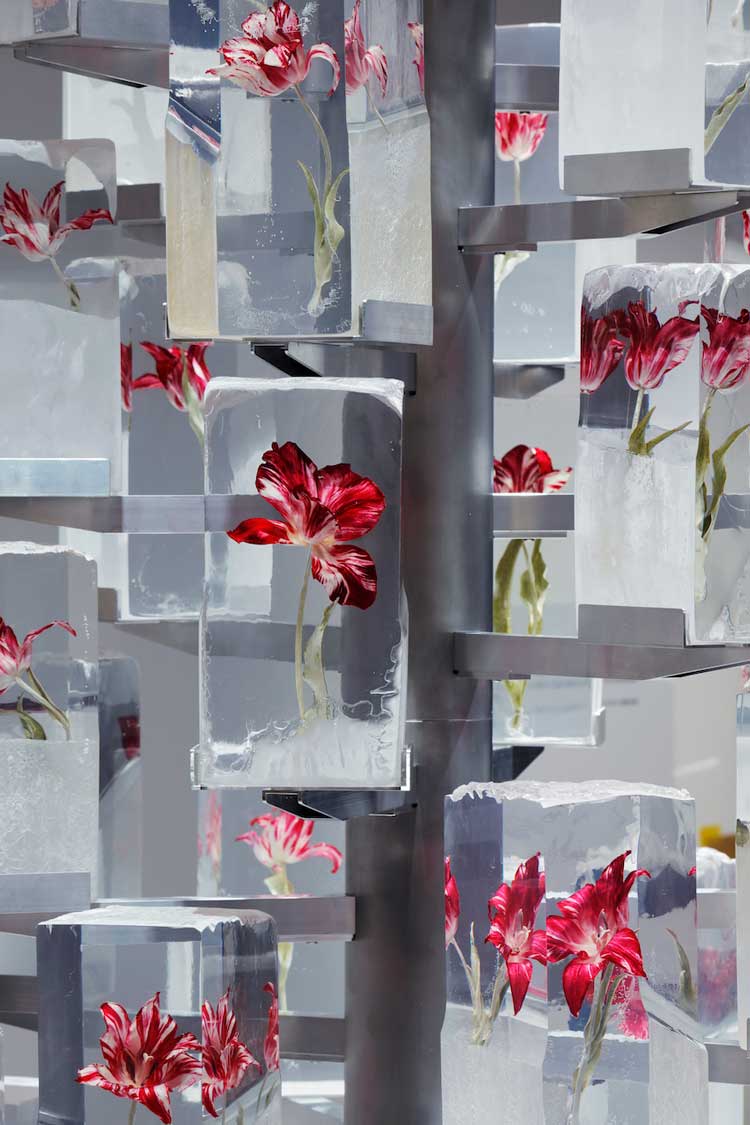 Takao Inoue. Tower of Broken Tulip, 2023. Tulip, acrylic, aluminium, stainless steel. Photo: Koroda Takeru.

Initially, he was interested in the 17th-century phenomena of Dutch tulip mania, when tulip flowers suddenly became immensely fashionable and Europeans, from the humble to the rich, were desperate to get hold of tulip flowers, especially those with patterned petals. Speculators traded the bulbs for extraordinary sums, but, in less than a decade, the market collapsed without warning. Inoue was intrigued by this phenomenon. Later on, science revealed that the variegated patterns on the tulips were in fact caused by tulip breaking virus, which resulted in broken patterns on the petals. Even though farmers remove the infected tulip flowers from the bulb, the pattern is said to grow back if the virus persists. Inoue was intrigued by this tragedy of the beauty of the tulip, and it led him to think about the relationship between human value and nature. The 50 pieces of Broken Tulips frozen in acrylic cubes are not an answer, but are his way of putting up a mirror to society.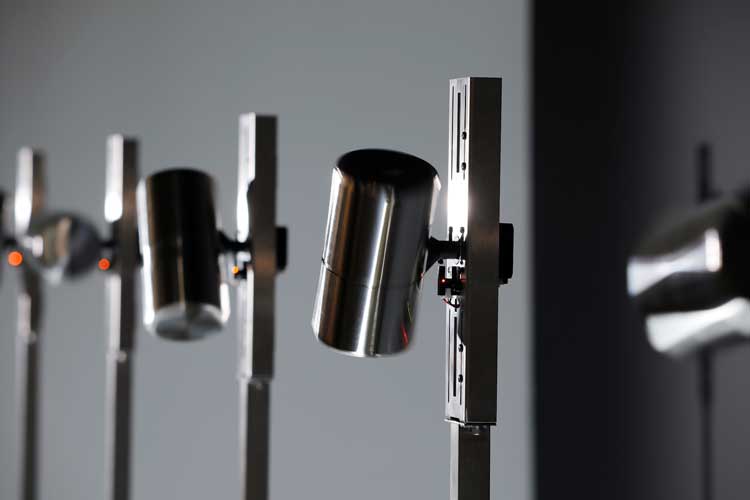 Takahiro Yagi and Rhizomatiks (Motoi Ishibashi, Tomoaki Yanagisawa) and Shinichi Mita. Newton's Lid, 2023. Metal (tin, brass, stainless steel). Photo: Koroda Takeru.

In section three, Laboratories connecting 100 years past and 100 years ahead, artisans, who have been followed crafts practised in their families for generations, leap ahead to 100 years in the future. Takahiro Yagi is one of them. He is the sixth-generation owner of Kaikadō, a company that manufactures copper tea canisters. Since it was founded in 1875, Kaikadō has been making cylindrical metal canisters whose basic form remains unchanged. The cylindrical canisters with air-tight lids are handcrafted by skilled artisans. Kaikadō's tea caddies are admired for their airtight quality, which allows tea leaves and coffee beans to be stored free from moisture, and the basic idea has not changed for more than a century. However, in 100 years' time, the requirements for tea canisters may change. Yagi imagined a society where people travel to another planet, a place with no gravity, where Kaikadō's air-tight caddies may no longer function. Assuming that, a century on, people will regard gravity as something rare and precious, Yagi, with the help of a technical engineering team, came up with a device that he called "Newton's Lid". The tea caddy is rotated, so the lid will slide down, making artificial gravity anywhere.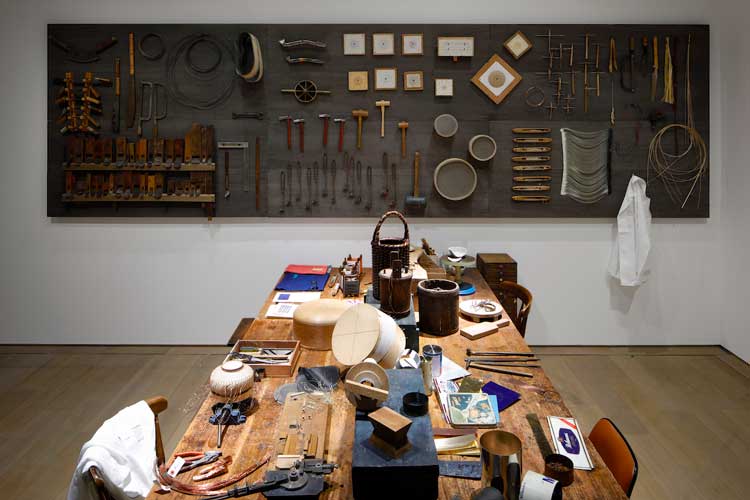 GO ON. Installation view of Kyoto Rejuvenation Workshop, 2023. Mixed media. Photo: Koroda Takeru.

Yagi is not the only craftsperson concerned about the future of crafts that have been handed down for generations. The collective GO ON consists of young craftsmen who have taken on their families' traditional crafts. As well as Yagi, they include: Masataka Hosoo, a 12th-generation worker in the textile company Hosoo, founded in 1688; Housai Matsubayashi, a 16th-generation worker at Asahiyaki Ware pottery; Tatsuyuki Kosuga, CEO of bamboo craft manufacturer Kohchosai Kosuga, founded in 1898; Shuji Nakagawa, a third-generation worker in the wood-crafting workshop Nakagawa Mokkougei; and Toru Tsuji, a wire-weaving master at Kanaami Tsuji. In our throwaway society, where you buy something, use it and then dispose of it, people rarely think about repairing. The members of GO ON, however, believe that if people feel an attachment to an artefact, and the artefact is not replaceable, they will take great care of it and will want it repaired if it breaks.
The final section in the show, Researches and messages: visionaries' logs, showcases designers' ideas for the future through self-initiated research into our current society. Black Blank, an installation by the design studio Takt Project, is a pond-like circular platform filled with magnetic liquid with a solid white pillar standing inside it. The liquid has been magnetised so that some portion occasionally climbs up the pillar. The movement of the liquid makes it appear like some sort of organism, but Satoshi Yoshiizumi, designer and co-founder of Takt Project, is clear that it is not meant to have any practical function. Even though, Takt Project works on practical artefacts for commercial clients on a day-to-day basis, the studio believes that the objective of design is not just about utility and functionality, but should stimulate and evoke thoughts within the viewer. Yoshiizumi says: "Yes, modern technology enables us to find out about the weather on a small handheld device. Because of this, our ability to sense our surroundings employs our five senses. We believe that design can have a role in making people question and think about our surroundings."
This exhibition not only gives shape to the ideas and mindsets of contemporary artists, but also proved to be an underlining statement of the museum, as a cultural institution run by Kyoto municipal city, which is not to stick to the legacy of the historic past but to innovate for the future.