Sophie Herxheimer: 'I'm after precision in poetry … I'm after exactly what it was I heard … the kernel of what the voice said to me'
The poet, writer and image-maker talks about the ideas and inspiration that inform her work
Sophie Herxheimer is a poet, writer and image-maker who lives in Brixton, south London. She teaches at the Poetry School and the Royal Drawing School; her poems have been published in magazines including Long Poem Magazine, the Poetry Review and Tears in the Fence, and in anthologies including The New Concrete: Visual Poetry in the 21st Century. Herxheimer has made several artist's books, has held residencies at London's Southbank Centre, the National Maritime Museum and Transport for London, and has exhibited at the Whitworth, the Poetry Library and the National Portrait Gallery.
Of her imagery, Herxheimer says: "I draw to have ideas; I don't draw because I have ideas." Yet her clear observations (of eye and voice), often concerned with injustices of our times, prompted a poet friend to call some of her written work "protest calligraphy". In these, Herxheimer captures the pulse of today, breathing light into troubled places. For some years now, she has been energetically engaged with collecting stories from people live in ink by listening and drawing in words and images. "Ink works so fast you can outwit yourself with it: ink gets on to the paper before you have time to process."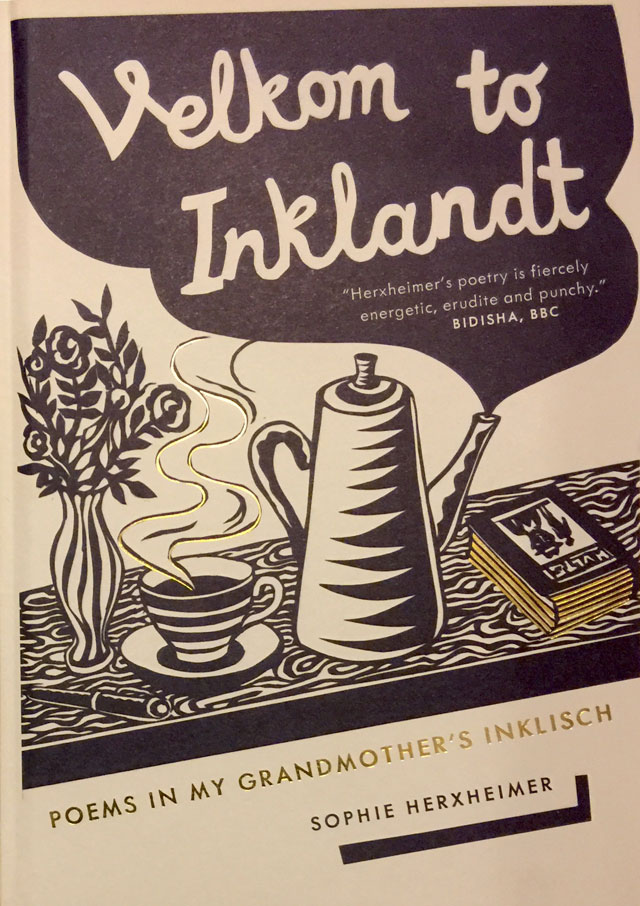 Sophie Herxheimer. Velkom to Inklandt cover. © the artist.

Herxheimer was awarded the inaugural artist's residency at the Arvon Foundation in 2016, she won first prize in the Free Verse Poetry Book fair competition in 2015, and, on 26 September 2017, the Guardian made her poetry collection Velkom to Inklandt its book of the day, calling it "a mix of memory and imagination, uplifting, funny and heart-breaking".
Studio International visited Herxheimer at her house and studio in Brixton to talk about the ideas and inspirations that inform her work.
Interview and film by MK PALOMAR.