Merrie Albion: Landscape Studies of a Small Island
From the diamond jubilee to the ruins of Grenfell Tower, Simon Roberts captures the events that have defined the British experience of the past decade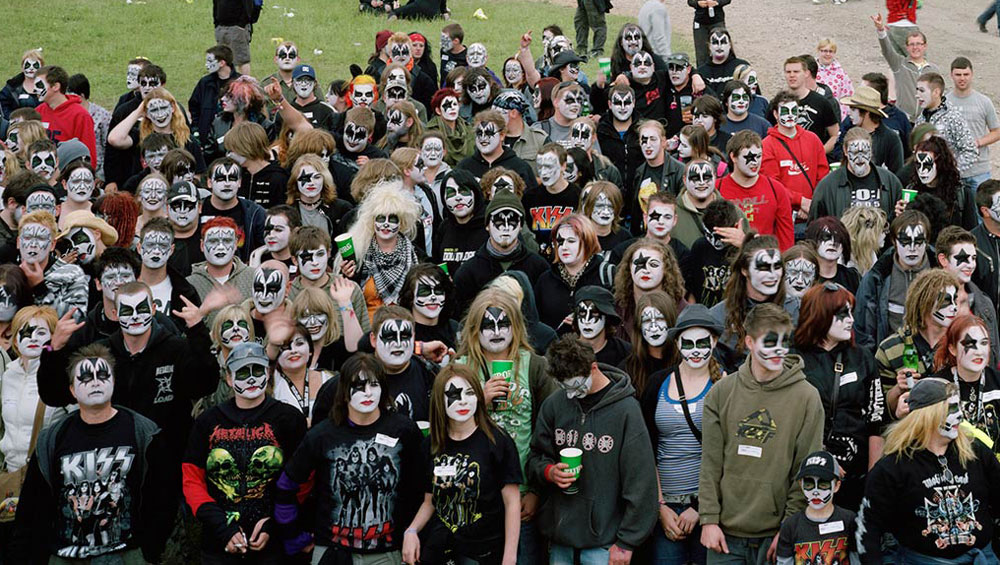 Simon Roberts. Download Festival, Donington Park, Castle Donington, Leicestershire, 13 June 2008 (detail). Fujicolour crystal archive print. © the artist.
Flowers Gallery, Kingsland Road, London
19 January – 10 March 2018
by EMILY SPICER
As Britain's exit from the EU creeps nearer, a rusting ship in pursuit of an unpopular, but unknown destination, we find ourselves striking out blind and alone. There is continuity in change, of course. Nothing stands still. Britain – or Albion, as photographer Simon Roberts would have it – has for ever been an island nation in flux. Roberts' exhibition at Flowers Gallery and the accompanying book, which offers dozens more images, is the culmination of a decade of travelling around the UK on the lookout for these subtle shifts. He has captured gatherings of remembrance, of celebration and protest – those events that give us a shared identity through shared experience and feeling. But these images are also about place and the locations that have taken on a heightened significance as we move into a new era.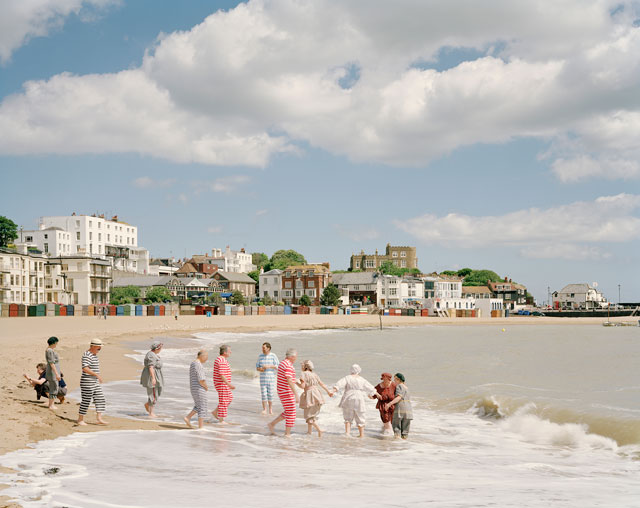 Simon Roberts. Broadstairs Dickens Festival, Isle of Thanet, 19 June 2008. Fujicolour crystal archive print. © the artist.

We British excel at clinging to the good old days that never were, and the exhibition's title is a tongue-in-cheek nod to this. We write our own history, be it ancient or recent, and use it as yardstick for everything that is happening, or about to happen. Revelling in the past is a big part of keeping alive the stories we tell ourselves, and Roberts has documented this nostalgic sentiment. A photograph taken in 2008 captures a group of middle-aged literary enthusiasts celebrating the Broadstairs Dickens Festival by gingerly wading into the milky-grey Channel in stripy Victorian swimwear. Behind them, a picture-perfect seaside town, complete with a row of beach huts, provides the ideal backdrop to the scene.

Simon Roberts. Diamond Jubilee Celebration, Craven Vale Estate, Brighton, East Sussex, 2 June 2012. Fujicolour crystal archive print. © the artist.

Bunting criss-crosses a housing estate in Brighton in celebration of the diamond jubilee in 2012. It is a modest street party, but some people have dressed up for the occasion in a range of historical costumes. One lady, a convincing stand-in for the Queen, sports a peach-coloured outfit, complete with hat. Another gathering, and a formation of Spitfires cuts through the sky as a crowd watches from a safe distance, nestled among ice-cream vans and bouncy castles. This is the Battle of Britain Memorial Flight at Shoreham airshow in West Sussex in 2007. Eight years later, a vintage military jet performing manoeuvres at this event crashed into traffic on the A27, killing 11 people and injuring 16, giving this image, and the mocked-up explosions it depicts, a particularly powerful resonance.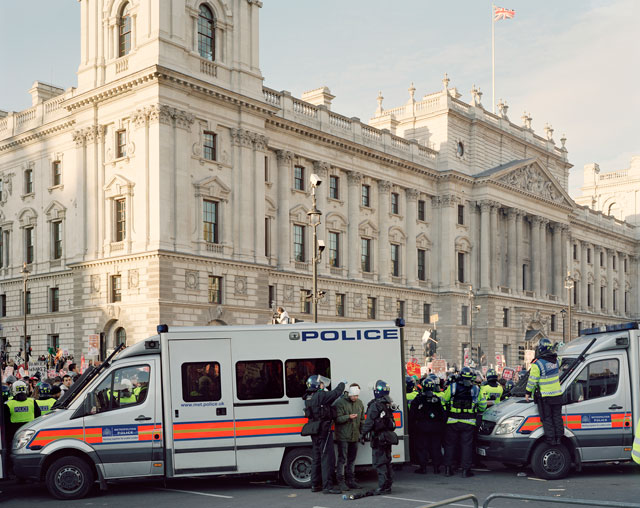 Simon Roberts. National Campaign Against Fees and Cuts, Parliament Square, London, 9 December 2010. Fujicolour crystal archive print. © the artist.

Roberts captures social tensions, too. Police vans hem in people protesting against hikes in university tuition fees and cuts to education funding in 2010. The protesters, who were mainly students, were "kettled" in Parliament Square in an attempt to prevent violence and vandalism, but the police were later criticised for their tactics. In Roberts' image, a policeman in full riot gear carefully bandages the head of a man caught up in the fracas. A placard in the crowd reads "banker wanker". Big brother is watching. CCTV cameras look down on the scene and the union flag flies high from the neo-classical roof of a government building, a reminder of the might of the nation state.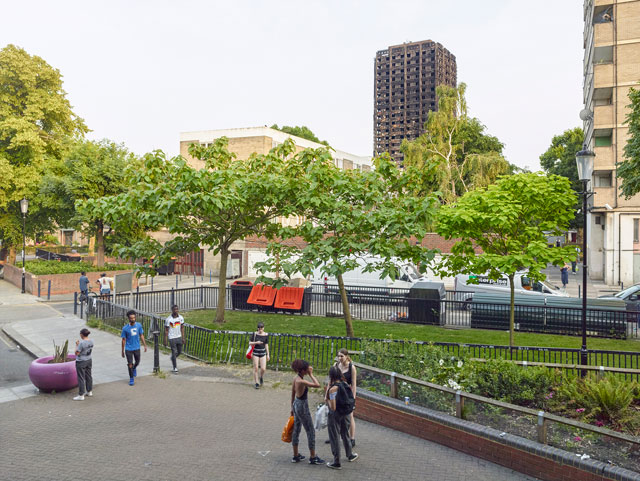 Simon Roberts. Grenfell Tower, North Kensington, London, 19 June 2017. Fujicolour crystal archive print. © the artist.

In another photograph, the burnt-out shell of Grenfell Tower looms over leafy treetops like a gargantuan tombstone, as young Londoners mill about in the foreground in shorts and T-shirts. This tragedy, a short distance from Kensington Palace, threw social divisions into sharp relief. Costs were cut on the cladding used to refurbish the council-owned tower block, cladding that proved to be highly flammable. When one apartment caught light, the whole building became quickly engulfed, resulting in a horrific loss of life.
A street of pastel-coloured terraces in Bristol is lined with cars and people. At first glance you might miss the building on the right. Jamia mosque is painted in colours sympathetic to the facades that surround it. Worshippers are talking and greeting each other in the street, celebrating Eid al-Fitr, the end of Ramadan. It is a harmonious scene, but the jailing of two men in 2016 for throwing bacon at the mosque's entrance and last year's terrorist attack on Finsbury Park mosque in London reminds us of the challenges facing Muslims in Britain.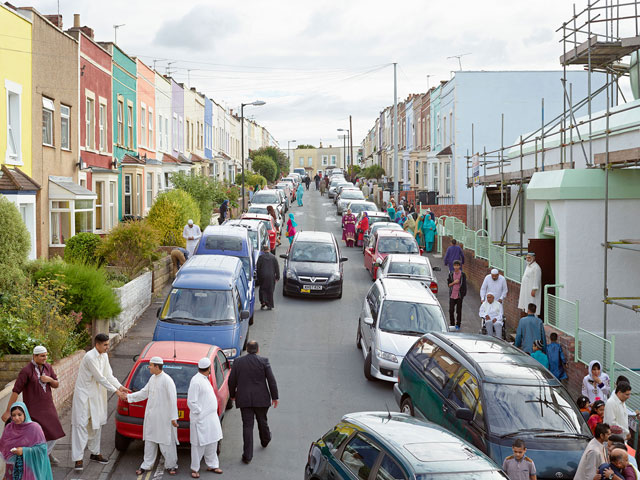 Simon Roberts. Eid al-Fitr Celebrations, Jamia Mosque, Green Street, Bristol, 8 August 2013. Fujicolour crystal archive print. © the artist.

Another gathering, and people come together for the Croydon International Mela – a celebration of local Asian culture. Families rest on scattered hay bales in the foreground as colourful fairground rides whir in the distance. There is so much that is English about this scene, from the umbrellas and picnics, to the Marks & Spencer shopping bag that hangs over the handle of a pushchair. The billowing clouds that close in overhead seem plucked from a John Constable painting. This is a multicultural Englishness, a happy mix of people, a reassuringly hopeful picture.
Roberts uses landscape brilliantly to tap into a feeling that identity is rooted in place, that we are all shaped by our surroundings. He steps back to capture the scene, often taking a high vantage point, like a modern-day Brueghel, and, in doing so, he takes in as much of the drama as possible. His photographs remind us that, often, it is the environment that ties us together. Our Britishness lies in the buildings and the weather, the cities and the beaches that shape our lives with shared experiences. There is discord and there is unity in this land of multiple identities. There is serenity and there is discontent. This complex little island is teeming with contradictions. What dramas will the next decade reveal to Roberts' lens?