Shonky: The Aesthetics of Awkwardness
Guest curated by John Walter, as part of the Hayward Gallery's Touring Curatorial Open, this vibrant and subversive group show is kaleidoscopic and entertaining, as well as intellectually stimulating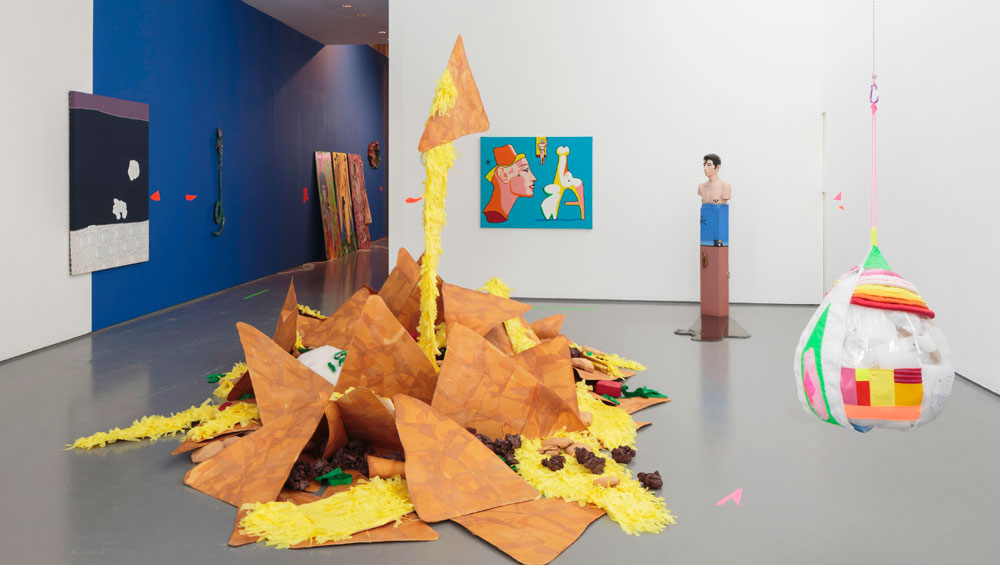 Justin Favela. Floor Nachos, 2017. Installation view, Shonky: The Aesthetics of Awkwardness. Photograph: Ruth Clark.
Dundee Contemporary Arts Centre, Dundee
10 March – 27 May 2018
by CHRISTIANA SPENS
Aiming to explore the nature of "visual awkwardness," Shonky: The Aesthetics of Awkwardness, artist John Walter's curation of the Hayward Gallery's Touring Curatorial Open, brings together an array of exciting contemporary artists and architects. A slang term meaning "corrupt or bent, shoddy or unreliable," in the context of this exhibition, "shonky" is a way of probing a particular visual aesthetic that rebels against uniformity and perfectionism, and indeed conformity in a much wider sense, and pushes social and aesthetic boundaries. The artists in the exhibition have produced work that is intentionally blundering, haphazard and even gauche; under Walter's direction, the resultant collection is an enjoyably dissonant symphony of ideas, provocations and patterns.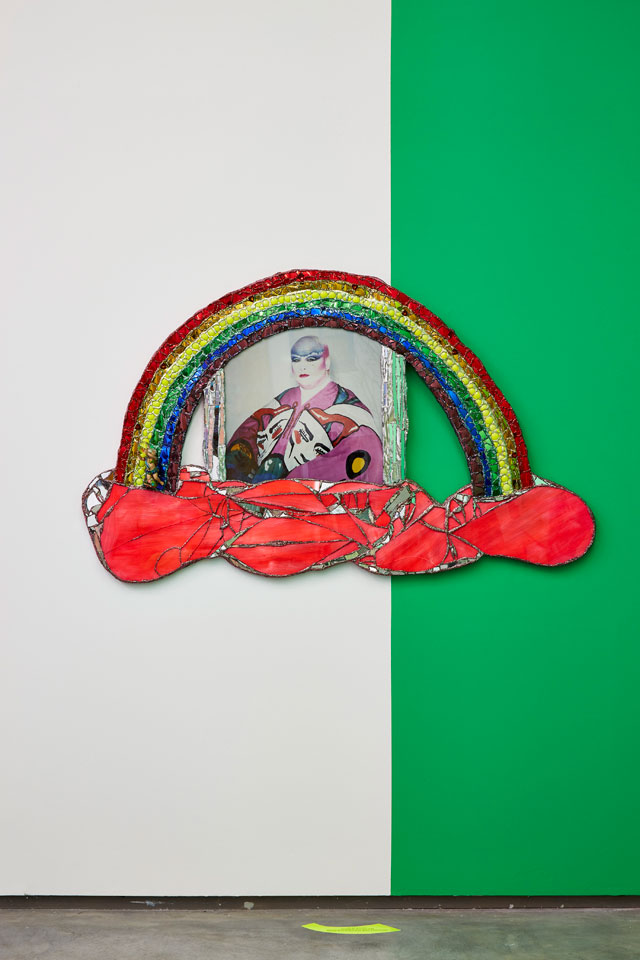 Andrew Logan. Divine Shrine. Photograph: Ruth Clark.

Indeed, Shonky is celebratory – in its clownish performances, it presents the spectacle of modern art as a kind of circus. Life like busts by Andrew Logan of pop cultural icons, such as Molly Parkin, Divine and Fenella Fielding, are poised next to canvases of neon shades by Louise Fishman, while, in the middle of the space sits a jumbled heap of cardboard and bright yellow, feather-like paper – Mexican-American artist Justin Favela's Floor Nachos, 2017 – which explores cultural appropriation in his adopted home city of Las Vegas.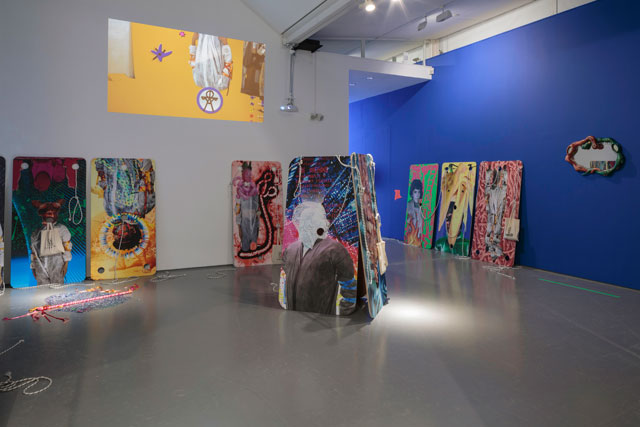 Plastique Fantastique, installation view, Shonky: The Aesthetics of Awkwardness. Photograph: Ruth Clark.

Nearby, Kate Lepper's Emergency Canisters and Leaf Preservers (both 2011), made up of dried leaves and grass clippings, encourage the audience to reconsider the relationship between humans and their environment. In the background, meanwhile, large, vibrant collages are strung together with rope, with the words "ME ME FAIRY" projected against the wall behind them – a tarot card (the Hanged Man) rotating in the centre. These are the leftovers of a performance by Plastique Fantastique that took place on the show's opening night.

Benedict Drew. A Dyspraxic Techno, 2017. Photograph: Ruth Clark.

Further along in gallery two, a video installation by pioneering artist and film-maker Duggie Fields runs on a loop, as visitors mill around, going from large abstract canvases to sculptures of hallucinogenic creatures, seemingly entwined with one another. Elsewhere, Benedict Drew's video installation A Dyspraxic Techno (2017) intrigues, and then overstimulates, its visitors with sounds and images, creating a disorienting experience that complements the other works with its playful sense of chaos.
With these spectacles, the gallery has been transformed into a world where imagination is given free rein. That the exhibition features so many artists only adds to the sense of exuberance and abundance. There is always something new to notice or explore, in a way that marks a difference from many contemporary exhibitions that embrace an almost clinical sense of restraint and detachment.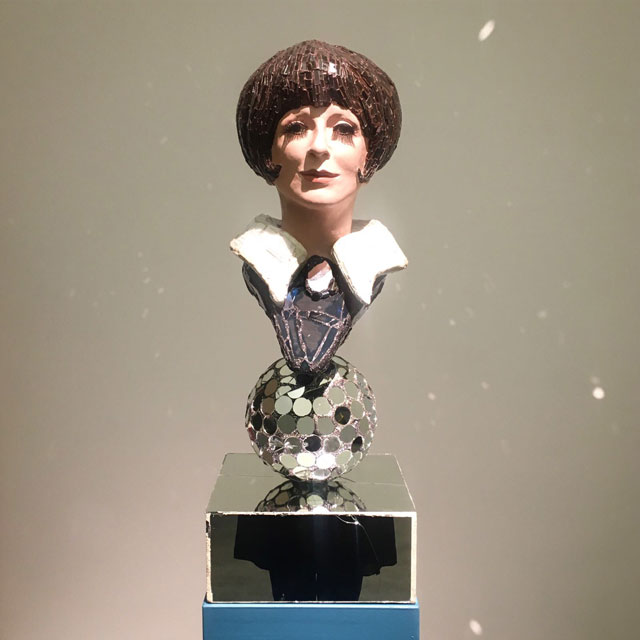 Andrew Logan. Fenella Fielding. Photograph: Ruth Clark.

These ideas of "shonkiness" and "awkwardness" are not only theatrical and entertaining, however; the notion at the exhibition's centre is also a means of critique, used to explore the interrelated issues of gender, beauty and ugliness, identity and chaos, and the discourse surrounding those subjects in current visual practice. Turning the DCA galleries into this myriad of conceptual spaces, the array of artworks across visual media embody some aspect of "shonkiness" or "awkwardness" in ways that lend to an overall subversion of the mainstream and hegemonic in the modern art world. Individually and as a group, the works on show rebel and question, but in a playful, engaging and democratic way, thus avoiding any sense of alienation or detachment that could easily follow from a show that is confrontational and intelligent.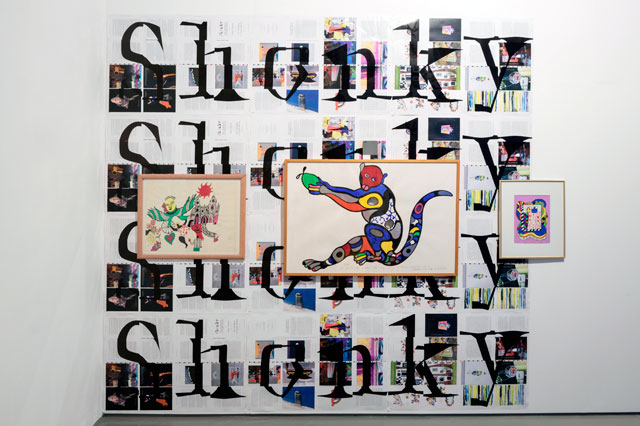 Niki de Saint Phalle, installation view, Shonky: The Aesthetics of Awkwardness. Photograph: Ruth Clark.

That quality is a consequence of the exhibition's direction and Walter's overt intention to bring people into its discourse in a direct and interesting way. It is also down to the individual contributions of the artists, who were presumably chosen by Walter for possessing those qualities. As the curator recently told the National: "It's partly about things that are out of fashion … Or maybe queer things, or feminist things, like the work of Niki de Saint Phalle, who isn't very well collected in the UK, or Friedensreich Hundertwasser – there are just a couple of his prints in the V&A, and he was so prolific. Why is it that we in the UK don't like this sort of work or at least, don't show it?"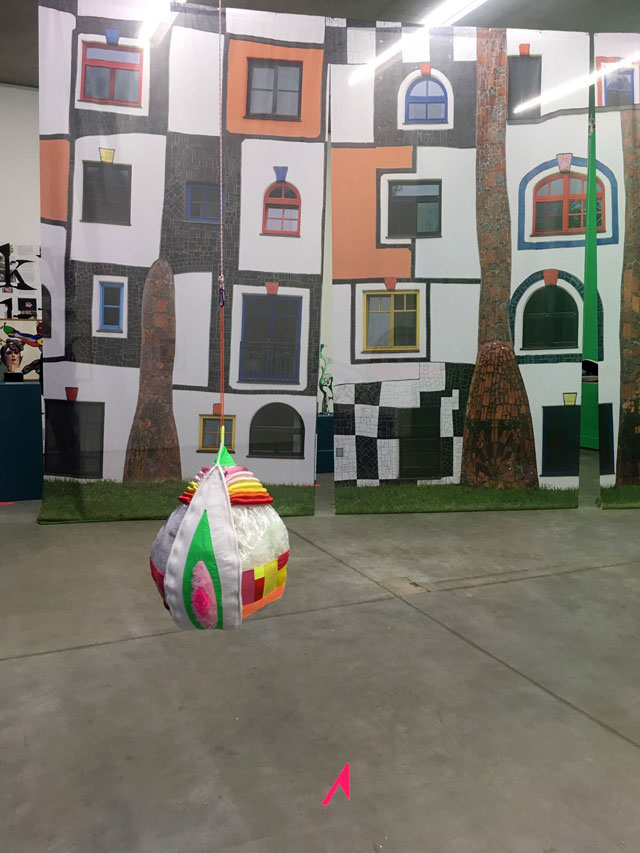 Friedensreich Hundertwasser and Kate Lepper, installation view, Shonky: The Aesthetics of Awkwardness. Photograph: Ruth Clark.

In the case of Hundertwasser, Walter takes the unusual decision to hang vast prints of the illustrations of the Austrian artist and architect's buildings, which give the impression of a fragmented stage set, or backdrop for the other work. These brightly coloured facades tower over the visitors, but as the material of the prints is almost opaque, this lends a dreamlike quality to the space, rather than a domineering atmosphere. In the work of French-American De Saint Phalle, meanwhile, totemic sculptures recall surrealist works as well as so-called outsider art, in their resistance and playful subversion.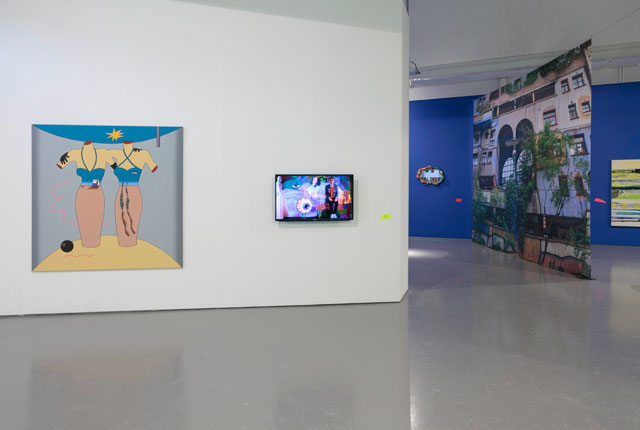 Duggie Fields, installation view, Shonky: The Aesthetics of Awkwardness. Photograph: Ruth Clark.

This drive towards inclusion and a sort of cosmopolitanism, evidenced in both of these artists and, indeed, the whole roll call, makes for an interesting challenge to the status quo. In simply bringing these artists together, the exhibition highlights what is often dismissed in contemporary art practice; in positioning the ignored or ridiculed centre stage, Walter encourages us to pay more attention to those people and ideas on the fringes of dominant discourses – to take more seriously the absurd, even as we revel in its humour.