Roni Horn aka Roni Horn
In the artist's most comprehensive survey to date, Roni Horn fuses image and text to enable contemplation of the impact of the water and weather on human identity, in an exhibition that will be adapted to the light and architecture of each museum
Tate Modern, London
25 February–25 May 2009
Collection Lambert, Avignon
21 June–4 October 2009
Whitney Museum of Modern Art, New York
6 November 2009–24 January 2010
by NICOLA HOMER
Roni Horn is fascinated by Iceland: she discovers a symbolic language amid the island's climate, hot pools and rivers. The American artist draws upon memories of precipitous landscapes to create beautiful, minimal artworks that explore nature's infinite capacity for change. By reflecting on her outward experience, she throws a mirror to her audience, asking them to delve beneath the surface of her drawings, sculptures, photos and writings, and enter into a strange yet rewarding dialogue on the mutability of life. Vatnasafn/Library of Water (2007),1 an installation of clear, glass pillars filled with glacial meltwater in the small town of Skykkishólmur, takes the shape of a lighthouse that illuminates the place and community through its growing archive. Now, in the artist's most comprehensive survey to date 'Roni Horn aka Roni Horn',2 which travels from the UK to France and the United States, Horn fuses image and text to enable contemplation of the impact of the water and weather on human identity, in an exhibition that will be adapted to the light and architecture of each museum.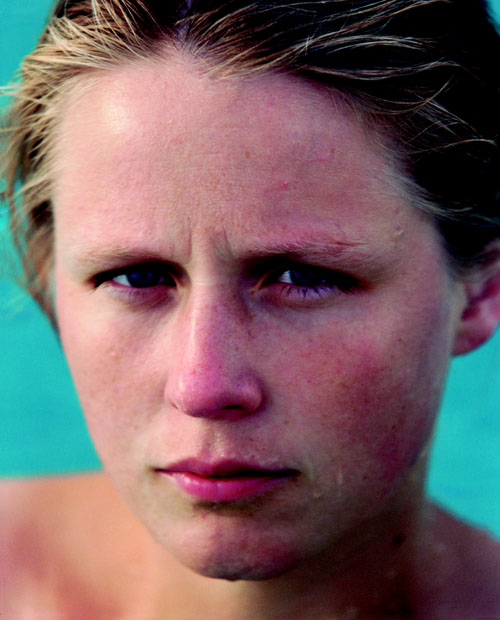 Roni Horn. You are the Weather, 1994–5. One of 36 gelatin silver prints and 64 chromogenic prints, 26.7 x 21.6 cm each. Courtesy of the artist.

The dialogue turns around a series of books, To Place (1990–ongoing), detailing the artist's view of the topography of Iceland: the folds, bluffs, lava fields, glaciers and latitudes, amid a survey of its architecture, climate, history, geography, flora and fauna. 'The encyclopaedia is entitled To Place – as a verb. That is … place as something that is evolving not only in itself but as a product of your relation to it,'3 Horn explains. The experience of her art derives from the solitary observation of nature. Bluff Life reproduces drawings of the sea, the sky, the rain and the birds on the bluff of a remote lighthouse during a two-month stay in Dyrhólaey (1982), also present on a line of note-cards. Traces of memories reside in layers of graphite-black strata, punctuated by orange watercolours reminiscent of the sun. Haraldsdóttir explores the climate through a woman's face, the idea rippling into a room of photos tracing the subtle nuances in the expression of a Nordic girl as she rises from a geothermal pool. You are the Weather, whispers the artist, the parallelism of the title moving the skies of our imagination. Arctic Circles alludes to the impossibility of mapping the elusive shape of that latitude, the images travelling from the printed page to the gallery walls in Pi (1998), a channel of scenes from the life of an elderly couple who survive by harvesting the down of eider ducks. Horn juxtaposes their quiet, interior life with the harsh, dramatic cycles of their environment, matching close-ups of their workspace, waxy feathered owls and stills from their only TV station, with soaring birds, empty ocean horizons and a turning lighthouse beacon. By interspersing seascapes and portraits, the artist establishes a conversation between nature and culture.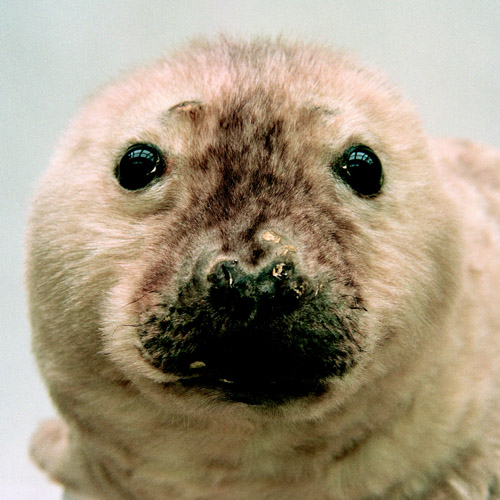 Roni Horn. Pi, 1998. One of forty-five Iris prints (13 prints are 51.4 x 51.4 cm each, ten prints are 51.4 x 41.3 cm each and 22 are 51.4 x 69.2 cm each). Courtesy Hauser and Wirth, Zurich and London.

Situated at the focal point is the viewer, invited to engage in a solipsistic meditation framed by 'paired objects', near-identical fragments of text and image. A concrete couplet, a sequence of white plastic letters on a silver aluminium bar belonging to 19th-century poet Emily Dickinson, with whom Horn shares a solitary fascination with natural phenomena, throws this idea into relief: 'I give you a pear that was given me – would that it were a pair, but nature is penurious,' she writes. Duplicate copper rods, Things That Happen Again (1986), lie in adjacent rooms, the memory of one folding on to the experience of the other, and drawings double up in distant fields of perception. Amid an open, light-filled space, two sheets of gold foil rest quietly together on the floor, in homage to 'Ross and Felix'.4 The poetic materiality of the duet resonates in the mind; the heightened sense of consciousness derived from the associative gaze sustains a monologue on the fragile equilibrium between the human mind and body. The art illuminates our world for a moment, as we stand frozen in time.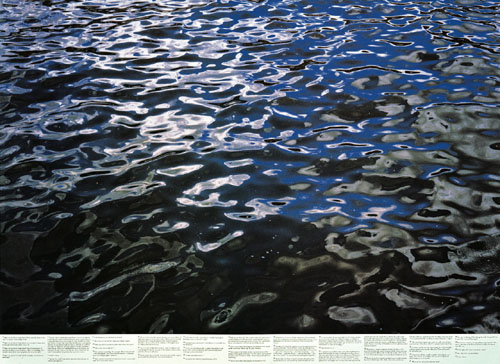 Roni Horn. Still Water (The River Thames, for Example), 1999. One of 15 offset lithographs on uncoated paper, 76.2 x 104.1 cm each. Courtesy of the artist.

As ice melts, so water offers a porous means of observation in Horn's installations: slippery pools shimmer in the daylight, ripples gather in the fissures of opaque, cast glass. The gelatinous surface catches the eye in Still Water (The River Thames, for Example) (1999), a series of photos of the sullied river acting as a mirror to the artist's reverie. 'The colour of the water changes constantly. Half of it is the sky,' she notes, as a passage of water ebbs and flows through shades of khaki, beige and brown. 'Have you ever noticed how light reflections on the water sometimes look like camouflage?' Tiny numbers of footnotes coalesce like flotsam and jetsam, pulling us into a historical slipstream, ranging from Joseph Conrad's Heart of Darkness (1902) to Dickinson's poems. Many hint at stories of distant lives untold. 'It's curious how the Thames attracts people from far away,' she thinks, referring to a young Parisian woman who disappeared here. The river becomes a metaphor5 for consciousness, a shared part of our identity that draws us together amid the flux of life, regardless of age, gender or socio-economic class: 'In the River Thames, in an Arctic iceberg, in my drinking glass, in that drop of rain, on that frosty window pane, in my eyes, and in every other microscopic, microcosmic part of me (and you), all waters converge.'6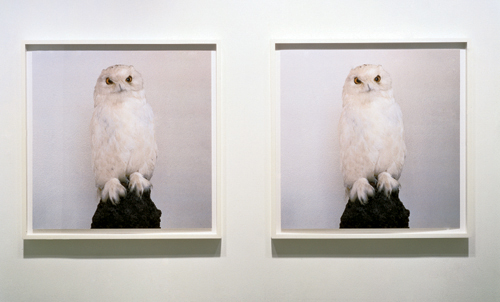 Roni Horn. Dead Owl, 1998. Two Iris prints, 73.7 x 73.7 cm each. Musée d'art moderne de la Ville de Paris.

The artist's fascination with dissolving natural phenomena as a means of understanding our relation to the world is illuminated by the publication Roni Horn aka Roni Horn,7a paired object in itself, comprising a catalogue and a subject index. With an academic essay by Briony Fer on the importance of drawing in Horn's practice, colour images documenting the works on display, and an alphabet of entries on related subjects by 30 different critics accompanying the artist's writings, it provides for richly stimulating reading. Horn's fresh and prescient use of visual language sustains a rewarding, sensory dialogue with her audience on how quickly life changes every day – returning us to the present and keeping our curiosity alive.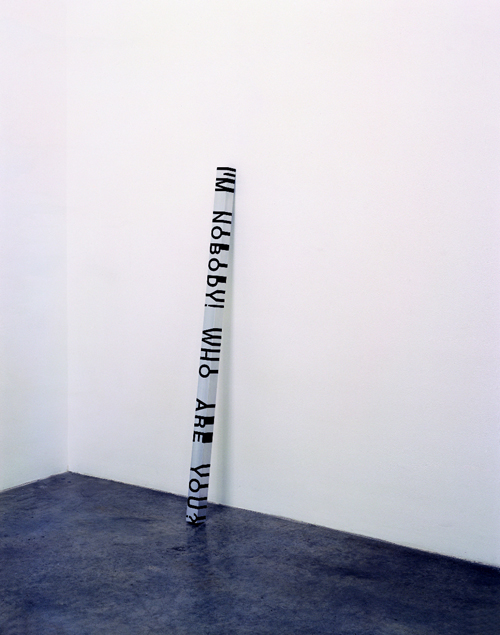 Roni Horn. Key and Cue, No. 288 (I'm nobody! Who are you?), 1994/2003. Aluminium and solid cast plastic, 2 x 51 x 2 inches. Courtesy Hauser and Wirth, Zurich and London.

References
1. Vatnasafn/Library of Water (2007) was Artangel's first international commission. Atmospheric words such as 'calm', 'rough' and 'sultry' map the ground, inviting local people to contribute stories. The work has resulted in a collective portrait of islanders in the book Weather Reports You (Artangel/Steidl, 2007). Roni Horn compares the Library of Water to a lighthouse See http://www.artangel.org.uk.
2. 'Roni Horn, aka Roni Horn' was on display at Tate Modern (25 February–25 May), and will be on show at the Collection Lambert, Avignon, France (21 June–4 October), the Whitney Museum of Modern Art in New York (9 November–10 February 2010), and the ICA in Boston (19 February–13 June 2010).
3. Horn, 'Subject Index', Roni Horn aka Roni Horn (Steidl & Partners, 2009), p148
4. Paired Gold Mats, for Ross and Felix (1994-95) connects with Gold Field (1980-82), a formalist work evoking the sun. Along with his partner Ross Laycock, Felix Gonzalez-Torres was inspired by the work: 'It is everything a good poem by Wallace Stevens is: precise, with no baggage, nothing extra.' Ibid, p.63
5. Horn, 'I was fascinated by this idea of water as a form of perpetual relation, not so much a substance but a thing whose identity was based on its relation to other things…. Rather than an object, water becomes a metaphor for consciousness – of time, of physicality, of the human condition.' Ibid, p.135
6. Horn, A selection of footnotes from Still Water (The River Thames, for Example) (1999), in 'Catalogue', Roni Horn aka Roni Horn (Steidl & Partners), p.131
7. This Steidl publication is the most significant overview of Roni Horn's work to date. It has two parts: a subject index and a catalogue. It is co-published with Tate and the Whitney to accompany the exhibition.