Rethinking pink
A corporate and trademarked invention, Barbie Pink is still marketed as the colour of perpetual happiness. Tracing the multiple iterations of pink through art history, however, reveals more complex meanings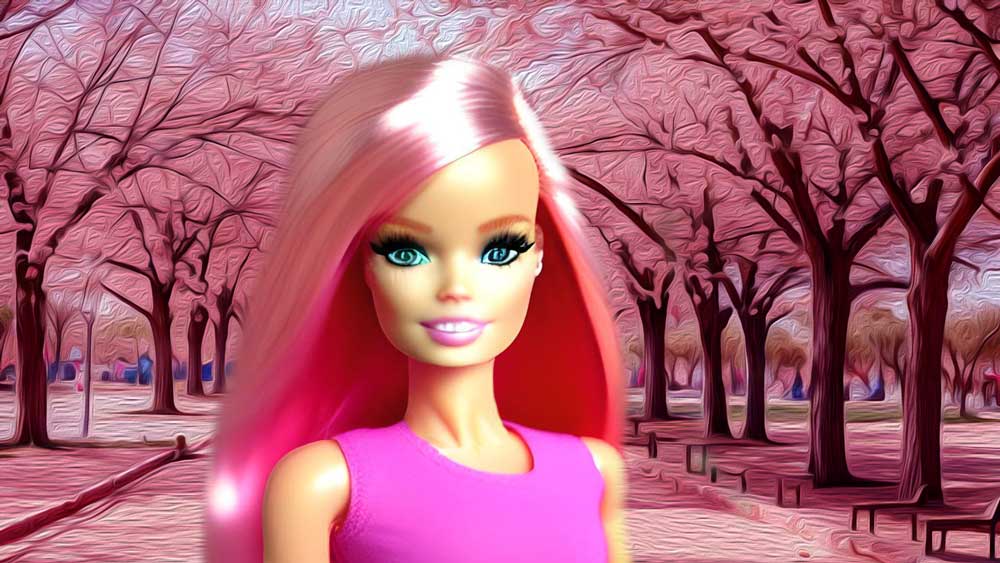 Pink Woman in Pink Landscape, Image generated by AI, 2023.
by JILL SPALDING
Ever since the meteoric launch of Greta Gerwig's fabled film Barbie, all those in the swim of the current global zeitgeist have been immersed in the plastic-pink bubble launched by Mattel in 1959. Influencers and street strut pronounced it the alpha and omega of the make-believe world it had birthed, sales of pink clothing in the US spiked by 130%, and so specific was Barbieland's branded glow that it commanded its own tinted universe, moving Pantone to add "Barbie Pink" to its roseate spectrum.
Technically, science tells us, pink is not on the spectrum – what we see is a mix of red, white and proximate colours. Be that as it may, none of London's lavishly clad society mavens felt unseen in the radiant pinks of Thomas Gainsborough's taffetas and Thomas Lawrence's chiffons; pastel pinks coded the classically trained ballerina; and dress-empress Schiaparelli's eponymous shocking pink all but exploded the spectrum.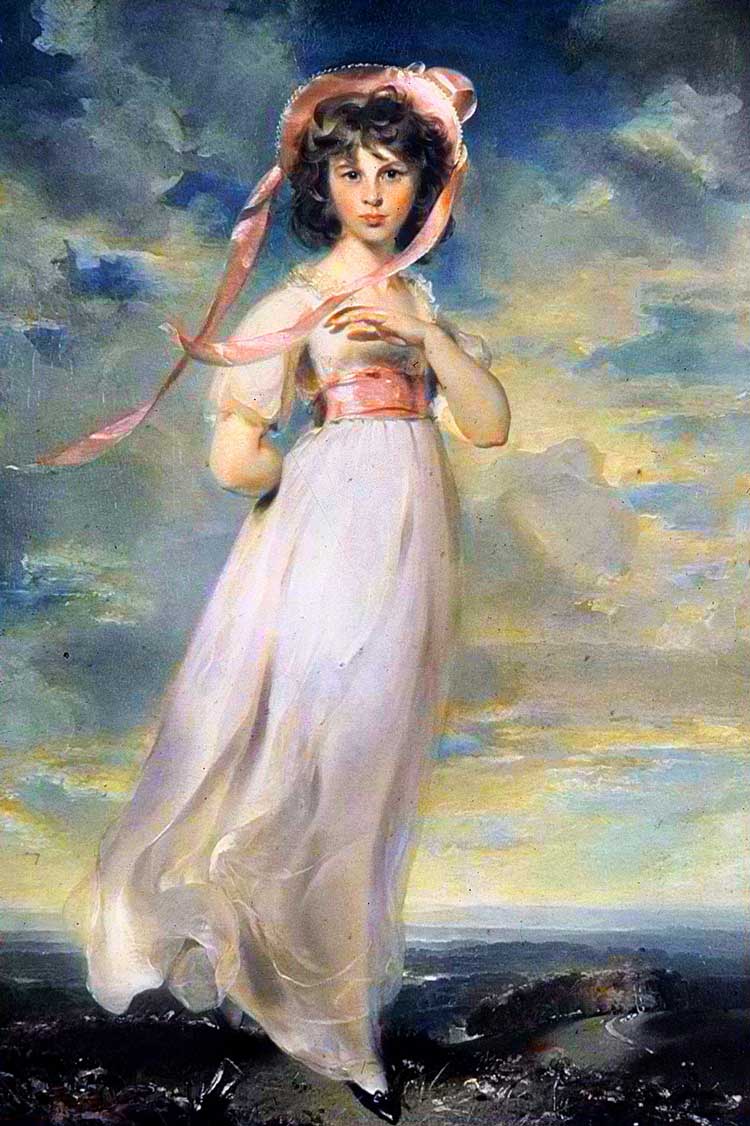 Thomas Lawrence. Sarah Barrett Moulton "Pinkie", 1794. Oil on canvas, 148 x 102 cm. The Huntington Library, Pasadena, California.

Curiously, pink is thought to be the oldest colour in nature, lying under the Sahara in billion-year-old-rocks flushed with ocean-going cyanobacteria. And yet, discounting the illusory pink (produced by refracted light) of certain gemstones and sunsets, pure pink manifests in nature quite rarely – a very few birds, still fewer fish and insects, and a handful of animals – displaying abundantly only in wildflowers.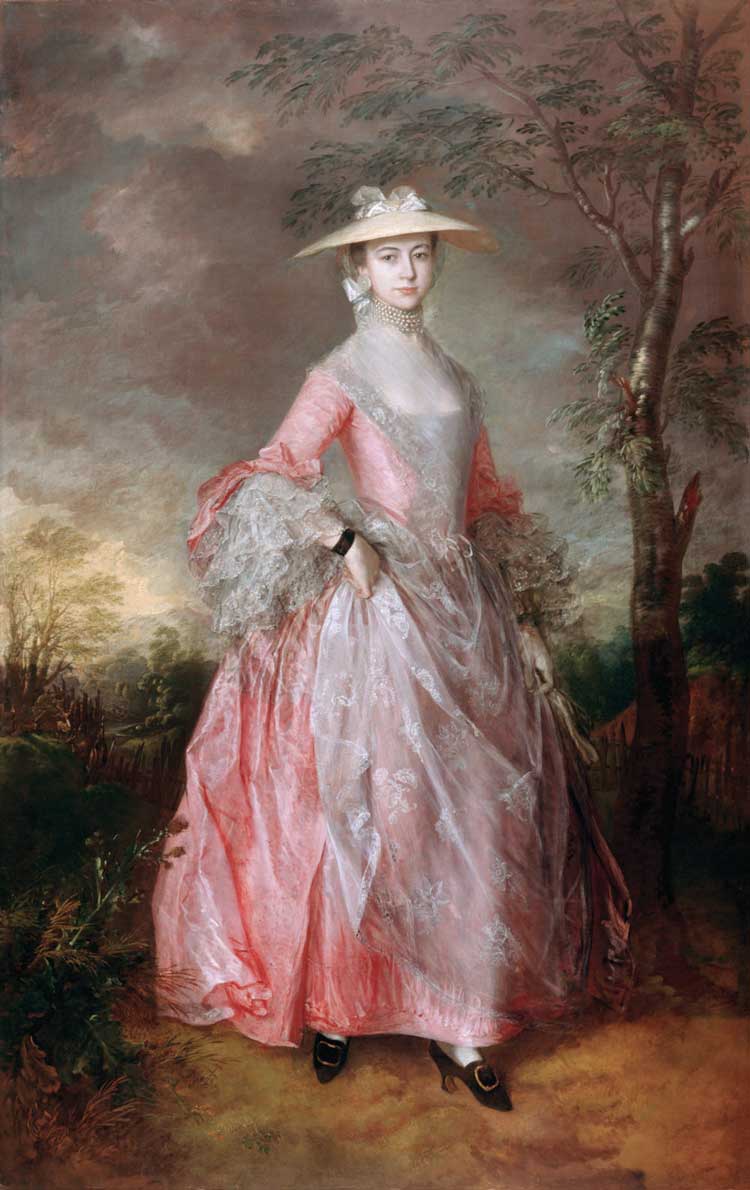 Thomas Gainsborough. Mary, Countess of Howe, 1764. Oil on canvas. Kenwood House.

In art, however, pink has a rich history, visual and metaphorical. Arguably it was an ancient Egyptian invention, extracted so laboriously from madder lake (a tree resin) and the root of the Rubia tinctorum (related to gardenias and coffee) that the day's frescoes reserved it for royalty. In Asia, pink manifested in the sandstone temples carved out of rockfaces (cf Al-Khazneh in Petra) and in towering Buddhas (cf the Giant Buddha in Leshan). Centuries later, an invitational pink infused the quilted robes of Japan's Floating World courtesans, while the expensively dyed pink of Shah Jahan's jewel-strewn Jama Masjid announced absolute power on Earth.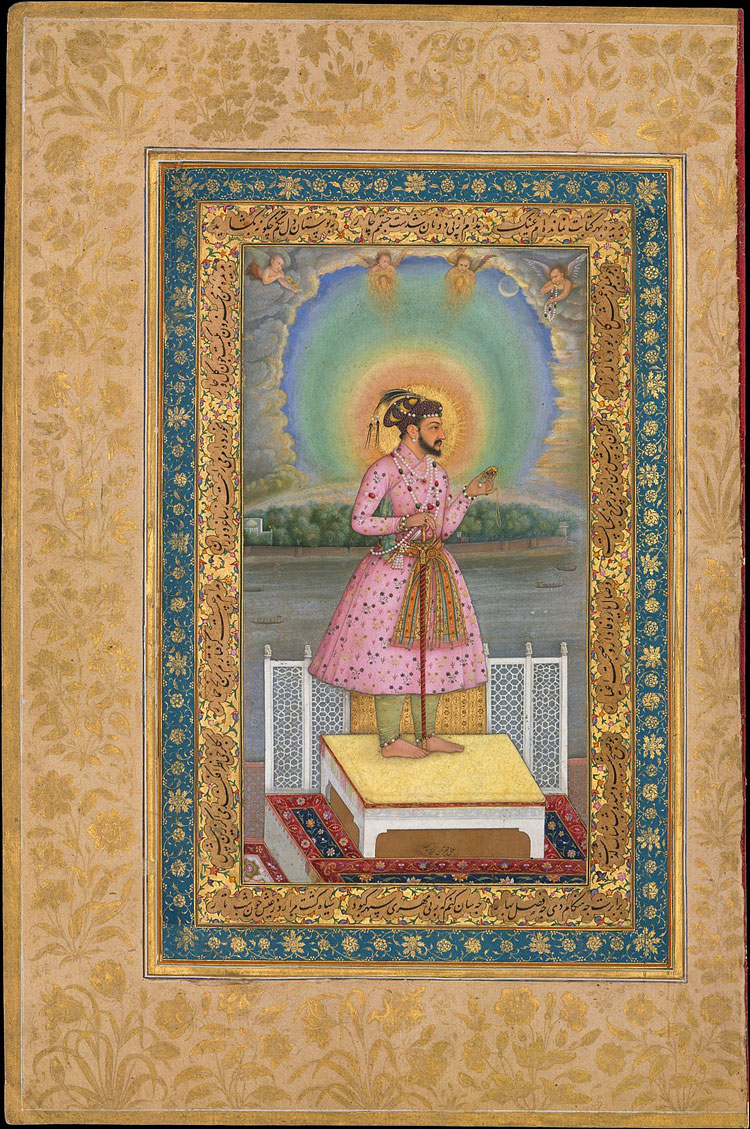 Shah Jahan on a Terrace, Holding a Pendant Set With His Portrait. Folio from the Shah Jahan Album. Ink, opaque watercolour, and gold on paper, 15 5/16 x 10 1/8 in (38.9 x 25.7 cm).

The sophisticated Greek polychromy assigned the colour to Aphrodite, the goddess of love. Christian depiction throughout the middle ages fixated on crucifixion and sainthood, portraying the flesh of Jesus with the white of innocence mixed with the blood red of his wounds, and blushing the skies of lavish manuscripts to token the beatitude of angels and the ascension of Mary, blessed Mother of God.
More nuanced were the pinks of the Renaissance, which first named the colour – then called cinabrese. Mixed from the white pigment Bianco San Genovese and the iron earth that provided Venetian Red, cinabrese "does you great credit", pronounced Cennino Ceninni's Il Libro dell'Arte, "if you use it on walls for painting hands and faces". For gowns, too, as seen in the robe of Fra Angelico's Angel Gabriel and a century later in the rich Florentine brocades dear to Bacchiacca.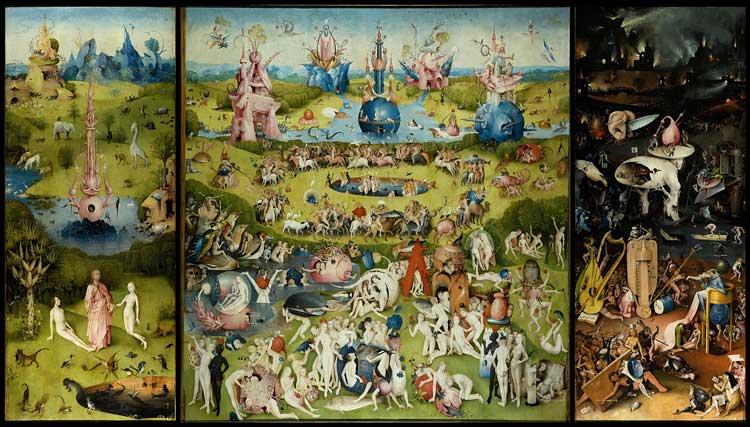 Hieronymus Bosch. The Garden of Earthly Delights, c1490–1510. Triptych, oil on oak panels, 205.5 x 384.9 cm (81 x 152 in). Museo del Prado, Madrid.

Pink manifested most vividly for florals – those carnations immortalised by Raphael in his Madonna of the Pinks and the sumptuous roses centring still lifes by such Dutch masters as Willem van Aelst. In crimson contrast, the horrors of war, disease, assault and perdition ruddied Hieronymus Bosch's tortured worlds and Titian's The Rape of Europa.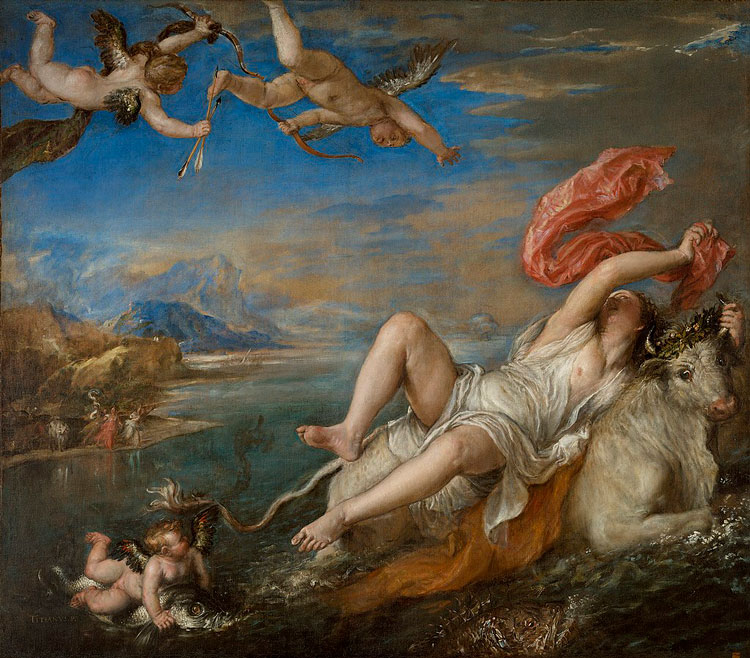 Titian. The Rape of Europa, 1560s, between 1559 and 1562. Oil on canvas. 185 x 205 cm (72.8 x 80.7 in). Isabella Stewart Gardner Museum, Boston.

How joyous must have seemed the rococo's cerise and ripe strawberry that announced the secular 18th-century delights of flirtation, frippery, frivolity and eternal spring! Arguably, Fragonard's swinging pinks and Watteau's roseate skies introduced the first earthly promise of "for ever" that, together with the eponymous rose (the first pink ever branded) locked in by Madame de Pompadour for Sèvres porcelain, established pink as the statement of fashion and charm that anticipates Barbie's pretty perfection.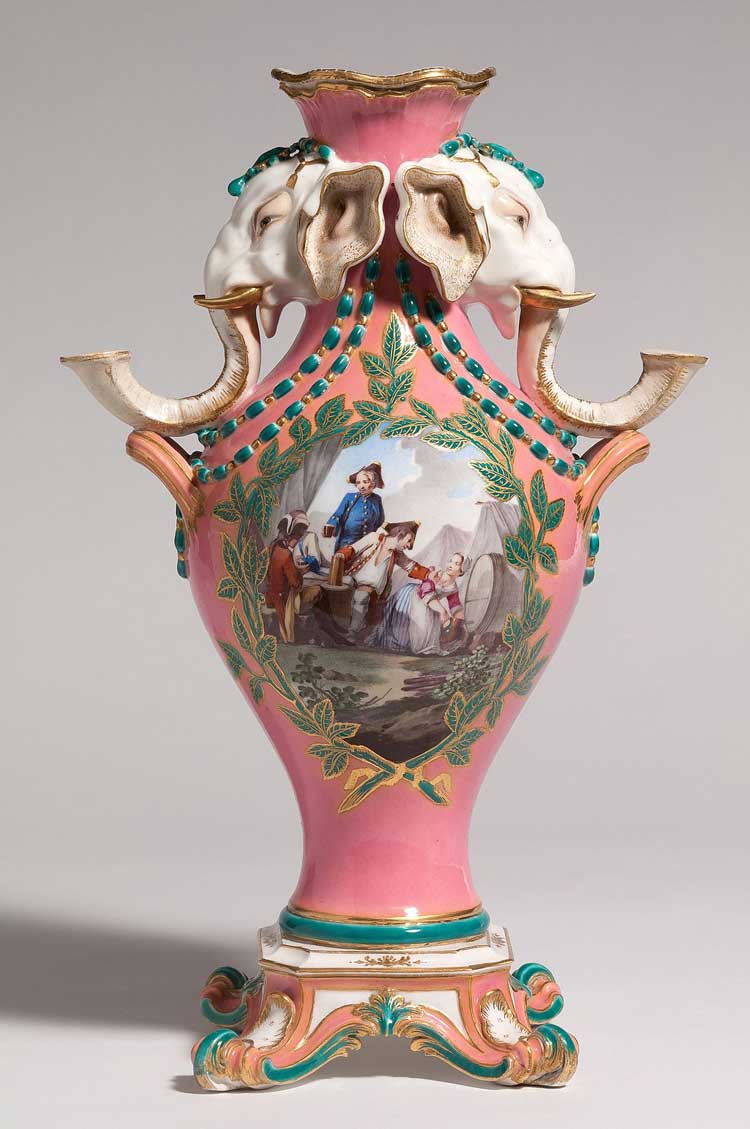 Sèvres porcelain manufactory, Vase with candleholders, c. 1760 at Waddesdon Manor. Source: Wikipedia.

Named Pink at long last (for the flower), the colour took a few detours; tinged with pre-Raphaelite orange to signal sexual arousal, diffused into an atmosphere by William Turner to illumine his skies, and well through the Gilded Age embraced by salon painters to flatter. James Tissot was so praised for his portrayal of the Marquise de Miramon in luscious pink velvet that he displayed the portrait in the 1867 Paris World Fair, and John Singer Sargent was said to deploy pink like rouge.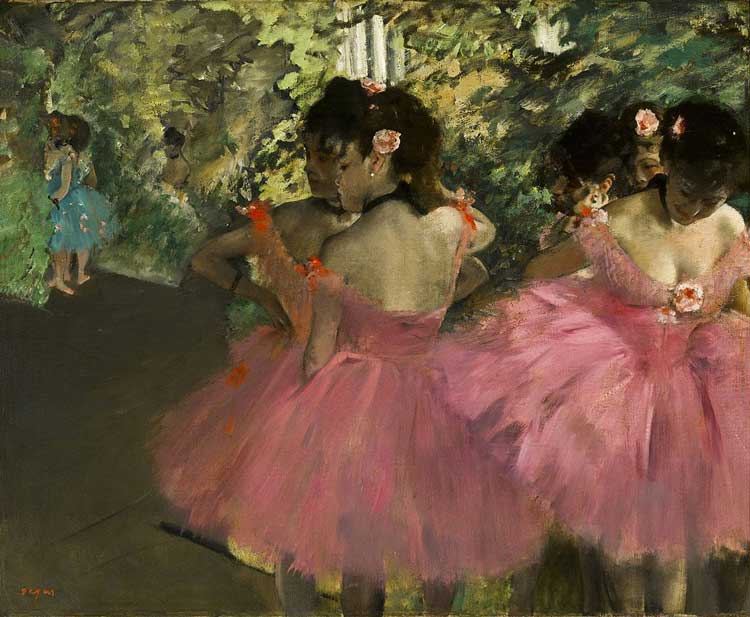 Edgar Degas, Dancers in Pink, c1867. Oil on canvas, 23 1/4 x 29 1/4 in. Alfred Atmore Pope Collection, Hill-Stead Museum, Farmington, CT.

Become luminous, pink dappled the cheeks and flushed the landscapes of impressionism's sparkling canvasses. Edgar Degas, held the movement's founder, undertook his famous series of Dancers in Pink (1880-85) whose frothed tutus all but typed him. Held flirty and fun, newly created shades of pink – Fairy Tale Pink, Cameo Pink, Coral Pink – blushed Cupid's valentines, brightened bedroom walls and livened the wardrobes of deep-pocketed western gentry. The French had a choice phrase to convey the tint of its newly popular pink Champagne, "la couleur de nymphe emue" (the colour of an aroused nymph), derived from the day's murals that were rife with them.
Gender specific from the 12th century, when male babies were clad in striking pink and girls in virginal blue, the colours reversed the moment liberated women embraced lingerie and garments that flattered, leaving men of industry to suit up in the dark tones of proficiency. From the moment 20th-century retail embraced children, girl/pink and boy/blue served as a handy marketing device, until the societal upheaval of "nongender" skewed "millennial pink" to the non-binary indicator that Gerwig boldly adapted to her more evenly paired Ken and Barbie.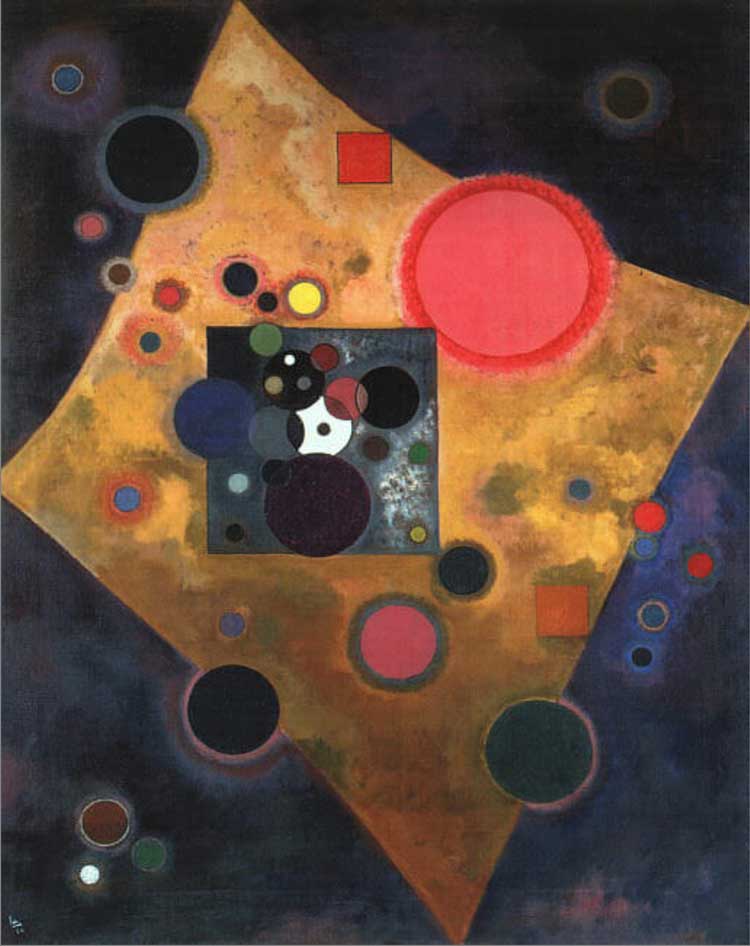 Wassily Kandinsky, Accent in Pink, 1926. Oil on canvas, 100.5 x 80.5 cm (39.5 x 31.6 in).

It fell to the visual arts, now all about impact, to bring pink to the foreground. Stirring, the pizzazz it brought to abstract expressionism as rendered by pioneering colour theorist Wassily Kandinsky. Remarkable, its power to mesmerise in the spiritualist paintings of Hilma af Klint. Dazzling, its use to speed the motion achieved by the short-lived fauve movement. All-but revolutionary, its stamp on the "pink periods" of both Pablo Picasso and Henri Matisse. Magical, its simultaneously fused and distinct dialogue with red in Mark Rothko's Red and Pink on Pink painting (1953).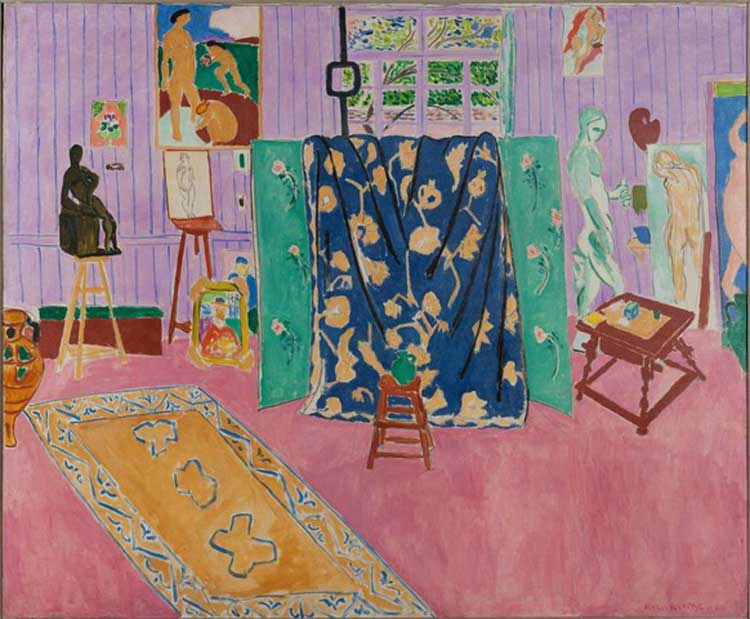 Henri Matisse, The Pink Studio, 1911. Oil on canvas, 181 x 221 cm. Pushkin Museum, Moscow.

Overtly sexualised, Georgia O'Keeffe's pink shells and splayed orchids skirted pornography. Daringly sensual, the flushed pinks of the fully frontal female nudes with which such as Tom Wesselmann and Willem de Kooning countered the "deviant" sexuality flagged by such as the vile Nazi pink triangle – telling, too, that the same pinks now eroticise Cecily Brown's canvasses.
Notched up for protest, pink proved provocative: think Philip Guston's subversive hooded pinks marking Ku Klux Klan lynching; the flamed pinks that the great Chilean artist Roberto Matta burned into a metaphor for the Watts Riots; the fierce pink ribbon that announces war on breast cancer, and most recently, the strident pink wool pussyhats signing the never-Trumpers' supportive marches for women's rights.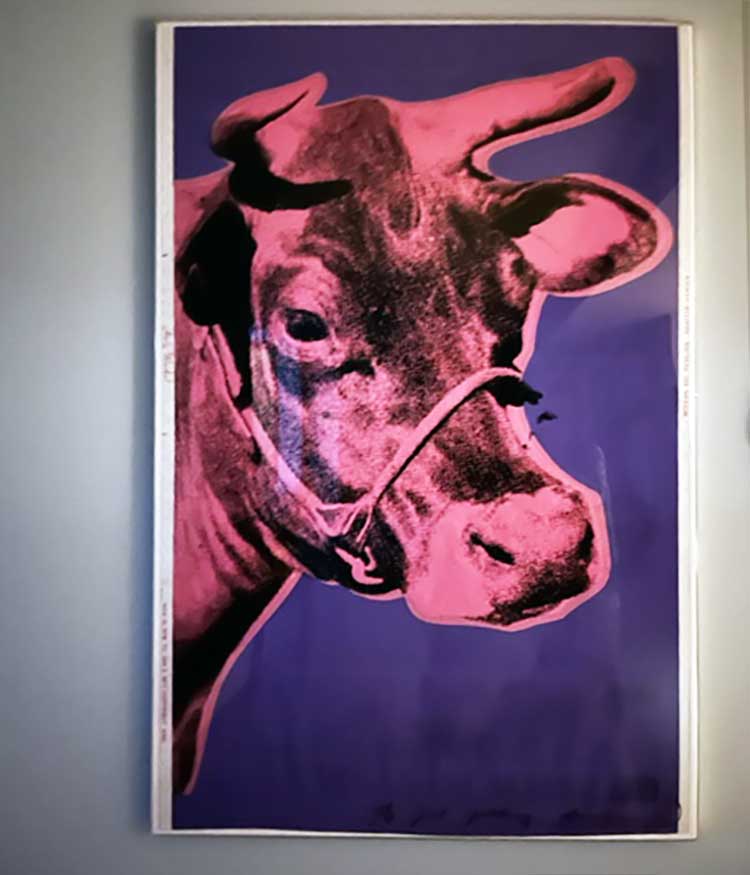 Andy Warhol, Fuchsia cow. Lithograph. Private collection.

Infusing pink into the arts, label composers such as Pink Floyd evoked cotton candy, bubblegum, and fairytale princesses – more than 35 songs with pink in the title, plus the one sung by Lizzo in Barbie. In the realm of aesthetics, hot pink hit the tracks – many the racing car flashing pink in the Petersen Automotive Museum in Los Angeles – but it fell to pop artists (Andy Warhol's pink Marilyn and fuchsia cow) and cultural icons (Brigitte Bardot, Audrey Hepburn, Jackie Kennedy) to "think" pink – pink as delicious, pink as appealing, pink as adorable, pink as glamorous – a short step to Mattel's total-universe branding of its pink plastic Barbieland.
There has been pushback; timed with the July launch of the movie, British artist Stuart Semple countered the corporation's trademark claim to a colour with "Pinkie – the Barbiest Pink", a trademarked fluorescent tint available to any artist not associated with Mattel. Such resistance may be unnecessary – that Gerwig has taken pink a step too far – from reassuring escape valve to jarring reality check – augurs ill for its promise.
Time will tell how AI will think pink now that countless variations on the colour can be so easily plopped into whichever virtual image the human brain can come up with. How exactly can a machine that is programmed to simulate – let alone a fluid fourth-dimensional quantum system in which light acts as particles – create essence? What then shall be the emotional relevance of pink (or, indeed, of any colour) to a moment, a culture, or even an aesthetic?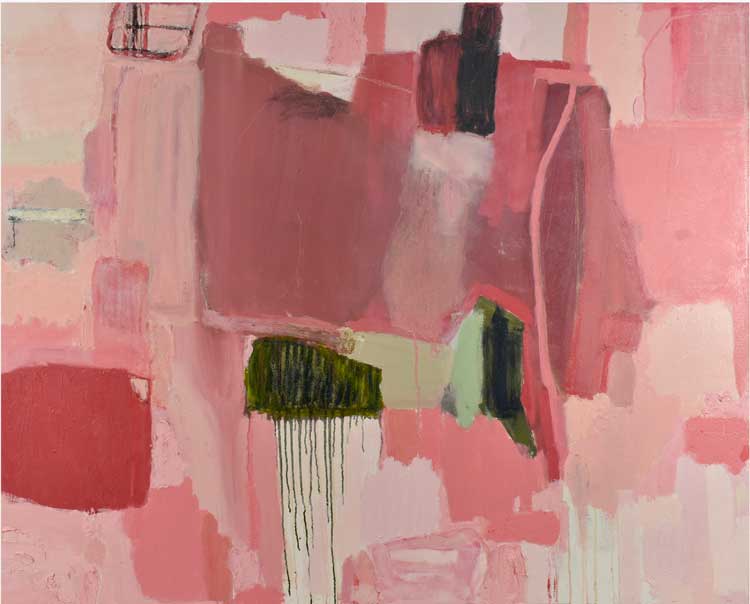 Laura Roebuck, Waiting for Pink II, 2022. Oil on canvas, 48 x 69 in. Courtesy of Upstart Modern.

Will Barbieland be the last fully imagined iteration of absolute pink? The last roseate palette designed to delight and beguile? The last longed-for egg tempura blush of eternal expectation, perfection, and innocence? With pink under revision, perhaps. Laura Roebuck's recent abstractions shown at Upstart Modern aim to reclaim the colour from cliche, and latter-day feminists are sanctioning Barbie's longing to become a "real" girl. And yet, pink is still gentling this troubled moment – see Derrick Adam's joyous re-imaginings of Black leisure (at Gagosian LA until 28 October) – and viewers across gender, class, ethnicity, and demographic are still fully embracing stereotypical Barbie's: "Please make it lovely, and blissful, and for ever."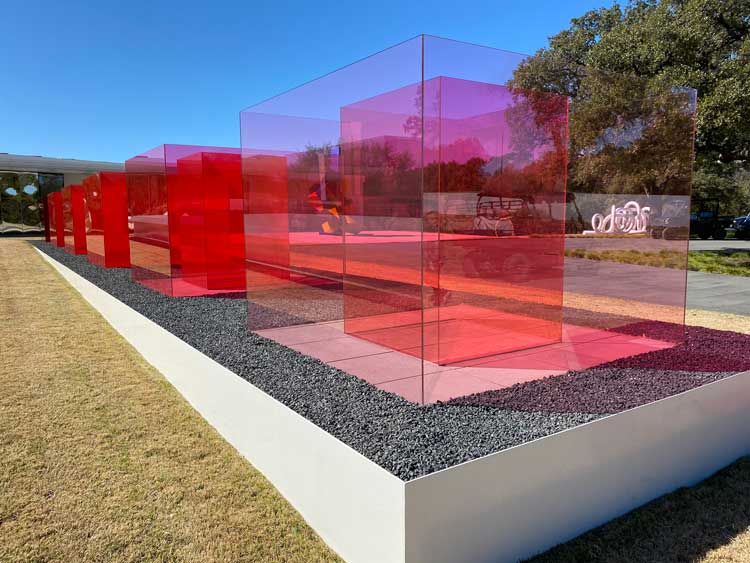 Larry Bell, Pacific Red. Installation view, David Booth's home, Austin. Courtesy of the Artist.