Oliver Beer – interview: 'We are very fortunate to live in a time when there is complete fluidity between mediums'
Oliver Beer uses sound, film and sculpture to explore the physical properties and emotional value of objects and places. We interview the artist as two new solo exhibitions open in the UK
British artist Oliver Beer (b1985) first trained as a musician at the Academy of Contemporary Music before studying fine art, graduating from Ruskin School of Art, University of Oxford, in 2009, so it's no surprise that music and sound underpin his explorations of the world around us. One of the main strands of his work involves creating sound pieces from the unique physical properties of specific vessels and buildings; his site-specific compositions have been performed at the Pompidou Centre and the Palais de Tokyo, Paris, as well as in a monastery outside of Rome and in an ancient Turkish bathhouse (Call to Sound, 2015).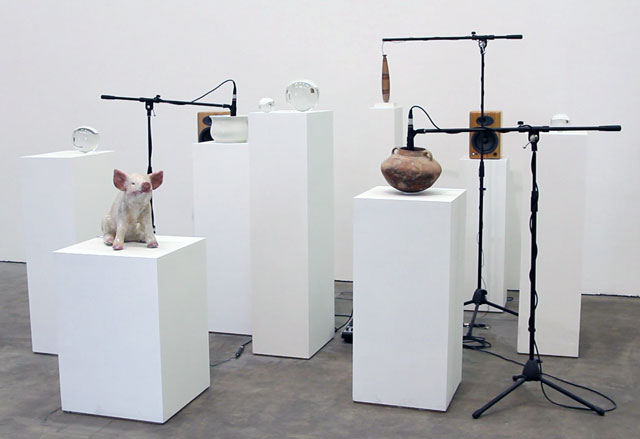 Oliver Beer. Making Tristan (for London), 2016. Live installation, including Greek alabastron from 6th century BC, a Roman-Palestinian cooking pot from 1st century BC, artist's grandfather's ceramic pig and grandmother's chamber pot; microphones, mixer and speakers. Photograph: Martin Kennedy.

This year sees the opening of two major UK solo shows, one currently on at the Ikon Gallery, Birmingham, and another opening next month at the Thaddaeus Ropac Gallery, London. The first represents the fruition of a relationship with Ikon and its director Jonathan Watkins that goes back to 2008, when Watkins bought one of Beer's graduate pieces (now permanently installed in the foyer). The most comprehensive exhibition to date, it incorporates film and sculpture, and includes a new work commissioned by the gallery, called Reanimation (I Wan'na be Like You, 2017), which is a recreation of a scene from Walt Disney's The Jungle Book, but with each of the original 2,500 frames for the sequence broken down, sent out to 2,500 Birmingham schoolchildren, from early years to the age of 13, to copy, and then reassembled for the show. In this way, the work is a fleeting but distinctive journey through a generation of young individuals, and a celebration of the collaborative spirit of the original animation.

Oliver Beer. A- Ω (Alpha to Omega), 2017. Organ pipes tuned to 20Hz and 20,000Hz. Photograph: Martin Kennedy.

Beer has shown internationally, including at the Biennale de Lyon and Villa Arson, Nice, at MOMA PS1 and the Watermill Center, New York. He was awarded the Daiwa Art Prize in 2015, resulting in two solo shows in Tokyo.
• Oliver Beer is at the Ikon Gallery, Birmingham, until 4 June 2017 and at the Thaddaeus Ropac Gallery, London, 28 April – 29 July 2017.
Interview by VERONICA SIMPSON
Filmed by MARTIN KENNEDY