Mark Francis – video interview: 'l like to use a grid to convey order and chaos. Both things can reside on the same plane'
Francis discusses the evolution of his subject matter, his techniques, his use of colour, the importance and influence of science and music, and his current shows in Ireland and Italy
Growing up in Newtownards in County Down, Northern Ireland, Mark Francis (b1962) had wilderness on his doorstep. As a child, he spent many hours exploring the rich animal and plant life of Strangford Lough, sparking an interest in science alongside his burgeoning love of drawing. Thanks to regular long walks on the local hillsides, wide open vistas were also embedding themselves in his consciousness, re-emerging later, after his studies at Central Saint Martins and Chelsea School of Art, in visceral, bleak landscapes.
He has gone on to develop a unique way of evoking vast – even intergalactic – landscapes as well as microscopic, botanical and biological ones, often simultaneously. He was one of the artists in the now legendary Royal Academy show of 1997, Sensation: Young British Artists from the Saatchi Collection, and the catalogue biography declares: "As maps of human microscopic physiology, Francis's paintings emphasise the distance, created by technological apparatus, that separates us from our own bodies."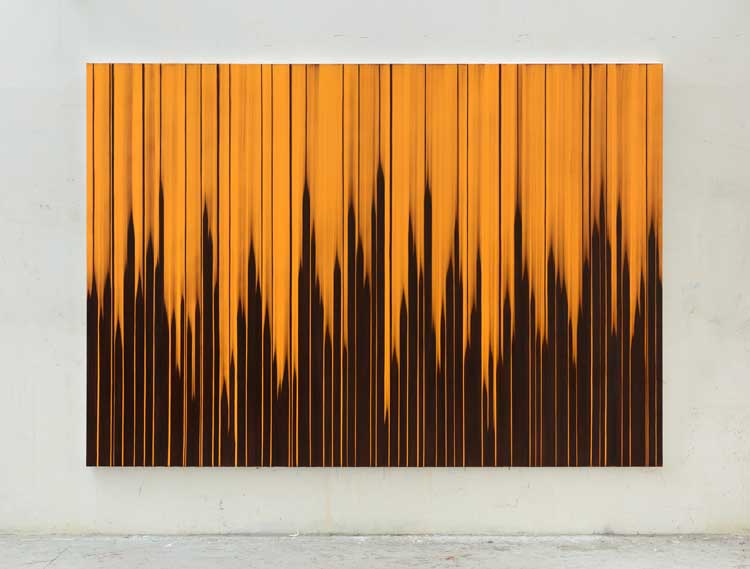 Mark Francis. Sonic Dub, 2021. Oil on canvas, 214 x 305 cm. Image courtesy and copyright the artist.

In the intervening decades, he has quietly gone about refining and re-examining his subjects and his practice - his paintings and occasional sculptures triggering inner and outer landscapes - with unfaltering intensity and commitment.
Marco Tonelli, the critic and artistic director of the G Carandente Modern Art Gallery and Palazzo Collicola, Spoleto, writing in a new monograph that accompanies the current retrospectives at the Kerlin Gallery, Dublin, and Palazzo Collicola, says: "His grids, his reticula are wefts of time and space, granular structures and tessellations that evoke and speak to what science observes and hypothesises in regard to the most intimate layers of matter, of all matter, perhaps even of thought itself."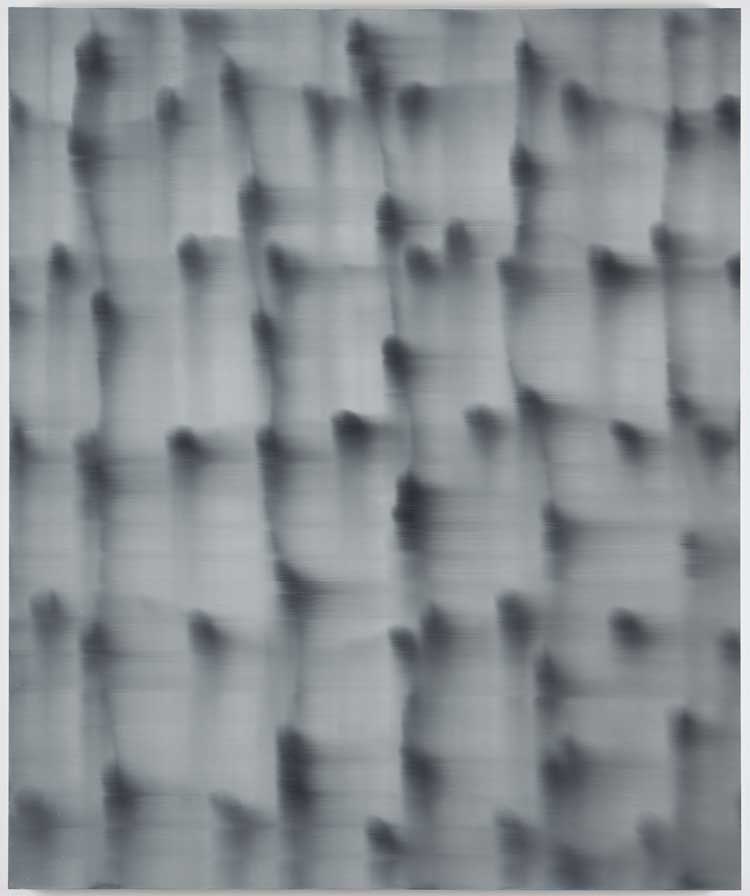 Mark Francis. Veil, 1993. Oil on canvas, 183 x 152 cm (72 x 59.8 in). Image courtesy Kerlin Gallery, Dublin.

Tonelli concludes that Francis is "one of the most significant 'non-figurative' (by which I don't mean 'abstract') painters to emerge in the 1990s, and one who cannot be disregarded when tracing that decade's history and talking critically about contemporary painting today."
Francis studied for his BA at St Martins College of Art, London (1981-85) and his MA at Chelsea School of Art (1985-86). He has been exhibited at MoMA PS1, Brooklyn Museum; Tate London and Liverpool; Whitechapel Gallery; the Royal Academy, London; and the Hugh Lane Gallery, Dublin. His recent solo shows include SONIC DUB (online), Kerlin Gallery, Ireland (2021); Ocean Light at Galerie Forsblom, Helsinki (2019); Spectra, Luca Tommasi Arte Contemporanea, Milan (2017); and The Evidence of Absence, Drimart, Istanbul (2014). His work is in the collections of the Tate and the V&A, London; the Metropolitan Museum of Art, New York; De Young Memorial Museum, San Francisco; the Museum of Modern Art, Miami; the Saint Louis Art Museum, Missouri; and the Irish Museum of Modern Art. He is represented by the Kerlin Gallery.
He spoke to Studio International at his studio in south London.
Mark Francis: Echo Vision
The Kerlin Gallery, Dublin
26 February to 26 March
A new monograph, covering 2007-21, has been published by Kerlin Gallery to coincide with the show.
Mark Francis: Re-Echo will be at Palazzo Collicola, Spoleto, Italy, from 26 March – 29 May 2022.
Interview by VERONICA SIMPSON
Filmed and edited by MARTIN KENNEDY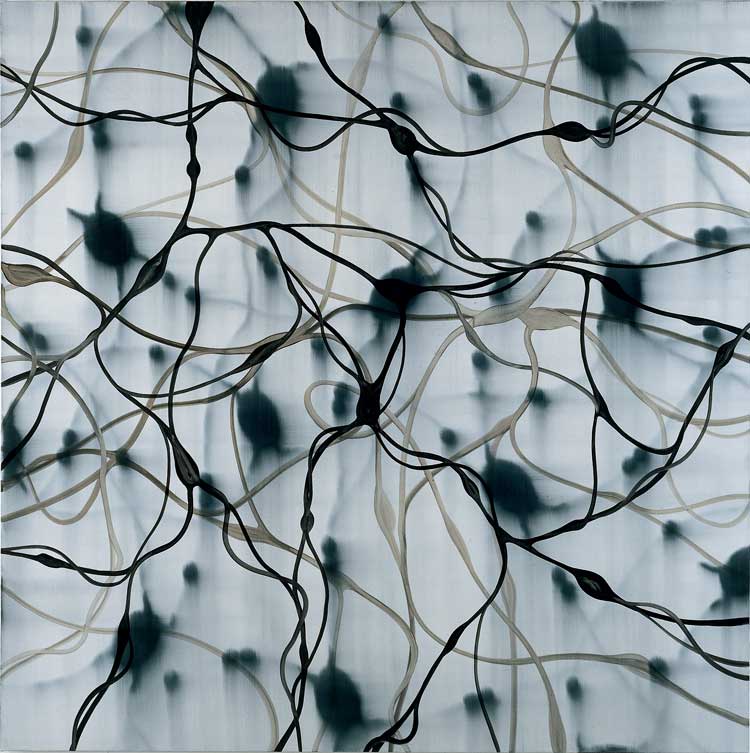 Mark Francis. Labyrinth, 1998. Oil on canvas, 214 x 214 cm. Image courtesy and copyright the artist.