José Parlá: 'It challenges me to work against the grain of the status quo'
For his most ambitious project to date, commissioned by the Landmarks public art programme at the University of Texas at Austin, Parlá transforms a 4,000-sq-foot site into a panoramic landscape evocative of Austin's natural and urban environment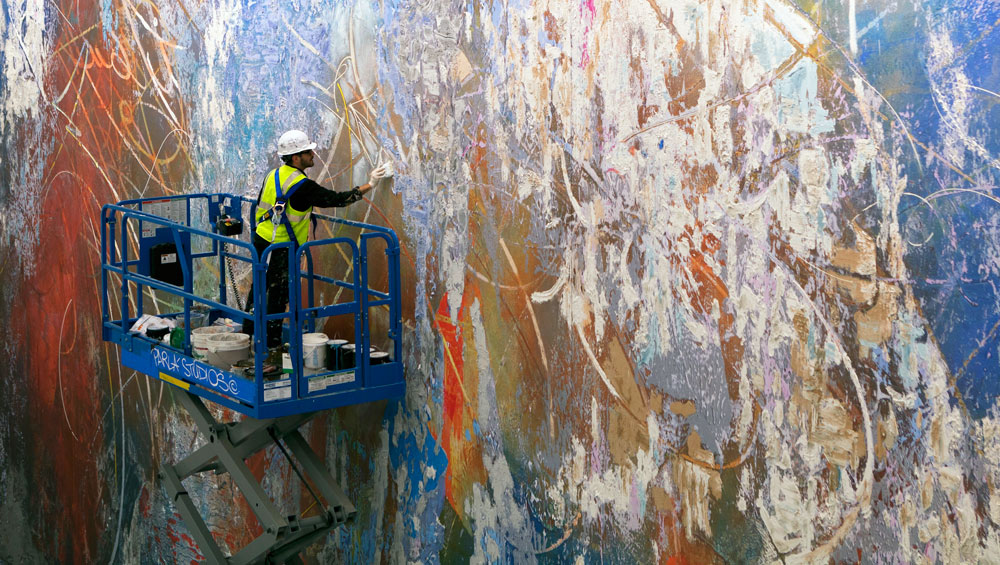 by ALLIE BISWAS
José Parlá is no stranger to ambitious, site-specific public art projects. The New York-based artist, who works in painting, photography, video and sculpture, has become especially known for these large-scale murals that emerge through visceral marks and abstract forms, and often rely on urban histories and chaotic metropolitan environments. Parlá's 70-foot-long work, Diary of Brooklyn (2012), occupies the entrance of the Barclays Center, a vast entertainment venue in New York City's most populous borough, while the nearby Brooklyn Academy of Music commissioned the 37-foot-wide Gesture Performing Dance, Dance Performing Gesture (2012), for the lobby of its Richard B Fisher Building. Parlá's most high-profile commission to date, though, is for One World Trade Center. Visitors to the center, noted as the tallest building in the western hemisphere, encounter the electric blue and bright-pink fragments of ONE: Union of the Senses (2014) as soon as they enter.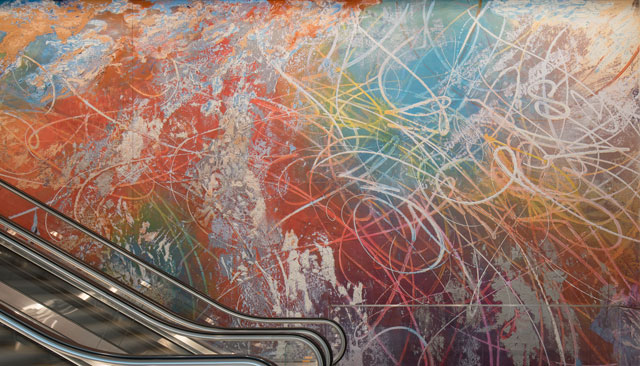 José Parlá. Amistad América (detail), 2018. Photograph: Paul Bardagjy.

The artist's most recent site-specific work is Amistad América, commissioned by Landmarks at the University of Texas at Austin. The university's public art programme holds a prominent collection of works that are installed throughout the 433-acre (1.75 sq km) campus and includes commissions and acquisitions of works by Mark di Suvero, Ann Hamilton, Sol LeWitt, Nancy Rubins and James Turrell, as well as 28 sculptures on long-term loan from the Metropolitan Museum of Art, featuring works by Magdalena Abakanowicz, Louise Bourgeois, Tony Smith and Ursula von Rydingsvard among others. Amistad América, which is the first painting to be included within the Landmarks collection, pervades the basement of the new education building for the university's McCombs School of Business. Covering a 4,000-sq-foot site with burnt orange and powder blue impasto surfaces and calligraphic marks, Amistad America is the artist's most ambitious project yet and was inspired by the history and natural landscape of Texas, whose name in Spanish, Tejas, derives from the Native American Caddoan word for "friends".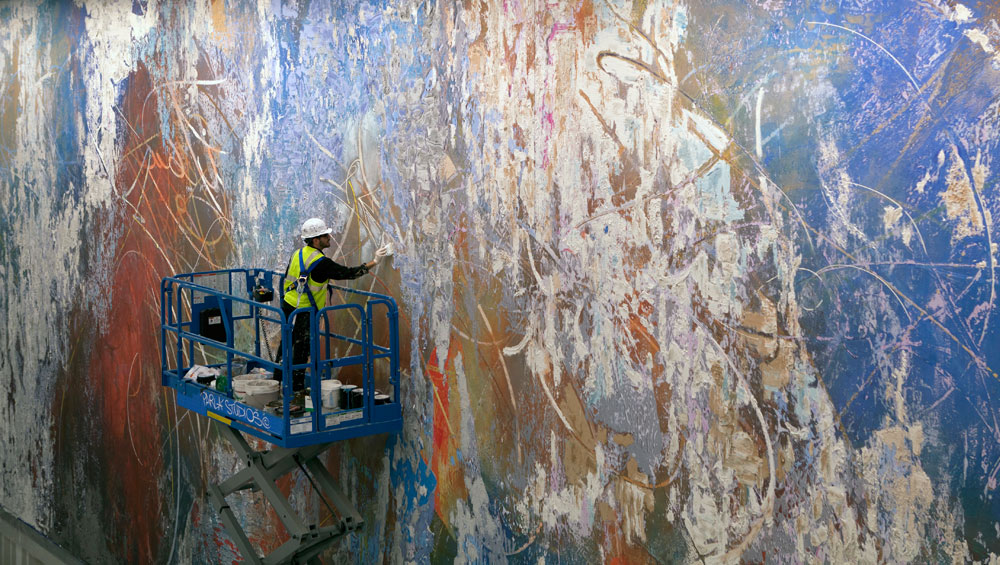 José Parlá in residence at Landmarks, the public art programme of The University of Texas at Austin, 2017. Photograph: Rey Parlá.

Parlá was born in Miami in 1973, and studied at Miami Dade Community College, New World School of the Arts and Savannah College of Art and Design.
Allie Biswas: You have spoken about "writing" and "linguistic art" in reference to making art through graffiti as a child, with your friends. At what point did you start to become interested in graffiti and how did making art in this way become available to you?
José Parlá: Writing is one of the most interesting things that got me into the linguistic art form that has now become known as graffiti. Back when I was a child, no one called it graffiti art or street art. Using those kinds of terms would have signified to writers, which is what we called ourselves, that the person was not a true practitioner. With writing and the creation of a personal style of lettering, one was showing individualism, and that was attractive to me. There was a phenomenon happening between the late 1970s and the early 80s that made the art form available to me. Reading about art during that time, when I was 10 or 11 years old, I was really into the historic art of the cave paintings of Lascaux in France and Altamira in Spain. My father introduced me to the cave paintings and Sumerian clay tablets which served as records of some of the earliest forms of human communication, such as languages known as pictography. This, for me, validated the idea that, in modern times, humans also needed to continue to paint on walls – to communicate in a way that was primordial – and it was interesting that children were doing it on instinct.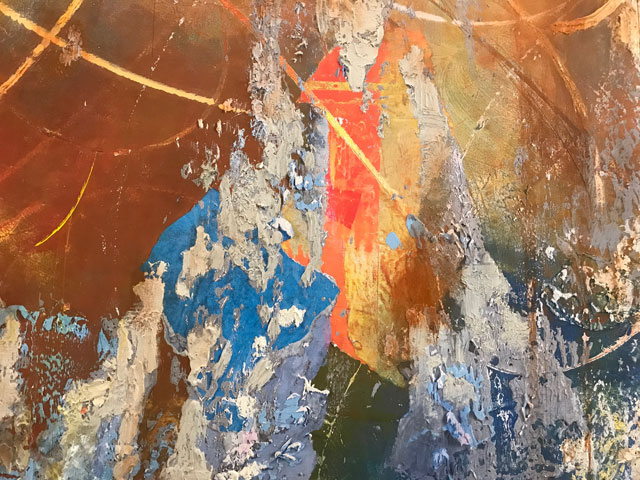 José Parlá. Amistad América (detail), 2018. Photograph: Paul Bardagjy.

AB: When you went to art school at the Savannah College of Art and Design in the early 90s, did you begin to experiment with other art forms, or did you continue to explore your interest in words and spaces? Presumably being in a classroom environment changed your approach to these things?
JP: When I went to SCAD to study painting, I had been seriously engaged in style-writing culture, having been a writer (what people call a "graffiti artist", a term I always thought was so strange) for years. I wanted to learn more in school about painting and history, [information] that I could use to combine into the kind of art I was into. Being in a classroom environment allowed me to be around all kinds of diverse young artists with many different interests, and also to discover artists I had not studied before who were using writing – linguistic abstract gestural expressionism, such as calligraphy – in their contemporary works of art. Artists such as Cy Twombly, Lee Krasner, Jackson Pollock, Joan Mitchell, Antoni Tàpies, Robert Rauschenberg, Mark Tobey and others. Still, I wanted to challenge myself to make my own style of art and, at the same time, remain close to my roots of being a writer. That was interesting to me.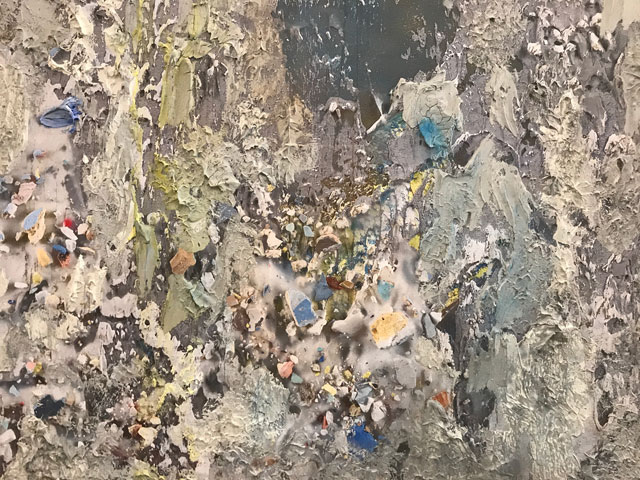 José Parlá. Amistad América (detail), 2018. Photograph: Paul Bardagjy.

AB: At this point in your career, you have become known for making public art – works that are permanent murals – especially over the past five to 10 years. But you also make sculpture and smaller paintings. How do your intentions and approaches change, if at all, as you handle different scales, as well as different contexts (private gallery versus public space, for example)?
JP: My interest in making art over the past five to 10 years has remained central to the themes of psycho-geography. My intentions and approaches may vary in medium, yet I have continued to project the writing culture in some of my work and sometimes project the so-called non-places where there may be "marginalised" culture. Perhaps my work can be contextualised as conceptual painting, as it has a thread between the past and the present and is visually representative of mark-making left behind, marks having been done, posters torn, or paint deteriorating. It thus makes the mission of my work to present an art form that has been categorised as being from the "outside" and (recently) bringing it "inside". By doing that, I feel I am challenging the places where it can be shown – galleries, museums and so on – by working on monumental murals, which, by the way, I have been privileged to do. It challenges me to work against the grain of the status quo.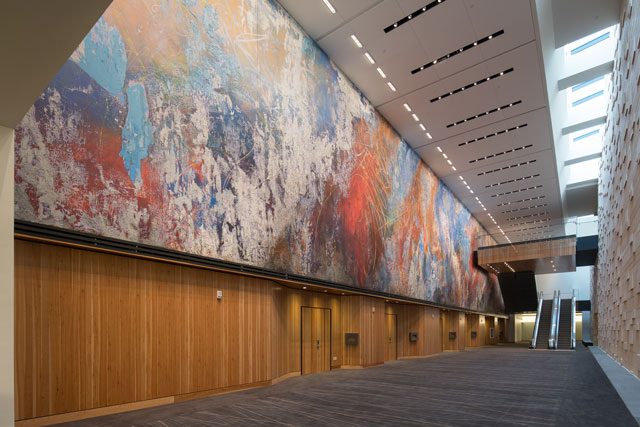 José Parlá. Amistad América, 2018. Photograph: Paul Bardagjy.

AB: Amistad América was a good five years in the making – I know that Landmarks first approached you in 2013. For three years of that time you were working from a model in your studio before you carried out the installation at the University of Texas. Has this preparatory way of working been common to your process?
JP: The process of making Amistad América has been unique in my work thus far, and I've learned a lot about the possibilities of working on this large scale. This kind of project also requires that you have a good team of people supporting your ideas and I am thankful to Bryce Wolkowitz Gallery, Landmarks, University of Texas at Austin and Ennead Architects for believing in me.
AB: Amistad América is discussed as examining America as a continent, before it became the United States. You have also mentioned the importance of Cuban culture (the heritage of your parents). Could you talk about your connection to this place, and how it may have impacted on your thinking in relation to Amistad América?
JP: The Americas are a complicated place. For a lot of people, the continent signifies a place of hope, where they can form a new beginning in their lives, that is different from that in the old world. Being of Cuban descent is equally complicated. The history of the United States and Cuba, independently or as neighbours, is positive in some ways and also riddled with injustices. I wanted to make a connection with my roots, of having Cuban parents, and also with being born in the United States. There is so much inspiration that comes from sharing a work that is about history, hope, geography, people, race, migration, ethnicity and knowledge and, most of all, the imagination.
AB: In the video you made, which was played at the opening, you end by saying: "It seems I've been preparing for this work my entire life." It is a significant statement. Could you elaborate on this?
JP: In the video, I had explained that I started making art by painting large works collaboratively with friends and that I had learned a lot by doing that, and I explained how I learned to make a sketch on a piece of paper of the size of a larger-scale drawing on a wall. What I meant by that ending statement is that, after many years as an artist, having these accumulated experiences allowed me to have the knowhow to make a large painting on the scale of Amistad América.