John Yau – interview: 'America is still about two colours: black and white. Inclusivity has to become more inclusive'
Yau talks about promoting inclusivity, changing how history is viewed, and the importance of the three Asian American artists he chose for his current exhibition, The Unseen Professors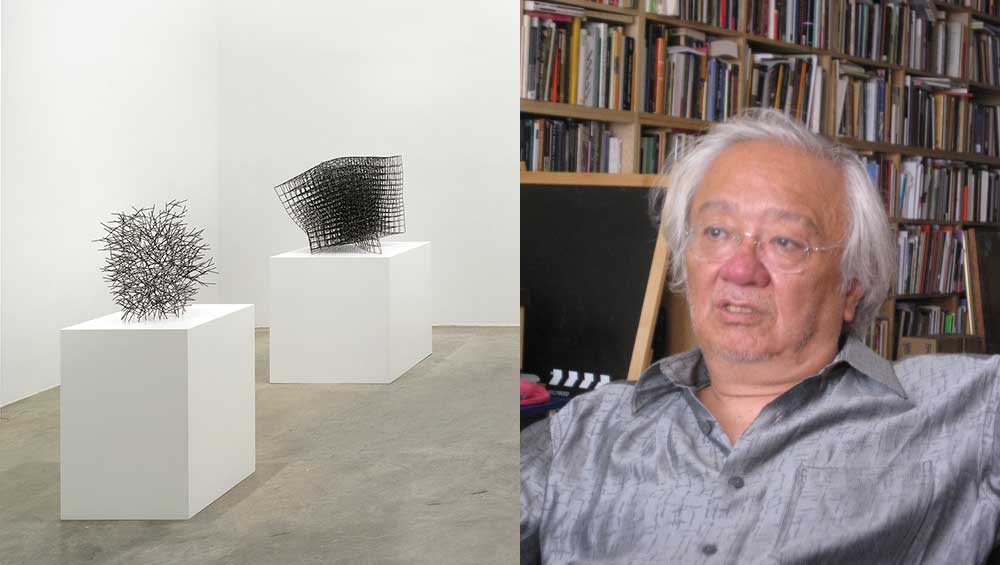 (Right) John Yau, photo: Eve Aschheim; (Left) Installation view of works by John Pai, The Unseen Professors at Tina Kim Gallery, photo: Dario Lasagni.
by LILLY WEI
John Yau is an art critic, poet, author and curator. In 2020, he received the Rabkin Prize for his art criticism. He curated The Unseen Professors, currently at the Tina Kim Gallery in New York, which focuses on the work of three Asian-born sculptors, Leo Amino, Minoru Niizuma and John Pai, all of whom emigrated to the US. The following is an edited and excerpted conversation with Yau about the exhibition.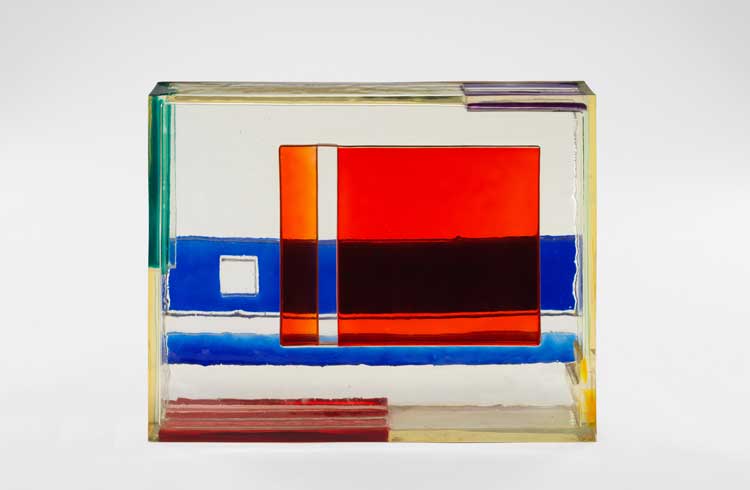 Leo Amino (1911–1989). Refractional #75, 1972. Polyester resin, 11.89 x 14.88 x 2.99 in (30.2 x 37.8 x 7.6 cm). Courtesy The Estate of Leo Amino and David Zwirner Gallery. Photo © Kerry McFate.

Lilly Wei: I thought your show was stunning. I was only familiar with the work of John Pai from seeing a few works here and there, and I missed the show of Leo Amino at David Zwirner in Chelsea in 2020. I didn't know Minoru Niizuma's work at all. Could you talk a little about how this show, The Unseen Professors, came about?
John Yau: I saw a show of Leo Amino's work about three years ago at the Zimmerli Art Museum at Rutgers University, where I teach, and I reviewed it. I didn't know his work before that. About a year later, John Pai invited me to see a show he was having at the Korean Cultural Center in midtown Manhattan and I wrote about him. Both artists stayed in my head, and then friends recommended another artist, Minoru Niizuma.
LW: And all three taught?
JY: Yes, all three taught in New York and were based here, although Niizuma worked mostly in Portugal. I was surprised that all three were teaching sculpture, and I thought it was particularly interesting that although they had so many students, many of whom became important, no one knew who their teachers were. For instance, Amino was taught direct carving techniques by Chaim Gross and he in turn taught Jack Whitten. That's why the title is Unseen Professors.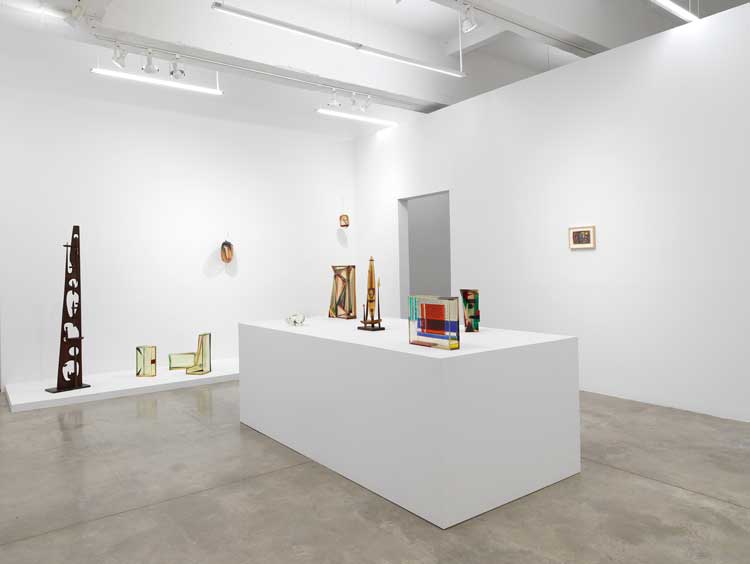 Installation view of works by Leo Amino, The Unseen Professors at Tina Kim Gallery. Photo: Dario Lasagni.

LW: So that became your framing device. Perhaps you could begin with Amino. He was the oldest.
JY: Amino was born in Taiwan in 1911 when it was under Japanese colonial rule and died in 1989. He was educated in Tokyo and came to America in 1929. He attended New York University briefly and shared the philosophies of the Bauhaus artists. He taught at Black Mountain College from 1946-50, invited by Josef Albers, and then at the Cooper Union, where he was a professor for 25 years. He was one of the earliest artists in the United States to use polyester resin (after the military declassified it) as his primary material and this has never been fully acknowledged. Though he was in 14 Whitney biennials, he was still invisible, not recognised in the mainstream of abstract art.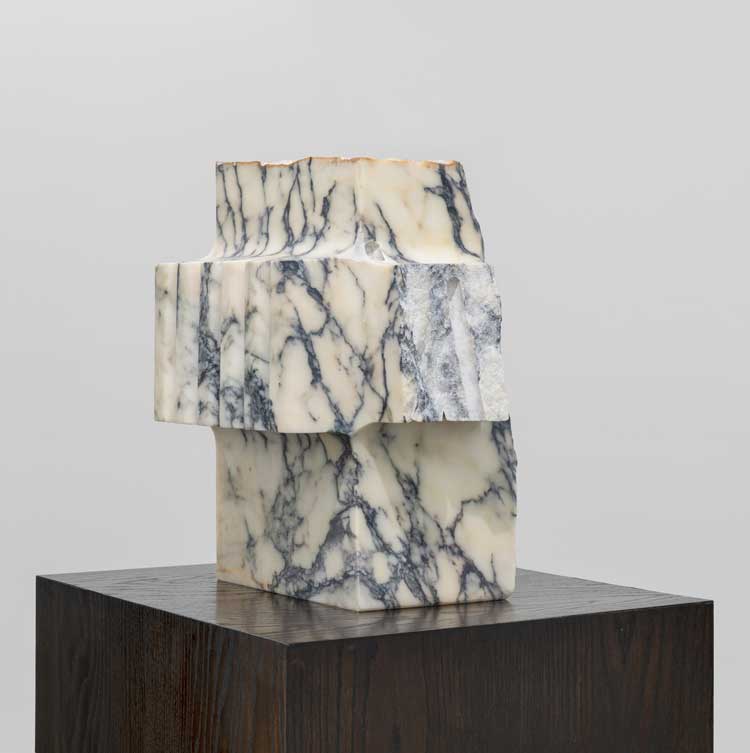 Minoru Niizuma (1930–1998). Unknown, c1986. Italian Paonazzo marble, 19.5 x 13.5 x 11.75 in (49.5 x 34.3 x 29.8 cm). Courtesy The Estate of Minoru Niizuma and Tina Kim Gallery. Photo © Hyunjung Rhee.

LW: And Minoru Niizuma?
JY: Niizuma was born in Tokyo in 1930 and died in 1998. He was educated in Tokyo and came to the United States after the war and settled in New York in 1959. He taught at the Brooklyn Museum Art School for six years, from 1964 to 1970, then at Columbia University for 12 years. Niizuma was a modernist who worked in stone, mostly in marble. He had major museum shows – the Whitney Biennial and the Carnegie International among others – but he didn't have a gallery. When I reread what Donald Judd wrote in Specific Objects (1965), that you don't want to do it again, I thought about it differently this time. What did it mean to do it again for a white guy in New York City then and what did it mean for a guy in Tokyo? All that changes, depending on where you are, who you are. Rosalind Krauss published Sculpture in the Expanded Field (1979), but neither mentions a sculptor of colour. It was a time when there were virtually no critics of colour who might offer an alternative viewpoint.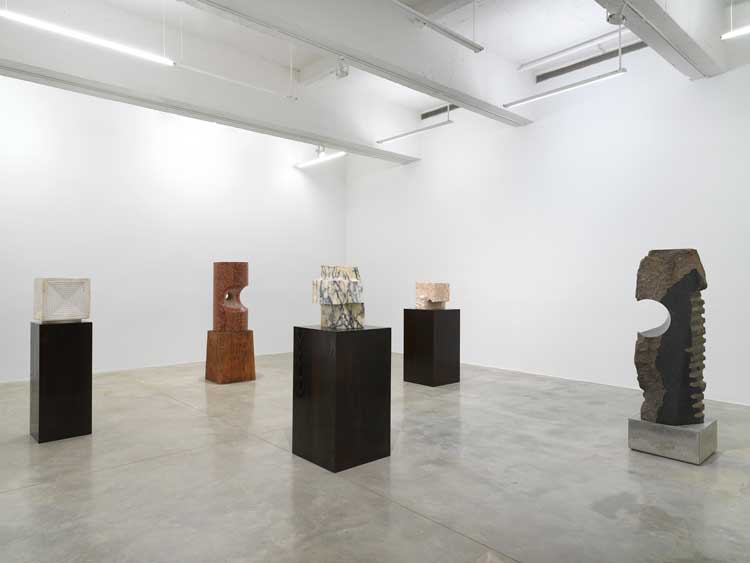 Installation view of works by Minoru Niizuma, The Unseen Professors at Tina Kim Gallery. Photo: Dario Lasagni.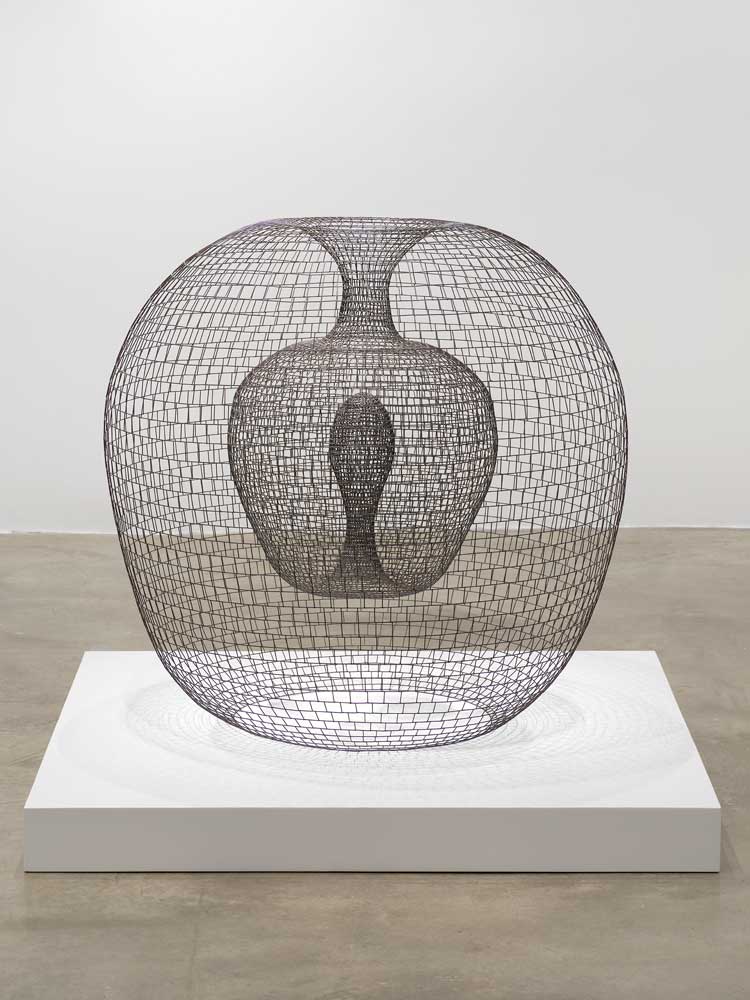 John Pai (b. 1937). Involution, 1974. Welded steel, 40 x 40 x 40 in (101.6 x 101.6 x 101.6 cm). Image courtesy of the artist and Tina Kim Gallery. Photo © Dario Lasagni.

LW: And the third artist, John Pai? He is the only one still living.
JY: Pai was born in Seoul in 1937 and came to the United States in 1949. He was clearly influenced by minimalism but, at some point, he realised that he did not think of steel as something solid the way David Smith and other modernists did. For him, it was liquid. I thought that was a fresh point of view. When he was at Pratt, as the youngest professor it had ever had, he was asked to start a sculpture programme, which he did. He taught there until 2000, when he retired. When he started teaching a Pratt, he bought a carriage house near the school and soon he met all the Korean artists, including Nam June Paik, who would play Korean songs on the piano. Pai said they never talked about art.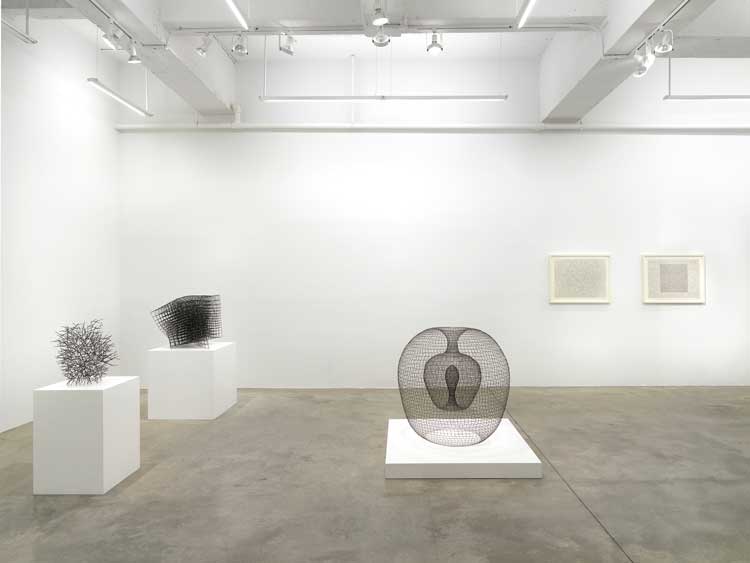 Installation view of works by John Pai, The Unseen Professors at Tina Kim Gallery. Photo: Dario Lasagni.

LW: How did Tina Kim become involved?
JY: I went to Tina and talked to her about what I was thinking and then I brought up this show. There has been an Asian presence in New York that wasn't talked about, and I thought it was important to present this historical group.
LW: Would you talk a little about the works in the show, why you chose what you did?
JY: I wanted all the work to be different and in different materials, from a different perspective.
Amino's work is about light, extending the ideas of Albers and Kenneth Noland, and the plastics he used allowed the light to pass through the material. He shared the Bauhaus interest in experimental work and materials, making sculpture from non-traditional mediums and did this before the Californians.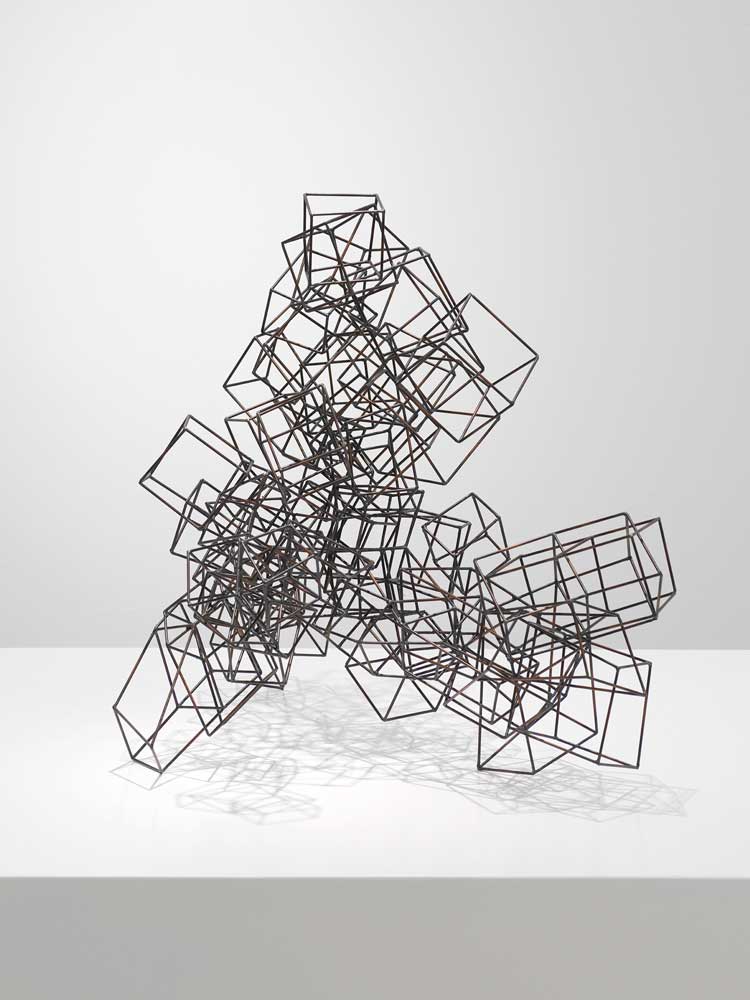 John Pai (b. 1937). Paco's Passion, 2020. Welded Steel, 14 x 23 x 20 in (35.6 x 58.4 x 50.8 cm). Image courtesy of the artist and Tina Kim Gallery. Photo © Dario Lasagni.

I put in some of Pai's volumetric pieces that are welded piece by piece. He works very slowly and never thinks they are finished. He limits his materials, but he makes many different kinds of sculpture and is also interested in light, in a certain delicacy. He draws in space in the slowest way it could possibly be done, the works made of short rods of steel, all welded, one by one, without assistance. It's not about how slow the process is, but about a different notion of time, a kind of non-western sense of time, like his observation that steel is liquid.
For Niizuma, I went to the studio, a storage space and some other locations. He worked in series, and I particularly wanted Castle of the Eye, one of his best-known series, and another series that focuses on waterfalls. His awareness of the surface of the stone, of the blue veining, as well as the marble itself and its textures, sets it apart from other sculptors working in stone at the time. John Canaday, a critic for the New York Times, talked about the exterior pattern of the marble and how it become part of the form. Niizuma makes the stone seem as if it is in motion, which is not how we usually think of stone. He is doing something original. He is not doing it again. It's a whole other tradition.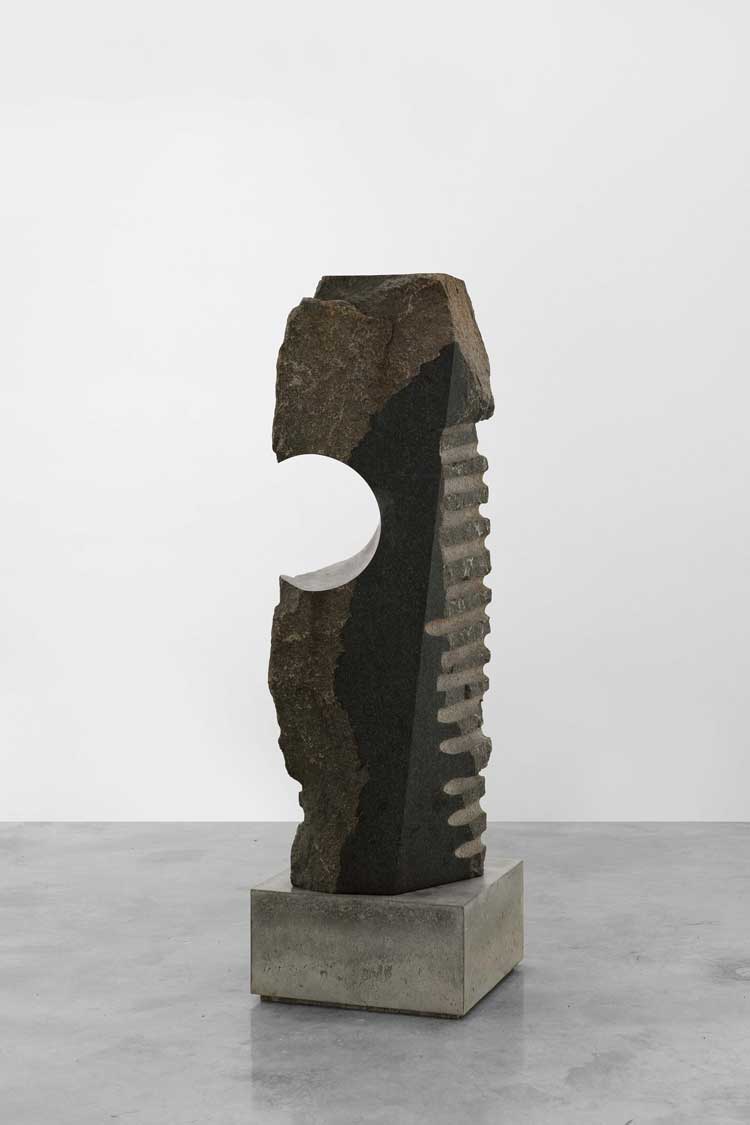 Minoru Niizuma (1930–1998). Black Mountain, 1986. Portuguese Black Granite, 54.33 x 16.54 x 15.75 in (138 x 42 x 40 cm). Courtesy The Estate of Minoru Niizuma and Tina Kim Gallery. Photo © Hyunjung Rhee.

LW: We have become increasingly aware of the many different art worlds there are.
JY: This show got me thinking about all the different art worlds in New York, groups that don't mix. It reminded me again how alternative galleries were more open, especially in the 1960s, before the commercial galleries kicked in.
LW: How do you define Asian American? All these identifiers can be controversial, and there are always objections. They are never quite satisfactory.
JY: I had a standard in my head established by the Asian American Initiative at the Cantor Arts Center at Stanford.
LW: It has a broad definition of Asian American that includes east, south-east and south Asia, as well as the Pacific Islands, referring to Asians of the diaspora. The notion of diaspora has changed, though, since the world has become globalised and so many artists these days claim residence, even citizenship in multiple countries. So how do you see yourself, as an Asian American poet, writer, critic and more?
JY: I've been around a long time and negotiated the art world in all different ways. Things have changed radically in the past 10 years. For instance, there are many more young Asian American and Asian art collectors as well as many more Asian American artists and critics.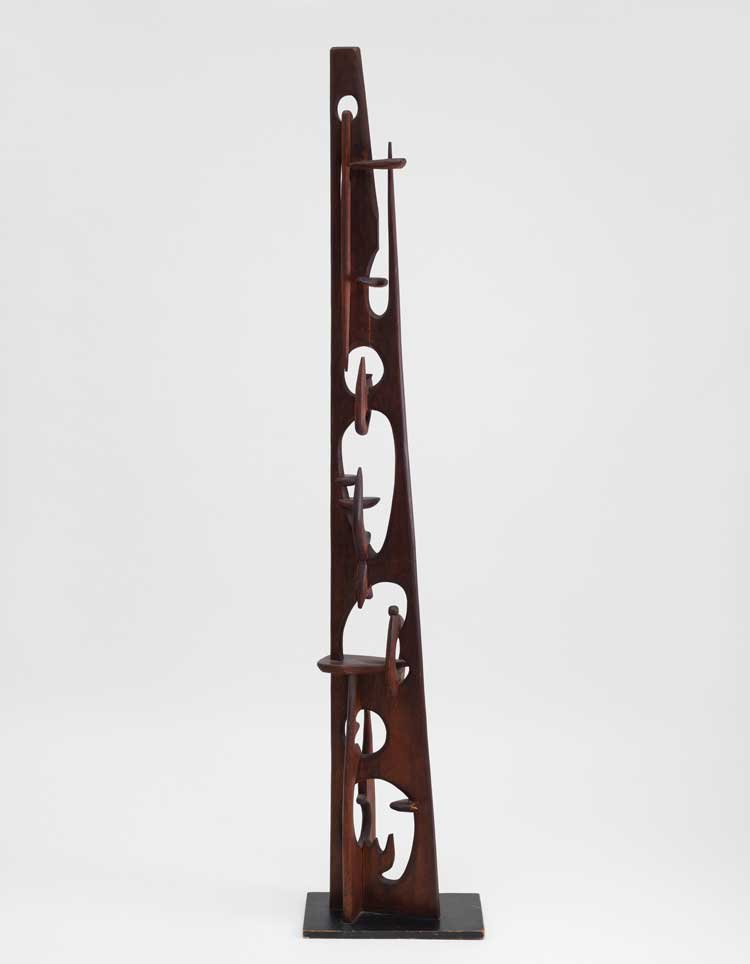 Leo Amino (1911–1989). Untitled, 1956. Wood, 72.52 x 15 x 9.02 in (184.2 x 38.1 x 22.9 cm). Courtesy The Estate of Leo Amino and David Zwirner Gallery. Photo © Kerry McFate.

LW: Would you say you were a political activist?
JY: Yes. When I first started to write, Betsy Baker (Elizabeth C Baker, former longtime editor-in-chief at Art in America) assigned me to galleries that no one else had heard of. But I saw something there and took it seriously and things began to happen, people contacted me. I think things have changed and are changing. There are more opportunities to write about race publicly, as well as more opportunities for writers of colour. But America is still about two colours: black and white. Inclusivity has to become more inclusive. Asian Americans have ramped up and acknowledge each other as a group and the younger generations are more astute politically.
LW: And this kind of show? It no longer seems to be about marginalisation, ghettoisation.
JY: I think this kind of show promotes inclusivity. The canonical show is still about white. This show is not making a gigantic case. I just want the viewer to be aware of different patterns. Things taken for granted once said and seen need to be questioned. History is not fixed. That's what I'm trying to contribute. I'm trying to change how history is being viewed. How do you learn to see for yourself? Maybe this is a poet's thing, but poets love minor poets that almost no one reads. But this is a kind of awareness. The hierarchy of the alternative is much more various.
LW: You said you wanted to do a show about what else was going on at the time.
JY: No one else ever pays attention to what else is going on. Martin Puryear once said about minimalism that he got right up to it, smelled it, tasted it, spat it out. He understood that minimalism denied identity. So, the question is, why do we like minimalism so much since it suppresses identity? All three artists in this show had to figure out ways to negotiate all of this.
• The Unseen Professors, curated by John Yau, is at the Tina Kim Gallery, New York, until 26 February.