Jenny Crompton: 'I enjoy sitting in the work for hours. It becomes a meditation'
Australian artist Jenny Crompton explains how she made her installation Sea Country Spirits, and talks about discovering her Wadawurrung heritage and how it changed her practice as she moved away from man-made materials to using materials she collects from the land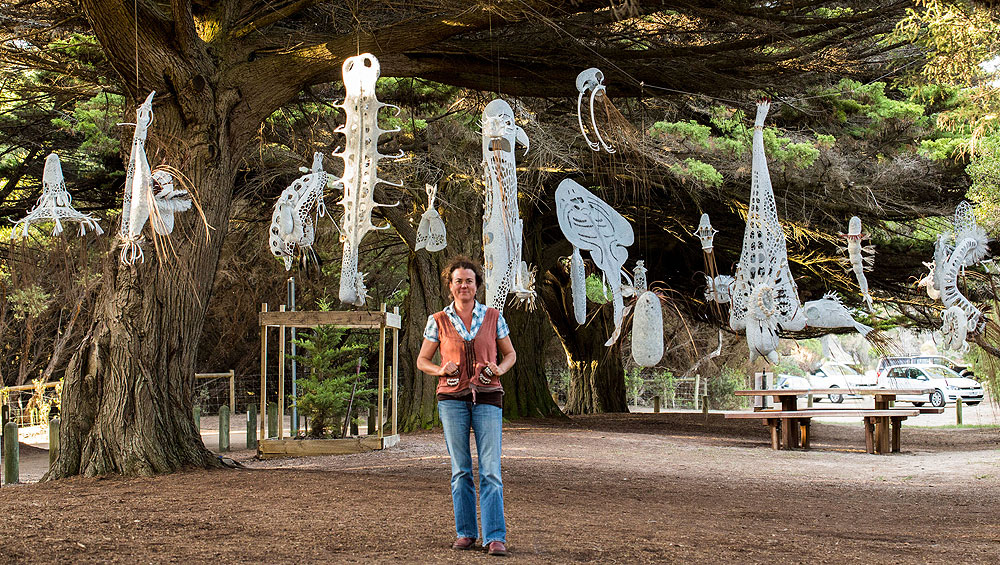 by JANET McKENZIE
Jenny Crompton's site-specific sculpture installation Sea Country Spirits at the Lorne Sculpture Biennale in Australia last year won the Sculpture Trail Award as well as the People's Choice Award, making her the first artist to win both prizes in the same biennale. Inspired by the sea, land and sky of the biennale setting, as well as her Wadawurrung ancestry, the Indigenous Australian artist says the work channels "the continuous rhythms that the land has been echoing for thousands and thousands of years" (The Guardian, 22 March 2016). Sea Country Spirits, an ethereal installation of 32 spirits, was acquired by the National Gallery of Victoria (NGV) Women's Association for the NGV, Melbourne, and was exhibited in its recent group show Who's Afraid of Colour? Made using recycled copper wire, hand-sewn to incorporate tree grass stems, shells, kangaroo bones, feathers and driftwood, the materials were gathered over a five-year period and took eight months of exacting work to complete.
All the works in Who's Afraid of Colour? curated by Judith Ryan, were produced by women at the cutting-edge of contemporary practice. Director of the NGV, Tony Ellwood, said: "Since coming into prominence in the late 1980s, Indigenous women have transformed Australian contemporary art, experimenting boldly across artistic mediums and challenging popular notions about how Indigenous art should be created and interpreted. [The exhibition] celebrates the diversity and daring of their work."
Janet McKenzie: Looking at the beautiful and haunting installation of Sea Country Spirits, the first thing that strikes me is how method, materials and meaning collide so effectively. Can you tell me how you came to work in this unique way?
Jenny Crompton: When I found out about my Wadawurrung heritage, I moved from inner Melbourne to Bellbrae on Wadawurrung land. Being by the sea, I became fascinated by seaweed and plant life and moved away from the man-made materials I had been working with in Melbourne. I chose to work with materials collected from the land; exploring also got me out of the studio. I've always been a walker, but it helped me to pick up a sense of the land, even though I used to frequent the area 20 years ago. I always felt there was something very special about that area.
Before this piece, I was working entirely in natural materials such as seaweed and kelp. When I was asked to make this piece, I couldn't just use these natural materials because they would not stand up to being outside. I had played around with wire years ago and when I looked at the outdoor space I would have to exhibit in, I realised that a technique I devised years ago would work. When you make art that is site specific, especially for outdoors, it has to last and stand up to the elements. The area under the trees in Lorne behind the beach was dark and windy, with strong winds straight off the coast. The wire work is lightweight, aerated and can catch the wind and allow the pieces to dance. Before the work was planned, I stood in the space for about an hour, standing on land looking at sea and looking at sky.
In Sea Country Spirits, there are three large totems – a flying fox, from the land; a bird, representing sky; and a fiddler ray, representing the sea. These three totems were the inner circle around which the other spirits had to be formed. Nothing was drawn or pre-thought except for the first three totems; I kept the process loose. When I was making, I was thinking about things that I can see but not in a representational way, instead allowing a feeling of what it says to me. Circling these three totems are smaller sculptures that are representations from the sky, land and sea; they range from quite representational into purely abstracted forms. I did not think in a specific way, but I started making and let the shapes evolve by themselves. All the pieces have been decorated by the found objects from the land. I had to take in to account which objects could be sewn back in. After the pieces have been sprayed white, the found objects were attached, but they dictated how the object would be constructed.
JMcK: The piece that looks like a sea urchin is a particular case of how you have created the piece and then inserted the tree grass stems.
JC: They are very difficult items to place because they are strong but very brittle. I think they are amazing and very expressive, but they are difficult to work with and easily broken. This other piece, which I call galah nest, has been made so that there is an opening so that your hand can go back in to sew on the found objects.
JMcK: The head-dress looks very frothy, and soft rather than wiry.
JC: It's all wire, it's very fine, made on a ring, all separated and sprayed with white paint. Before the paint, the wire shapes are all floppy, but they become solid once the pieces are sprayed with the coats of paint, locking in the weave.
JMcK: The flying fox is perhaps the most exceptional.
JC: Thanks, this piece took five weeks to sew the wire and was the most difficult. My hand was completely scratched to pieces. Driftwood and kangaroo bones are used to create the wrapped wing pattern of the flying fox when he is in a rest position hanging upside down.
JMcK: This work is a celebration of nature. The technique represents great dedication and a form of nurturing – diligence not unlike nest-making.
JC: I enjoy sitting in the work for hours. It becomes a meditation. There was a great freedom with this piece, to explore shapes. There was no specific size requirement, except that it was to hang from the branches of a massive cypress pine. It was always exciting starting with the rough recycled copper wire to form a shape, as I only had an impulse, and I was not totally clear where it was going.
JMcK: Can each of these pieces exist successfully as stand-alone pieces, or is it essential that they make up a whole?
JC: I think that the pieces each work by themselves, but walking through the group creates another experience for the viewer in the space they are shown. Seeing it as a group tells a greater story – the viewer becomes tuned to the visual and constructed language that is repeated throughout the different shapes. I feel that walking though it under the trees in Lorne and in the gallery space at the NGV, the piece still communicates this. The NGV has done a fantastic job hanging the pieces in the darkened space with dramatic lighting. I had to make a maquette for the whole commission and that piece sits by itself. It is a plankton spirit, free standing and works as a singular piece. With this style of work, I could just keep going. It's timeless and endless.
JMcK: Literally organic? You were really immersing yourself in the natural order of things and being part of that whole organic process, which is a phenomenal privilege.
JC: Walking and collecting enables things that I might have seen but not noticed. They influence my movement, and inform my work.
JMcK: Walking, then, is like a concentrated research period?
JC: Yes, and I am wonderfully spoilt with the amazing natural world here on the Victorian surf coast. It can be quite odd seeing a woman lugging back a full kangaroo carcass across paddocks or strolling the beach with a huge knife and bag of collected kelp. Repurposing found objects takes time and is dependent on the seasons and natural cycles of the land.
JMcK: You are completely self-taught as an artist?
JC: I started art at 28. I'm a failed actor. I went to the National Institute of Dramatic Art. It was very depressing as I wanted to express myself, but was reliant on getting stage acting parts that can make you very anxious and self-conscious, whereas sculpture is pure expression. I also did a banking and finance degree, which was a waste of time. Then I travelled to India and Europe. My partner was a painter, so I felt I was able to just make. After an ABC audition that I found crushing, and after having been to Spain and seeing the work of Antoni Gaudí, I just started tiling, making mosaics. I made commissions for a few years, but felt after a time that this was not satisfying my creative growth. I was questioning everything. I worked, sculpting in a tent in my backyard for four years, and then renovated the house, adding a studio in Seddon, near Footscray, in west Melbourne. It took two years to complete. I was interested in south-east Asian jewellery. I wanted to question why it was made and who it was made for. I travelled to Indonesia, and learned wood carving using traditional methods using forged iron tools.
JMcK: Did you consider going to art school?
JC: No, I experimented and explored many techniques on my own. I found wood carving to be a wonderful thing. I gradually found my voice by persisting with differing forms of visual expression over time.
JMcK: How did you discover that you had an Indigenous heritage?
JC: About eight years ago, the last of my grandmother's 11 siblings died and a relative worked on the family tree. It was after a family reunion that I learned that I had Wadawurrung heritage. Wadawurrung country spans the large area from the south of Werribee, including the cities of Ballarat and Geelong as far as Aireys Inlet and the Bellarine peninsula. My great-great-grandmother Min, from the Geelong area, had a daughter who was raised as a child, with the local Wadawurrung clan, and then by her Scottish relatives as a teenager. This was a secret kept within the family and from me for years. A lot of the reasons why I was making the sort of art I had, all of a sudden fell into place.
JMcK: Your work absorbs the rhythms of nature and the methods mimic nest-making, swaddling, nurturing. It's hugely life-affirming. It has a different focus to the more politically oriented Aboriginal art, such as the Brook Andrew exhibition, Brook Andrew: The Right to Offend is Sacred, which was in the next gallery space at the NGV.
JC: Yes. It's obvious in the work. I feel my work has to be joyous, to focus on the exquisite aspects of this land. When connected and listening, the creative flow is present and the work just appears. Sometimes a piece can look whimsical, but nature can be, too.
JMcK: It's also very theatrical, like a glorious stage. Several of my friends saw this work in the open landscape and they loved it. But I am only seeing it here at the NGV and I wonder how you feel to be in this incredible exhibition with such extraordinary Aboriginal female artists as Bindi Cole Chocka, Maree Clarke, Destiny Deacon, Julie Dowling, Julie Gough, Sandra Hill, Yhonnie Scarce and Judy Watson?
JC: I feel honoured to be shown at the NGV with these important artists and their works. Who's afraid of Colour? is an amazing collection of indigenous Australian women's expression.