Intersection: International Art and Culture
In celebration of its 25th anniversary, the Arthur M Sackler Museum of Art and Archaeology at Peking University has invited 14 artists from around the world to submit work that emphasises the universality of the language of art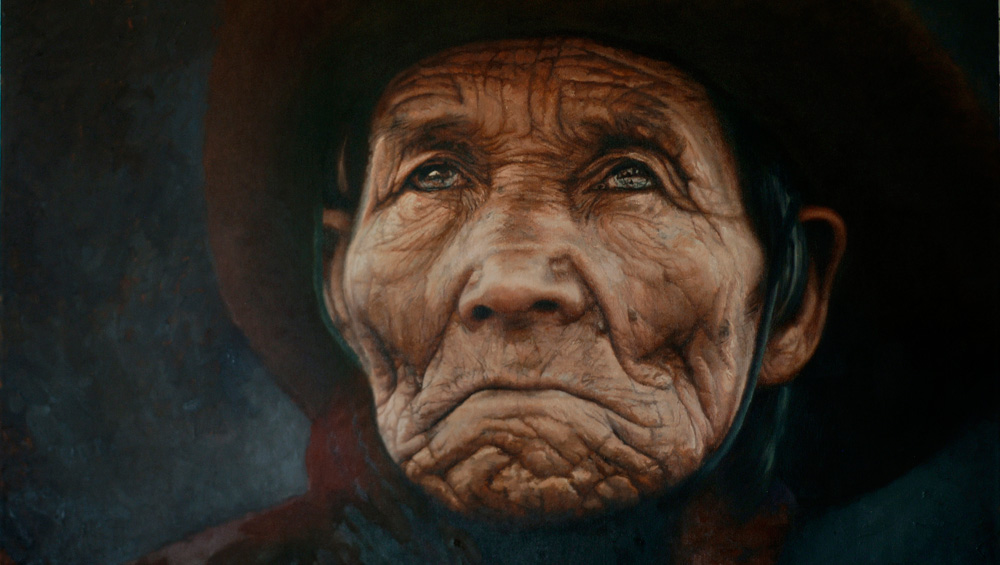 Arthur M Sackler Museum of Art and Archaeology at Peking University, Beijing
27 May – 27 August 2018
by LILLY WEI
Dame Jillian Sackler said that when her husband, Arthur M Sackler, came to China and saw the toll that years of turmoil had taken on its cultural heritage, he asked what he could do to help preserve it. A teaching museum of art and archaeology to be established at Peking University was the ultimate answer, the official discussions beginning in 1984, followed by the groundbreaking ceremony two years later. In 1987, Dr Sackler, who was a research psychiatrist, entrepreneur and patron of the arts with a notable art collection that spanned cultures and historical periods, died unexpectedly. The present museum, which will soon begin construction to enlarge its facilities, was completed by Dame Jillian in 1993 in honour of her husband and his desire to protect an endangered patrimony.
In celebration of its 25th anniversary, Miguel Benavides, chief curator at the Arthur M Sackler Museum of Art and Archaeology at Peking University, organised Intersection, an international group exhibition that opened on 27 May (and continues until 27 August), held in conjunction with Masterpieces from the School of Archaeology Collection. The 14 contemporary artists on view include five – Anita Glesta (US), Anindita Dutta (India), Toni Scott (US), Cui Xiuwen (China) and Nicolás Herrera (Ecuador) – who previously had solo shows at the museum as part of an initiative that Benavides began five years ago to balance the museum's extensive archaeological holdings and displays with artworks by living artists. Xu Bing, Zhan Wang, Bao Pei and Tai Xiangzhou, all Beijing-based artists with a global profile, are also participating, as well as artists E.V. Day and Mark Fox from New York, Patricia Guzman from Mexico, Maryam Najd, born and raised in Iran but now living in Belgium, and Frieder Nake from Germany.
The show, as explained by Benavides, emphasises the universality of the language of art, one that he hopes will bind us together in greater harmony, transcending difference. This need for global community and dialogue (of urgent concern in these uncertain times) was also a prevalent theme of the two-day symposium that accompanied the opening events. Presentations of their practice were given by the artists, with a keynote address delivered by Noel V Lateef, president of the Foreign Policy Association.
With that in mind, almost all the artists explore subjects based on either the spiritual, the existential, or philosophic, or they explore ways to contemporise the traditional – or combinations of all of these. Politics and social justice are present, but conveyed in a more personalised, understated manner, as a private meditation that has embedded in it more objective implications. The selections were not radically activist, although some of the works question religious, social and political systems. Mark Fox, who was brought up as a Catholic, has issues with certain of the religion's doctrines and belief systems, in what he calls a "love/hate response". Maryam Najd has submerged her figures in a deep-blue coat of paint as a kind of protective camouflage to underscore the need for concealment in a country tightly controlled by a fundamentalist interpretation of the Qur'an since the founding of the Islamic Republic of Iran. Patricia Guzman highlights the individuality of marginalised peoples with extreme empathy.
One of the many gratifications of Intersection is the conversation it stimulates between the various artists' work, aesthetically and in terms of content, some surprising. Another is the realisation that eight of the 14 artists are women, a rarely achieved majority, so additional kudos to the curator.
E.V. Day video interview
In a riveting, large-scale work called Moss Ball: A Meditation on the Overview Effect (2018), E.V. Day makes some unlikely, and therefore all the more intriguing, connections. She imaginatively links together disparate structures in an associative, appropriative weave, likening a moss ball, a decorative item in a formal baroque garden, to the view of the Earth from the point of view of an astonished astronaut seeing it from space for the first time as well as to the explosive sensuality that is Bernini's Ecstasy of Saint Teresa and to his gilded architectural fantasias with their cascades of slender golden rods that represent rays of heavenly light. A gorgeous three-dimensional starburst (she calls it a "sputnik") is affixed to the flat surface of her moss ball cum globe like a constellated brooch, tethered to a slender wire that traverses the gallery to the opposite wall, suggesting a divine shaft of light.
Mark Fox video interview
While E.V. Day is not interested in religion as such, Mark Fox is and his work, Offering, is a jumble of tangled words taken from religious text, each cut out individually as if it were a bead on a rosary. The cutting suggests a form of penance or prayer, each word handled, considered, the whole reassembled doctrine then draped over a ladder that had been utilised in the installation. Fox says that the ladder represents his family, who are blue collar, as if to reiterate that the tenets of Catholicism are upheld by such salt-of-the-earth people – who should be able to access them without intermediaries, a contention that has long roiled the Catholic church.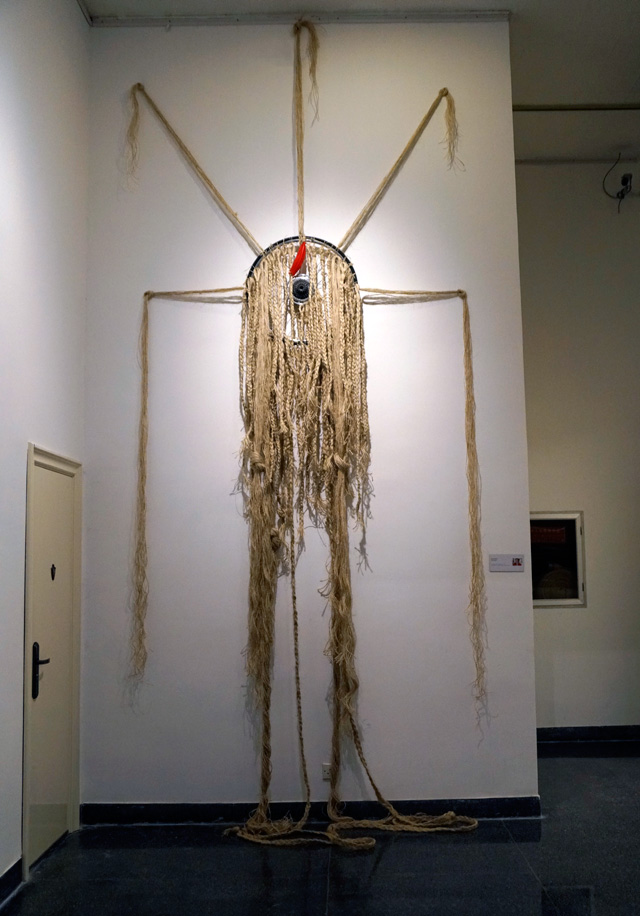 Toni Scott. Circle and Cycle of Life, 2018. Sisal hair/braid, dimensions variable. Photograph: Miguel Benavides.

Some of the artists pursue traditional forms, such as Toni Scott's imposing wall hanging/sculpture, a new work that seems a variant of a Native American dream catcher many times enlarged, with sisal braids that hang down from its central circle evoking a reference to hair that is also conceptually fraught with racist readings.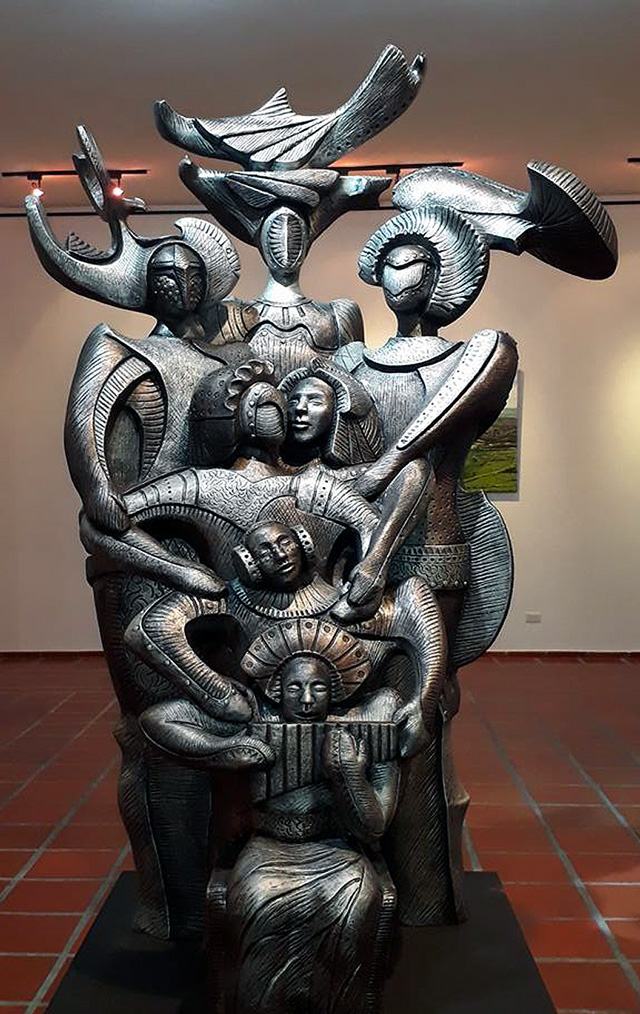 Nicolas Herrera. We Are One, 2018. Resin, fibreglass, iron, lacquer paints, 180 x 100 x 120 cm. Photograph: Miguel Benavides.

Nicolas Herrera has contributed an intricately composed, multi-figural sculpture of weighty presence that is based on folk art and indigenous legends. Through it, he wants to tap into a universal force and narrative, perhaps a kind of Jungian collective unconsciousness.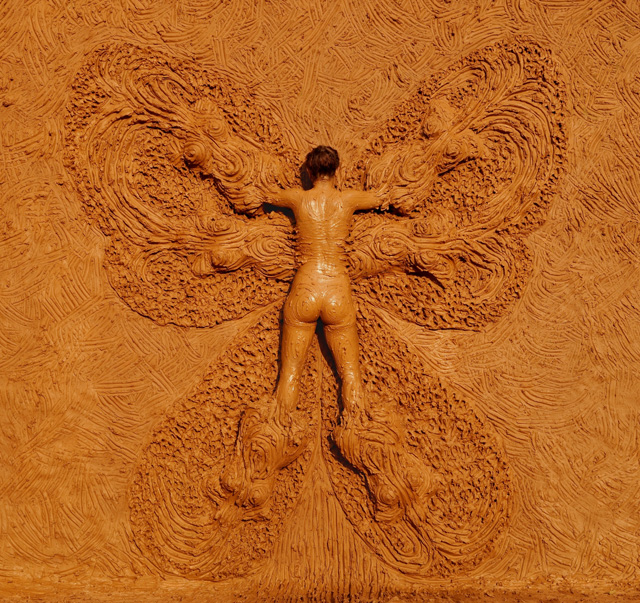 Anindita Dutta. Flight, 2017. From a wet clay performance.

The somewhat less than life-size photographic still of a naked female figure captured from the back as it hangs suspended in a field of bright orange clay, flanked by elaborate, embossed butterfly wings, was from a performance conceived by Anindita Dutta. Called Flight (2017), the eye-catching image conjures life and death, the eternal feminine, a primordial fertility goddess. A woman, rather than a man, created from clay suggests a matriarchal rather than patriarchal lineage, and a symbolic representation of the metamorphosis of inanimate matter into animate flesh.
Patricia Guzman video interview
Patricia Guzman's expertly executed realism makes her paintings appear photographic, as she documents faces that attract her sympathy, often closeup. Here, the deep-set eyes of her subject, an elderly man, gaze steadily outward; if you look carefully, you can see a figure reflected in them, which is that of the artist, but it could also stand in for the viewer, who can imagine he or she has been integrated into the painting, held by that unflinching, encompassing regard.
Bao Pei uses ink and paper in the tradition of Chinese ink painting, but makes her work abstract, and uses knives instead of brushes because she believes the delivery of the ink, the markings, are more forceful that way, conveying greater emotional depth and range. She talks about the void in her work as a visualisation of space-time and existential in content.
[video6]
Bao Pei video interview
An empty chair in one of her paintings might symbolise that which has yet to occur as well as that which has already past, she says, a metaphor for the human condition as one of perpetual change, of constant becoming, being. She also seems to say that something is gained but more certainly, something is lost.
Tai Xiangzhou is also committed to a traditional lexicon, his ink paintings magnificent, deeply indebted to classic Chinese ink paintings while they simultaneously demonstrate the influence of baroque and mannerist paintings and contemporary practices.
Tai Xiangzhou video interview
Xu Bing on the other hand, a master, a magician when it comes to transforming utilitarian discards into art, makes what purports to be a verdant Chinese landscape painting, framed by a semblance of a giant light box but the illumination is external.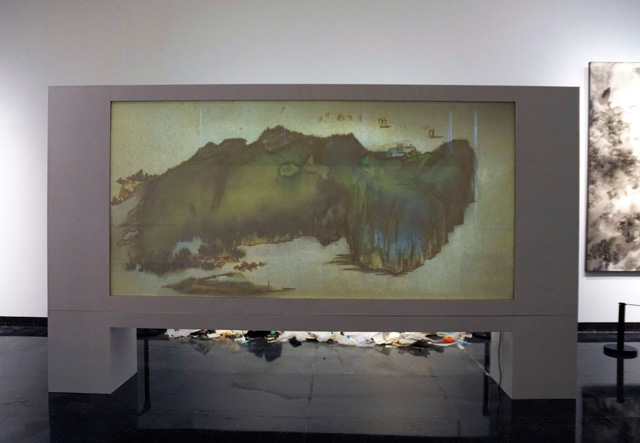 Xu Bing. Background Stories, 2018. Installation, 411 x 172 cm. Photograph: Miguel Benavides.

On the reverse side of the construction is a melange of plastic bags, bubblewrap, twigs, cut-out paper and other materials that improbably result in the image in front, although the back is as compelling as the front and could be interchangeable with it as the focal point.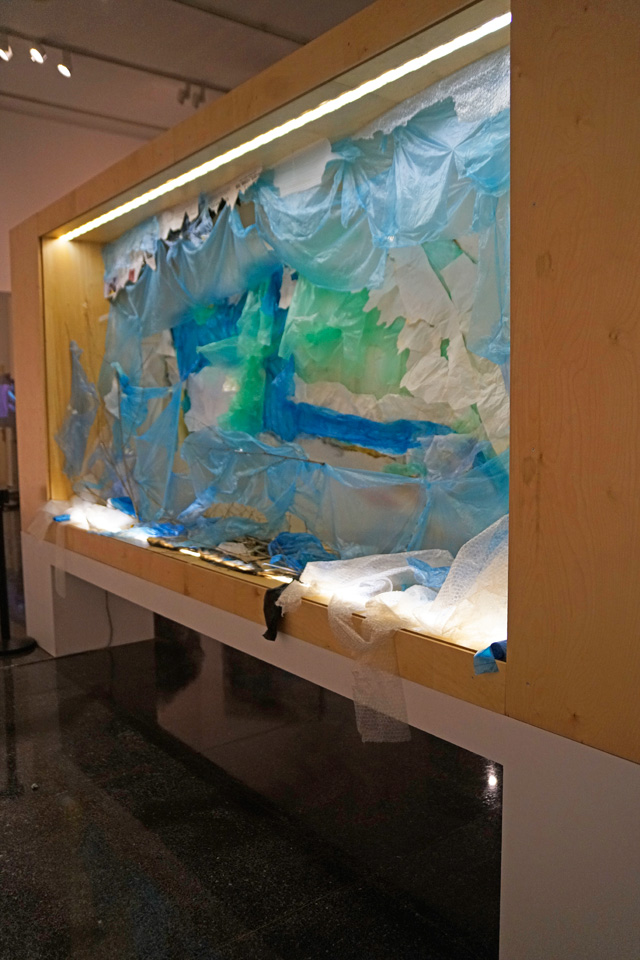 Xu Bing. Background Stories, 2018. Installation, rear view, 411 x 172 cm. Photograph: Miguel Benavides.

Zhan Wang, acclaimed for his signature stainless steel sculptures that are updates of the iconic Chinese scholar rock, uses actual rocks as a template for them. The highly reflective metal is a conspicuously contemporary material but it also seems to dissolve into space as it mirrors what is around it, merging into the site, into the exterior world. At the Sackler Museum exhibition, it is installed in the museum's courtyard, next to a handsome, real scholar's rock, in a discourse on what constitutes old and new, fake and authentic.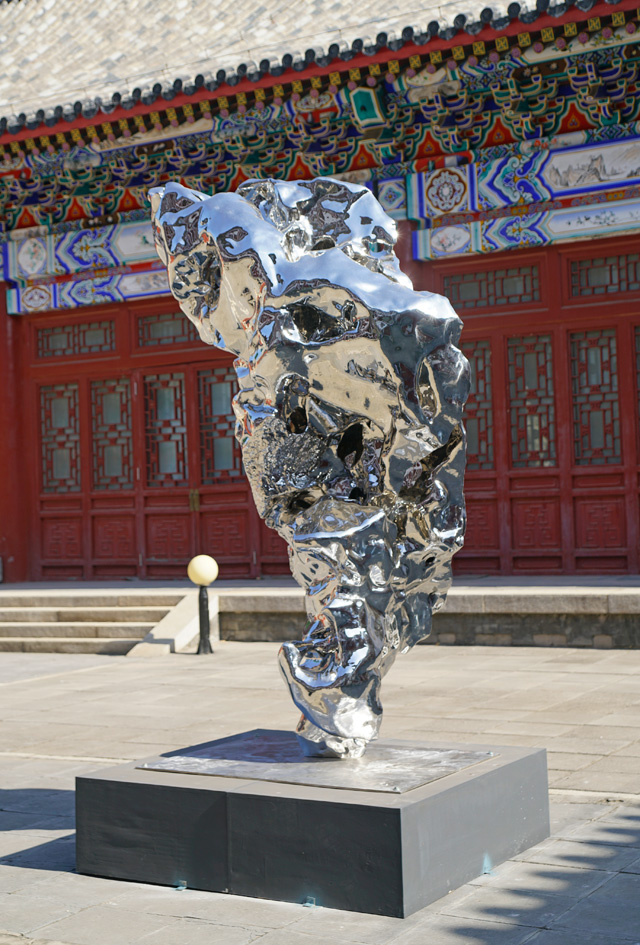 Zhan Wang. Artificial Rock No. 175, 2007-16. Stainless steel sculpture, 277 x 151 97 cm. Photograph: Miguel Benavides.

Bao, Tai, Xu and Zhan have all found ways to draw from China's venerable pictorial legacy, renewing its currency. Ciu Xiuwen also seems to avail herself of the same strategy. The modernist geometry – rows of red circles against a velvety blue ground cradled by rings and partial rings that resemble quotation marks – seem to cede to older, more metaphysical readings as the whole perceptually vibrates with an inexplicable energy.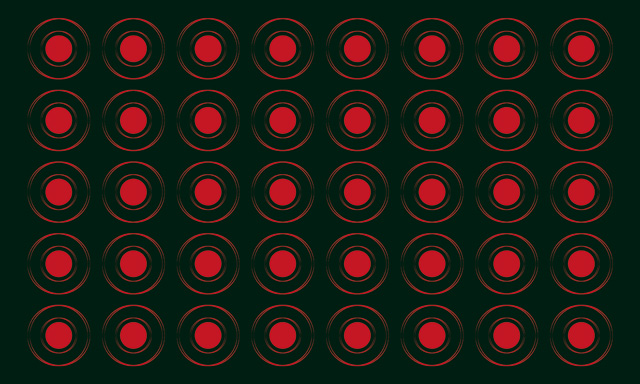 Cui Xiuwen. Untitled, No.1 of 4, 2017. Acrylic on canvas, 150 x 93 cm.

For the most part, the mediums and materials used are purposefully lo-tech – with some implementation of newer techniques. The two artists in Intersection who use computers or time-based technology are Frieder Nake and Anita Glesta, Nake's work is from 1965, a pioneering example of computer art in which the image is wholly machine-generated. It has "zero meaning", he likes to say, even if somewhat ironically. A series of black lines in a kind of sheaf is a reminder of the simple, if groundbreaking beginning of the genre, a far cry from what can be done today.
Frieder Nake video interview
The only video work shown is Glesta's Pulse, part of her series about the heart in which it, arteries, trees, branches and sonograms (her own and others) are intermixed, referring to that vital organ as both physical entity and metaphor, a symbol of what it is to be human, accompanied by the shuddering lub-dub sound of it pumping blood.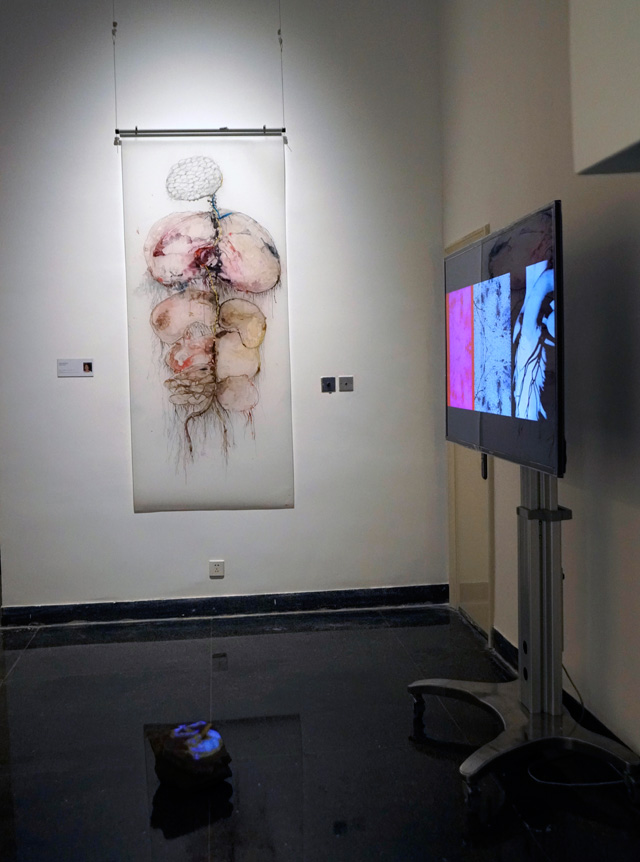 Anita Glesta. Pulse, 2018. Multimedia installation, dimensions variable. Photograph: Miguel Benavides.

A three-part installation, it includes a long ink scroll depicting internal organs and an apparition of a naked woman projected on to a rock on the floor from overhead, the figure awkwardly turning about, sometimes vanishing, the work reminding us of our vulnerability and mortality.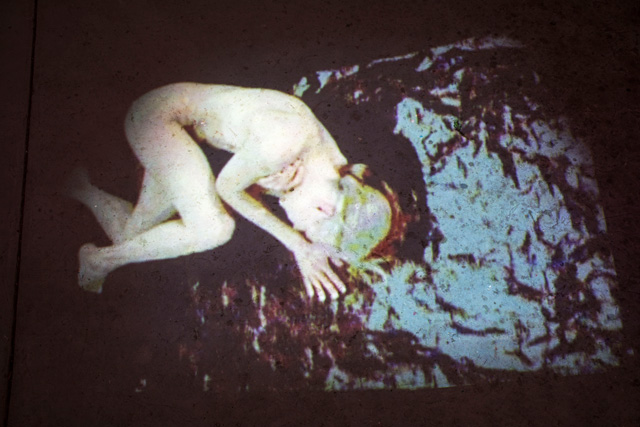 Anita Glesta. Pulse, 2018 (detail). Multimedia installation, dimensions variable. Photograph: Miguel Benavides.