Guy-Ernest Debord & Gil Joseph Wolman: L'un n'exclut pas l'autre [The one does not exclude the other]
This exhibition is a joy, combining leaflets, flyers and other ephemera from Debord and Wolman's period of collaborative working and their Lettrist International project, as well as artworks that Wolman created after the two had parted ways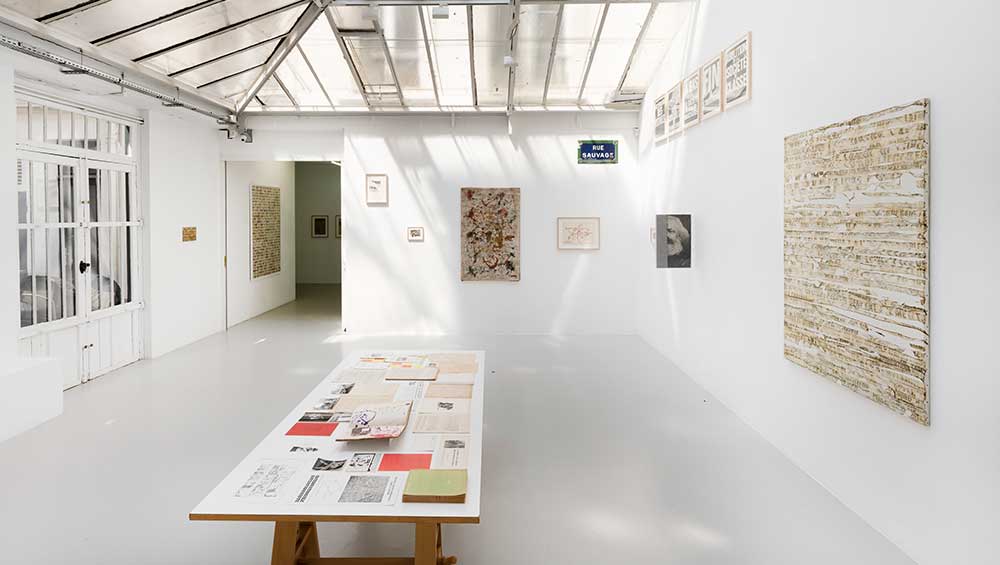 Guy-Ernest Debord & Gil Joseph Wolman: L'un n'exclut pas l'autre, installation view, Loeve & Co Marais, Paris, 2023. Photo: Fabrice Gousset.
Loeve & Co Marais, Paris
27 April – 17 June 2023
by BRONAĊ FERRAN
Situated in a quiet street off the fashionable Rue de Temple in Paris, the Loeve & Co Marais gallery opened in April 2022 with an exhibition featuring works by Marcel Duchamp and Bruno Munari. The gallery is co-directed by Stéphane Corréard and Hervé Loevenbruck, co-founders in 2019 of the first Loeve & Co gallery and in 2020 of Love & Collect (initially an online initiative), both of which can be visited in Rue des Beaux-Arts in Saint-Germain-des-Prés. Their curatorial focus is on representing historical artists and sometimes unrepresented avant-garde materials and themes in highly contemporary ways.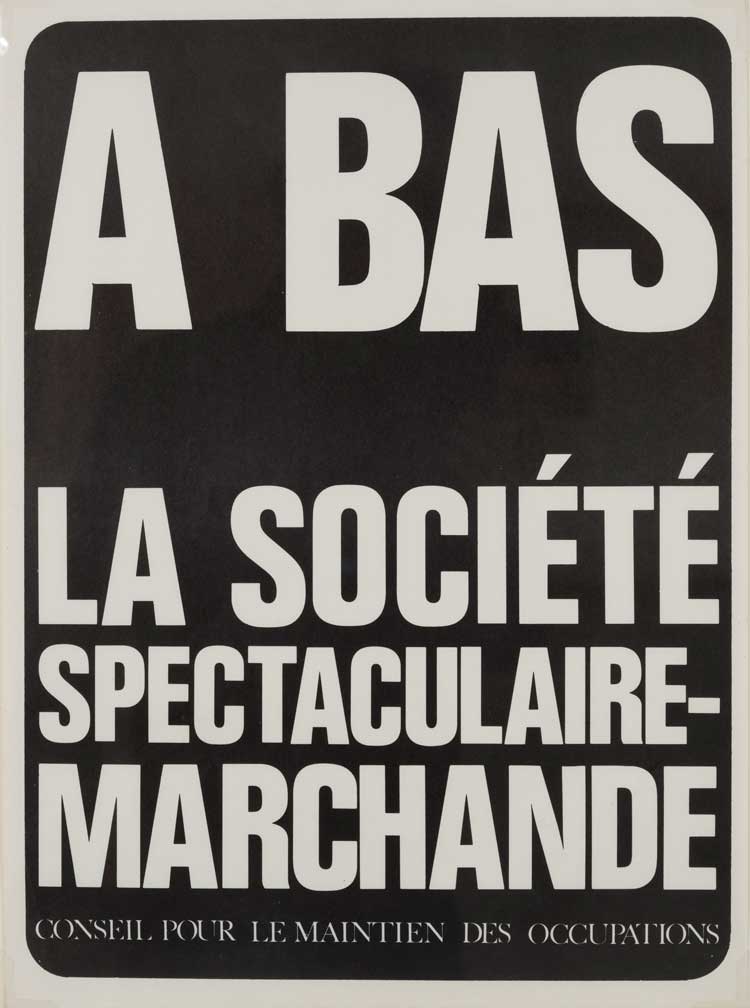 Conseil pour les maintien des occupations. A bas la societé spéctaculaire-marchande, 1968. Silkscreen on paper. Photo: Fabrice Gousset.

I have come to the gallery for the opening of another "double" exhibition, which takes the idea of parallelism further into a zone of active symbiosis with respect to exploring links between the artist and poet Gil Joseph Wolman and the artist, theorist and writer Guy-Ernest Debord during the mid-1950s. Co-curated by Corréard and Loevenbruck along with the independent composer, researcher and writer Frédéric Acquaviva, who has also edited the accompanying catalogue, it draws on Acquaviva's specialist knowledge of Wolman, the subject of a retrospective exhibition he co-curated in 2010 at the Barcelona Museum of Contemporary Art. Acquaviva has explained the double entendre of the exhibition's title, L'un n'exclut pas l'autre [The one does not exclude the other] as being a statement made by Wolman, in response to his "exclusion" and "expulsion" by Debord from the Situationist International group in 1957. After this point, their paths diverged and they did not meet again. However, in 1952 they had jointly conceived the idea of a Lettrist International project (rejecting aspects of the originating Lettrist movement of Isidore Isou, Gabriel Pomerand and Maurice Lemaître, with whom Wolman had been for a time associated). In 1956, Debord and Wolman co-authored a foundational text on the concept of détournement, introducing notions of appropriation, negation of ownership of the text and a post-authorial ethos, that had a significant influence on others in the decades that followed. Among its declarations (in English translation) was the following:
"It is in fact necessary to eliminate all remnants of the notion of personal property in this area … Any elements, no matter where they are taken from, can be used to make new combinations … when two objects are brought together, no matter how far apart their original contexts may be, a relationship is always formed … the juxtaposition of two independent expressions, supersedes the original elements and produces a synthetic organisation of greater efficacy. Anything can be used."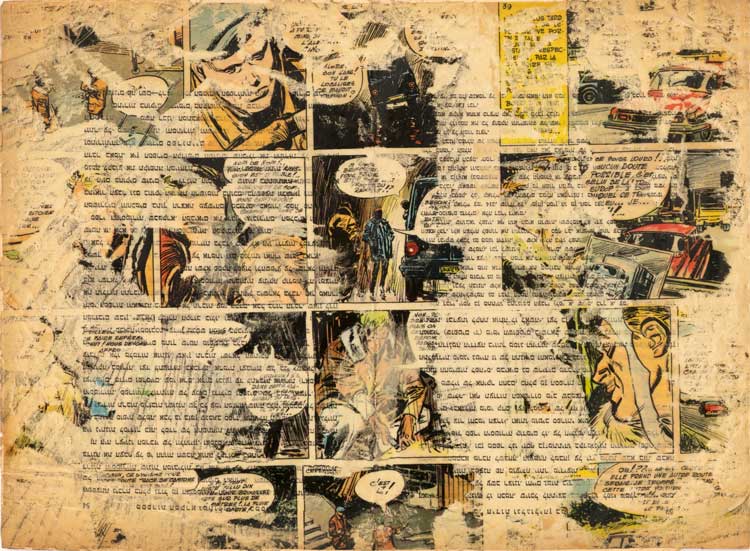 Gil Joseph Wolman. Untitled (Et autre chose no. 1), c1973. Mixed media on paper. Photo: Fabrice Gousset.

The exhibition wonderfully combines (not for sale) archival print materials, leaflets, flyers and other ephemera connected to this initial period of collaborative working, along with historically important works credited to Debord that are on loan from public museums in France, as well as several works of art (for sale) by Wolman, which he created after his time-based entanglement with Debord. Two major Wolman works were already sold on a preview evening before the exhibition formally opened.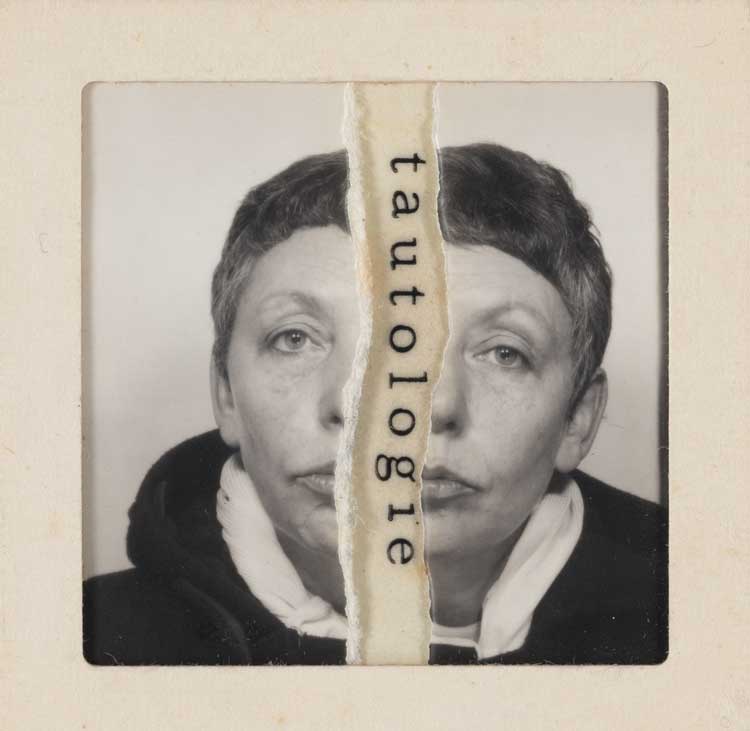 Gil Joseph Wolman. Michèle Bernstein / Tautologie. (Séparation), c1986. Photograph and typewritten text.

While Wolman is, relative to Debord, still a lesser-known figure within wider international circles, this exhibition significantly expands recognition of his significance. Among the most compelling works are a series that he titles Separations, which are based on one vertical tear down the centre of the paper. These turn on a provocative relationship with language as a core medium, while in some of the other most distinctive works he made, his painterly and non-verbal sensibility is dominant, notwithstanding residual lexical elements.

Guy Debord. Internationale Situationniste, Le prolétariat comme sujet et comme représentation, 1968. Xerox. Photo: Fabrice Gousset.

Debord, in turn, became a leading theorist whose ideas famously influenced student organisers of the events of May 1968 in Paris. His book The Society of the Spectacle, published in 1967, was divided into 221 short theses. In the second of these, he described a society where: "All that once was directly lived has become mere representation." Although Debord pushed Wolman away from the Situationist International movement, ideas they had articulated in their essay on détournement strongly informed its tactics. So, too, an ascendency of the visual sign, that might graft into it found and cut up elements from newspapers or magazines, or amplify large letters within defined graphic space, that found initial expression among a small nucleus of individuals in the 50s, found wider application in the cultural revolutionary events of the 60s in Paris and elsewhere. In an overdue way, what this exhibition carefully brings into focus is the underpinning interpersonal and intertextual narrative of the 50s in which Wolman was a critical figure.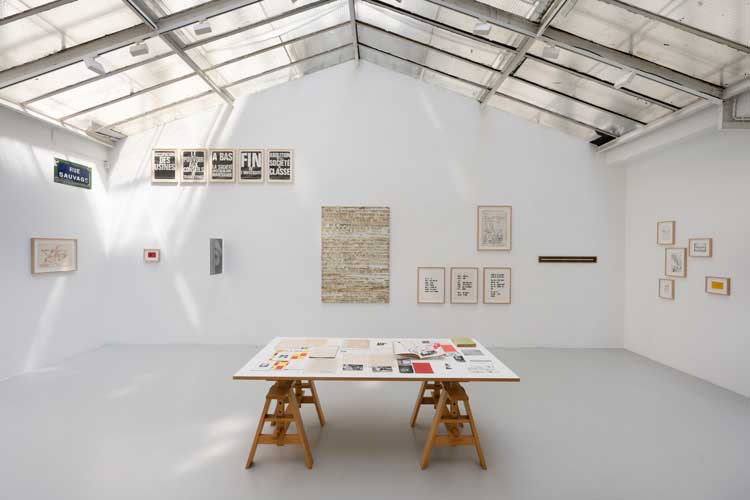 Guy-Ernest Debord & Gil Joseph Wolman: L'un n'exclut pas l'autre, installation view, Loeve & Co Marais, Paris, 2023. Photo: Fabrice Gousset.

Elegantly laid out, with significant spaces between works hung on walls and others grouped in clusters, a large central vitrine holds a considerable amount of ephemera and small-scale publications. Much of this has been painstakingly gathered by Acquaviva over several years.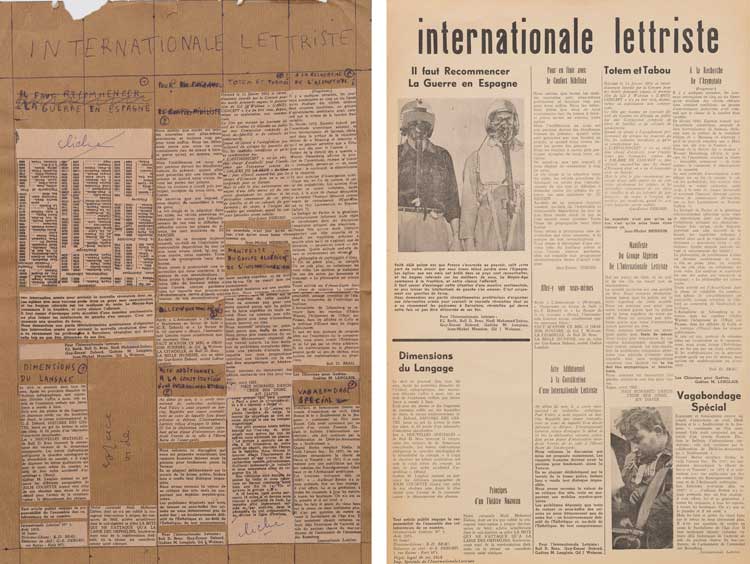 Left: Guy Debord. Untitled. (mocked-up copy for International lettriste no. 3), 1953. Mixed media on paper. Right: International lettriste no. 3. 1953. Print on paper.

Of the works on the wall, I particularly enjoy the juxtaposition of three versions of the International Lettriste Magazine No 3 that Debord and Wolman initially made together in 1953. We see a mocked-up copy, the published version and a third version made by Wolman alone when he performs an act of overpainting over the surface, subsuming the text below (which includes references to Einstein and to Werner Heisenberg's Uncertainty Principle) under what looks at a distance like a visual glyph.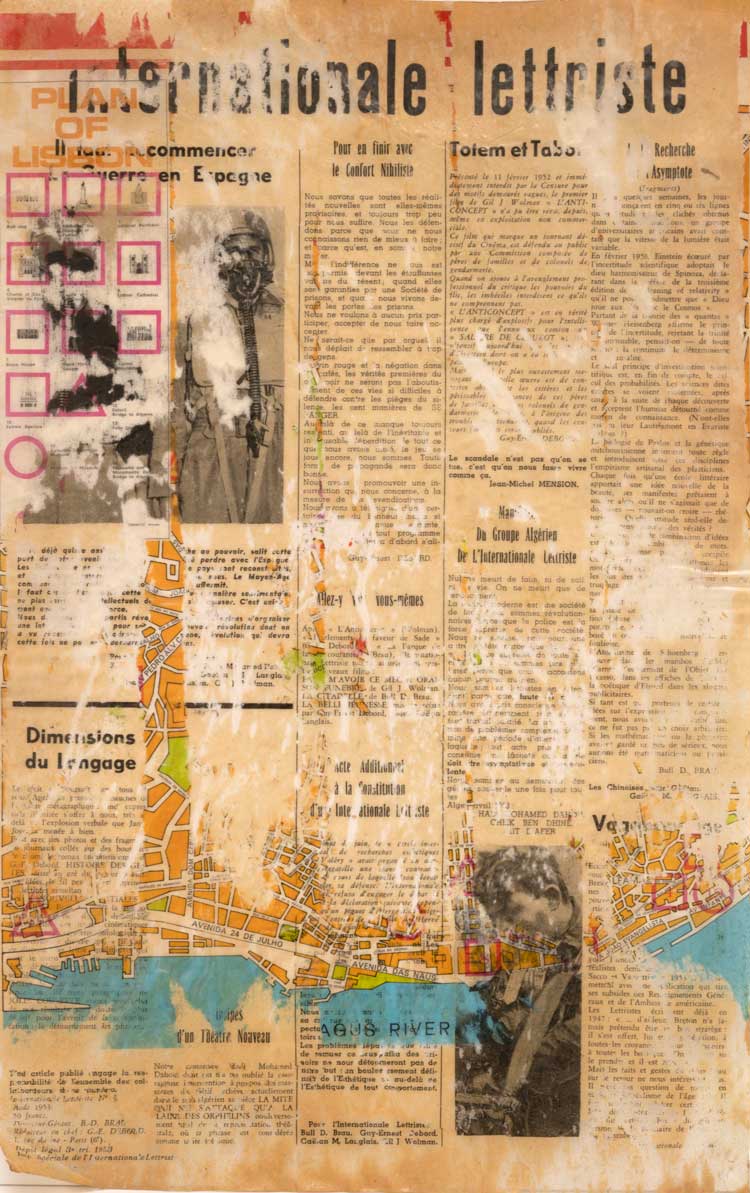 Gil Joseph Wolman. Untitled (Lettrism International / Plan of Lisbon). c1974. Mixed media on paper. Photo: Fabrice Gousset.

Cutting a slice into and through a significant set of relations, including a shifting relationship between text and images that remains of critical importance in the present, this exhibition is a joy to navigate, full of hidden stories, histories, occlusions, deformations, slogans, appropriations and ruptures.