Feminine Power: The Divine to the Demonic
From goddesses and saints to demons, spirits and witches, from ancient to modern, this phenomenal exhibition celebrates the power of women and considers how that strength shapes our world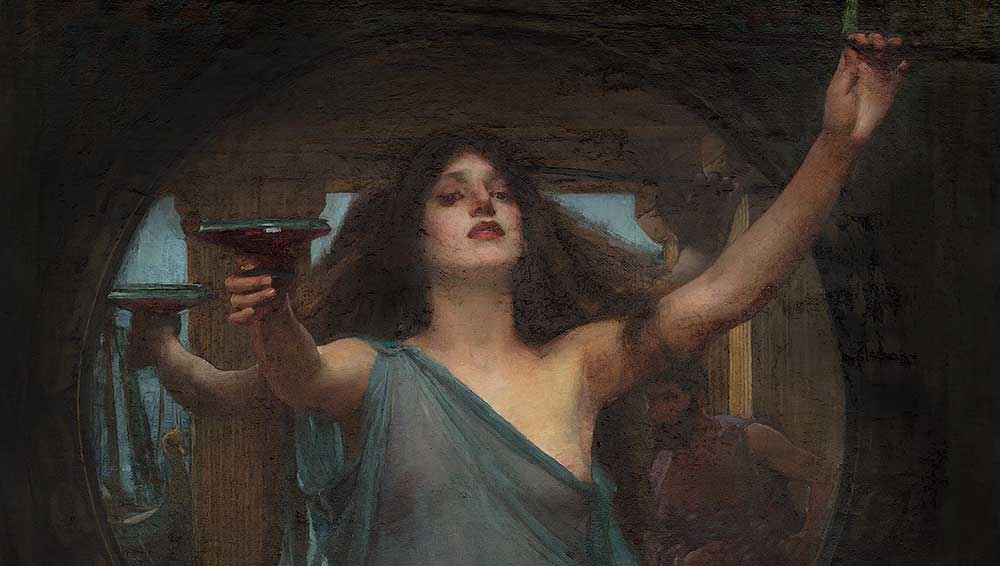 John William Waterhouse. Circe Offering the Cup to Ulysses, 1891 (detail). Oil on canvas. © Gallery Oldham.
The British Museum, London
19 May – 25 September 2022
by BETH WILLIAMSON
Feminine Power: The Divine to the Demonic, a new exhibition at the British Museum, is phenomenal. Perhaps it is the fact that, as its curator Belinda Crerar explained, it has been nine years in the making. Perhaps it is the input from guest contributors Bonnie Greer, Mary Beard, Elizabeth Day, Rabia Siddique and Deborah Frances-White that makes it special. Maybe it is the contributions from community consultants as diverse as a Muslim women's group and the Children of Artemis, a UK-based Witchcraft organisation, that give this exhibition its edge. It could be the sheer variety of forms of the art and artefacts shown in the exhibition or the fact that they span centuries from the ancient to the contemporary, that piques our attention. Or perhaps it is the exhibition's geographical and cultural breadth that makes it attractive. All these factors are certainly important to its appeal, but it is the subject itself that really captures our attention – feminine power, and lots of it. There are goddesses, spirits, demons and saints, all shared in the form of scrolls, masks, amulets and reliefs, as well as painting, pottery and sculpture, and the air is electric with their energy.

Kali Murti, Kaushik Ghosh, India, 2022. Image © The Trustees of the British Museum.

How we might understand centuries of spiritual beliefs across different cultures is not straightforward, but this exhibition is helpfully structured around a number of unifying themes – creation and nature, passion and desire, magic and malice, justice and defence, and compassion and salvation – and you get the sense of their importance. These are big strong themes and the power of the objects they aim to describe, display and explain is barely contained. The diverse female spiritual forces represented come from ancient and modern world cultures and continue to have a significant place in people's lives, and how we interpret the female image is key. As Crerar says in the exhibition catalogue: "Spiritual and cultural beliefs cannot easily be deduced from material remains alone." Interpretations of the artefacts of "deep history" often say more about the social and gender biases of those authors who wrote about them, especially in the 19th century, than they do about the cultures from which they emerged. That is why the community consultations and a curatorial inquisitiveness are so important to the integrity of this exhibition.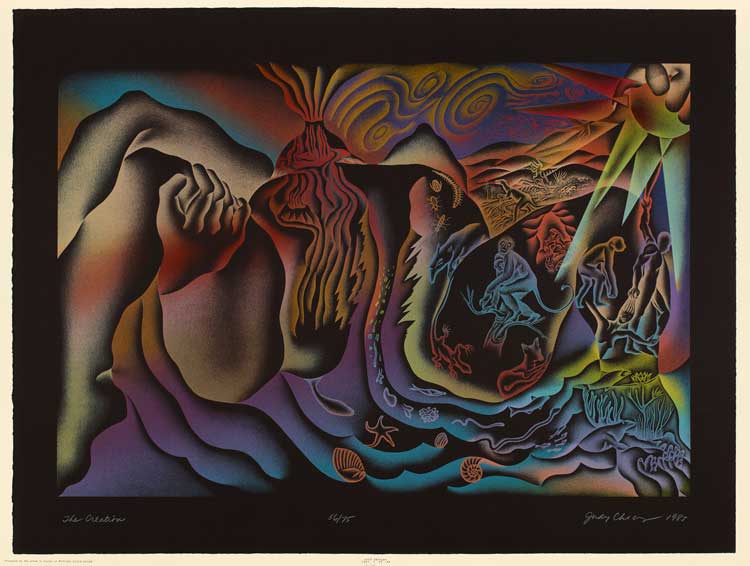 Judy Chicago. The Creation, 1985. Coloured screen print in 45 colours on black paper. Image © The Trustees of the British Museum.

These female figures appear in every aspect of people's lives, from birth to death and the many significant life events in between. The creation narratives of different cultures and faiths vary hugely. Sheela-na-gig stone carvings of female figures displaying their vulvas appeared on churches and other buildings in Ireland, Britain, France and Spain from about 1100 onwards. These are a good example of how the interpretation and understanding of such figures varies. Some Christian perspectives suggest they are a warning against lust, but other interpretations regard them as symbols of fertility and regeneration. Judy Chicago's vibrant screen print The Creation (1985), relating to a largescale embroidery, might be viewed as a contemporary take on sheela-na-gigs. In Chicago's image, the creation story is no longer presided over by a male deity, but reimagined with life bursting forth from the vulva of a female deity.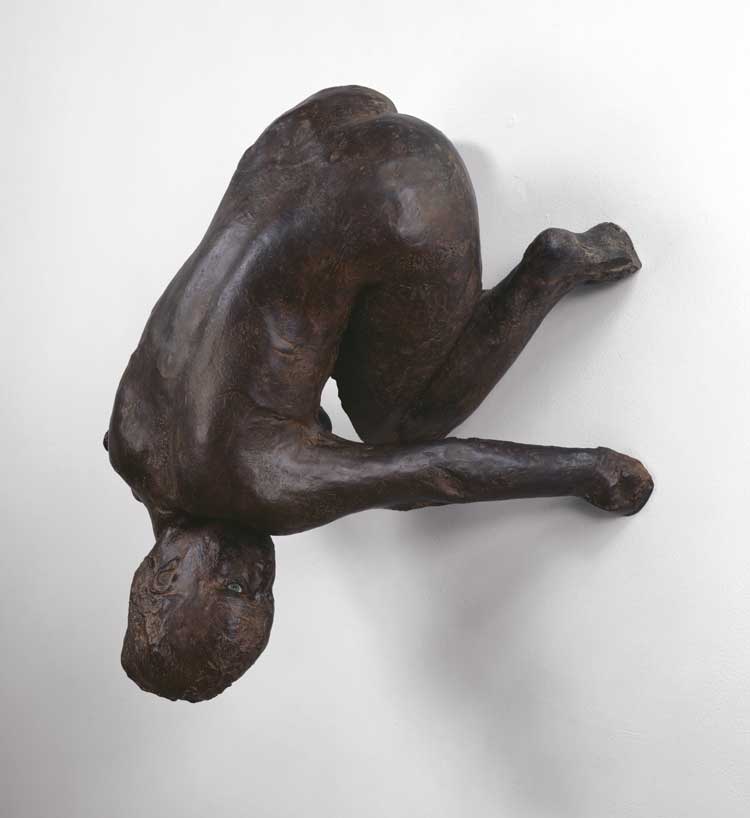 Kiki Smith. Lilith, 1994. Image © Pace Gallery.

The female deity is often impassioned and shown as a dangerous temptress, inciting bad behaviour (think of Eve in the Garden of Eden, eating the apple and offering it to Adam). As we see in this exhibition, however, passion is creative and associated with the divine. There is, of course, the story of Aphrodite or Venus, well enough known today. We are also introduced to Astarte, a Phoenician goddess of passion and sex, Inanna, the Mesopotamian Lady of Heaven, and Lilith, the first woman. According to Jewish mystical texts from about AD700, Lilith was the first wife of Adam, but she absconded from Eden rather than be subordinated to him. This defiant move has recently seen her celebrated as a symbol of female independence. Kiki Smith's Lilith (1994) is perhaps the most powerful object in the entire exhibition. Cast in bronze from the body of a real woman, Smith's sculpture crouches as if ready to pounce. Mounted high above our heads, she looks down with piercing glass eyes. As Mary Beard says in her catalogue essay, this is feminine power undiluted.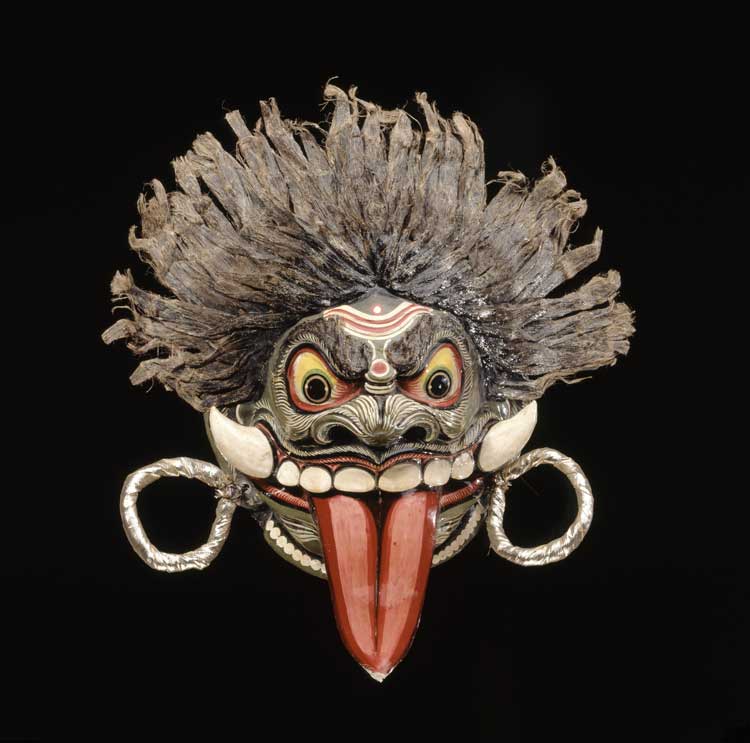 Dance mask of Taraka, workshop of Sri Kajal Datta, 1994, India, papier mâché © The Trustees of the British Museum.

The strength of Medusa's petrifying stare is perhaps one of the most widely known myths, important in western classical art and taken up in popular culture too. In West Bengal, the face of Taraka, who devours anyone who passes through her forest home, appears in contemporary dance, and one such mask, made by Indian artist Sri Kajal Datta in 1994, shows Taraka's monstrous features to great effect. The face of Rangda, the leader of demons, is also represented in the form of a mask. In Indonesia she is a widow, or childless woman, eyes bulging, teeth jutting outwards and horn-like protrusions on her head. In the occult of the west, witches, maidens and high priestesses appear in work as diverse as Hans Baldung Grien's The Witches' Sabbath (1510) and Ithell Colquhoun's Dance of the Nine Maidens (1940). In the Luba Empire (now the Democratic Republic of the Congo) spiritual power came from women even when senior roles were held by men. Female imagery in Luba art acted to protect the people so ceremonial objects were often carved in the form of a woman, creating an ambiguity around power and its enactment in Luba society. There is ambiguity, too, in the Egyptian goddess Sekhmet, called on in times of war and peace.
"Compassion and salvation" is the final theme of this marvellous exhibition. Isis, the heavenly queen of ancient Egypt, is celebrated for her protective power as wife and mother. The Virgin Mary is one of the best-known spiritual figures in the world. She is represented in this exhibition in 16th-century Russian icons, 12th-century French statues, pilgrim badges from the 1950s and 60s, and in Mexican straw weaving, known as popotillo. The theme of compassion and salvation is a great place to conclude the exhibition. An interactive space invites us to leave our thoughts behind, to share them with others. It seems to me less of an end to the exhibition than an idea to carry with us as we leave the museum. Brava!
• The exhibition will tour to the National Museum of Australia in Canberra before being shown at five venues in Spain in partnership with Fundación Bancaria La Caixa.