The Old Stile Press
Nicolas and Frances McDowall started the Old Stile Press almost 40 years ago. They talk to Studio International about the many and varied books they have produced in that time
In her text outlining the background history of the Old Stile Press from 1979-99 (The Old Stile Press … in the Twentieth Century), Dorothy A Harrop tells us how Nicolas McDowall "became enraptured by visual images as he explored books in the company of his grandmother". McDowall's fascination with the "mis en page" – the juxtaposition between words and images and the space linking and separating them – began when, aged four, he was sitting on his grandmother's knee as she read him an edition of Shakespeare's Midsummer Nights Dream, with illustrations by William Heath Robinson. "It was there I gained my tremendous love of drawings, made with black ink, and just as important, of the white spaces left in between," he says.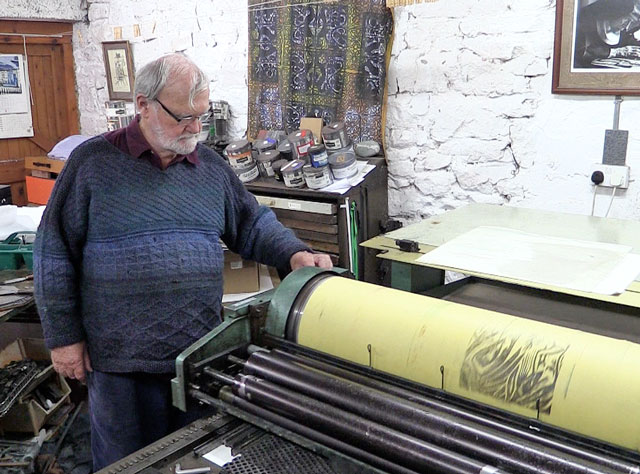 Nicolas McDowall in the print studio at their home in Monmouthshire. Photograph: Martin Kennedy.

McDowall's career in publishing began with Edward Arnold, publishers of educational textbooks, where he quickly rose up the ranks from editor to manager to director, but it wasn't until he established his own private press in 1979 that his "true talent as orchestrator of original illustrated editions came to the fore", says Harrop.
McDowall studied philosophy at the University of St Andrews, where he met his future wife, Frances Pickering, who was studying English and music. Frances was the daughter of the journalist and newspaper executive Sir Edward Pickering, known as "Pick" to his boss, the Daily Express proprietor Lord Beaverbrook. (Beaverbrook assigned Pickering to mentor the young Rupert Murdoch through his early Fleet Street years at the Daily Express.) Pickering encouraged a love of literature and printing in Frances, but, sadly, his participation in her life was short lived: Frances was only seven when he divorced her mother and after her father later remarried, he no longer played a part in their lives.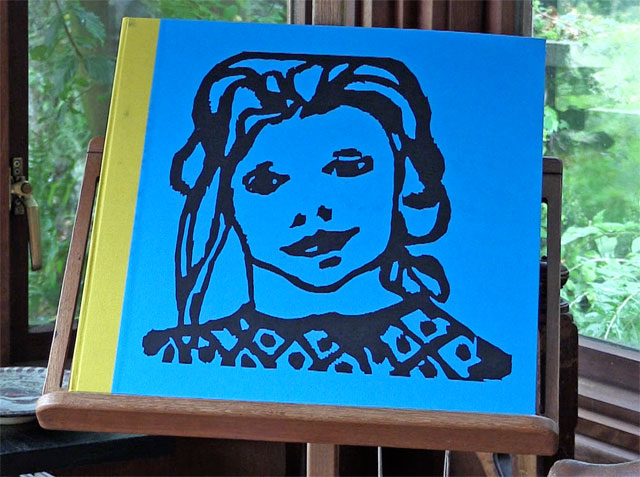 Philip Sutton RA, his family & his friends (book cover). Woodcuts by Philip Sutton 1950s-1970s. 43 x 44 cm. Published in 1998 by The Old Stile Press. Photograph: Martin Kennedy.

Nicolas and Frances married in 1963, first living in Blackheath, London, where Frances (after having worked at Oxford University Press in sales, editing and copywriting) went freelance and later taught music in junior schools. Nicolas began to learn about making books, attending a bookbinding course at Morley College, London, taught by Hugh A de Coverly, and bookbinding classes at the London College of Printing (now the London College of Communication) taught by Alf Brazier and John Mitchell.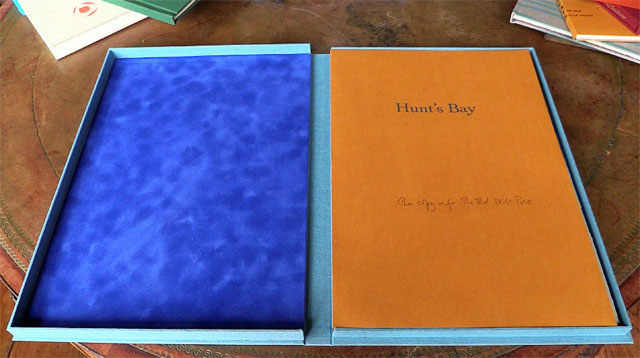 Hunt's Bay by Vernon Watkins, images by Nicolas McDowall. Published in 2018, 40 x 28 cm, The Old Stile Press. Photograph: Martin Kennedy.

McDowall's science colleague at Edward Arnold, Joan Angelbeck, told him about a printing weekend run by John Randle at the Whittington Press in Gloucestershire. It was there, says Harrop, that McDowall "became intoxicated with the process of setting type by hand", and, in 1978, he printed his first solo book, Cornish Haiku, a collection of haiku that, constrained by his then limited type, he had written for the purpose. For the edition of eight, McDowall made a linocut, marbled the cover papers, and sewed the pages together with coloured thread. McDowall also received direction and guidance from Will and Sebastian Carter, at their Rampant Lions Press in Cambridge, and David Chambers, at his Cuckoo Hill Press in Pinner). So began McDowall's printing and publishing adventure and, in 1979, he and Frances set up their printing press while they were living in London and both still working. Then, in 1986, they moved to their current location in Monmouthshire, where a former stable block serves as the location for the press.
Studio International visited Frances and Nicolas McDowall at their home and print studio in Monmouthshire, and spoke to them about the highlights in their nearly 40-year-long printing and publishing enterprise.
Interview by MK PALOMAR
Filmed by MARTIN KENNEDY
• Frances and Nicolas McDowall's the Old Stile Press is at Catchmays Court, Llandogo, Monmouthshire NP25 4TN.