Christine Ay Tjoe: 'I will always treat every medium as paper and pencil'
For her first solo exhibition in London, the Indonesian artist presents a group of intricately layered paintings and drawings that call on the contrasting environments of her home city of Bandung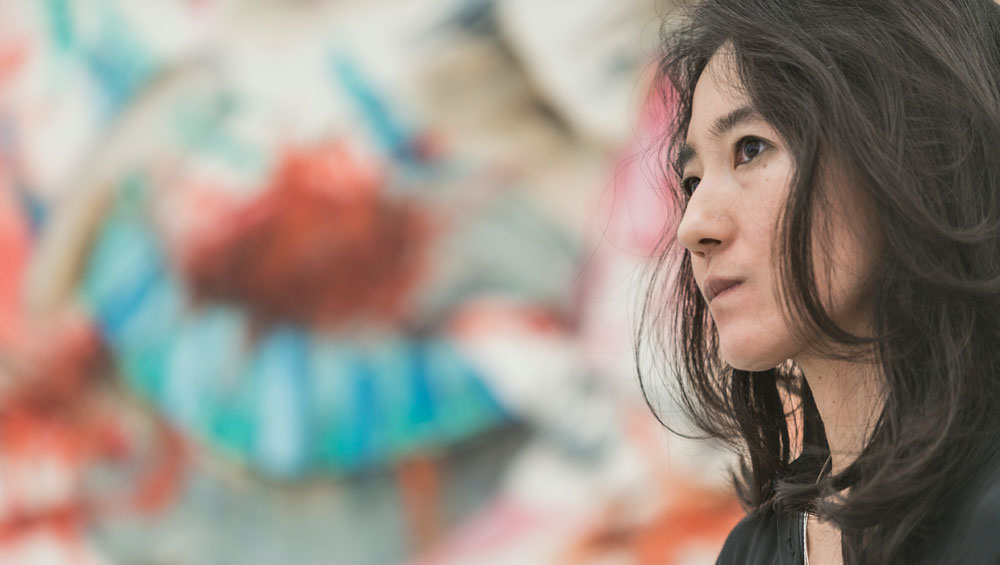 Christine Ay Tjoe. © Christine Ay Tjoe. Photo © Oku Yuji.
by ALLIE BISWAS
The works included in Black, kcalB, Black, kcalB, at White Cube Bermondsey, London, reveal the importance of graphics in Christine Ay Tjoe's practice. The artist, who was born in Bandung, Indonesia, in 1973, and is still based there, specialised in printmaking at the beginning of her career, going on to explore intaglio drypoint prints, woodcuts and textiles. Her exhibition consists of large-scale paintings and intimate etchings on aluminium plates, which rely on a process-oriented way of working that is noticeably grounded in drawing. With a strong presence in Asia, Ay Tjoe's first solo presentation in the UK follows two critically acclaimed displays earlier this year at Ota Fine Arts, Shanghai, and the 21st Century Museum of Contemporary Art, Kanazawa, Japan.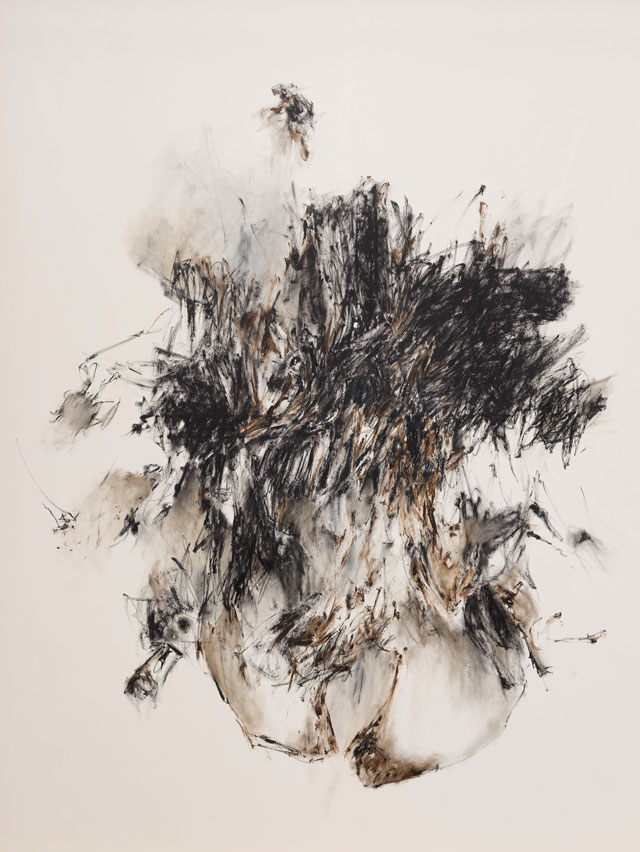 Christine Ay Tjoe. Not too far (detail), 2018. Oil on canvas, 78 3/4 x 70 7/8 in (200 x 180 cm). © the artist. Photo © White Cube (Theo Christelis).

Allie Biswas: This exhibition at White Cube includes several drawings made on aluminium plates, which highlight the importance of drypoint etching to your practice. Your earliest works were focused on this medium. Why were you interested in returning to this form of mark-making?
Christine Ay Tjoe: Well, it doesn't matter what the medium is, as long as the process is drawing. I will always treat every medium as paper and pencil. In this exhibition, I had the chance to work on aluminium plates. The technique for working on those plates is similar to the lithography technique used to draw on a stone surface. The time is right and I always loved graphics on metal mediums. As a hard, flat surface, aluminium is a very interesting medium for me to work on.
AB: As you have just suggested, drawing is at the centre of your work, whether you are etching or painting. Would you say that your initial studies in graphic art, and then the beginning stages of your career – in printing, commercial design and textile production – played a big part in shaping how you have evolved as an artist?
CAT: I think so. I believe that what I learned during my college years and after I graduated are skills that also exist as a result of my childhood experience. I loved drawing with paper and pencil, taking inspiration from small objects from in and around the house, such as pins, needles, thread and insects, as well as big objects that belonged to my parents, such as saws, wooden planks and hammers.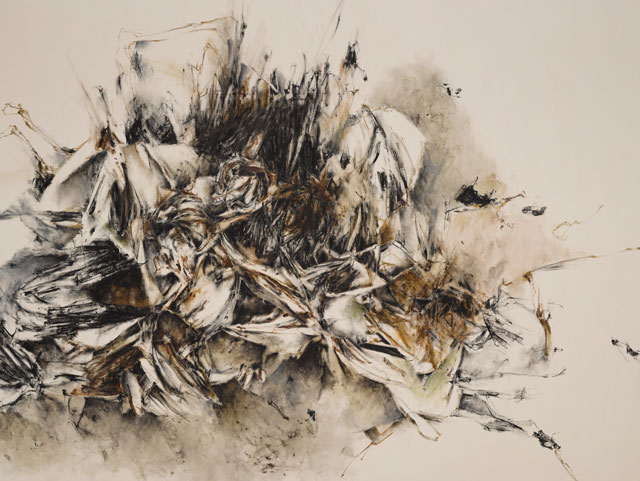 Christine Ay Tjoe. The Comrade, 2018. Oil on canvas, 74 13/16 x 82 11/16 in (190 x 210 cm). © the artist. Photo © White Cube (Theo Christelis).

AB: In terms of process, how do you start making a drawing on aluminium plate? What are the different stages?
CAT: Actually, it's not much different from drawing on a canvas. I just draw/scratch the lithographic crayon on the surface of the plate – no parts have been technically erased. [For these works] I worked for several days on each plate and as the surface of the plate is harder than canvas, it is easier for me to draw a flowing line with different pressure. It's also faster to complete.
AB: How did you transition to painting, and what about painting – if anything – do you find different from etching?
CAT: In my experience, the obvious distinction between etching and painting is in the working process. In etching, I make several editions, and the process is far longer and needs a longer time commitment, in terms of maintaining a consistent result for each print edition. In etching, we need to prepare more elements and it has its limitations; for example, dependency on the printer and good-quality materials that are not easy to get in Indonesia. It is a pretty different case with painting. Some art shops in Indonesia do provide good-quality canvas and paints. So, actually, in the end, I explore canvas more often due to its convenience, as it helps me transfer my ideas faster.
AB: Although the forms and compositional style in your most recent exhibitions have remained consistent, one major difference in this exhibition is the palette. What motivated this change from paintings that relied on colour, to a focus on the monochrome?
CAT: Prior to working on this series, I had already found a set of dark, dominant colours that I wanted to use, and it turned out that those colours were enough. By using minimal colours, I can be more intimate with the object I am trying to highlight.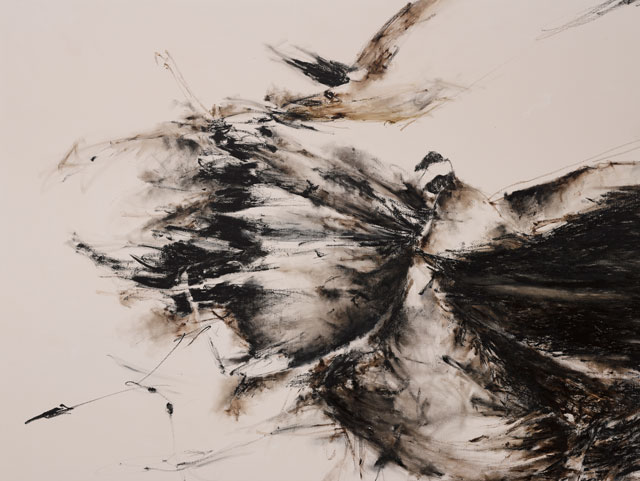 Christine Ay Tjoe. What I believe since my youth (detail), 2018. Oil on canvas, diptych, each: 90 9/16 x 78 3/4 in (230 x 200 cm); overall: 90 9/16 x 157 1/2 in (230 x 400 cm). © the artist. Photo © White Cube (Theo Christelis).

AB: You have spoken about the influence on your art of the plants and flora that are part of your home environment in Bandung. Could you elaborate on the role that they play, particularly within the context of Bandung as a city and the capital of Indonesia's West Java province, in other words not a village or suburb?
CAT: Yes. Bandung is a developed city with only a few green areas left. I grew up somewhere with almost no trees and did not find a connection with nature. During the process of getting to know all the living things around my studio, I had an emotional response; it reminded me of the tensions between mankind and nature. I became very interested in the concealed roots of large plants, as I feel they echo this tension as well as the hidden threats in the relationship between humans and plants.
AB: You have said that these new paintings are concerned with the ways in which we might respond to "the potential darkness" that subconsciously grows within us. Have mental or emotional environments – coming to terms with our own personal states of being – occupied you for some time?
CAT: I was talking about the potential darkness that exists in each and every one of us, which will gradually grow without us even realising it. It's most likely influenced by our neighbourhood, and what I was trying to talk about is the idea of forming a relationship between us and this potential. It got my attention since I have one big idea concerning human quality that has nothing to do with wounds or causing pain, damaging, hurting, etc.
AB: Ultimately, your response to such darkness is optimistic: "It is not just the enemy but an eternal life partner." And Black, kcalB, Black, kcalB is a body of work that presents the complexities of existence with translucency and a level of etherealness.
CAT: I think that humans have the capacity to learn from their mistakes and if they can do better and better, we will find a quality in humans that we were never aware of before. There is a process of inventing and accomplishing a certain quality and forming a good relationship with people in the process.
• Christine Ay Tjoe: Black, Kcalb, Black, Kcalb is at the White Cube Bermondsey, London, until 20 January 2019.