Celia Paul: Memory and Desire
This is a poignant and deeply personal show, and sadness permeates the works, done during lockdown and in the final months of her husband's life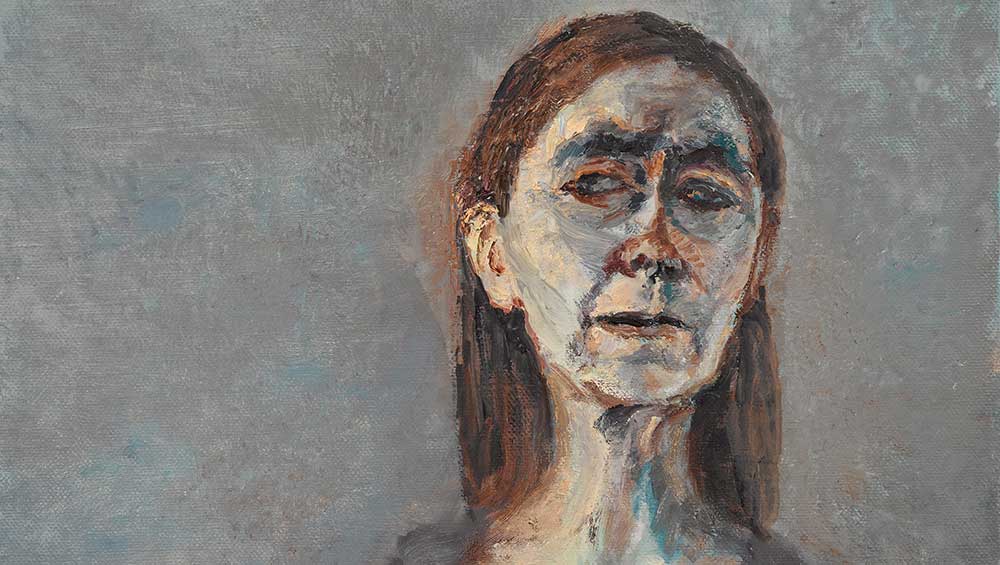 Celia Paul. Self-Portrait, April, 2021 (detail). Oil on canvas, 63.7 x 56.5 cm. © Celia Paul. Courtesy the artist and Victoria Miro.
Victoria Miro, London
6 April – 7 May 2022
by BETH WILLIAMSON
The time from October 2020 to April 2021 was a period of profound sadness for Celia Paul (b1959), we are told, as she worked in complete isolation, seeing no one except her husband, Steven Kupfer, who died of cancer on 29 March 2021. This exhibition contains work from that period, when Paul was also completing her book Letters to Gwen John (2022). Paul's letters to the long-dead John (1876-1939) make an extremely personal collection and this exhibition is personal too. The deep veil of sadness and loneliness that hangs over the show is given some cultural context when we realise that its title, Memory and Desire, comes from the first line of TS Eliot's poem The Wasteland: "April is the cruellest month, breeding / Lilacs out of the dead land, mixing / Memory and desire, stirring / Dull roots with spring rain."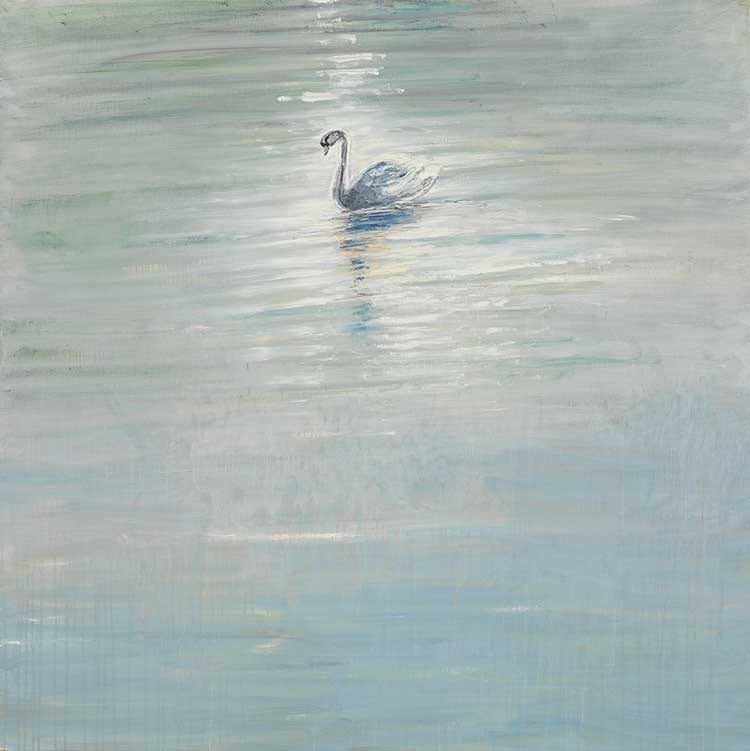 Celia Paul. Swan, Cambridge, 2020. Oil on canvas, 147.7 x 148 x 3.5 cm (58 1/8 x 58 1/4 x 1 3/8 in). © Celia Paul. Courtesy the artist and Victoria Miro.

Over the past 12 years, Paul has painted self-portraits, titled by the month and year in which they were painted. Those she painted during the pandemic have an acute intensity, an inward focus that is perhaps a form of self-preservation. The examples shown in this exhibition must have required a considerable degree of introspection on Paul's part. To then share these paintings of herself, some at her lowest point – just after her husband died, for instance – is an act of bravery and generosity. These multiple self-portraits with their shifting mood are in contrast to the painting of Paul's mother asleep at the foot of Trisselwand mountain in Austria, which, she tells us, took from 1994 until 2020 to complete. I'm not sure what it says about Paul, if anything, that it took her 26 years to complete this painting.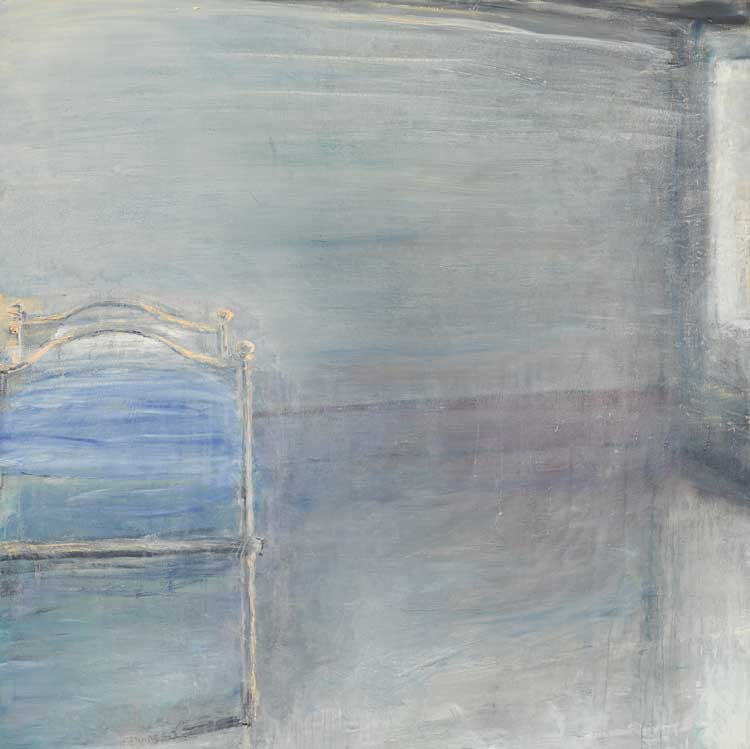 Celia Paul. Blue Bed, 2021. Oil on canvas, 147.6 x 148 cm (58 11/100 x 58 27/100 in). © Celia Paul. Courtesy the artist and Victoria Miro.

The interiors and cityscapes painted in and around her home and studio in Bloomsbury, west London, demonstrate her remarkable handling of light. Everything here is pared back and, as she says: "The nearly empty rooms serve the purpose of being receptacles for the light." The cityscapes often include the British Museum or the BT Tower, both visible from Paul's flat. Given the spartan nature of her home and studio, it is perhaps unsurprising that her attention sometimes turns to what is beyond the confines of that space. The window, just visible in the corner of Blue Bed (2021), becomes a sign of hope, an opening up of freedoms beyond the strictures of the studio. Inside her fourth-floor flat, Paul's few possessions take on special meaning, as in My Chair (2020). She says it is a self-portrait. There is certainly something poignant about a solitary chair in the empty studio space, glowing as the sunlight falls upon it through the studio window. At Victoria Miro, a more diffuse and dappled light permeates the upper gallery and I begin to feel that I am in the presence of something spectral.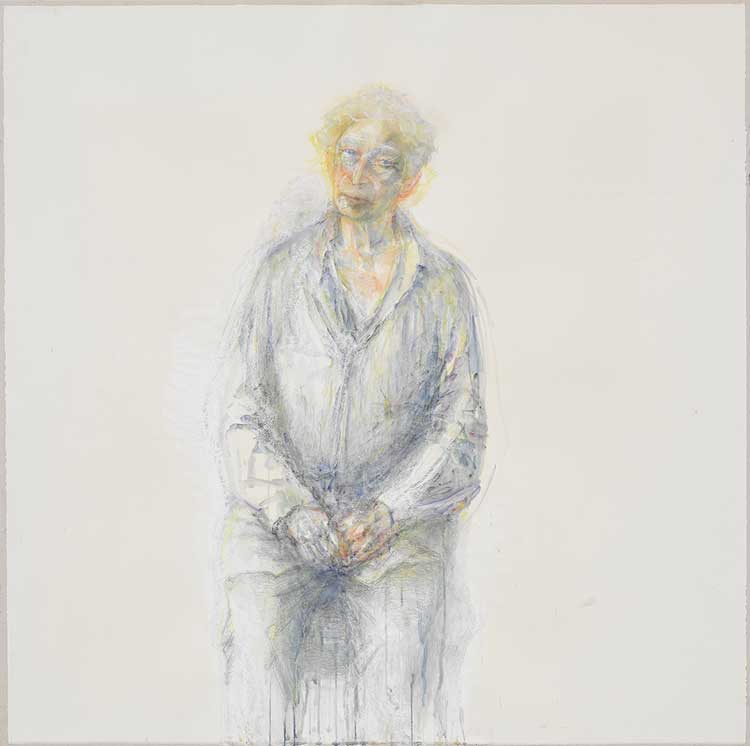 Celia Paul. Steve, Last Portrait, 2021. Watercolour on paper, mounted on canvas 142.8 x 142.8 x 3.5 cm (56 1/4 x 56 1/4 x 1 3/8 in). © Celia Paul. Courtesy the artist and Victoria Miro.

Paul's portraits and self-portraits are haunting and none more so than the ethereal Last Painting of Steve (2017-2021). In the artist's own words: "He is there, but only just. He is painted with a sable brush that seems to be dipped in smoke, not paint. The painting feels very fragile, not only because of the vanishing tones, but also because it's on paper. The paper is mounted on to canvas to give it support … I want to keep guard over this image." I couldn't agree more. Kupfer's skin is almost translucent in this picture. He looks sick and vulnerable in his pyjamas. His gaze is one I recognise from seeing my father just before he died. Kupfer knew this was Paul's last opportunity to paint him, to capture his image for memory and desire. This is a deeply painful painting, but deeply tender too.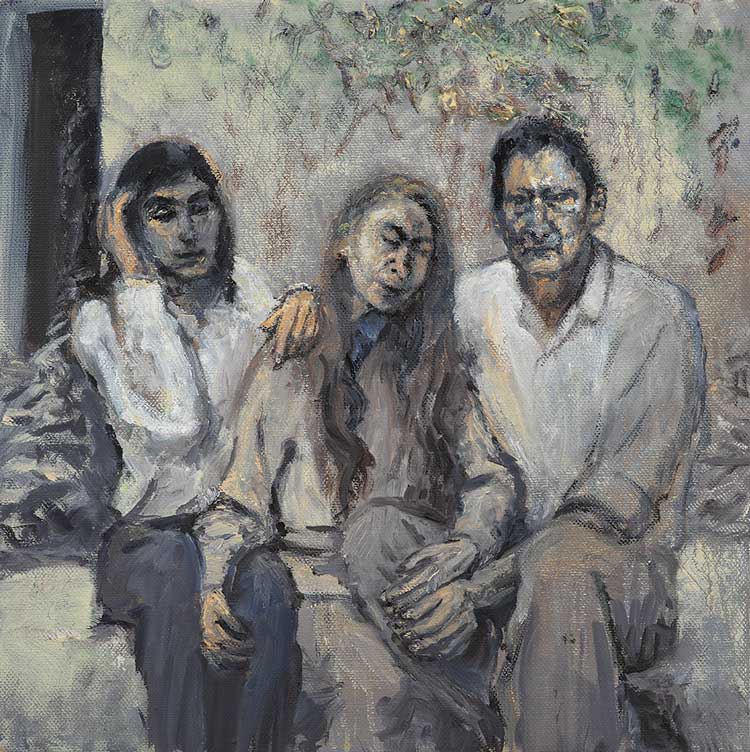 Celia Paul. Looking Back: Bella, Me, Lucian, 2020. Oil on canvas, 51.4 x 51 x 3 cm (20 1/4 x 20 1/8 x 1 1/8 in). © Celia Paul. Courtesy the artist and Victoria Miro.

Painful in a rather different way is the group portrait Looking Back – Bella, Me, Lucian (2020). None of the three figures looks at the viewer or each other – Paul has her eyes closed, Bella looks down and Lucian gazes into the distance. Each is lost in thought and their awkward physical poses mirror their apparent psychological discomfort.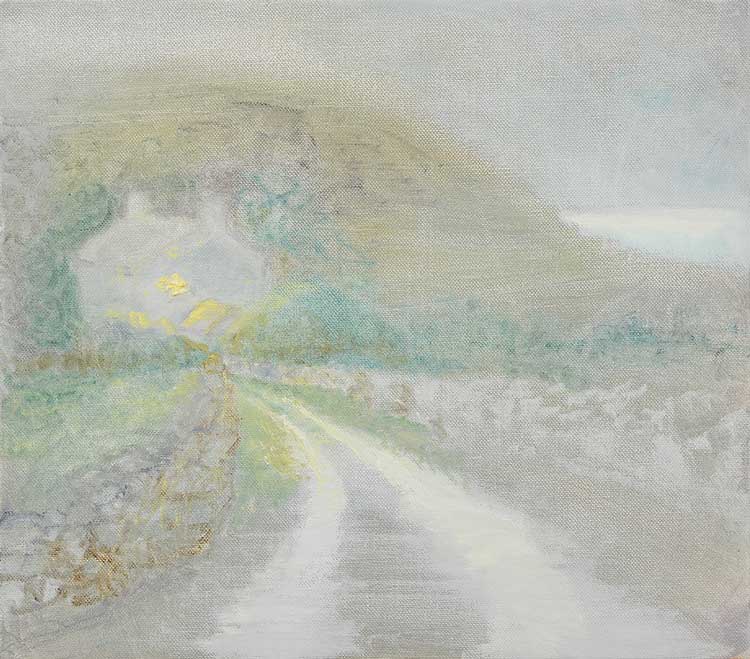 Celia Paul. The Path Home, 2020. Oil on canvas, 56.2 x 63.5 x 3.6 cm (22 1/8 x 25 x 1 3/8 in). © Celia Paul. Courtesy the artist and Victoria Miro.

The mood lightens in the landscapes in this show. The Path Home (2020) is especially poignant, if not quite the nostalgic longing for family and home it at first appears. Paul explains that the remote Pembrokeshire cottage is one she has visited since she was a child and the closest thing to a family home she has known. Its Pembrokeshire location is a connection with John, who was born and grew up there. Paul is ambivalent about the idea of home, associating it with claustrophobic restrictions as well as comfort. Despite this ambivalence, she also paints My Father's House (2020). This is the house in Yorkshire where she lived with her parents and sisters when her father was Bishop of Bradford. When her father died, they had to leave the house. She returned 36 years later to sketch it. She said: "The six apple trees that grew in the garden feel like spirits of my mother, my sisters and me." This seems to me not a sad, ghostly presence but a hopeful memory on Paul's part, alive and still growing. It is the apple trees and their place in the natural world that bring hope.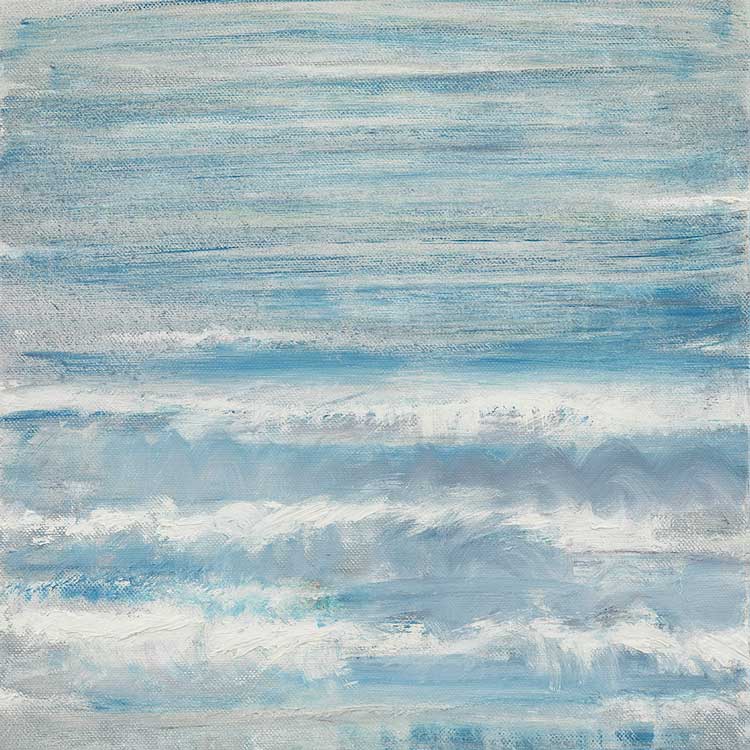 Celia Paul. Dieppe, 2021. Oil on canvas, 51 x 51 x 3.5 cm (20 1/8 x 20 1/8 x 1 3/8 in). © Celia Paul. Courtesy the artist and Victoria Miro.

The same can be said of the sea, just glimpsed in The Path Home, but filling every corner of the canvas in Dieppe (2021) and making another connection with John. Paul tells us that John travelled to Dieppe from Paris when she dying, just to catch a glimpse of the sea. After so much sadness in this exhibition, a swim in the sea is just what is needed.