Bohemia: History of an Idea 1950-2000
A globe-trotting exhibition takes us in search of modern Bohemia, from the Parisian brasserie to the Berlin warehouse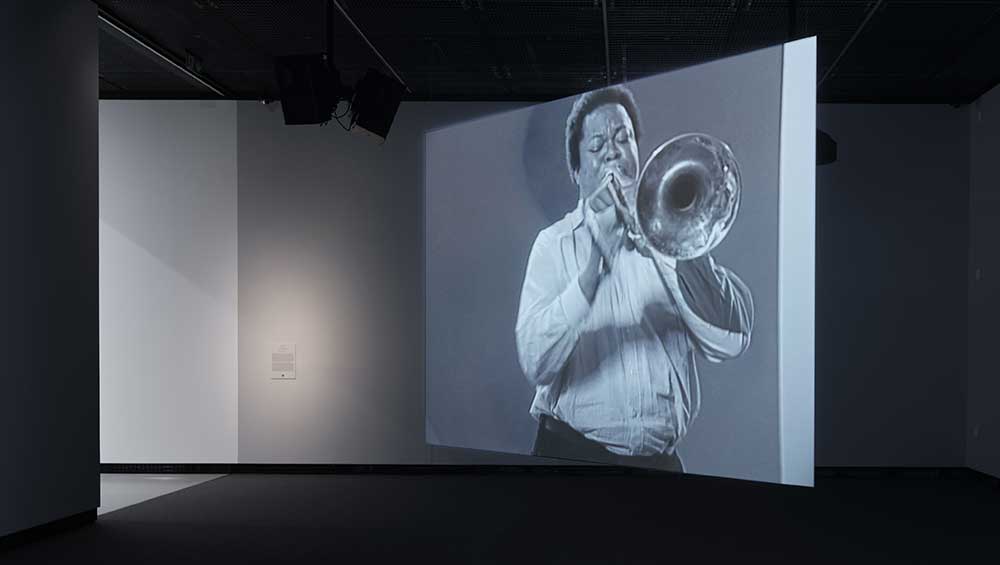 Installation view of Bohemia: History of an Idea 1950-2000, Kunsthalle Praha. Auditorium featuring Stan Douglas, Hors-champs, 1992. Two-channel black-and-white video installation, stereo sound. Courtesy of the artist, Victoria Miro and David Zwirner.
Kunsthalle Praha, Prague
23 March – 16 October 2023
by JOE LLOYD
From the windows of the Kunsthalle Praha, one can see Prague Castle: the spectacular seat of the king of Bohemia, a historical country whose remnants largely fall in the present-day Czech Republic. But Bohemia: History of an Idea 1850-2000, the recently opened gallery's second large-scale exhibition, concerns a different Bohemia: the country of artists living on the outskirts of polite society, tied together by poverty and extreme living.
The capital of this Bohemia is not Prague but Paris. The doubling comes from a misapprehension. Early-19th-century Parisians compared the penniless writers and artists of the Latin Quarter to the Roma, whom they mistakenly believed to have reached France via the geographical Bohemia. The comparison rested on their tattered dress and their extra-societal status. The first Parisian Bohemia was a world of writers: Théophile Gautier, Gérard de Nerval and, above all, Charles Baudelaire, whose poetry sees lofty romanticism plunge into the grit and grind of the modern city.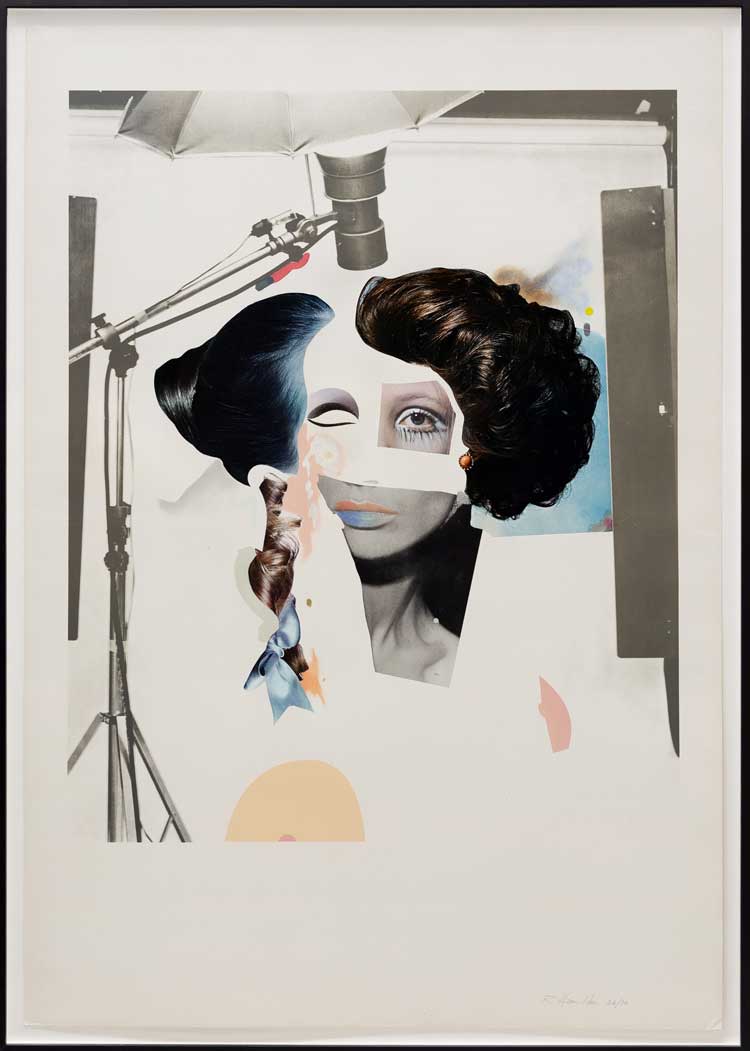 Richard Hamilton, Fashion-plate, 1969–70. © Daniel Buchholz & Christopher Müller, Cologne. © Richard Hamilton.

In 1851, the novelist Henri Murger published his Scenes of Bohemian Life, a set of interlocked stories that crystallised an ideal of bohemian life. As the exhibition's curator, Russell Ferguson, writes in an indispensable accompanying book: "What it represented above all was a refusal and disdain for societal conventions; an embrace of alcohol and drugs; sexual freedom; the pursuit of art, music and dance, and poetry; and a willingness to accept a sometimes brutal poverty as the price of these liberties."
Successive generations of poets and painters followed this template, across different patches of Paris. Most storied of all was the absinthe-soaked Montmartre of Arthur Rimbaud and Paul Verlaine. Puccini's immensely popular opera La Bohème (1894) placed Parisian Bohemia on the world stage. Paris's Bohemia became heavily romanticised and more self-conscious. People travelled to Paris in search of Bohemia (as many still do, fuelled by dreams of booze-soaked nights, Before Sunset and shifts at Shakespeare and Company).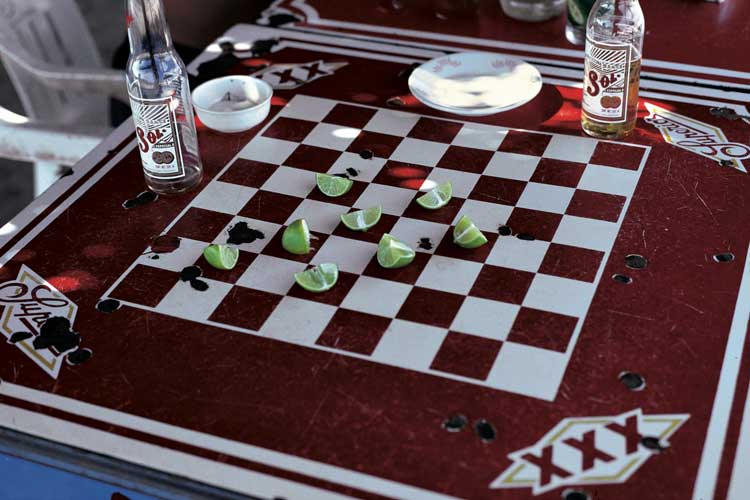 Gabriel Orozco, Game of Limes, 2001. Courtesy of the artist. © Gabriel Orozco.

By the time Ferguson's exhibition begins, Bohemia has gone international. Dutchman Ed van der Elsken's breakthrough book Love on the Left Bank (1956) captured young women reading philosophy and couples kissing over cheap plonk. One image, which begins the exhibition, shows the Australian dancer and artist Vali Myers smoking with a studied anomie, wearing a coat soaked with rain. Soon after, the directors of the nouvelle vague would capture Parisian Bohemia in its final form: students arguing about historical materialism in zinc brasseries. The May 1968 protests would follow. For Ferguson, this represents the end of true Parisian bohemianism. You cannot claim to be outside mainstream society if you attempt structural change.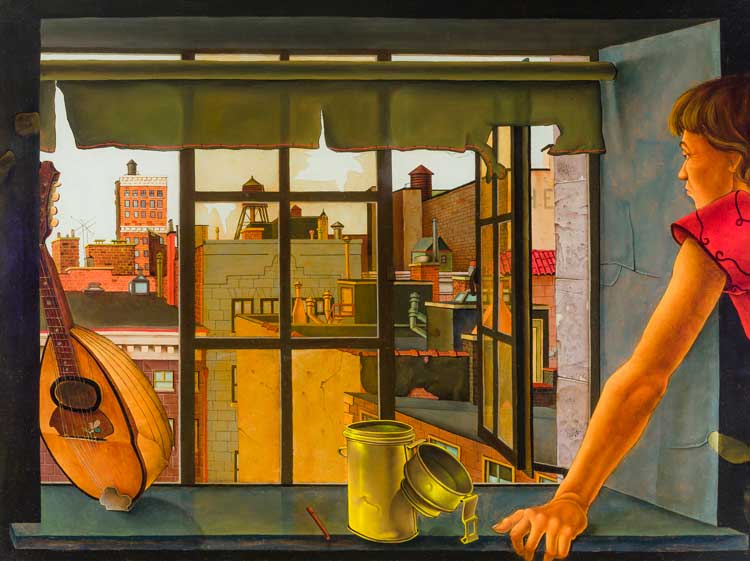 Jules Kirschenbaum, Young Woman at a Window, 1953–54. © Hirschl & Adler Galleries, New York. Photo: Eric W. Baumgartner.

The exhibition then traces Bohemia as it tried to find a new home. We visit the New York of Alice Neel, Willem de Kooning and Allen Ginsberg, as well as many lesser-known figures. Jules Kirschenbaum's Young Woman at a Window (1953-54) shows an unmistakably New York scene of red brick tenements and rooftop water towers, but the tattered blinds, strangely archaic objects and sense of occupying the backlot of the city shares much with the Parisian ideal.
A section on London illustrates a troubling ambiguity. We see two different, widely contrasting phases, separated by less than a decade: the black-and-white, existentially minded milieu of Frank Auerbach, Francis Bacon and Lucian Freud, then the Technicolor candy kingdom of swinging London. One photograph shows partygoers lolling around with bottles of champagne: a far cry from the cadged cigarettes and rationed food of Murger's stories. Yet – as a delightful Ken Russell documentary on pop art, in which the presenter refers to popular culture as "tawdry and second rate", demonstrates – there is still the sense of artists forming a sort of societal fringe.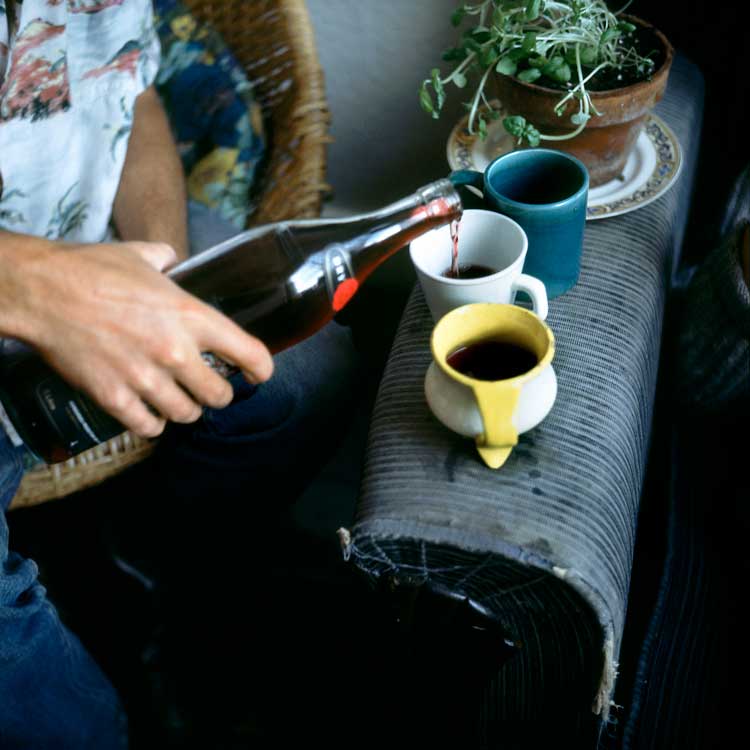 Roy Arden, Red Wine 1, Vancouver, 1981–85. Fragments series. © Roy Arden.

The world of La Bohème was anything but glamorous. The opera begins with shivering and ends in tuberculosis. But at some point, the idea of Bohemia gained a curious glamour. Patti Smith, a Rimbaud obsessive, sang: "Outside of society, that's where I want to be." In the 21st century, a steady stream of blockbusters, from Moulin Rouge! to Midnight in Paris, have turned bohemian Paris into a romantic aspiration. In the mid-00s fashion magazines swooned over Kate Moss's boho-chic phase.
Despite its poverty, Bohemia has long been dominated by those who could, if they wanted, be insiders. You can only get away with shabby attire if you are not a member of a community, such as the Roma, that is met with genuine prejudice. In a recent review of Baudelaire's final writings in the London Review of Books, Ian Penman notes a "consistent trait of the avant garde: posing as radical in public while privately cushioned by family money or a spouse's quiet labour". This is often borne out in later Bohemias. Bacon was the son of an heiress and Freud was Sigmund's grandson. There was little danger of either falling into penury.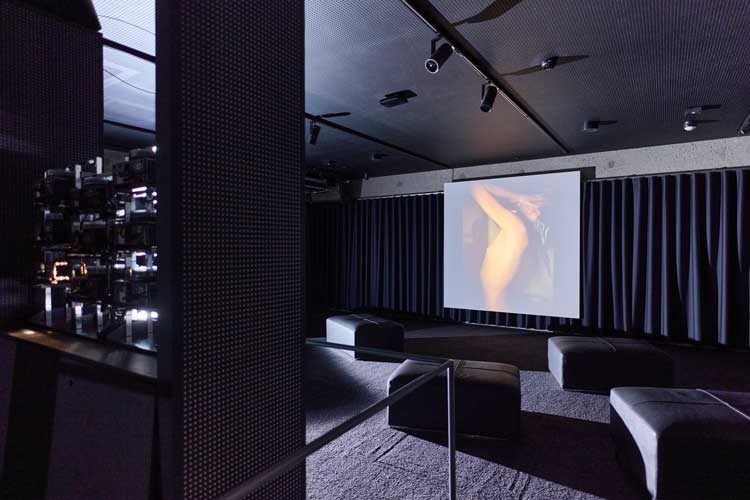 Installation view of Bohemia: History of an Idea 1950-2000, Kunsthalle Praha. Black Box featuring Nan Goldin, The Ballad of Sexual Dependency, 1979/2001, edition 7 of 10. Multimedia installation (720 colour slides and programmed soundtrack). The Art Institute of Chicago (through prior bequest of Marguerita S. Ritman; purchased with funds provided by Dorie Sternberg, the Photography Associates, Mary L. and Leigh B. Block Endowment, Robert and Joan Feitler, Anstiss and Ronald Krueck, Karen and Jim Frank, Martin and Danielle Zimmerman).

Nan Goldin – represented here by her still-wondrous The Ballad of Sexual Dependency, a slideshow collecting hundreds of images from New York's overlapping no wave, Bowery and LGBT scenes – was the child of a government economist, though many of the people she captured had no such safety net.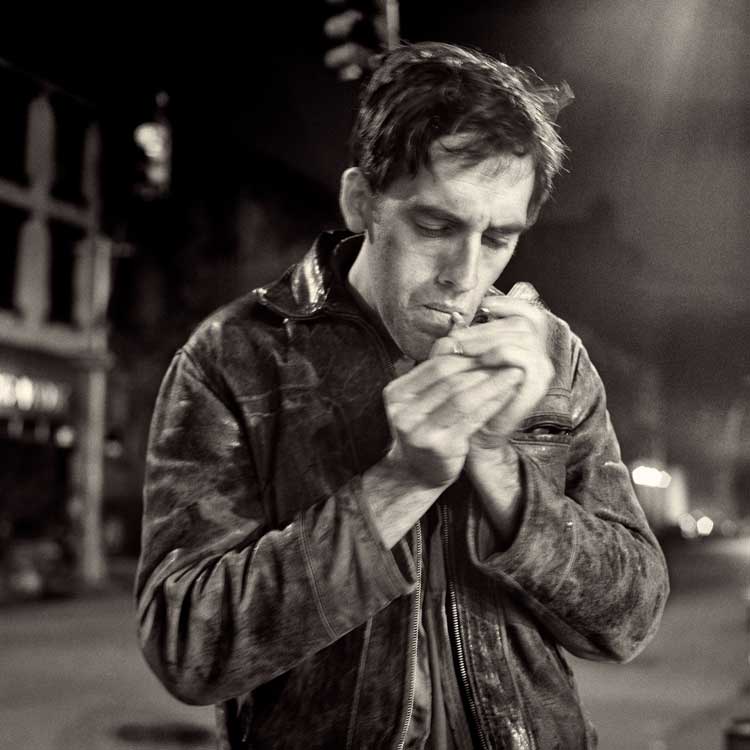 Peter Hujar, David Lighting Up, Manhattan Night, 1985. © 2022 The Peter Hujar Archive, LLC. The Artists Rights Society (ARS).

It was New York that eventually took the crown. David Wojnarowicz's early photo series Arthur Rimbaud in New York (1978-79) saw the artist don a Rimbaud mask and take to the streets and the subway. His sometime lover Peter Hujar caught Wojnarowicz smoking in the rain, an eerie echo of Van der Elsken's depiction of Myers, who had herself moved from the Left Bank to the Chelsea Hotel. But New York, unlike Paris, is a Bohemia that never managed to refresh itself. As its artists variously rose to fame, faded into obscurity and met tragic ends, the city transformed, becoming increasingly staid and expensive: Thomas Struth's Soho is now a luxury shopping district.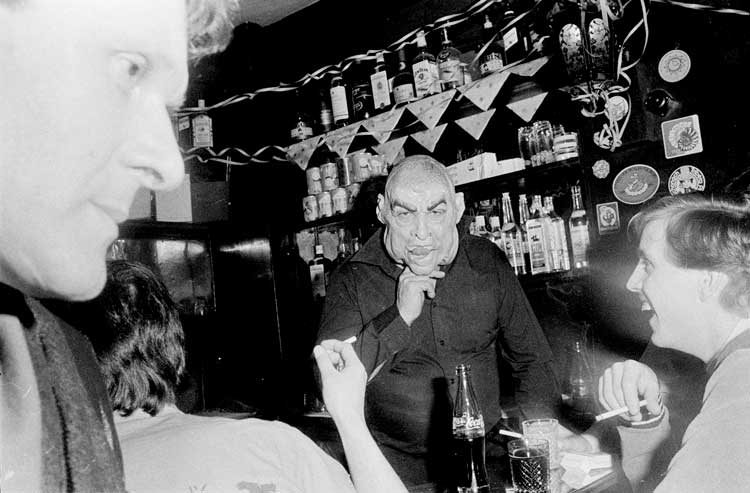 Libuše Jarcovjáková, Untitled, 1980s. T-Club series, © Libuše Jarcovjáková.

Indeed, despite Bohemia's remarkable persistence, the final chapters of the exhibition strike an elegiac tone. Ferguson has chosen a sequence of cities that, while never an international draw for Bohemians, have had lively scenes of their own. A lot of these later Bohemias are staged against the background of political oppression. The Czech photographer Libuše Jarcovjáková captures Prague's 1980s queer scene. Her stark photos have none of Goldin's scuzzy glamour. They are compellingly bare and quotidian: perhaps an accurate representation of the meagre existence that characterises life on the margins. The late Yugoslavian artist Tomislav Gotovac took to the streets of Zagreb entirely naked. A sequence of photographs shows his inexorable progress towards the inevitable arrest.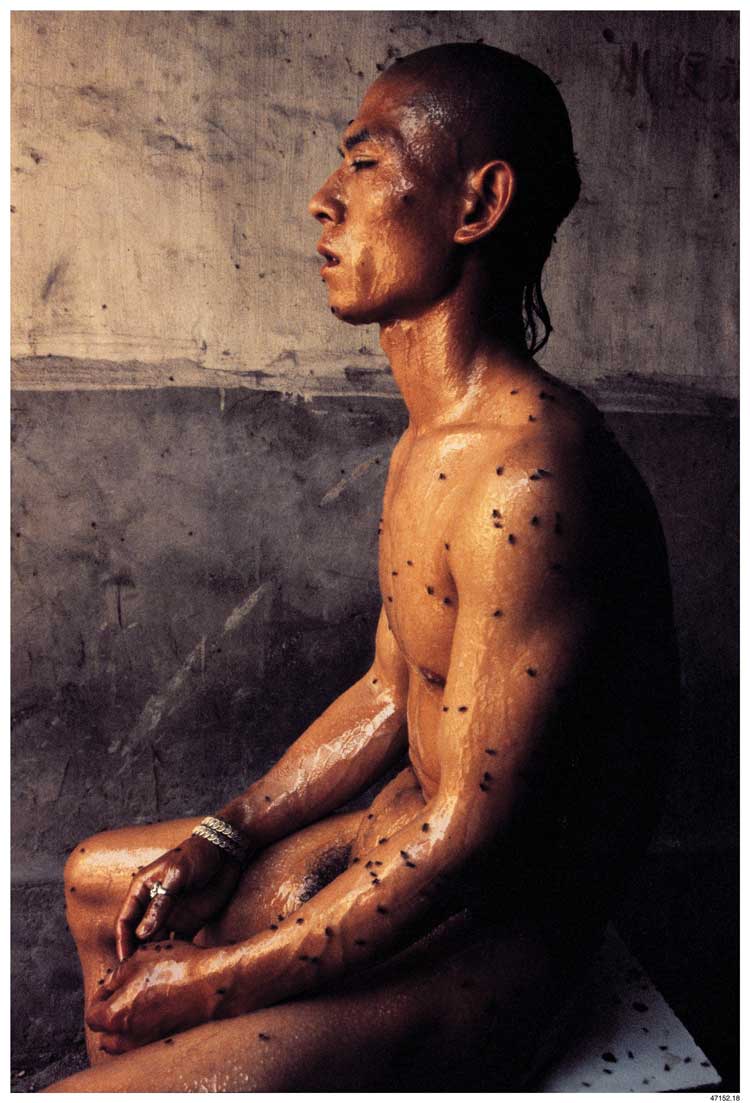 Zhang Huan, 12 Square Meters, 1994. © Zhang Huan, Pace Gallery.

A brief survey of the radical Beijing in the mid-1990s shows bohemian reimagined almost as a typical phase of urban development. The Beijing East Village played host to some of the most extreme artistic practices of its time. Wang Jin married a mule. Zhang Yuan covered himself in honey and fish oil then sat naked in a toilet until he was covered in flies. New York took half a century to "clean up"; this scene emerged and ended in a matter of years, crushed by the bulldozers.
We end with Wake, a large-scale photograph by Wolfgang Tillmans that shows the aftermath of a studio party in Berlin, arguably Bohemia's current capital. The implications could not be clearer. Babylon has fallen. Globalisation, the competition for diminishing resources and the rapid commodification of previously marginal cultural forms – impressionist fridge magnets, Keith Haring on Uniqlo T-shirts – may have finally laid the romance of Bohemia to rest. This may be an entirely bad thing: the Romantic notion that art should be watered by penury should have been laid to rest decades ago. But the allure of Bohemia as a type of community remains strong. I cannot help but feel a genuine melancholy at its possible demise.