Andy Warhol: The Textiles
If you thought you knew everything about Warhol's work, this show may surprise you. The curators have unearthed a selection of vintage garments and fabrics printed with designs that reveal Warhol's wit and eye for a memorable image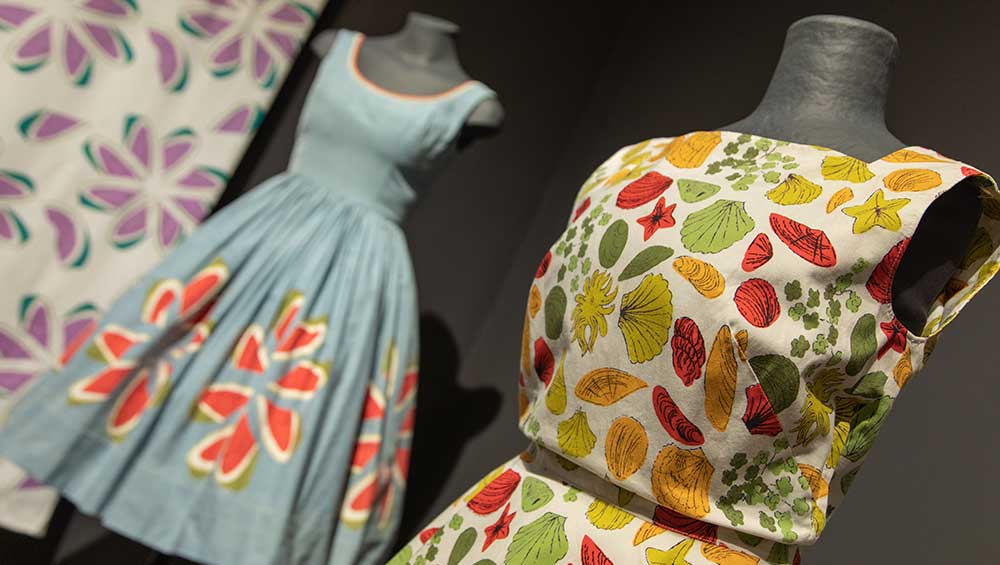 Andy Warhol: The Textiles, installation view, Fashion and Textile Museum, London, 2023.
Fashion and Textile Museum, London
31 March – 10 September 2023
by DAVID TRIGG
Before soup cans, Marilyns and Brillo boxes brought him worldwide acclaim in the 1960s, Andy Warhol worked in the world of advertising and commercial art. He illustrated shoes for I Miller, designed stationery for Bergdorf Goodman, drew Christmas cards for Tiffany and created album covers for Columbia Records. His eye-catching pre-pop work was seen in magazines such as Glamour, Vogue, the New York Times and Harper's Bazaar. All this is well known. Less explored, however, are his commercial textile designs, which, until recently, were largely unknown and undocumented. Andy Warhol: The Textiles, at the Fashion and Textile Museum in London, is the first exhibition dedicated to this under-researched yet significant aspect of the artist's career. Showcasing unearthed designs for printed fabrics produced in the 1950s and early 60s, this eye-opening selection of vintage garments and fabric samples reveals how Warhol's textiles helped inform the pop art paintings and sculptures that shot him to superstardom.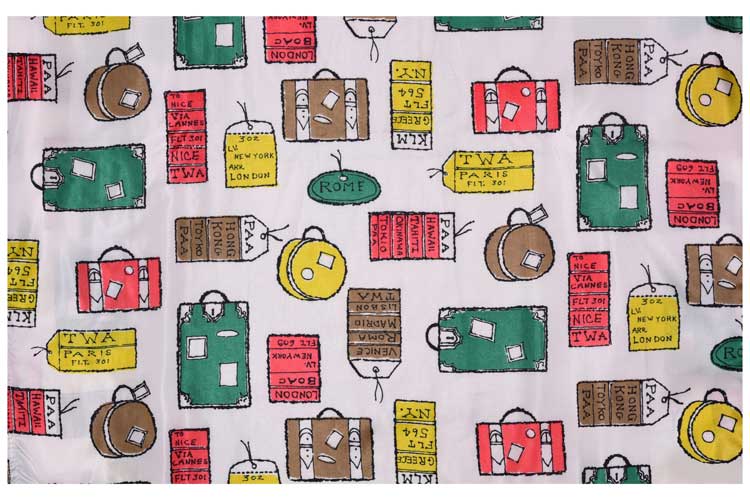 Andy Warhol. Textile of luggage tags and suitcases by Cohama. Blouse, 1958-59. ©v2022 The Andy Warhol Foundation for the Visual Arts, Inc. Licensed by DACS, London.

The exhibition takes us from Warhol's earliest known textile design from the early 1950s (a charming repeating pattern with birds and bees) to brightly coloured dresses covered with giant interlocking pretzels and ice-cream cones that were manufactured by Stehli Silks a decade later. Along the way, we find cocktail dresses, blouses, skirts and swimsuits decorated with quirky patterns encompassing everything from insects, fruits and seashells, to buttons, brooms and acrobatic clowns. While there are no Coca-Cola bottles or Campbell's soup cans to be seen here, all the designs reflect the artist's interest in mass production, everyday objects and repeated imagery that would later define his work.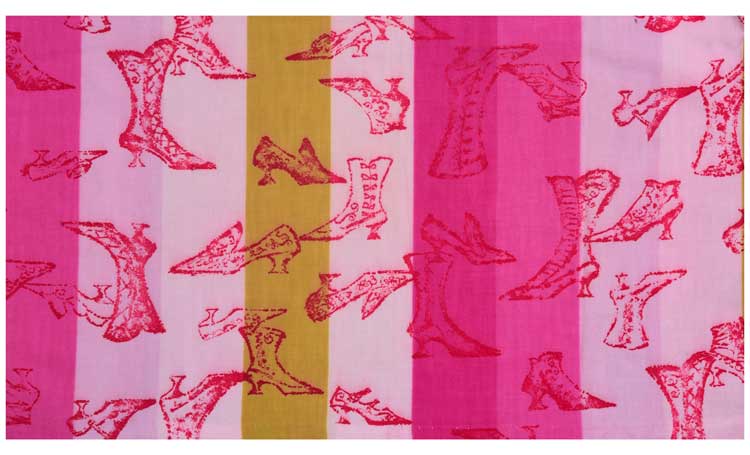 Andy Warhol. Shoes Textile, blouse, Jayson Classics, c1957-58. © 2022 The Andy Warhol Foundation for the Visual Arts, Inc. Licensed by DACS, London.

Whereas most of Warhol's creative output in the 50s was tied to paid commissions, the field of textile design gave him the freedom to create art on his own terms. These patterns were not intended to sell a product, and they reveal an artist enjoying the creative process away from commercial constraints. They were, of course, intended to make money, but many of the designs displayed here were sold anonymously to manufacturers, as evidenced by the garment labels, which generally name the manufacturer but not the textile designer. This has made identifying and authenticating the designs an uphill struggle for the show's curators Richard Chamberlain and Geoff Rayner, and is the reason why it has taken them the best part of a decade to bring the exhibition and accompanying publication to fruition.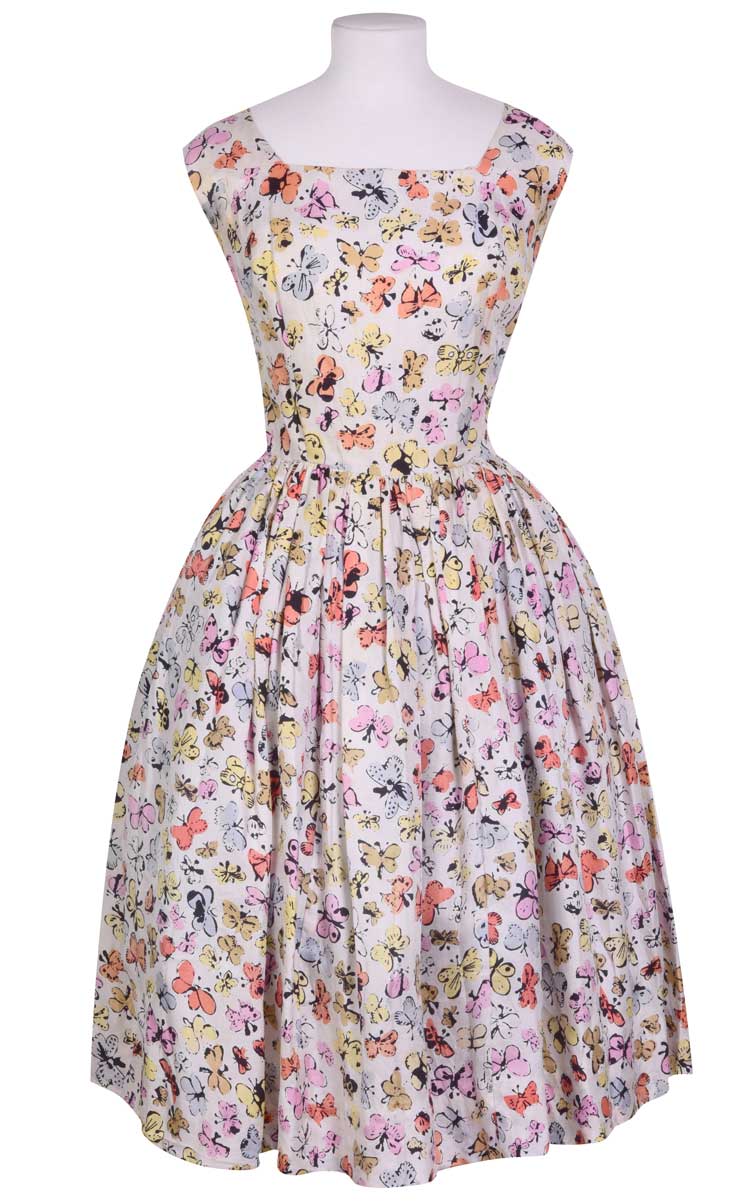 Andy Warhol. Happy Butterfly Day Textile, silk dress by the Needlecraft, c1955. © 2022 The Andy Warhol Foundation for the Visual Arts, Inc. Licensed by DACS, London.

Their research began when they discovered an article in a 1960 issue of Glamour magazine, which featured images of a dress designed by Sylvia de Gay. She had used a colourful printed textile design called Bright Butterflies, which was credited to a relatively unknown designer, Andy Warhol. After tracking down an example of the garment, they began their hunt to find more designs by the artist, scouring thrift stores, vintage clothing outlets and online auction sites. It soon emerged that Warhol had been prolific in the field, though most of his work was long forgotten. Proving that the designs they had discovered were genuine was an arduous task for Chamberlain and Rayner, who spent months combing through archives, unearthing manufacturers' records, and tracking down Warhol's former associates. It remains an unfinished project, though about 40 designs have been authenticated to date.

Andy Warhol. Acrobatic Clown textile, c1955. © 2022 The Andy Warhol Foundation for the Visual Arts, Inc. Licensed by DACS, London.

Warhol's whimsical imagery is characterised by his signature blotted-line technique, with which he made his name as a commercial artist in New York in the 50s. He developed the style in the late 40s while studying at the Carnegie Institute of Technology in his hometown of Pittsburgh. A rudimentary form of printmaking, it involved sketching an image in pencil before tracing over it with ink and, while still wet, pressing the drawing on to a sheet of absorbent paper. The result was a splodgy broken line that looked fluid, spontaneous and surprisingly sophisticated. Warhol's repeated motifs, from toffee-apples and ice-creams to luggage labels and gardening paraphernalia, stand as important precursors to his silk-screened pop art canvases of the 60s, which similarly adopted strategies of repetition and seriality. They also reveal the artist's wit and eye for a memorable image.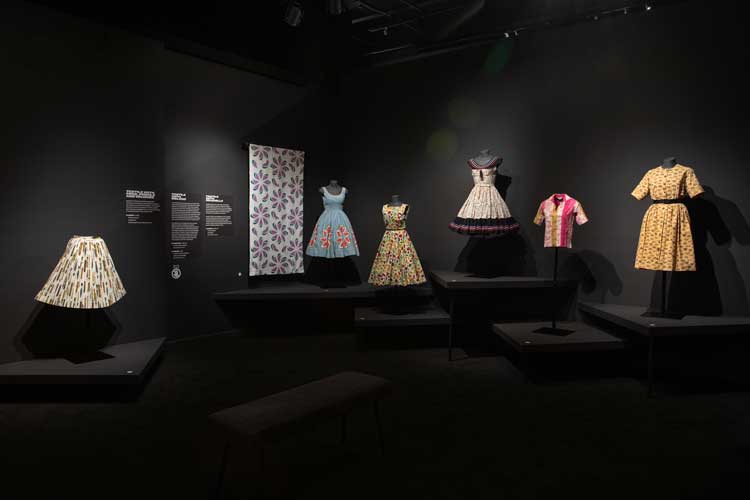 Andy Warhol: The Textiles, installation view, Fashion and Textile Museum, London, 2023.

The exhibition is elegantly hung, and a soundtrack of easy jazz evokes the mood of a fashionable 50s New York department store or cocktail party. Fabric swatches and stylish garments are set against dark grey walls and plinths of varying heights to provide a viewing experience quite contrary to the standard white cube presentation. This allows Warhol's designs to sing, with many of the brightly coloured fabrics looking incredibly fresh, as if they had been printed only recently. The exhibits are interjected with archival photographs of Warhol mounted on light boxes. One, at the entrance to the exhibition, shows the artist outside Serendipity 3, a chic New York cafe-design store where he would host "colouring parties", encouraging his friends to complete his black-and-white drawings by applying coloured ink washes – an approach that prefigured the collaborative methods employed at his legendary studio, the Factory, in the 60s.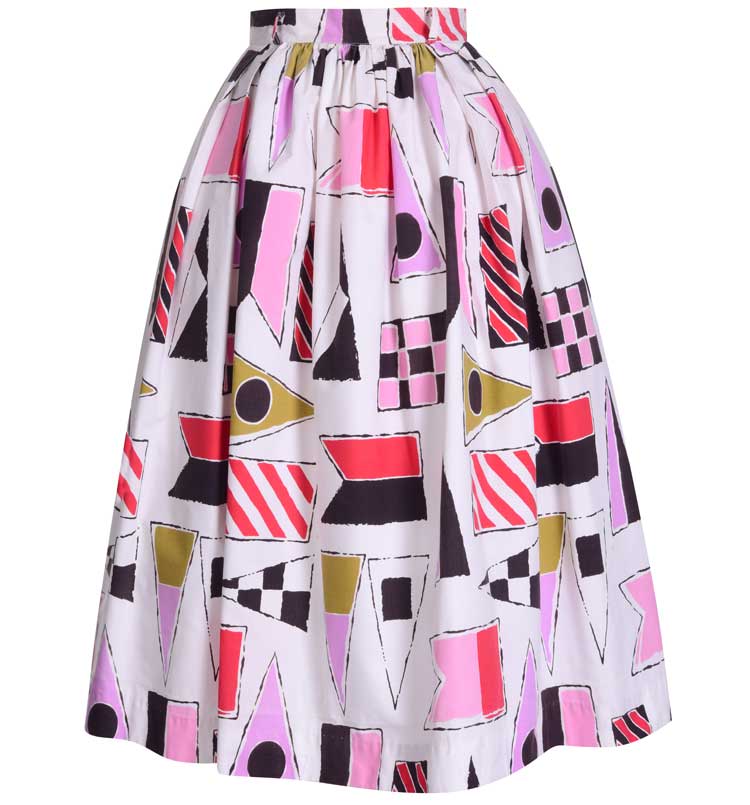 Andy Warhol. Textile of large nautical flags, skirt, c1957-58. © 2022 The Andy Warhol Foundation for the Visual Arts, Inc. Licensed by DACS, London.

Warhol ceased working on commercial textile designs around 1963, the year after his first solo pop art exhibition at Ferus Gallery in Los Angeles. It has been 36 years since he died and, after numerous publications and retrospective exhibitions, it seemed that virtually everything that could be said about him and his work had already been said. This exhibition demonstrates that there is still plenty more to discover about this most enigmatic of artists.