The EY Exhibition: Wifredo Lam
He fought in the Spanish civil war, was exiled from France by the Nazis and returned to his native Cuba to find it utterly changed. His genius was to turn his experiences into a unique portrait of his time and his place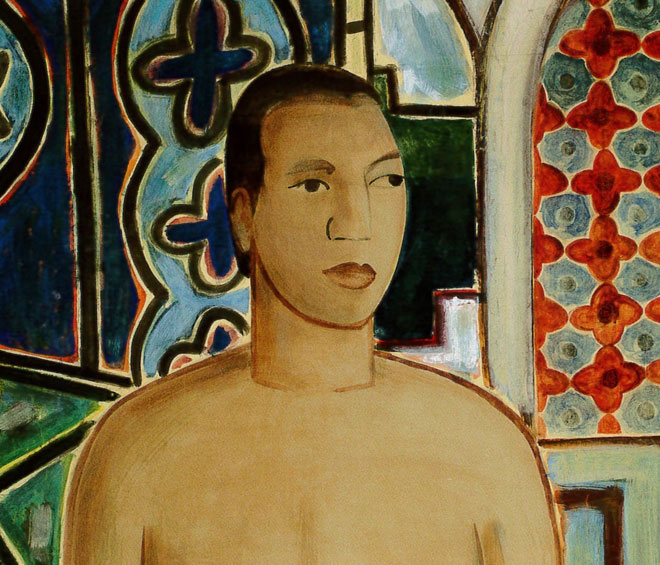 Wifredo Lam. Self-Portrait, II, 1938 (detail). The Rudman Trust. © SDO Wifredo Lam.
Tate Modern, London
14 September 2016 – 8 January 2017
by VERONICA SIMPSON
Wifredo Lam (1902-82) was an extraordinary individual who lived in extraordinary times: a mixed-race Cuban, with Chinese, Spanish and African blood, his talent as a young artist was such that he won a scholarship to study fine art in Madrid. There, he served a long apprenticeship (1923-38), being exposed to the intoxicating and visionary worlds of Francisco Goya, Diego Velázquez and Hieronymus Bosch, and dabbling in cubism and fauvism, before spending time among the leading figures of the art and literary world in Paris during the late 30s and early 40s.
Witness to the defining moments and movements of early-20th-century history, he fought in the Spanish civil war, was championed by Pablo Picasso, who befriended and mentored him in Paris, and found a lifelong friend and champion in surrealist André Breton whom he met in Marseille, while they were awaiting exile from Nazi-occupied France. In 1941, he returned to a Cuba he barely recognised: Havana was riddled with corruption, a haven for hedonism, it was a place where Americans had escaped prohibition to drink, gamble and misbehave to their hearts' content through the 1930s; its native rituals and culture had been co-opted into a kind of tourist sideshow.
So, it is no surprise that his paintings reflect the dark forces at large in the world, during a time of repression, brutalism and cultural annihilation. But Lam's luck – and genius – was to be able to synthesise his evident European training and influences (Picasso's stylistic imprint being the most enduring) into a unique portrait of his time and his place. Thoroughly politicised by living in Spain and France, he reclaimed his Cuban roots by infusing his Havana-era and subsequent paintings with the dark gods, goddesses and myths of the native Santeria religion (a cross between West African Vodou and Spanish Catholicism) as well as the searing light and inky depths of the Cuban jungle, in all its feral fecundity.
The huge canvases of his Cuban, 1940s paintings are a powerful portal to this world. The Sombre Malembo, God of the Crossroads (1943) is a nightmarish scene in vivid green, sickly yellows and bloody reds: spindle-legged creatures with fleshy, horse-like flanks peer out of the canvas with blank, cartoon eyes; their necks elongated, twisted sideways; their alien bubble-heads horned or bestowed with snouts or distended trunks. They float against their thick jungle background, barely there, but utterly present.
What this Tate Modern show does so well is to reveal his evolution both as an artist and as a person, via a biographical, chronological narrative that skilfully delineates all the layers of artistic, cultural and political influence. During its previous incarnation, at the Museo Nacional Centro de Arte Reina Sofia in Madrid, its curation made it almost impossible to escape the influence on Lam of Picasso, both in the presence of African mask-like forms and faces, and the distended, distorted, prismatic treatment of his human and animal characters. The presence of Guernica, only a few corridors away in the Museo –a painting that Lam would have seen many times, as he was a regular visitor to Picasso's Paris studio during its creation – seemed to hang heavy over his efforts.
But the Tate show has succeeded in respecting his sources while liberating him from Picasso's influence and putting his own personal journey centre-stage. His consummate skill as a painter and draughtsman in the classical tradition is very evident in room 1. His Self-Portrait (1926) and Castilian peasant sketches (1926 and 27) are breathtakingly good, while a still-life of apples and hydrangeas reveals a mastery of texture and colour. Room 2 shows him dabbling in the style of Picasso and Henri Matisse with some very derivative pieces, but also reveals the influence of Goya with Lam's renderings of armed conflict, and establishes his political awakening. Room 3 (Paris and Marseille) makes clear the evolution of his own personal style through the inclusion of his notebooks and sketches, most especially the drawings he created while awaiting deportation; enforced idleness - and the presence of Breton and other radical poets and philosophers - allowed him to delve deep, doodle and daydream, conjuring a rich harvest of figures, part-human, part-animal, part-vegetal; they mark the arrival of his own personal vocabulary of mythical, otherworldly beasts and places, rendered with great graphic clarity.
The development of his own visionary world accelerates massively when he reaches Cuba in 1941, animating his paintings with a vivid cast of characters, some familiar, some strange and new, and settings that evoke the country's unique atmosphere and energies. Liberated from the overwhelming presence and prestige of his European peers, his purpose is clarified in the depiction of a Cuban culture and heritage that nobody had thought to render in a modernist context, revealing something both alien and familiar to the western eye, in visions no less powerful – but somehow far more disquieting to uninitiated Europeans – than the visions created by Bosch, whose fantastical paintings were very much on show in Madrid during Lam's studentship there.
The Tate show's accompaniment of succinct and fascinating biographical details along with the work are vital here. Where necessary, they clarify the origins and meaning of the gods and goddesses, rituals and settings of these paintings, and use the quotes of this erudite and articulate man to great effect. For example, Lam was not an evangelist for Santeria, but said: "I have never created my pictures in terms of a symbolic tradition, but always on the basis of a poetic excitation."
By far the most powerful of these "poetic excitations" are to be found in room 7, displaying paintings that resulted from a visit to Haiti, along with Breton, where the pair witnessed Vodou ceremonies. The trio that proved particularly powerful in Madrid are grouped together again here: The Wedding (1947): Bélial, Emperor of the Flies (1948) and Nativity (1947).
All three of these huge paintings carry the imprint – or after-image - of Picasso's Guernica, particularly Bélial, but there are many influences here: Albrecht Dürer's Melancholia is referenced, for example, with a numbered chart. And it is possible with this triptych that Lam was thinking of Goya's Black Paintings – nightmarish, almost monochrome visions painted on the walls of Goya's house (now in the Prado); they feature something of that demonic atmosphere. The lines are dark and bloody, drenched in brackish greys, purples and browns, depicting flayed torsos, snakes, and dragon-like creatures, characters with forked tails, cloven hooves, disembodied mouths with square teeth. They speak of sacrifice rather than celebration; powerful renditions of malevolence.
These works were shown in the international exhibition of surrealism in Paris, and the Bloodflames show in New York, in 1947, and consolidated Lam's international reputation as a leading surrealist figure. Following this, he settled in Paris in 1952 as a leading light within the surrealist movement. He continued to paint and exhibit internationally, experimenting with sculpture and ceramics and creating an extraordinarily vibrant body of print-making. For me, there is something particularly exuberant and compelling in his later aquatints, often created in collaboration with his poet and writer friends, among them Édouard Glissant, Alain Jouffroy and Hubert Juin. The graphic clarity of line, the vivid characterisations and the dynamism with which they fly off the page suggest a talent fully unleashed, free of the cultural baggage with which he was saddled throughout his early years.
The timing of this show is serendipitous, given Tate Modern's recent expansion, the Switch House, and total rehang, offering a more rigorously post-colonial, inclusive, global view on art and artists than ever before. In which case, Lam is utterly on-message. Matthew Gale, Tate Modern's head of displays, who has long been wanting to revive Lam's profile in the UK, says: "It does feel right now, in particular, because of the renewed interest in a wider view of the world, certainly within current artistic practice, and how that translates backwards in time. We can look back to Lam and say this man was involved in some of the (leading) issues of the day 50 years ago."