Whitstable Biennale 2022
As artists squeeze themselves into the tiny fishing town for this year's event, Brexit, migration and the climate crisis are the dominating themes for many of their thought-provoking works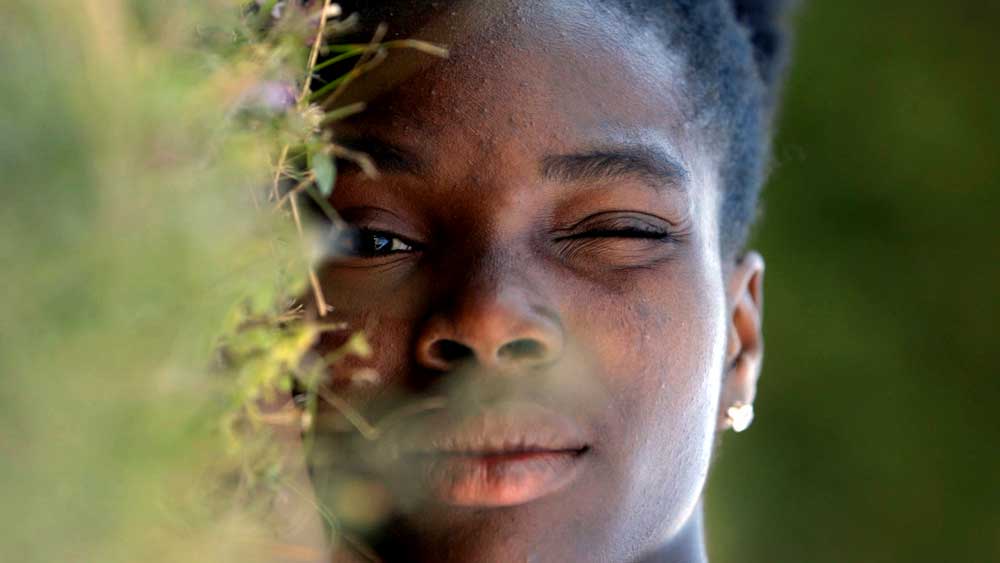 Webb-Ellis, This place is a message (film still), 2022. Courtesy of the artists.
Whitstable, England
11 – 19 June 2022
by NICOLA HOMER
The Whitstable Biennale marks its 10th anniversary this year. The festival's title, Afterwardness, is drawn from a poem by Mimi Khalvati, written from the viewpoint of a boy from Syria. This completes a trio of literary titles. In 2016, the festival derived its title, The Faraway Nearby, from Rebecca Solnit's book, which in turn can be traced to a line from Georgia O'Keeffe, who signed her letters from New Mexico with these words. Sue Jones, the longstanding director of the Whitstable Biennale, says: "That festival was in the shadow of Brexit. And being in Kent, very near to Dover, it felt like it had a really specific resonance. And that book and that title talks so much about how you find home." In 2018, the event took its title from Deborah Levy's Swimming Home. Levy wrote and performed a new work, Watery Things, for the festival. Solnit recorded a piece for the event. "Art as much as literature is so much about telling stories, and thinking about who we are, and where we live, and how we live. And so, this year, our title is by the British Iranian-born poet Mimi Khalvati and Afterwardness is a beautiful poem looking through the eyes of an 11-year-old boy in Aleppo and thinking about loss and loss of home and migration, and how we find somewhere to belong," says Jones.
Jones has held the role of director of the Whitstable Biennale since 2005. The festival was founded in 2002 by Canterbury city council, and it has developed significantly since the 2006 edition, the first that Jones directed. Now, it is produced by a visual arts organisation called Cement Fields, which has grown out of the festival, and is part of a bigger Arts Council England National Portfolio Organisation, which works all over north Kent. What is unique about Whitstable is that it is a working fishing town with a quirky atmosphere, known for being a place to enjoy oysters, which has a different character from Kent's seaside tourist towns, such as Margate. The festival brings in early career artists, experimenting with their own works, many of which are made site specifically and together with the people of Whitstable. With more than 30 events running from Saturday 11 June until Sunday 19 June, the festival will invite audiences to reimagine the small fishing town biennale, which is very different from those held in big cities.
"Most biennales are in big cities. They use the big city infrastructure, galleries and cinemas and theatres, and they reflect on global surveys of where art is. Our biennale is very different. Because we're in a tiny fishing town, where space is at a premium, we have to squeeze ourselves in, and work with the fabric of the town, which I think gives us a very different feel. Our artists spend time in the town. It's about embedding ourselves into the fabric [of Whitstable]. We don't have that big infrastructure, so we have to squeeze ourselves into all the little corners that we can find," says Jones.
The festival reflects changes happening in the town. At this year's edition, new venues will be situated in empty buildings. An old bank at the centre of the high street will host a short film programme on the theme of "afterwardness" in its main area, curated by Jas Dhillon. A new film by Jennet Thomas, The Great Curdling, which the artist describes as a "folk sci-fi film", will be installed at The Old Bank and accompanied by a new composition by Leo Chadburn. The film gives a sense of wildlife dying, but features new fantastical creatures. It makes a connection with Solnit's book Hope in the Dark, in which she talks about how it is radical and important to find hope, because that is the way to build new futures, according to Jones. "The Great Curdling is looking at the fact that we might be at a tipping point now with climate change and the great extinction, through a film that is shot partly on the beach with song as well, looking at all of that loss and how we might find more positive futures," says Jones.
Meanwhile, The Old Bank's safe room will host work by the activist Dipesh Pandya, written in the voice of his alter ego, Swan Nemesis, based on a myth about a tiger, inspired by an encounter with children from Cliftonville, Margate, who were curious to learn about animals in India.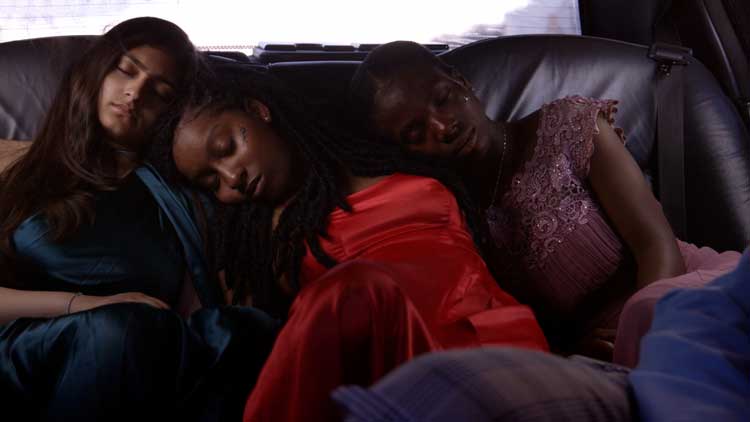 Webb-Ellis, This place is a message (film still), 2022.

Another new venue for this year's edition is St John's Methodist Church Wesley Hall, which will exhibit a film about alternative futures by the artist film-makers Webb-Ellis, following a collaboration with young people living in north Kent in 2021. The new venues will join well-established ones, such as the public library, which will show a video installation about fictional speculative futures by Alicia Radage.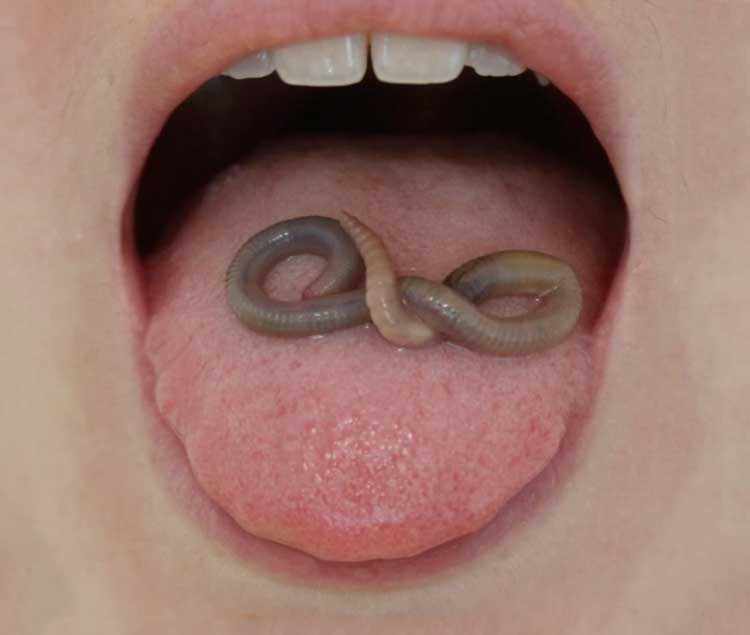 Alicia Radage, Mother Bent, 2022. Courtesy of the artist.

Whitstable Museum's courtyard will provide the setting for a live performance in front of a video projection for The Sea as Common Ground, in which Aimée Zito Lema excavates different histories related to the sea in the region after sifting through the museum's archive. At the Horsebridge Arts Centre, you will find a pair of water-powered works by Savinder Bual, reflecting on the connection between the natural forces of time and tide, resulting from a residency with Cement Fields on the Isle of Sheppey in 2020. Arianne Churchman's performative walk, When We Were in Horseback will explore a local folk tradition while inviting you to join a procession through the town centre. A guided walk will transport you towards the shoreline, as it explores a fictional island state in Voyage to Neutralia by Olivia Furber with Nour Sokhon and Ramzi Maqdisi.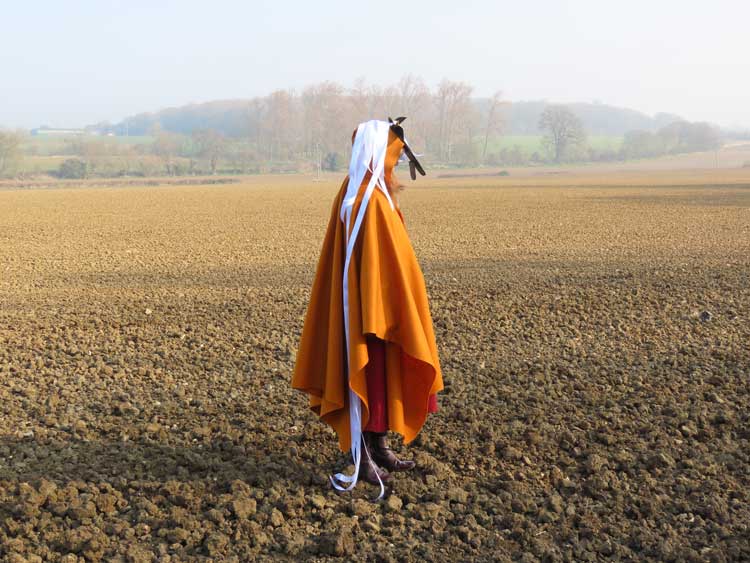 Arianne Churchman, When We Were in Horseback, 2022. Photo: Kate Batchelor.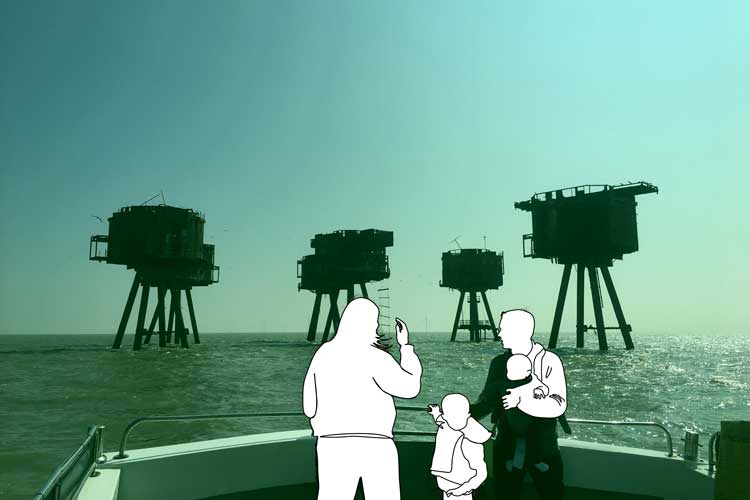 Olivia Furber, Voyage to Neutralia, 2022.

Beyond the land, the festival will stretch towards the sea. Nicole Bachmann will respond directly to the coastal environment with Shell of Hope, In Cycles, a performance that will take place on Seasalter beach, which looks at the issues of Brexit, migration and pollution. "It explores the socio-political role of the sea, both in relation to the movement of people and pollution and contamination. So, the sea will dictate the movement of the performance as the land is revealed and then consumed by the water. So, the sea becomes part of the performance itself, almost one of the characters in the performance," says Jones.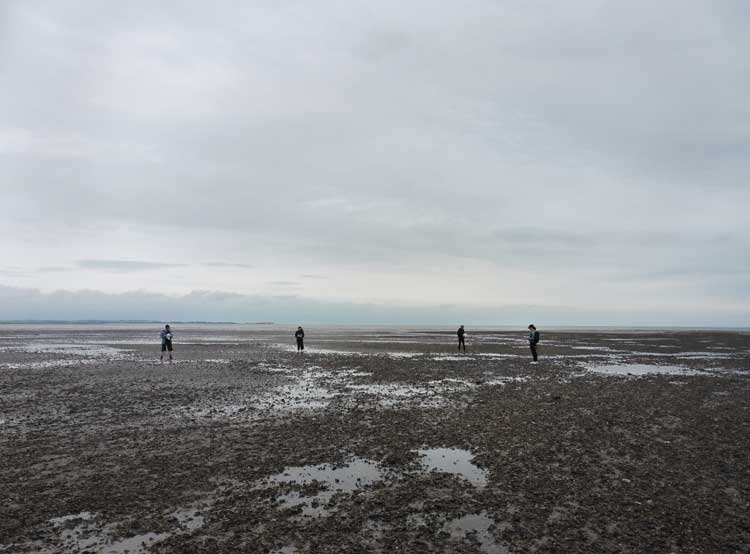 Nicole Bachmann, shell of hope, in cycles (rehearsals), 2022.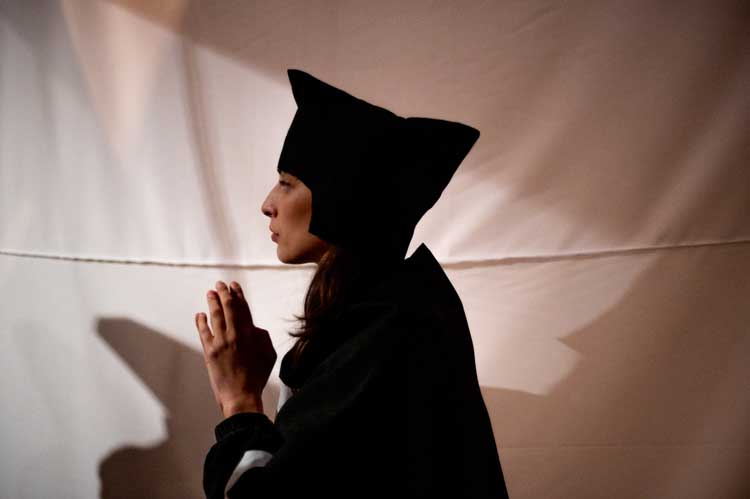 Ben Judd, The Origin, 2021. Photo: Sophia Nasif.

Ben Judd will stage a performance on a beautiful old Thames barge, which will sail between the Isle of Sheppey and the town. The artist's work is about the idea of a fictional lost community and how we create a sense of community. Madeleine Ruggi will present an audio work, Transmission–Carrier, thinking about the wind, which is designed to be experienced by 12 passengers at a time on boat trips departing from Whitstable Harbour. The journey will transport you to the Kentish Flats offshore wind farm and the Red Sands sea forts, built as military structures during the second world war and re-purposed in the 1960s for pirate radio broadcasts.
Jones suggests that the poetic spirit of the festival will be clear in a number of ways: "We've got a whole series of poems that will be woven into the fabric of the coastal town, so poems on flags, on boats in the harbour; a poem on the fish and chip paper that you find your fish and chips wrapped in at the chip shop; and a poem on a ramp that goes down into the sea. The poem will be written line by line on to that ramp, so you're only going to read it at low tide. That is by our poet-in-residence, Dzifa Benson. She has curated the poetry for this year's festival," says Jones. "We're also going to have haikus, short poems written by a poet called Leo Boix. They're going to be written into the harbour wall in between the 'no swimming' signs and they are all about swimming in the sea."
When asked to consider how the title of the poem and the festival, Afterwardness, connects with things that are happening today, at a moment of change across the world, Jones offers a thoughtful explanation: "This last couple of years has felt so dramatic with the global pandemic, and now the war in Ukraine, and also the backdrop with all of that of climate change and environmental catastrophe and concern and injustice. And so, at such a dramatic global time in our tiny little fishing town in Kent, how do we think about that? How are artists thinking about those things?" One answer could be given by Sarah Craske's site-specific installation, An Eco-Hauntology, which simulates the climate feedback loop system by using ultrasonic atomisers to vaporise seawater that has been collected from Whitstable beach. Stories of 1953's North Sea flood, which was catastrophic for places on Kent's coastline, and further afield, are woven into the work.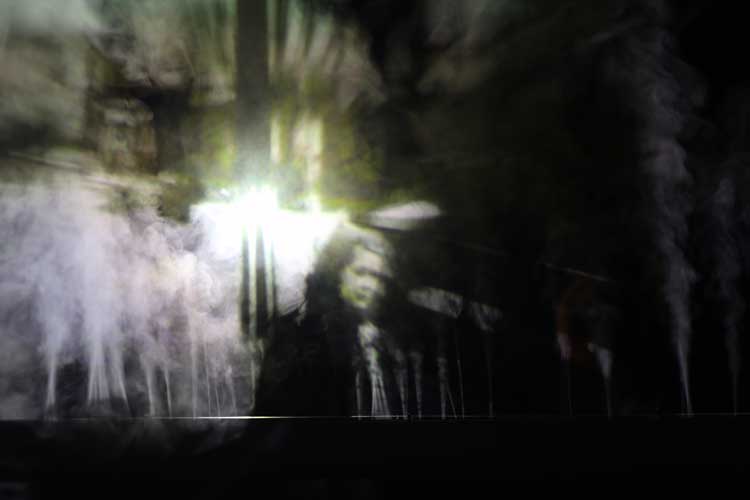 Sarah Craske, An Eco Hauntology, 2022.

A participant in the current Jerwood WB Artist Attachment programme (the other recipients are Anna-Maria Nabirye and nnull), Craske has worked with Cement Fields since 2020. The artist has taken field recordings and conducted interviews with people in Whitstable. For example, she has spoken to the deputy harbour master about the climate crisis and the sea, and he makes an appearance. "That will come together in a new film that is projected against a screen of vapour, which refers to the Victorian phantasmagoria, but also she is using seawater to project against, and that is reflecting on the way that climate change is partly being driven by the loop system of rain falling on to the sea and evaporating," says Jones.
Craske says: "I was drawn to our relationship with horror as a spectacle, and how we are both attracted and repulsed by it and I decided to recreate a phantasmagoria that in turn technologically mimicked the water vapour climate feedback loop; water vapour being one of the major contributing factors to global warming."
The site-specific installation illustrates the cyclical nature of the weather, and the finely balanced climate that has made human existence possible on the planet. Along with a work by Chromatic Agency (nnull and Sandy Rompotiyoke), which draws on their research into the prosecution of Southern Water by the Environment Agency in 2021, for polluting rivers and coastal waters in Kent, Hampshire and Sussex, it will highlight the delicate nature of ecosystems. "Chromatic Agency is looking at the rationale behind the crime, the calculation that it might be better to risk a fine for polluting the sea than it is to take a more responsible way of treating wastewater, and how you can look after the sea, how you could build a legal case for the ocean," says Jones. As well as engaging with the poetic spirit of the festival, artists are bringing environmental crises to the foreground, promising a seriously thought-provoking edition of the Whitstable Biennale this year.