Shanti Panchal – interview: 'It's a meditative process, a layering of colour, sometimes 10 or 15 layers'
The artist discusses the enduring power of painting, the evolution of his watercolour technique, the influence of his childhood landscape on palette and subject, and the importance of persistence
Shanti Panchal believes in slow art. His painstaking and meditative technique with watercolour – a careful layering of colour mixed directly on to paper – can take up to six weeks for a portrait, and his mural at the entrance to Brixton tube station in south London, commissioned by Art on the Underground, took him six months. He attributes this thoughtful, time-rich technique to his upbringing in the rural wilds of North Gujarat. "I grew up in a remote village – not even on the local map – a very organic world," he tells Studio International. "We had no water tap or electricity, or anything like that. When the monsoon came, we swam in the mud. Your whole body was very much with the earth. These organic elements stayed with me. The earth colours, the mud-wall houses, the red roof tiles."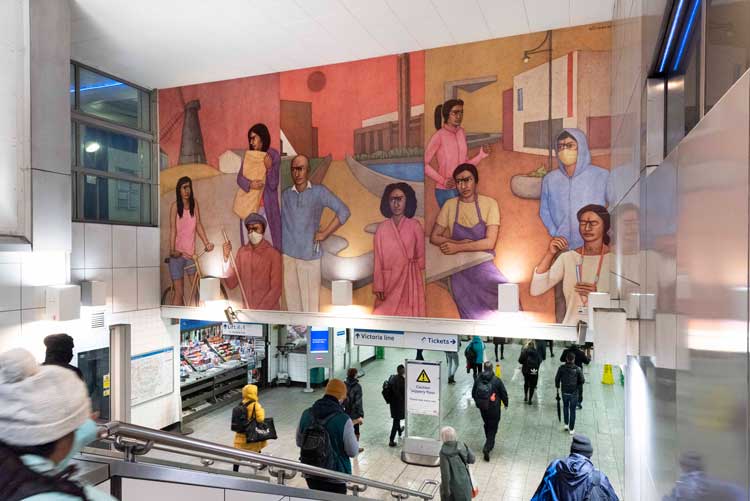 Shanti Panchal, Endurance, 2022. Brixton Underground station, London. Commissioned by Art on the Underground. Photo: Thierry Bal.

Panchal arrived in London in 1978, on a British Council scholarship to study for two years at the Byam Shaw School of Art, after completing five years of study at the Sir JJ School of Art in Mumbai. The bustle of 1970s London was a shock to the system; Mumbai was also a shock to the system, but he was able to get through his art studies thanks to the kindness of the art teacher at his village school, who was ambitious for him, and allowed him to sleep on his affluent Mumbai family's office floor, paying his school fees in return for daily cleaning.

Shanti Panchal, Endurance, 2022. Watercolour on paper. Image courtesy the Artist.

Panchal returned to India after his studies and taught briefly, but resumed his life in London where his talents were soon recognised, in the radical, pro-diversity atmosphere of early-80s London in which other black and Asian British artists – including the now highfliers Lubaina Himid and Veronica Ryan – had carved out space for new voices and perspectives. The power of his serene, compassionate depictions of Asian culture and people surrounded by the sometimes- jarring accoutrements of western life, to highlight the universal and the particular in migrant experiences, helped to win him a commission to paint one of four anti-racism murals in 1984 from the then Labour left Greater London Council (GLC). Gavin Jantjes, Keith Piper and Himid were involved in the other murals, though Panchal's is the only one that remains, in Shadwell, east London.
Although his work draws inspiration from Indian miniature paintings - he cites William Blake, El Greco and Samuel Palmer as equally influential – he is equally confident with small projects and large-scale ones, including a 1993 tiled mural for the London borough of Harrow. For him, the key factor in scaling up and using different materials is achieving the desired intensity and luminosity of colour, which he usually evokes through the painstaking layering of one watercolour tint on top of another, mixing the colours straight on to the page rather than on the palette.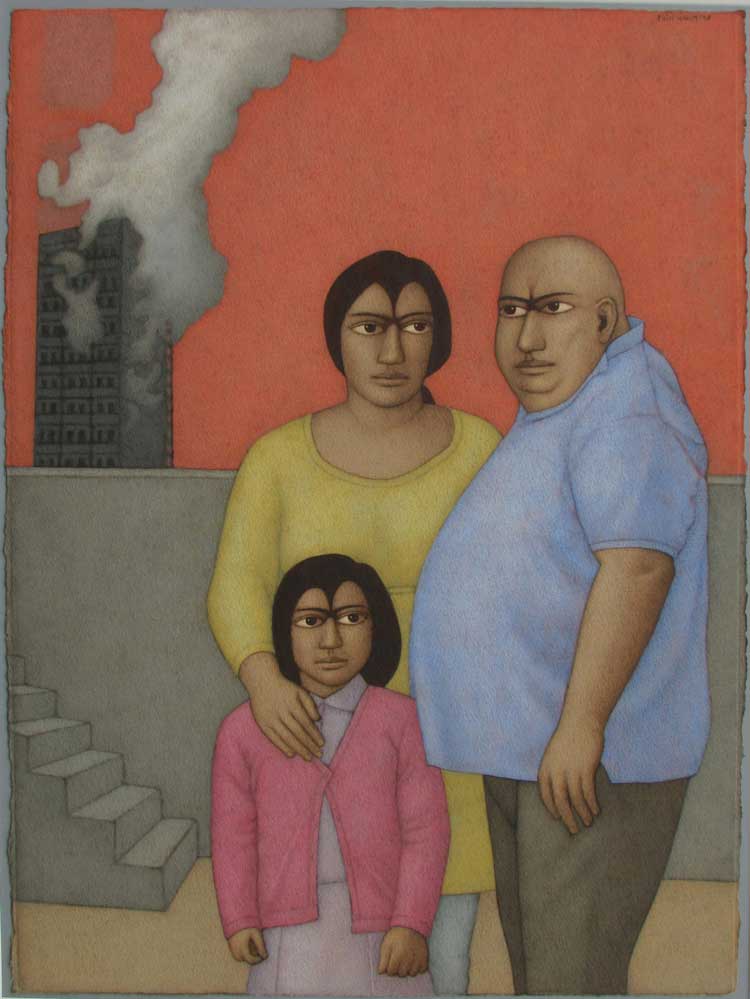 Shanti Panchal. Grenfell Pyre and the Rescued Family, 2017. Watercolour on paper, 102 x 82 cm. Image courtesy the Artist.

While his work has been selected in major shows, and he has been shortlisted for, or won, most of the major portrait prizes, he admits to feeling out of step with the art scene since the Young British Artist movement, spearheaded by Damian Hirst, swept all notions of quiet, painterly observation to one side in favour of conceptual bravado and improvisatory chutzpah. But 2022 saw a commission from Art on the Underground (the commissioning arm of Transport for London) return Panchal's work to the public gaze, adorning the entrance to Brixton underground station. Called Endurance, it is a community portrait of the people and places in Brixton, including the Black Cultural Archives, Brixton windmill and the Cherry Groce Memorial Pavilion in the nearby Windrush Square.
Endurance
Brixton Underground Station, London
Until November 2023
Interview by VERONICA SIMPSON
Filmed by MARTIN KENNEDY