Scandinavian Design: Beyond the Myth
The Lighthouse, Glasgow
19 June 2005-28 August 2005

The Danish Museum of Art and Design, Copenhagen
16 September 2005-20 November 2005
'Scandinavian Design: Beyond the Myth' makes two assumptions: first, that there is a myth regarding Scandinavian design; and second, that there is now something beyond that myth (assuming that is possible). The 'myth' about Scandinavian design is, presumably, that it is homogeneous and democratic, based upon a love of natural materials and an aversion to applied decoration, with an ability to use highly sophisticated techniques in a very modest and unassuming way.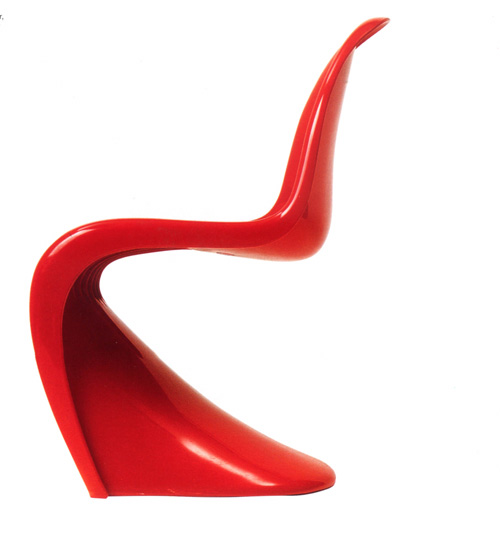 Panton Chair by Verner Panton, 1967

The 'myth' - if there is one - is established at the beginning of the exhibition. Titled 'Symbols of Modernity', it shows a small selection of products that immediately established the special identity of Scandinavian design at exhibitions held by Heals in London in 1951, at the Triennales in Milan from 1951-1968, and the 'Design in Scandinavia' exhibition that toured America in 1954. The products include Hans Wegner's 'Round Chair' (1949), or 'The Chair', as it is called in the USA, Jacob Jensen's red plastic Margrethe bowls (1954), Poppy fabric by Marimekko (1964) and Eero Aarnio's Pastiili red plastic chair (1967). The latter, along with Verner Panton's red plastic stackable chair of 1959-1962, demonstrate how Scandinavian designers were enlarging their modernist aesthetics to take account of Pop and Op Art, and the organic forms and colours that were then coming into play.
Later, of course, came Memphis and the postmodern movement, which is when, one assumes, post-Second World War Scandinavian design became a myth, only to be revived from the 1990s onwards when many of the original designs became collectors pieces, and products like Arne Jacobsen's 'Ant chair' (and its derivatives) once again took over the world. What the catalogue to the exhibition claims is that such products were part of an extremely clever marketing strategy and that Scandinavian design at that time owed a lot to American influences (Florence and Hans Knoll, and Charles Eames, for example) while also influencing, in its turn, post-war design in East and West Germany.
If the 1970s and 1980s marked a watershed in Scandinavian design, its recovery in the 1990s follows, the exhibition says, the guidelines laid down by Italo Calvino in his 1980s Harvard lectures, Six Memos for the Next Millennium. These rejected the notion of linear progression and, instead, can be interpreted - in the case of Scandinavian design - to suggest that its objects are light in every aspect ('lightness') in order for them to be simple to use ('quickness'). 'People have formulated their design ideas with the greatest clarity ('visibility') and preciseness ('exactitude') in order to fulfil many functions ('multiplicity'), designed for a long life for a sustainable society ('consistency'), in the catalogue's interpretation of the lectures.
Thus, the exhibition gives contemporary examples of Scandinavian design that express these attributes. A videoconferencing unit designed in 2001 is one of those representing 'exactitude', while very sophisticated rescue clothing designed in 1999 represents 'multiplicity'. Similarly, a range of children's boots designed from 1998-2003 demonstrates 'consistency' and a dress fabric featuring circular and molecular patterns in yellow, blue, grey and white of 2003, 'visibility'. 'Quickness' is demonstrated, for example, by a necklace in paper of 2002, and 'lightness' by a laminated wooden tree that serves as a coat rack, designed in 2003.
However, in this exhibition it is possible to find designs that typify those identified with the Scandinavian 'myth', such as Lasse Baehring's beautiful silver tea infusers of 1998 that recall the best of Georg Jensen's silverware, or Widex's integrated door handle with a built-in key unit, which is little different in its concept and apparent simplicity from Arne Jacobsen's taps designed in the 1960s. And then there is Wenche Lyche's 'Zip Me Up' wedding dress of 2000, an amazing design made out of innumerable elements held together by zip fasteners, whose bodice echoes the structure of whale bone corsets.
In fact, most of the contemporary products look little different in their concept, use of materials, technology and colour from those shown as 'Symbols of Modernity'. So, perhaps Scandinavian design is not a myth after all. But, as in the 1970s and 1980s, its future may be under threat. The global economy now means that some of the products made by the Orkla Group (which includes Royal Copenhagen Ceramics, Georg Jensen silver and Orrefors Kosta Boda glass) may now be made outside Scandinavia, while some Finns have already expressed fears that their economy has become too dependent upon Nokia. What would happen if that company were to fail? Thus, things may be less settled for Scandinavian design in the 21st century than they were in the second half of the 20th.
'Scandinavian Design: Beyond the Myth' can also be seen at The Rohss Museum of Design and Applied Art, Gothenburg from 3 December 2005-26 February 2006; and at The National Museum of Art, Architecture and Design, Oslo, from 18 March-14 May 2006.

Richard Carr