Samuel Gallacher – interview: 'We have put the community at the front and centre of what we've done at the museum'
Glasgow's Burrell Collection has been named 2023 museum of the year, picking up the £120,000 award that goes with it. The Keeper of the collection talks about what it means to win the world's largest museum prize and his plans for the future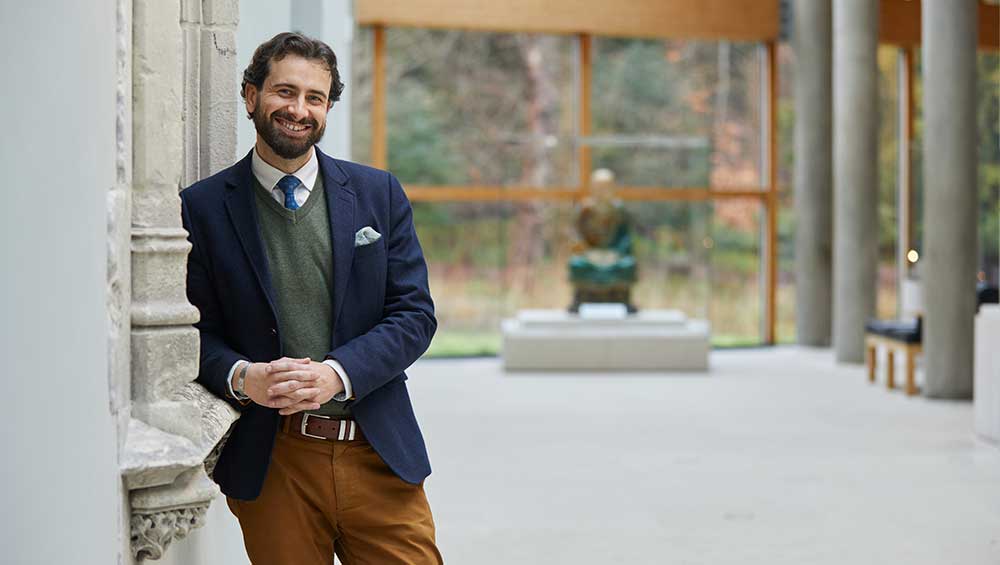 Samuel Gallacher, Keeper of the Burrell Collection, Art Fund Museum of the Year 2023 © Janie Airey/Art Fund 2023.
by NICOLA HOMER
The Burrell Collection in Glasgow has won the Art Fund Museum of the Year 2023, which includes an award of £120,000, the largest museum prize in the world. Its 9,000-object collection, a gift to the city from the industrialist William Burrell and his wife in 1944, is housed in a pavilion in Pollok Country Park, designed originally by Barry Gasson Architects and opened in 1983. The museum then underwent a £68.25m renovation by John McAslan + Partners, focusing on accessibility and sustainability, reopening last March after a five-year closure.
The Keeper of The Burrell, Dr Samuel Gallacher, explains the museum's mission: "For Sir William Burrell and Constance Burrell, the gift of his collection to the city of Glasgow was to benefit the people, to have a collection of outstanding quality. He had been collecting what had interested him in his earlier life: French impressionism, in particular medieval art with tapestries and stained glass, but also wonderful Chinese ceramics and Islamic textiles. In later life, he wanted to fill it out with more ancient objects from Egypt, from Greece, from Italy, and he wanted the collection to be an educational asset for the city. Our philosophy, as we have refined it over the years, is to be the most accessible fine and decorative arts museum in the world."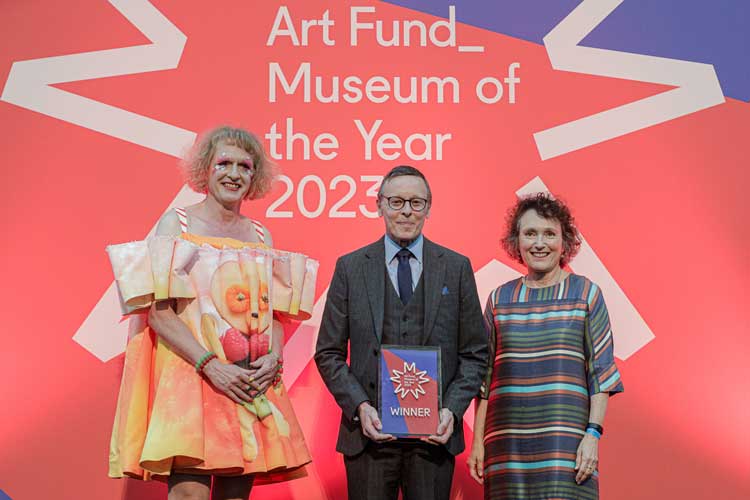 Sir Grayson Perry, artist; Duncan Dornan, Head of Museums and Collections for Glasgow Life; and Jenny Waldman, Director of Art Fund. Photo: © Hydar Dewachi/Art Fund 2023.

Grayson Perry presented the Art Fund prize to Duncan Dornan, head of museums and collections at Glasgow Life, the charity that manages the museum, at a ceremony at the British Museum in London in July. The winner was selected from a shortlist of five that included Leighton House in London, the Natural History Museum, the MAC in Belfast and Scapa Flow Museum in Orkney. The judging panel included: the artist Larry Achiampong; the historian and television presenter Mary Beard; Art Fund trustee and the founder of Hustle Crew, Abadesi Osunsade; the director of the National Museums Liverpool, Laura Pye; and the director of the Art Fund and the panel chair, Jenny Waldman.
Waldman called the Burrell Collection "extraordinary". It was, she said: "A world-class collection displayed in an inspirational building, in harmony with the surrounding landscape of Pollok Country Park. Reopened in 2022, the sensitive renovation and collection redisplay invite exploration and delight, with innovative digital displays offering new ways of understanding the art and objects in the museum's light, welcoming spaces. All this was achieved with a strong shared purpose and with the involvement of local community groups in Glasgow."
Beard was equally effusive, saying: "The Burrell Collection is a treasure trove of objects to discover, with everything from one of the UK's most important collections of Chinese art, to medieval tapestries and stained glass, and works of art by Rembrandt, Degas and more. They have realised, with real rigour and imagination, the true depth of what it means for a museum to be accessible. I would encourage everyone to go and experience it."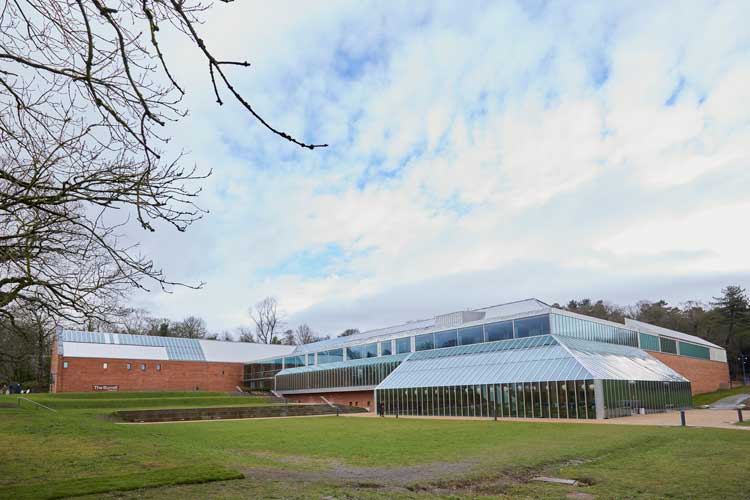 The Burrell Collection, winner of the Art Fund Museum of the Year 2023. Photo: © Janie Airey/Art Fund 2023.

In its first six months after reopening, the Burrell welcomed thousands of visitors, contributing £20m to Glasgow's economy. When Glasgow Life announced this summer that, in a bid to make savings, it was planning to make significant job cuts, people protested outside the city's museums. A spokesperson for the charity said: "Glasgow's museums and collections receive careful and considered care and this is going to continue. The savings Glasgow Life is making this year add up to around 9% of the annual service fee the charity receives from Glasgow city council and ensure we will not have to close any venues."
Studio International spoke by telephone to Gallacher, about the museum's community-led design, sustainability credentials, economic challenges and the legacy of the collection. The following is an edited version of that conversation.
Nicola Homer: Congratulations on winning the Art Fund Museum of the Year 2023 award. Could you tell me about the renovation of the Burrell Collection museum, which was an achievement recognised by the judging panel?
Samuel Gallacher: Absolutely. It's useful if I paint a little bit of the background picture to the Burrell Collection. When it opened in 1983, it was a cultural phenomenon. It was a critical moment in the transformation of Glasgow from a city of post-industrial decline to one that could use culture and the arts to create a new sense of purpose and identity. In the first year, a million people came to see the Burrell Collection. It was a statement for the city of Glasgow. But very quickly numbers collapsed. In the first couple of years, they dropped by about half a million. Then they were stagnant, about 120,000 to 200,000 visitors a year. Over the decades, the structure by Barry Gasson, which had been so innovative, a museum that even today our visitors say is bright, modern and spacious, wasn't surviving the ravages of the Scottish climate. The building was leaking terribly. Seven or eight years ago, what many visitors would have remembered would have been buckets everywhere, and a real sense of decline. It wasn't an easy thing to fix. This is a big issue when you have a building that is so cutting-edge for its time, which is category A-listed. The number of considerations are huge. Fixing the roof of a museum also requires real investment.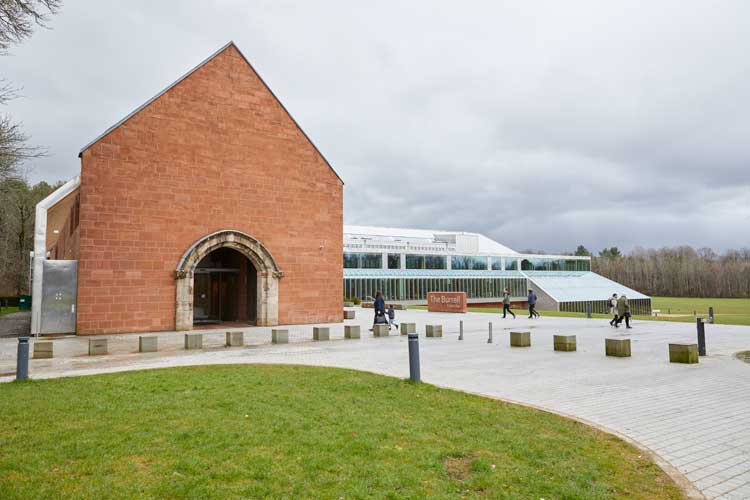 The Burrell Collection, winner of the Art Fund Museum of the Year 2023. Photo: © Janie Airey/Art Fund 2023.

Bridget McConnell was an important leader for Glasgow Life, the organisation that runs Glasgow's museums. It was about getting a partnership of different organisations, of different funders, involved. There was a need to fix the roof, fix the structure, but tied into that, there was a sense, well, it's not just the leaking roof that is putting off visitors, it's a real sense of mission and philosophy. What Glasgow Museums had been achieving with other large-scale capital projects had been a transformation of museum experience, starting in Kelvingrove, and then the famous Riverside Museum that Zaha Hadid completed. There was a development of practical knowledge on how to deliver projects and a philosophy of putting the visitor at the centre of what the museum was about. The Riverside Museum is essentially a museum of transport, science and industry, and social history to some extent, and the challenge was to take the lessons of that and apply them to a fine and decorative arts museum, which was a difficult thing to do. The project went into great detail to work out this new philosophy of how accessibility can be built into the whole experience. As a project, the funding came in, and the transformation was about making the building much more sustainable, so it was changing so many different elements within the structure of the building, but also completely changing the display, as well as the philosophy of the display.
The project did a massive consultation just as the museum was closing: 15,000 people, visitors, in particular from the local community, all fed into what the project would be. They were giving ideas, insights and opinions that shaped every aspect of the redesign of the building. That was a guide for the project throughout. Part of the project had an access panel, members of the community who were looking at things from physical access and sensory access, and how that had to be built in. We did a lot of thinking about entrance on site and how you would arrive at the museum, ideally on your bike or using our electric bus service, and how the welcome would be, so opening up parts of the building to give much more of a sense of welcome and accessibility. This was a huge part of what the museum was aiming to do. It reopened in March 2022, and in the first year, we had 600,000 visitors, which was much higher than expected. Of course, the world has changed a lot in the 40 years since the museum first opened. The museum sector in Scotland is very dynamic. We have V&A Dundee, which opened in 2018, and massive improvements to other national museums underway. We have a museum-going public.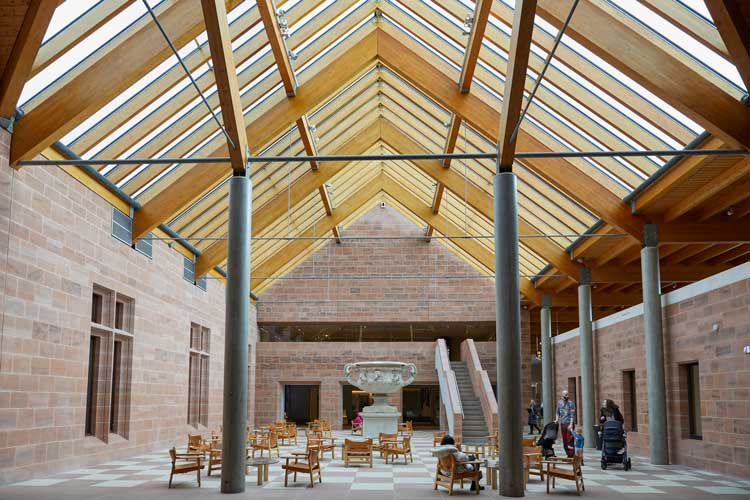 The Burrell Collection, winner of the Art Fund Museum of the Year 2023. Photo: © Janie Airey/Art Fund 2023.

NH: The award highlights the Burrell Collection's engagement with local people to inform the refurbishment and redisplay of its internationally renowned collection of fine and decorative art. How did the museum work with the local community in Glasgow to make the presentation of its collection shine?
SG: It started with that big consultation of 15,000 people. One thing that came out of that was a perception people had of the museum. People from the local community said the biggest obstacle to coming was that it was too expensive, but the museum has always been free, so there was a real sense of not understanding what the Burrell Collection was about. A lot of the engagement was through our open museum team. We have a dedicated outreach team as well as creating a team of learning and access curators for the project. These are specialist individuals tasked with building partnerships with local charities, schools, care homes, all different faith groups, all different types of organisations working in the community. It's through building that network and going out into the community with handling boxes, in particular, that you get a real rapport and discussion. Those discussions feed into observations about the collection, but also a word-of-mouth awareness of the richness of the Burrell Collection.
On top of that, a big part of the project in keeping in touch with the community was through a dedicated website. On social media blogs, there was a lot of content going out to make sure the project, which is using public money, was as transparent as possible. It was great having different kinds of people visiting and having their opinions, and those opinions could then be shown online.
The most innovative element of what the project engagement and the redisplay of the Burrell was about was to do with collaboration with the community as curators for these community-curatorial collaborations on some of the displays. The philosophy of the Burrell Collection, in terms of the museum, has changed quite fundamentally, and community is a vital part of that. The Burrell Collection is not a taxonomic museum. We don't categorise our collection in terms of geographical period or historical age, where you would have one section dedicated to near-eastern archaeology, another that would solely be dedicated to French impressionism. We have more than 2,000 objects now on display – 2,000 out of 9,000. They are divided into 200 story groups and these story groups deal with universal themes, such as love and friendship, death and mourning, identity and adornment. These connect objects across time and place. A single case might have objects of ancient Egypt alongside late medieval stained glass. It's a very powerful way to make these universal connections.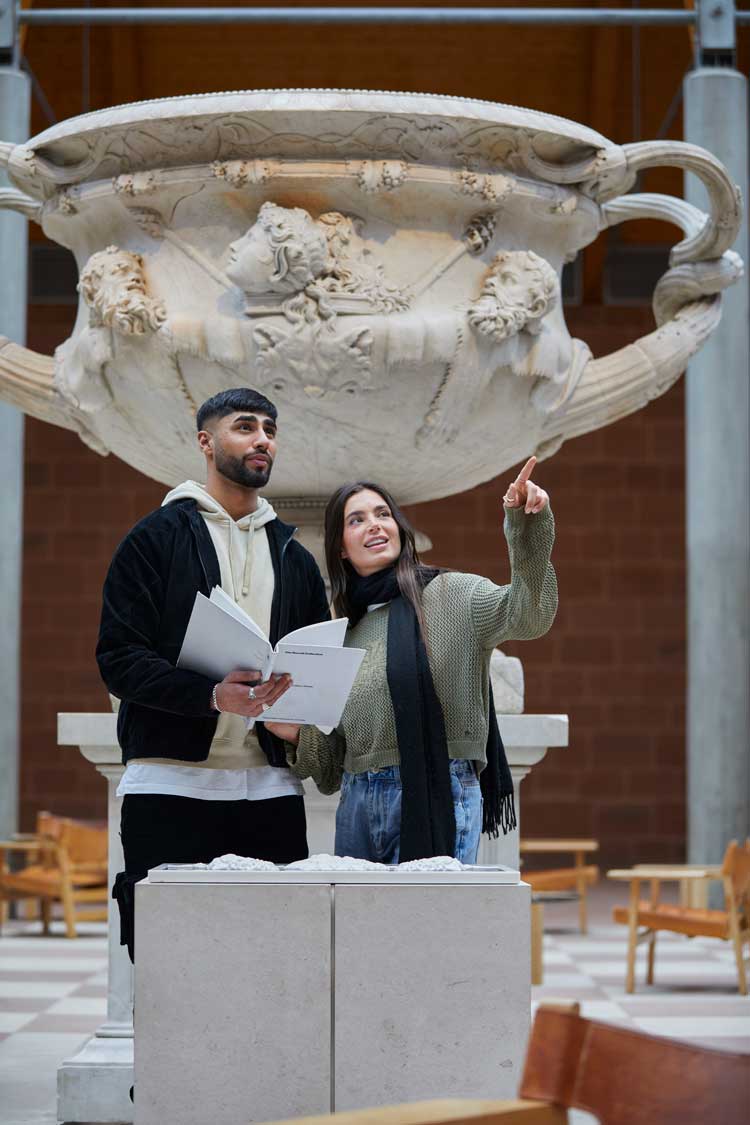 The Burrell Collection, winner of the Art Fund Museum of the Year 2023. Photo: © Janie Airey/Art Fund 2023.

Of these 200 story groups, 15 were curated with community organisations. The learning and access curatorial team alongside the subject specialist curatorial team would facilitate sessions with representatives from these groups, where they would discuss the objects and they would understand a little bit about the process of how we give interpretation in a museum space, in particular the writing of museum labels: object labels. Over a lot of time and editing, we wanted their voices to come through in the labels for some of these objects in the 15 story groups that were chosen to be collaborations with the community, and they were very powerful. These include work with the Women's Library of Glasgow, where we're looking at a pastel by Degas, Woman Bathing. We worked with a group from the Women's Library, which by chance included a woman who is a life model, and she was able to share some of her experience of what it is like being looked at, and some of the feelings around the male gaze, particularly the artist's male gaze, and we were able to capture that in the writing of the label. Another collaboration was with LGBT Age Scotland, a group of older people from the LGBT+ community, and they were looking at a series of German brass plates that are embossed with different religious themes. They were interested in a scene of Saint Sebastian. They spoke about the cultural relevance of Saint Sebastian, which has changed hugely since Oscar Wilde decided to use Sebastian as a pen name on his release from prison in 1897, and the history of Derek Jarman using Saint Sebastian in his 1976 film Sebastiane. An interesting element the group shared with us was their experience of the Aids crisis. Actually, Saint Sebastian in medieval times had become a saint against plague. With the Aids crisis, men chose to wear Saint Sebastian lapel badges, and that was an important reflection. We include their words verbatim on one of the labels. So, it was a powerful experience and 15 of those went into the redisplay.
Another element, and a big innovation, has been the use of digital. Digital in the Burrell comes in all shapes and sizes. One lovely element was the commissioning of films to show people who live in Glasgow today reflecting on different elements of the universal themes I spoke about. These are where the visitors to the museum would see the city itself, their city, they would hear voices that were the accents and the voices that you would hear on the streets of Glasgow today talking in a way that a curator doesn't speak about an object, speaking about why objects have different cultural meanings for them, and are associated with different experiences in life. That was a really interesting way to get across cultural opinions. For example, we have a really nice one about the concept of a bed, what beds mean in different cultures, which is very different from what people might expect. We're exploring that to make it relevant to our communities coming in. One other important use of digital was in the large number of interactive displays to get more information. Or there might be videos about the objects. We have 10 community languages, including Urdu, all available on these screens. It's not just subtitles, it is spoken by a native speaker of that language. British Sign Language has also been featured. We wanted to reflect our community and what would make an accessible experience. It has been included all the way through the visitor experience.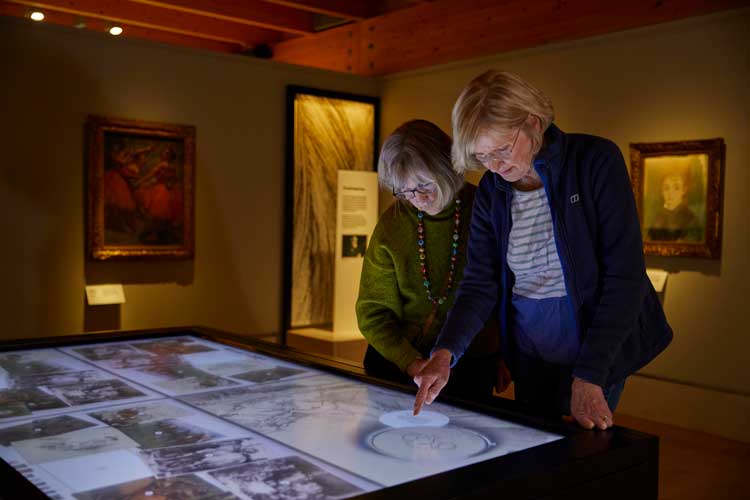 The Burrell Collection, winner of the Art Fund Museum of the Year 2023. Photo: © Janie Airey/Art Fund 2023.

NH: I can appreciate that the Burrell Collection has shifted the focus of its activity to celebrate the diversity of its collection and has created an accessible and inclusive destination. Can you talk about how the museum uses digital innovation to introduce its artefacts to a wide audience?
SG: The Burrell is interesting because the entire idea of it is that it almost starts at home for people interested in visiting, having an up-to-date and dynamic website. We think about how people get to the museum. We want it to feel very open. There is a plaza now in front of the museum that welcomes people in. Our gallery assistants are often able to speak quite expertly about different elements of the collection that interest them. Instantly, you are speaking to someone who has a very good knowledge of the collection and is tasked with that idea of hosting and making people feel welcome. Making people feel welcome is an essential part of having a diverse audience. When people walk into the museum, the first part most of them go into is our north gallery. Brilliant designers worked on the project. Objects that have faces are the first thing you see – at a subconscious level, you are almost being welcomed by the collection itself, as well as our team. The descriptions, especially at the start of the museum, are not asking you to contextualise things historically, are not expecting you to have any prior knowledge. The labels are asking you questions about how you think the person portrayed in this object is feeling. What is the importance of gesture? We were looking for the emotional response to artwork. That's something universal. We want to stop people from putting up barriers or defences. We want them to feel truly relaxed in the museum. So, with that front-of-house engagement with the way the collection is displayed, with the first type of reading they might do, when it's talking about these feelings, it helps people into the experience.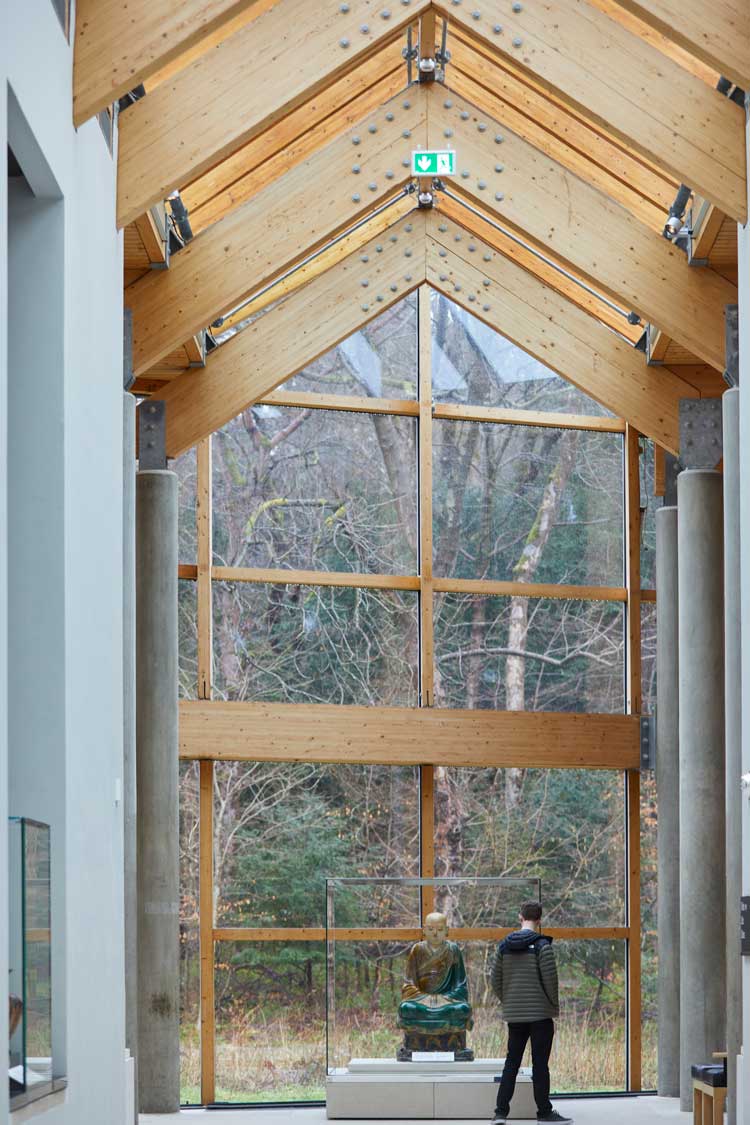 The Burrell Collection, winner of the Art Fund Museum of the Year 2023. Photo: © Janie Airey/Art Fund 2023.

The museum is full of natural light. It's also full of ambient sounds. The digital team are very interested in environmental digital – what I describe as creating a vibe. So, we'll have a lot of one-to-one scales, human-sized screens. They're not asking you to touch them or do anything with them, but they might be showing actors, who are pretending to be Sir William, the collection's founder, and his wife and daughter, who were very involved in the collection's creation. They might be wandering around their very grand house, Hutton Castle, on the Scottish borders, where a lot of the collection is on display. They are creating a vibe and atmosphere. There might also be innovative things that engage with everyone and anyone. So, we have a beautiful innovation called the Flower Cascade on the far side of the central galleries. The central galleries are a dark blue colour that sets off paintings so beautifully and you come into this space, you're looking at the paintings, and you see on the faraway wall this digital installation of projected flowers that are falling down the wall, so it draws you deeper into the museum.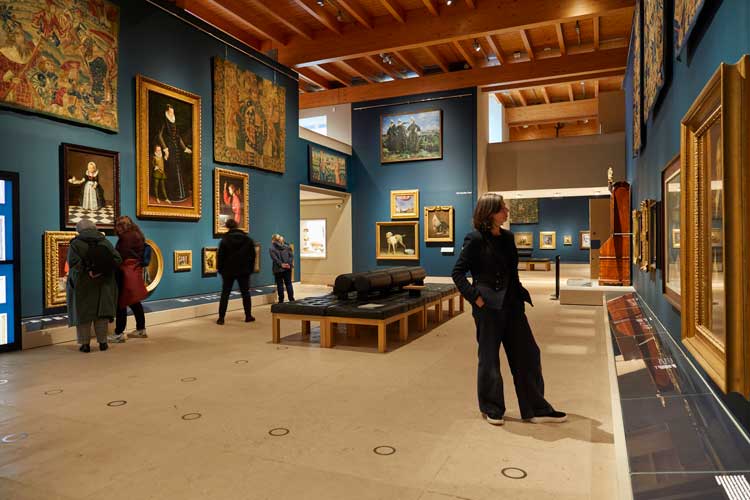 The Burrell Collection, winner of the Art Fund Museum of the Year 2023. Photo: © Janie Airey/Art Fund 2023.

NH: With a refurbished A-listed building featuring new gallery spaces and displays that are exemplars of low-carbon design, the museum is addressing climate change and the environment. How is the Burrell Collection setting new standards for sustainability in the museum sector?
SG: It is the first museum to have Building Research Establishment Environmental Assessment Method (Breeam) status [the museum has been given a rating of excellent], which recognises all the work that has gone in to making a sustainable museum. Sustainability for us is about having an energy-efficient museum as far as possible. There is a lot of glazing. It's a beautiful museum because of that. When he was designing it in the 70s, Barry Gasson had this beautiful idea, which was ahead of its time, of having a glass wall with woodland on one side and the collection on the other side. Alas, the forward-thinking when it came to environmental issues didn't go beyond that conceptual element. The building has a flat roof, so a big issue was about we managed that, and the glazing that went alongside that. The project took down all the glazing and recycled it on site. In the old days, even on the coldest day in Scotland, we needed to cool the museum down because it got so hot with this glazing. Now, even in very warm temperatures, you can be under this glazing, and you won't feel the heat of the sun. It has a big focus on high-quality glazing, and it is an 80% improvement in the envelope of the building. That is backed up with some expensive important kit. The building now has a smart system with 60-odd sensors all through the museum that are able to channel the hot and cold air to make sure the temperature is stable, and it's much more efficient because it can move air around the building seamlessly. Helping us do this is a photovoltaic array on the roof, which generates a lot of power.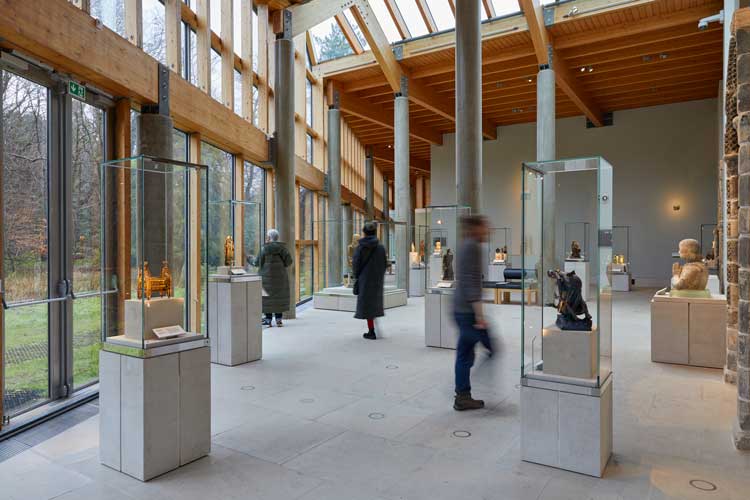 The Burrell Collection, winner of the Art Fund Museum of the Year 2023. Photo: © Janie Airey/Art Fund 2023.

For a museum of this size, our electricity bill is incredibly low. It is equivalent to several average family homes, which given the size of this building and the level of environmental control we expect, is a remarkable achievement, and we have a lot of electric vehicle chargers in the park. We have a free electric bus service that connects us to the local train station and runs every 50 minutes. It's a really important investment for us. People do pay to park their cars and that subsidises the bus. We're keen on active travel. We have a cycle-hire scheme as well as parking for people bringing their own bikes. We even have a bicycle repair kit that visitors can use if they get a puncture. We're looking at sustainable energy use. We are using gas at the moment, but we're hydrogen-ready, so as soon as a good hydrogen supply becomes viable, we can switch. The park as a whole is looking at hydroelectric, where there is a possibility of restoring an old water mill that will hopefully provide some hydroelectric. We don't know what the capacity of that will be, if it will also support us at the Burrell, but it is vital that Pollok Country Park is a green part of the city, one of the city's lungs in terms of green space and woodlands. We're looking at trying to make the space as sustainable as possible.
The other element we're interested in is using our collection as a tool for talking about climate and environmental loss. We really enjoyed engaging with the Art Fund's Wild Escape initiative and we did a special day for Earth Day in April. That was really important for us. It has whetted our appetite and we are working on doing much more eco-critical art history and providing tours of our objects, which relate to important lessons of today. The museum is a powerful space for debate and discussion, and a lot of our community collaborations have given credibility to the voices of visitors in the community to be able to frame objects.
We have put effort and emphasis into opening up the sense that we have LGBT+ histories within the collection, and we have tours and other events that have brought those to life. We have an important strand on uncovering the often-overlooked women's history within the collection. We have a wonderful tour on the Bloomberg Connects app. Also, our most recent high-profile acquisition was Camille Claudel's L'Implorante with support from the Art Fund. This was our first named female artist's sculpture in the Burrell Collection. We acquired it two years ago and it is essential for us to bring this to a wider audience. We're very interested in covering the role of women throughout the collection because so many of the artisans and makers would have been women, and yet they are not always completely present for visitors. Within this scope, we're interested in seeing how the collection supports environmental action and a call to action as well. Looking at elements of Chinese natural philosophy, for example. Or looking at changing landscapes within some of our Hague School Dutch paintings. These are all themes that are arising and we are keen to do more on that side as well.

The Burrell Collection team celebrating with the Art Fund Director Jenny Waldman at the Art Fund Museum of the Year 2023 ceremony at the British Museum. Photo: © Hydar Dewachi/Art Fund 2023

We're very proud of the building being as sustainable as possible and having that Breeam status and the investment in our building management system, the investment in making sure that the glazing and installation is high standard. But it also is incumbent on us as a museum with a really interesting collection. In fact, with Gasson's visionary thinking in the 70s, when he was designing the Burrell Collection, that connection between the natural world and art, how we deal with that in 2023 and beyond, and living as we are in this environmental crisis and with such a large audience, we feel that we have an exciting role to play, and hopefully that will be something that we will consider as we programme the next couple of years.
NH: It is well documented that art can revitalise a city. After it opened in 1997, the Guggenheim museum transformed Bilbao in Spain. Yet even earlier, when it opened in 1983, the Burrell Collection turned Glasgow into a cultural destination. What is the impact on the city of the museum's renovation?
SG: We really should be calling it the Burrell effect, shouldn't we? The Guggenheim effect has captured the imagination, but the Burrell was doing it, as you rightly say, in the 1980s. For us, now, it has been a double benefit. Because of the pandemic, there was a real need to have a project like the Burrell Collection lead on revitalising Glasgow's cultural scene. The calculation was that, in the first six months alone of the Burrell having reopened, there was a £20m benefit to the city of Glasgow's economy. A big part of that is because we are a draw for international visitors – roughly 45% of our visitors come from overseas, in particular from Europe, Ireland and North America. Another 45% are from the Greater Glasgow area, with 10% from the rest of Scotland and the UK. It is a really interesting local and international museum, which is part of what the remit was for the project, one of my remits as well, to deliver on that sense of international standing, but the museum has always focused on its local community. Part of what we're doing is trying to encourage local artists and artisans. We've had wonderful craft fairs here; we've got plans for more. We had groups for the Pride celebration, who were positioned in different parts of the Makers Galleries.
The Makers Galleries are an important innovation that came from the Renaissance project director, James Robinson, who is now Keeper at the V&A. He was involved in the early concepts for the Burrell Collection's re-design and he championed this idea that one thing that engages visitors is knowing how things are made. The entire first floor of the museum is dedicated to the process of making, so whether it's weavers or potters, glaziers, metal smiths, all these important crafts are represented in a dedicated gallery. In what we do now, for visitors – they will come into one of these gallery spaces – there will be interactives, there will be objects on display. Beautiful, incredible French lace, for example. Tens of thousands of hours go into these pieces. They are of such incredible value. We bring that story out through re-enactment videos, but also within that same area, we bring in contemporary makers. The Weavers Gallery features a beautiful film about the Bevilacqua Velvet Factory in Venice. If you go into the Stonemasons Gallery, there is a contemporary sculptor who deals with alabaster and works with stone, and she talks about her craft as well.
We have introduced the sense that these are not lost skills, that they have evolved and changed, and we are featuring contemporary artists. Then on top of that, we are bringing in makers of these kinds of disciplines or traditions today into our gallery spaces. So, you might have walked into the Ceramics Gallery two weekends ago, and you could have met a Glasgow-based potter, a graduate of Glasgow School of Art. She was there showing some of the works that she has recently made. We're trying to bring up that sense of Glasgow as a city of artistic and cultural production today.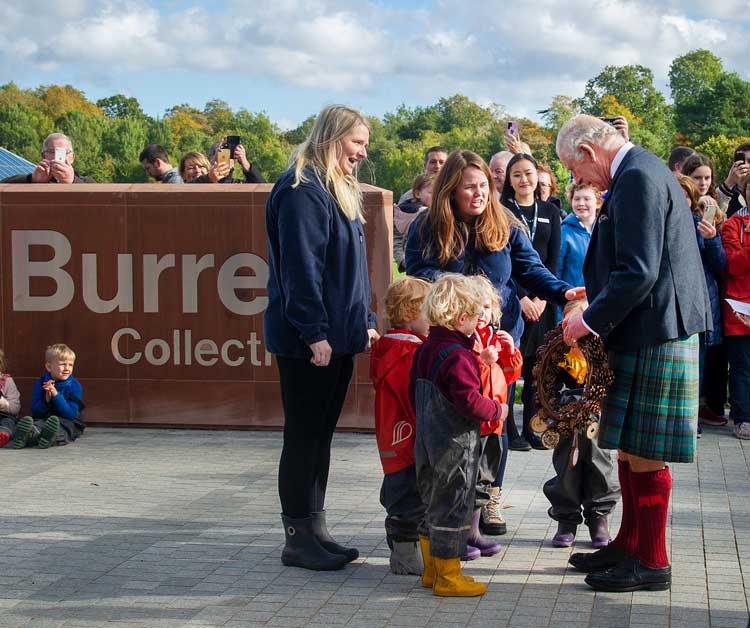 King Charles III officially reopened The Burrell Collection on 13 October 2022. Photo: © Glasgow Life.

NH: Over the last two decades, the UK government has encouraged museums to become more self-reliant, as it has reduced state funding for culture. How are you finding the current funding climate for museums in Scotland?
SG: We are still coming out of our project. We raised £70m, most of that from the City of Glasgow, but also support from the Scottish government, the UK government and from the National Lottery Heritage fund as well as very generous individuals. We still have some consequences and benefits of that. The Burrell Collection benefits from an annual block grant from the Department for Culture, Media and Sport and that is really helping us bed in during this period.
A big focus is on how we become more sustainable, and a big part of that is understanding travel trade. For a local authority museum service, there has always been that element, but a lot of investment has been put in to make sure we're getting the pricing right, that we're getting the products right, training curators and others to be able to deliver really engaging talks, but at the right level to the right audience, and also that fit into these busy schedules that tour operators have. There is a pivot, much more of a focus on that, which is important. We also benefit from being part of Glasgow Life. As a charity, we have a very active development team, who understand the museum sector very well. We've been struck by the generosity of visitors coming into the museum. So, we have donation boxes and other ways to donate, and we've been supported through that.
It is, of course, incredibly challenging because we know the cost of living crisis is impacting visitors as well as staff. We appreciate that funding has been prioritised to frontline services, but we are confident in making our case that a museum such as the Burrell Collection provides real benefit for local communities. As a place of mental wellbeing and health, common feedback we get is of that benefit that we give to people coming in. We know we provide an important service. Over winter, museums across the Glasgow Museum Service were also part of the campaign to have public spaces available to people that would be warm, that would have tea and coffee, and provide that support. We hope that we are able to highlight that social benefit that we bring and why public money being spent on museums is a good thing. Then there is our economic benefit to the city and the wider economy: investment in a museum has a huge return through encouraging tourism, encouraging that inward investment, and also highlighting for the city as a whole an attractiveness to, say, big businesses that might want to relocate to Glasgow. Part of the cultural offer we know is a very attractive part of what might make Glasgow compete against other cities for being the base of a large financial institution or other big business coming here. We're trying to make that case as much as possible to make sure we keep the funding coming, but it is a very difficult situation for the sector. Part of that is being creative, being innovative, being open to partnerships as much as possible, and realising that there are a lot of people who are in the same boat as us. How can we help each other get through the current limitations of funding? We're working on a number of partnerships that we hope will support other museums and other museum services. We feel that we have a role to play, a responsibility, especially now with the Art Fund Museum of the Year award, to try to support that wider sector during this very difficult period.
NH: On a positive note, how do you plan to use the prize money from the award on future projects. How do you think it will make a difference?
SG: It is critical to continuing not just the legacy of the project but the whole philosophy of the Burrell Collection and Sir William and Constance Burrell's purpose in leaving it to the city of Glasgow. We want to expand the connections people have with the collection in different ways and the number of ideas that my colleagues have come up with is already huge, but it's important that we keep innovating. We're excited to see what approaches we might have to increase that engagement with community, whether that's through storytelling, or whether that's through different specialist programmes, perhaps reaching those audiences that we're not quite getting in yet to the museum, or who aren't coming in the numbers we expected. There is more work, we want to look at that. But we're going to use this funding as a way to bring up new ideas and innovate, and have a little bit of a sense of experimentation. One element of that, given that we have put the community at the front and centre of what we've done, is to consult with the communities themselves, so whether that would be getting new ideas from the community, or maybe taking new ideas and seeing which one would be a preference, is important to us. That is what we are looking at, at the moment. There are so many different ideas coming out from my colleagues. It has been such a big vote of confidence to have this award and we want to make sure we use the prize money to best effect. So, certainly we are continuing our work on community and accessibility. There's real consideration when it comes to our role in the environmental crisis, and what role an art collection and a museum can play within this wider change in society and culture, and how we understand the environment and how we understand ecosystems, and how we understand our relationship to nature.
• The Burrell Collection, Pollok Country Park, Glasgow, is open 10am to 5pm Monday to Thursday and Saturday and from 11am to 5pm Friday and Sunday.