Luchita Hurtado: I Live I Die I Will Be Reborn
The 98-year old painter's debut institutional exhibition showcases a lifetime of work that fuses the human with the cosmic, while speaking keenly to the present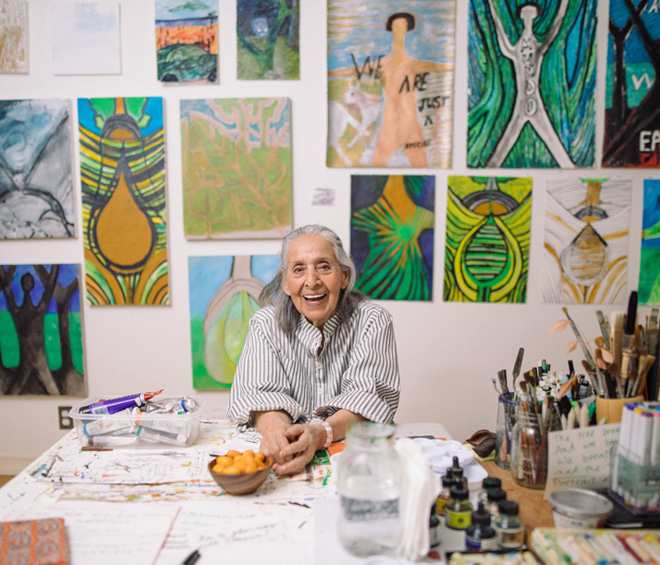 Luchita Hurtado, 2019. © Luchita Hurtado, Courtesy the artist and Hauser & Wirth. Photo: Oresti Tsonopoulos.
Serpentine Sackler Gallery, London
23 May – 20 October 2019
by JOE LLOYD
When the paintings of Luchita Hurtado (b1920) were exhibited at the Hammer Museum in Los Angeles last summer, one visitor sent the curators a message querying whether there was a typo on the wall text. How could these works be the product of an artist so old? Winding around I Live I Die I Will Be Reborn, the Serpentine Sackler Gallery's commodious survey of Hurtado's output from 1938 to 2019, one can understand something of that visitor's confusion. Zestfully coloured, playful with perspective, and unguarded in their honesty, many of her paintings could have been executed yesterday.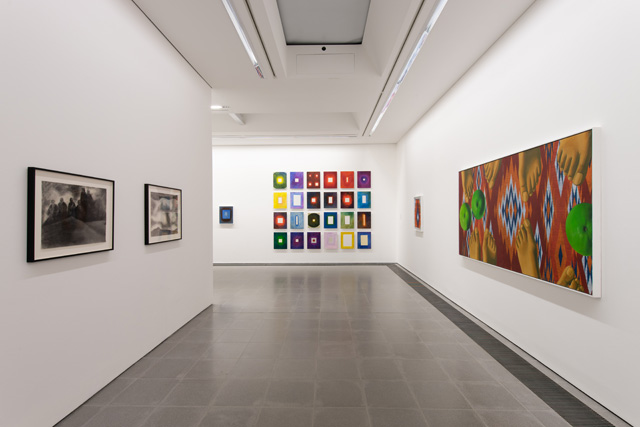 Luchita Hurtado: I Live I Die Will Be Reborn. Installation view, Serpentine Galleries, London, 23 May – 20 October 2019. © 2019 Luchita Hurtado. Photo: Hugo Glendinning.

Hurtado is the latest female artist of advanced age to be thrust into the limelight after a lifetime of being marginalised and ignored; in this, she follows Carmen Herrera, Carol Rama, Geta Brătescu, Maria Lai and Rose Wylie, to name but a few. These remarkable discoveries have enriched the atlas of contemporary art. They also serve as a depressing reminder of the sidelining of middle-aged women in art, and hang question marks over both the prejudices of those who promote artists and any notion that success in the art world is meritocratic. Although Hurtado exhibited sporadically in the US from the 50s to the 90s, it has only been in the past three years that she has gained the imprimatur of the curatorial establishment. You might wonder where it was for the first six-and-a-half decades of her practice.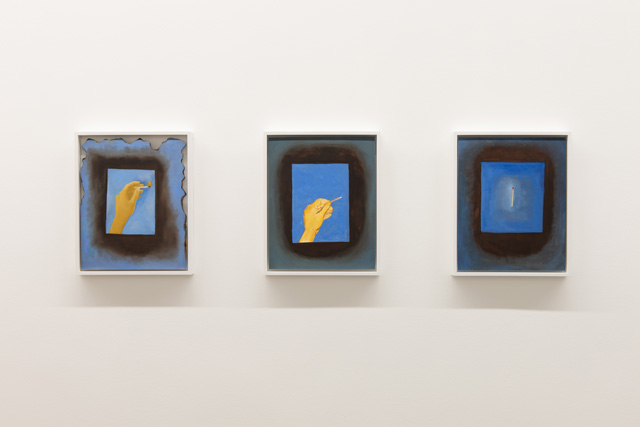 Luchita Hurtado: I Live I Die Will Be Reborn. Installation view, Serpentine Galleries, London, 23 May – 20 October 2019. © 2019 Luchita Hurtado. Photo: Hugo Glendinning.

What makes Hurtado's case especially egregious is that she was no obscure outsider. She has spent much of her life amid a series of extraordinary artistic milieus. Born in Venezuela, she was taken to New York, aged eight, where she studied art against her mother's wishes. After a spell with her first husband in the Dominican Republic, Hurtado fled the amorous attempts of the future puppet president Héctor Trujillo and returned to the US, where, by 1941, she was an intimate of both Japanese American artist Isamu Noguchi and the Mexican painter Rufino Tamayo.
In New York, she met Marc Chagall, Fernand Léger, Joan Miró and Frida Kahlo. She later married the Austrian surrealist Wolfgang Paalen, with whom she lived in Mexico and California, and after that the Dynaton painter Lee Mullican. The list of her friends and acquaintances goes on and on: Marcel Duchamp gave her a foot massage, Leonora Carrington built cardboard playhouses for her children, and the Guerrilla Girls urged her to join them.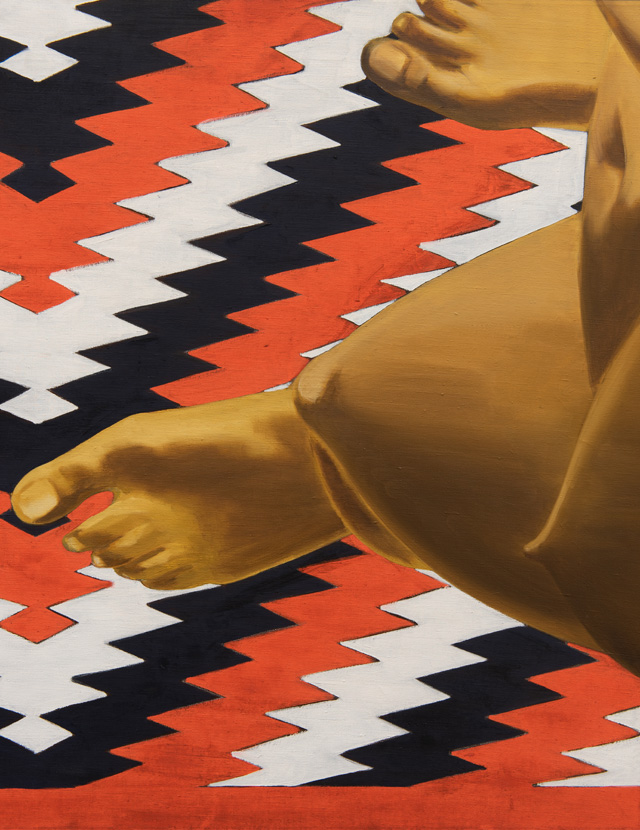 Luchita Hurtado, Untitled, 1970 (detail). Oil on canvas. © 2019 Luchita Hurtado. Photo: Hugo Glendinning

Throughout it all she painted, at times doing so at night when her family were in bed. Yet her art remained little remarked on until Ryan Good, the director of Mullican's artistic estate, started finding paintings signed "L.H." amid her late husband's. About 1,100 works have been identified since, and more than 100 of them have been crammed into the Serpentine Sackler for Hurtado's first institutional solo show.
It begins with what might be her first surviving artwork, a wispy c1938 drawing of a gas hob. Humble and domestic, but possessing a strange spectrality, it inaugurates a dance between the figurative and the abstract that animates much of her early output. This is an eclectic bunch, largely unified by vibrant colours, thick black lines and a penchant for biomorphic forms. They are mostly untitled. Several hinge on a jolt of connection between two bodies. A c1947-49 painting shows the vermilion outline of a mother clasping an infant in precious communion, her eyes popping out like a Looney Tunes character. Another shows two blue figures, constructed of cellular units, clasp a glowing amber form, while green tendrils form a vein-like structure behind them.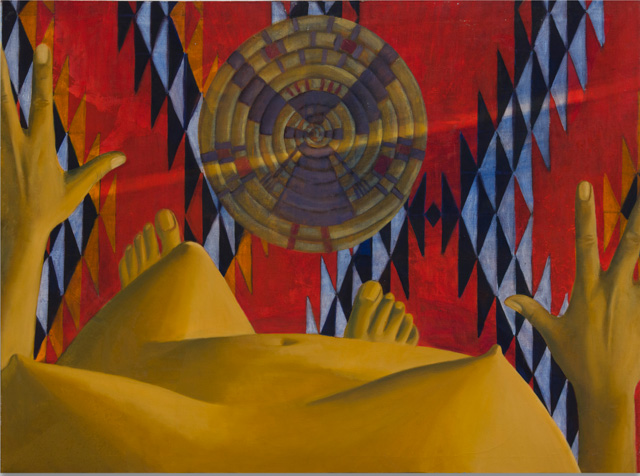 Luchita Hurtado, Untitled, 1969. © Luchita Hurtado Hammer Museum, Los Angeles. Purchased through the Board of Overseers Acquisition Fund. Image courtesy the artist and Hauser & Wirth. Photo: Jeff McLane.

Hurtado began painting self-portraits in the 50s. Some show her straight-on: in Luchita – Dark Years (c1954), for instance, she appears shrouded in darkness, impassively sizing herself up as. But the majority are more elliptical. If they are not trying to conceal Hurtado, they are certainly trying to draw out something beyond its physical presence. One 1965 painting sees her presenting fragments of herself divided across four thin columns, as if glimpsed through a funhouse mirror. Three years later, she appears as a sculptural azure form with a fleck of blonde hair, embracing and being embraced by a darker blue mass that could be human or chair.
Hurtado's stylistic nomadism settled down in the early 70s. Her paint, previously so thinly applied that the grain of the canvas is often visible below, reached a smooth, layered richness. The I Am paintings take her questing self-portraiture to an idiosyncratic new locus. Often painted while the artist was standing in a closet, these see Hurtado gaze down on her nude body from above, and, in doing so, turning it into a burnished landscape of peaks and valleys. Many gaze down on to elaborately patterned carpets, with psychedelic zigzags that would unnerve the most ardent wearer of Missoni. Several feature out-of-scale fruit, such as floating apples in a luscious green. One more restrained outlier has her hands holding a lit match and a cigarette, while another, uncharacteristically in charcoal, shows a sinister cabal of besuited men gazing over her body. The largest, Encounter (1971), contains four iterations of Hurtado's feet, in facing pairs that seem eager to touch.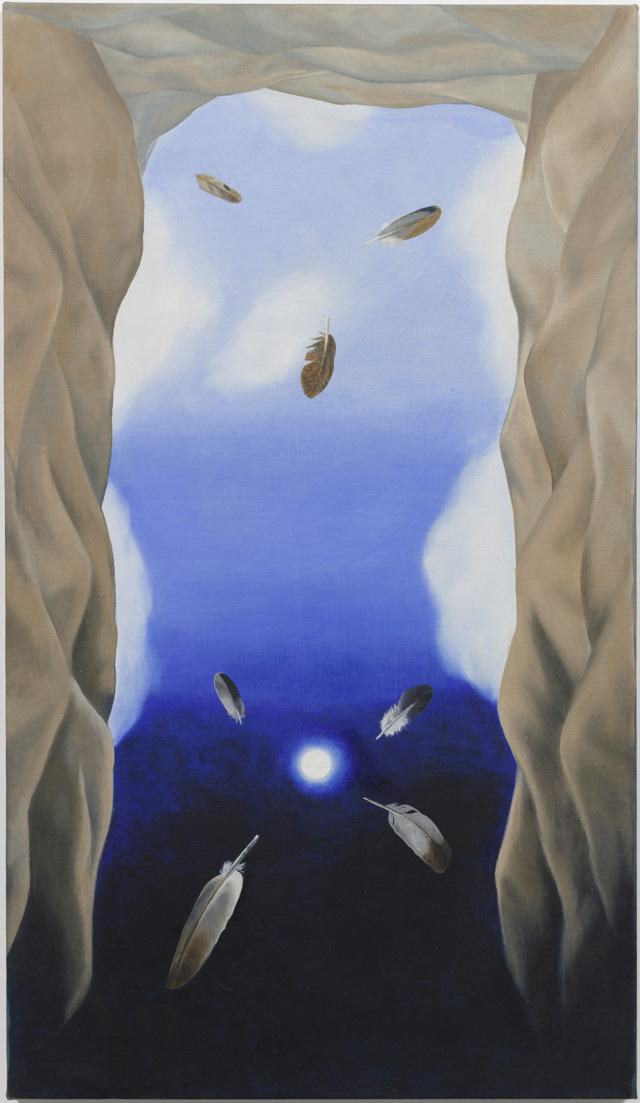 Luchita Hurtado, The Umbilical Cord of the Earth is the Moon, 1977. Oil on canvas, 101.6 x 58.4 cm. © Luchita Hurtado, Courtesy the artist and Hauser & Wirth. Photo: Jeff McLane.

While the I Am set transforms Hurtado's body into nature, her Sky Skin paintings transmute nature into body. The Umbilical Cord of the Earth is the Moon (1977) sees a fleshy aperture formed from mountains frame a barely clouded sky, with a glowing moon surround by feathers. Here, we have the most lucid expression of Hurtado's belief in an almost mystical relationship with the natural world, which recurs again and again in her later years. A group of polychromatic abstracts from 1973-74 weave words and letters – in the case of Self-Portrait (1973), the message of reincarnation that lends the exhibition its title – into dense, vivid patchworks. They seem to contain nothing less than the tapestry of life.
We end by jumping into the present day, with a series produced in 2019. They show an artist who, perhaps influenced by her newfound audience, has leaped from the elusive to the overt. Some show landscapes emblazoned with environmentalist messages: one has trees clothed in fire beneath the ominous: "No Place to Hide." The previously shrouded symbolism of objects has become more clearer, with a bud unmistakably evoking genitalia. One sequence revisits the downward gaze of the I Am series, albeit this time focusing specifically on the pregnant body, and one of which sees a tiny human form emerge from the artist fully formed. As a whole, they form a startling rebuttal to the conventional notion of late artistic styles as focused on harmony and resolution, and melancholy tinged looking-back. Instead, they show an assertive concern for the present and the future.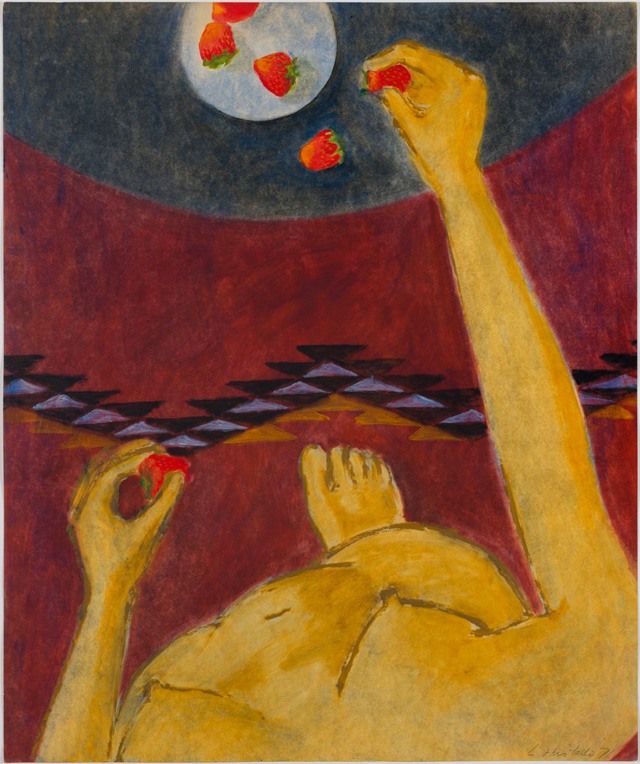 Luchita Hurtado, Untitled, 1971. Hauser & Wirth Collection, Switzerland. © Luchita Hurtado, Image courtesy the artist and Hauser & Wirth. Photo: Jeff McLane.

If a single work offers a key to Hurtado's cosmos, it might be one of this recent crop. The outline of an otherwise featureless every-person figure, with "Mundo" (Spanish for "world") painted on its torso, stands before a green-veined tree trunk, limbs protruding in a gesture both protective and connective. Language is part of humanity, humanity is part of nature. "I feel very much," she has said in a recent interview, "that I'm part of this planet. That's been very strong and influential all my life. That's why I recognise that a tree is my cousin." This, Hurtado says again and again in her astonishing paintings, we should never forget.