Lee Krasner: Living Colour
This joyful exhibition, a testament to Krasner's astonishing energy, creativity and capacity for reinvention, reaffirms her rightful status as a towering figure in postwar American art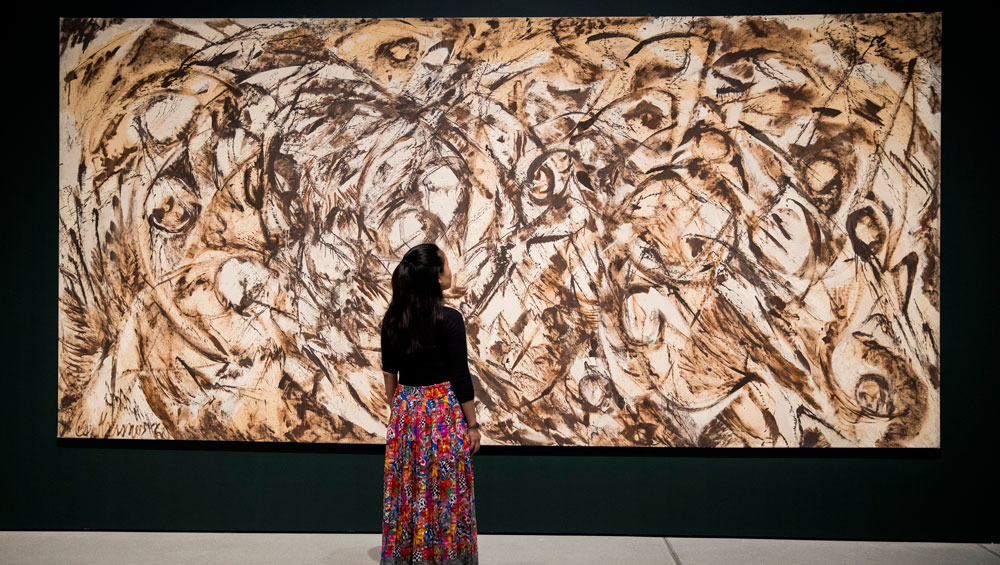 Lee Krasner: Living Colour, Barbican Art Gallery, 30 May - 1 Sept 2019. Photo: Tristan Fewings/Getty Images.
Barbican, London
30 May – 1 September 2019
by MATTHEW RUDMAN
"An odd mixture of fame and obscurity" was how art critic BH Friedman characterised Lee Krasner's public reputation in the exhibition catalogue for the artist's 1965 Whitechapel Gallery retrospective. It was a long march for Krasner (1908-84) out of the shadow of her late husband Jackson Pollock, who had died in 1956 in a car accident. Although she eventually achieved the independent recognition she deserved, with blockbuster solo retrospectives at the Whitney Museum of American Art (1973-4) and the Museum of Modern Art (1984), to many she is still first encountered as wife or widow rather than as an artist in her own right. Living Colour, the first retrospective of Krasner's oeuvre in Europe since 1965, is a captivating testament to the astonishing energy, creativity and capacity for reinvention she cultivated over her five-decade career.
Beginning in the upper galleries, we are taken on a chronological tour through the first decades of the artist's working life. Krasner was raised in Brooklyn in a traditional orthodox Jewish household, her family having emigrated from Russia the year before she was born. She showed an interest in art from a young age, and applied to Washington Irving High School, the only public school in New York at the time where a girl could study art. Following a stint at the Women's Art School at Cooper Union, she enrolled at the prestigious National Academy of Design, and changed her birth name Lena, first to Lenore and then to Lee.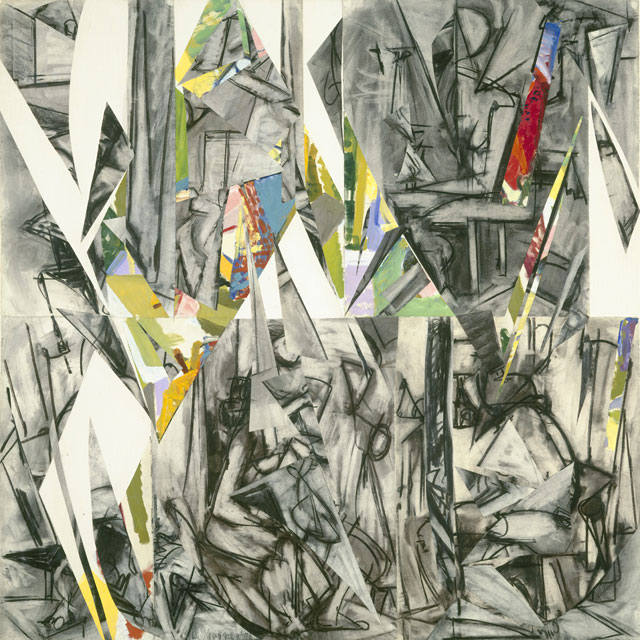 Lee Krasner. Imperative, 1976. National Gallery of Art, Washington D.C. © The Pollock-Krasner Foundation. Courtesy National Gallery of Art, Washington D.C.

Only a handful of self-portraits from this time survive, due to a fire that destroyed much of her student output. In these earliest works, Krasner is clearly still finding her feet, but her inscrutable expression and sharp gaze stick in the memory. She also dabbled in life drawing, imbuing her models with unusually muscular, almost geometric, frames. In 1937, Krasner won a scholarship to attend classes at the Hans Hofmann School, where she picked up cubist methods and began her journey into abstraction. This was quite the opportunity for the young artist: Picasso and Matisse were her two key influences, and Hofmann had worked with both in Paris. The works on show here stand out opposite her more traditional Renaissance-style nudes, the bodies warped into flat and rounded panels, traced over with glyph-like markings.
During the second world war, Krasner worked with the War Services Project to manage the design and execution of a number of artistic window displays intended to educate the public about military trade skills courses. Photographs of many are displayed life-size in the gallery, disarmingly cheerful and offbeat visual collages representing complex abstract concepts such as spherical geometry, cryptography and optics. After the war, she went on to produce a series of what she called "Little Images", abstract paintings fit to bursting with tightly woven spindles of thick and bright impasto paint, often overlaid with mysterious hieroglyphs that Krasner would describe as her "secret language".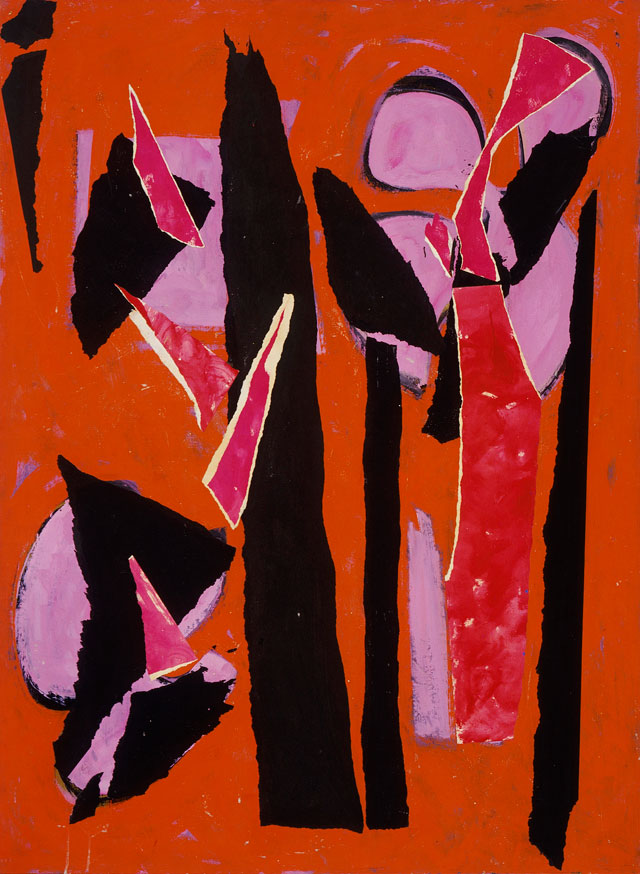 Lee Krasner. Desert Moon, 1955. Los Angeles County Museum of Art. © The Pollock-Krasner Foundation. © 2018. Digital Image Museum Associates/ LACMA/Art Resource NY/ Scala, Florence.

Then, a sharp change of direction. Krasner is well-known for her habit of destroying or otherwise painting over her work, and, in the mid-50s, she began producing works completely different from what had come before. In works such as Forest No 2 (1954) and Burning Candles (1955), Krasner takes an assortment of newsprint, her own cut-up artworks and Pollock's discarded drawings to produce collages packed full of sharp little dagger shapes, arranged into unfurling, fern-like structures. It is a maelstrom of textures and shades of brown and yellow, bold contrasts drawing the eye in to wander over the densely layered jigsaw. Krasner further experimented with collage in works such as Desert Moon (1955), Milkweed (1955) and Blue Level (1955), where she allowed herself a larger canvas to work with. Punchy, Matisse-inspired colours are introduced – scarlet, coral, azure – lending a wild, hectic energy to the forest-like arrangements of jagged fronds and petals.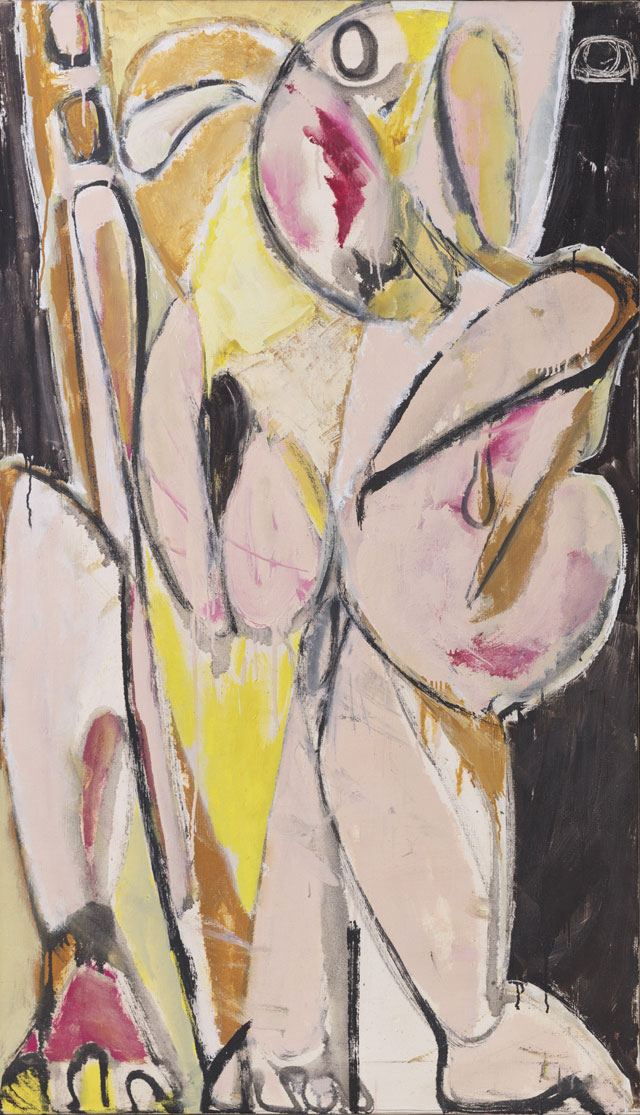 Lee Krasner. Prophecy, 1956. Private collection. © The Pollock-Krasner Foundation. Courtesy Kasmin Gallery, New York. Photo: Christopher Stach.

By this point, Krasner and Pollock were married and living in Long Island. Pollock's alcoholism had become severe by 1955, which, combined with an extramarital affair, had placed immense strain on their marriage. Seeking distance, Krasner embarked on a trip to Europe, and was on the continent when she learned of her husband's death. The three works she produced immediately after this – Embrace (1956), Birth (1956) and Three in Two (1956) – are displayed alongside Prophecy (1956), which sat on her easel when she left for Europe. The four works are housed in the last upstairs side-room, closed off from the main gallery, dark and subdued. These works mark a departure from Krasner's usual abstract practice, confronting us with a surreal bricolage of tangled limbs, distended stomachs and protuberant genitals. Eyes stare out blankly from the knot of bodies. The effect is striking at close quarters, surrounded on all sides by Krasner's dark, anguished fever dreams of flesh, violence and eroticism.
These works are the fulcrum on which the exhibition rests. Shortly after her husband's death, Krasner moved downstairs into his much larger studio, which afforded her the opportunity to paint on a grander scale. The gallery space brings this point to bear elegantly: we pass out from the small, enclosed space, move down the stairs, and are decanted on to the lower level, which has been opened up to let through more natural light. Krasner's Night Journeys series of paintings – she was suffering from severe insomnia at the time of their creation – are monumental in scale, many more than two metres in width or height. Their titles give a sense of their sheer maximalism: Polar Stampede (1960); Triple Goddess (1960); and Assault on the Solar Plexus (1961). These works boast a distinctive off-white and off-black colour scheme, and bombastic swirls and sharp splatters of paint, resembling monochrome fire embers. More than any other, these paintings place Krasner in the abstract expressionist tradition: the arcs and stabs of paint across the canvas channel her own deeply personal thoughts and feelings, no matter how unsettling or intimidating to the viewer.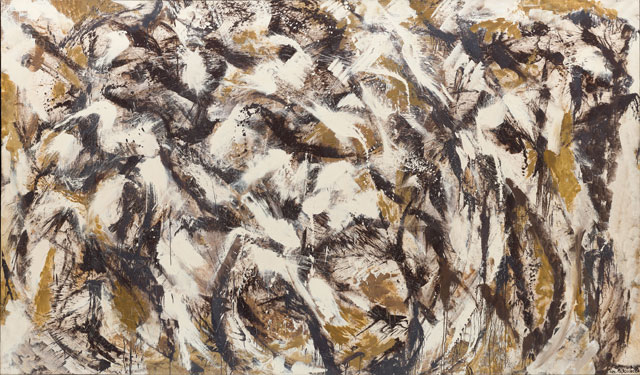 Lee Krasner. Polar Stampede, 1960. The Doris and Donald Fisher Collection at the San Francisco Museum of Modern Art. © The Pollock-Krasner Foundation. Courtesy Kasmin Gallery, New York.

Then another quick change of gear: towards the mid-60s, Krasner draws again on her admiration of Matisse and, as we move through the gallery, the gloom lifts to reveal a verdant kaleidoscope of pink, bronze, emerald and puce. In works such as Chrysalis (1964), Icarus (1964) and Courtship (1966), we see looser, more natural shapes return to the fore, with sections of canvas left blank in the midst of often densely packed colour blocks, like shafts of sunlight through forest leaves. Elsewhere, the mesmerising, looping golden forms of Kufic (1965) seem more like calligraphy than painting, while a small adjoining room displays more than a dozen smaller, more experimental studies in colour and symbolism. Loosely organised into four series – Seed, Water, Earth and Hieroglyphs – they showcase Krasner's abiding interest in the colours, patterns and orthographies of the natural world during what was a prodigiously productive decade of her career.
By the 70s, Krasner had returned to sharper, more geometric forms, and works such as Imperfect Indicative (1976) are a fitting conclusion. Following decades of stops and starts, pivots and U-turns, Krasner returned to the Hofmann-era cubist studies of her youth, cutting them up and rearranging them in unfolding tessellations, polygonal cut-outs of fragmented bodies. That Krasner in the final years of her career was embarking on this kind of manic remixing of her own past is so appropriate – coming to the end of this exhibition, it is clear that, for Krasner, her art was tightly bound with her life and her sense of self. To walk through the gallery is to witness the artist in a sustained process of self-discovery, played out on the walls, and it is a thrill and a joy to behold.
It is difficult to leave the gallery without a sense of wonder, both at Krasner's sheer sustained creative momentum, and at how she remained trapped in that ambiguous state of semi-obscurity for so long. Often shows at the Barbican can feel too big or overwhelming, but Living Colour is perfectly paced, showcasing the key touchstones in Krasner's long and cyclical career without becoming laboured. It is a wild, dazzling tribute that reaffirms Krasner's rightful status as a towering figure in postwar American art.