Gerda Scheepers: Rooms
The Cape Town-based artist presents new work at Glasgow's Mary Mary Gallery, creating a subversive, melancholic and yet quietly comical homage to the frustrating everyday
Installation view, Gerda Scheepers, Rooms, Mary Mary, 2019. Image courtesy the artist; Mary Mary, Glasgow. Photo: Malcolm Cochrane.
Mary Mary, Glasgow
9 February – 30 March 2019
by CHRISTIANA SPENS
At first sight, Gerda Scheepers' new work at Mary Mary Gallery in Glasgow resembles the detritus of someone's struggle to assemble Ikea furniture. Fabric shelves, similar to those used to store folded clothes in wardrobes, hang sunken on the walls; frayed fabric in beige and grey is stretched across canvas frames, creating ruches and folds that express some sort of tired struggle. Memories of efforts to pull cushion covers over wads of synthetic sponge, assembling sofas and beds, filter through, inevitably; I expect to see a stand offering hotdogs and meatballs, perhaps also tragic and misshapen, deconstructed or just too difficult to construct in the first place. Indeed, there is a quietly comic undertone to this staged ennui, a garish display of the little frustrations that populate modern life, or the "wonderful everyday", as Ikea would put it.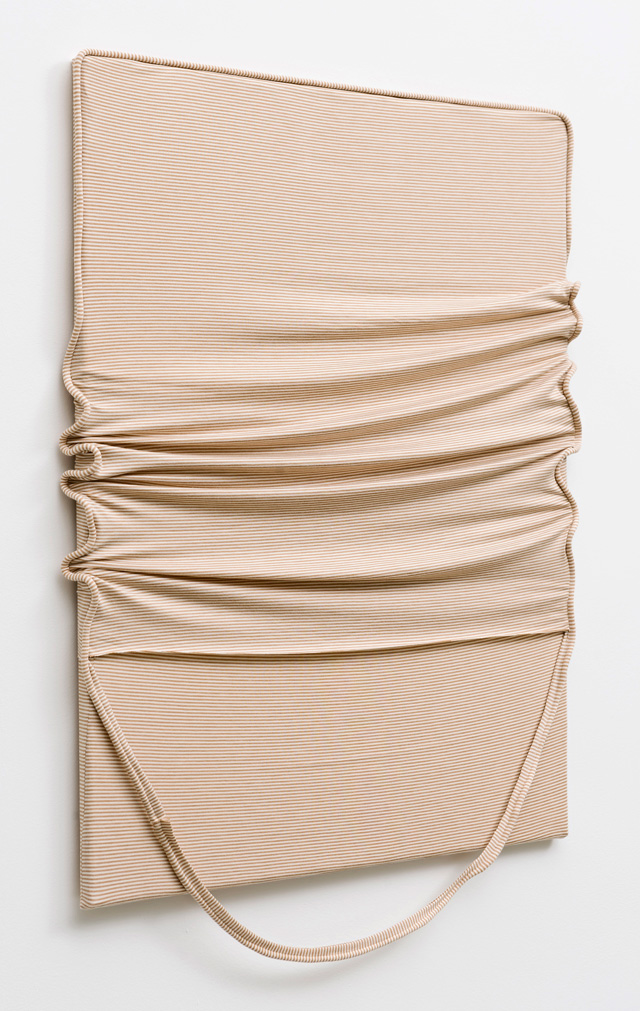 Gerda Scheepers. Pillow Riley 4, 2019. Fabric on canvas, wood, 78 x 62 cm (30 2/3 x 24 2/5 in). Image courtesy the artist; Mary Mary, Glasgow. Photo: Malcolm Cochrane.

In the four beige/grey frames of stretched fabric that hang on one wall, for instance, the edges of each piece are piped in part, creating frames that fall apart for half of their diameter; the ruched folds create an oddly staid erotica, a feeling of someone having begun to make an effort, begun to undress, but then just given up. The piping hangs, inert, in a way that creates a gap that takes up half the space; this collapse seems almost decadent. In another of this series, the piping simply hangs, broken, to one side, recalling a failed attempt at one's own hanging; or, more basically, perhaps, a failed attempt at putting together a headboard, or a blind.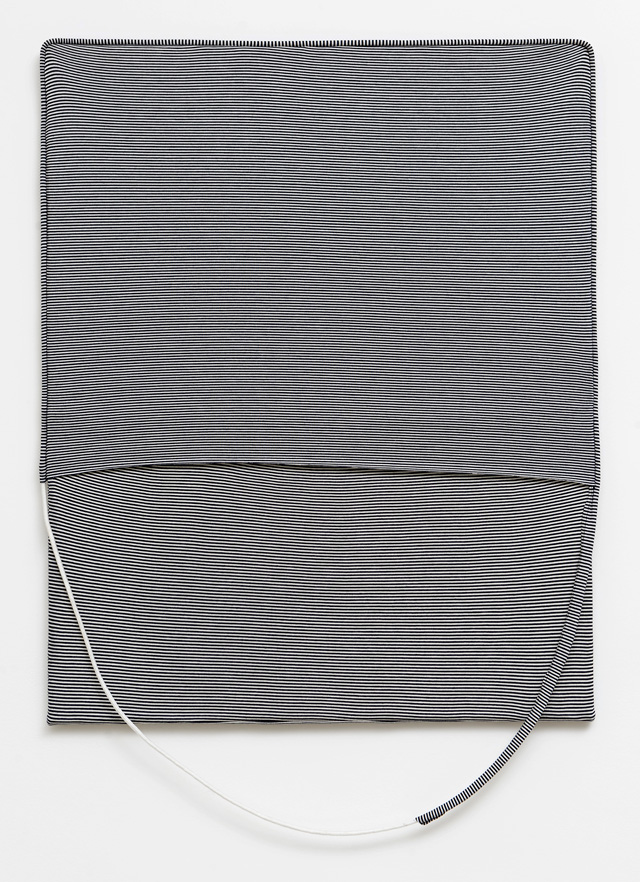 Gerda Scheepers. Pillow Riley 1, 2019. Fabric on canvas, wood, 72 x 58 cm (28 1/3 x 22 4/5 in). Image courtesy the artist; Mary Mary, Glasgow. Photo: Malcolm Cochrane.

In all these works, there is a strange tension between what one thinks the object might have been, and what it is – what the potential furniture could have manifested as, perhaps in the vision of a bright and ordered Ikea catalogue page, and then this understatedly excessive groan of impossibility. The colours, while recalling a typical Ikea palette, take on new meaning when their expected structures are subverted. The red and dark mauve become emotional, needy; the sagging shelves seeming to cry out for a frame that will hold them. The grey and beige, needless to say, perhaps, absorb all the suburban ennui we come to expect from plays on domestic scenes, with their mysteriously ripped and broken edges.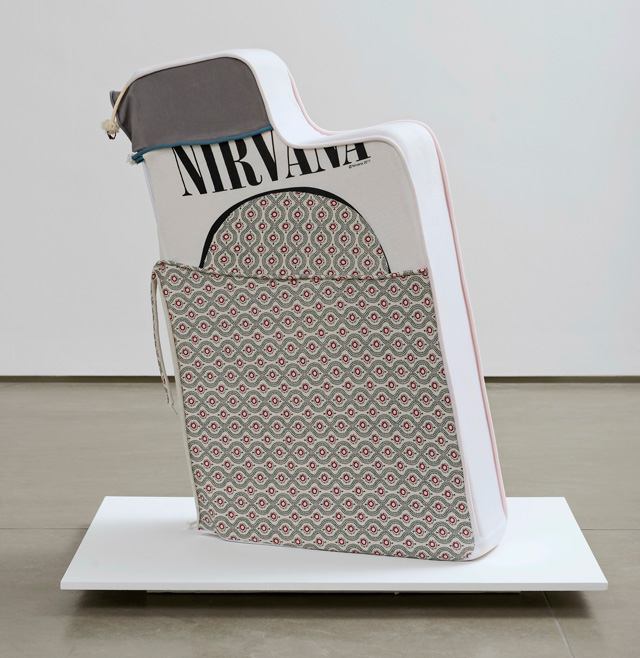 Gerda Scheepers. (Arm) Rest, 2019. Wood, foam, fabric, cardboard, 85 x 60 x 20 cm (33 1/2 x 23 3/5 x 7 4/5 in). Image courtesy the artist; Mary Mary, Glasgow. Photo: Malcolm Cochrane.

In the centre of the room, there is a sculpture made from stretchy pale pink fabric, a Nirvana T-shirt and floral printed cotton, stretched over what looks like the back cushion of a sofa. Again, the sides are partially ripped and the edges don't quite meet; this patched up "upcycle" collages teenage angst and housewifely regret in a simple, melancholic form. In another piece, the same grey-and-red floral fabric appears in a rectangle, with several layers of piping framing it, and a large crescent-shaped gap in the middle. Suggestive and yet staid, this work, as with the others, presents a restrained erotic tension in the everyday objects that have been rendered either broken, or too difficult, to fit their original, intended shape.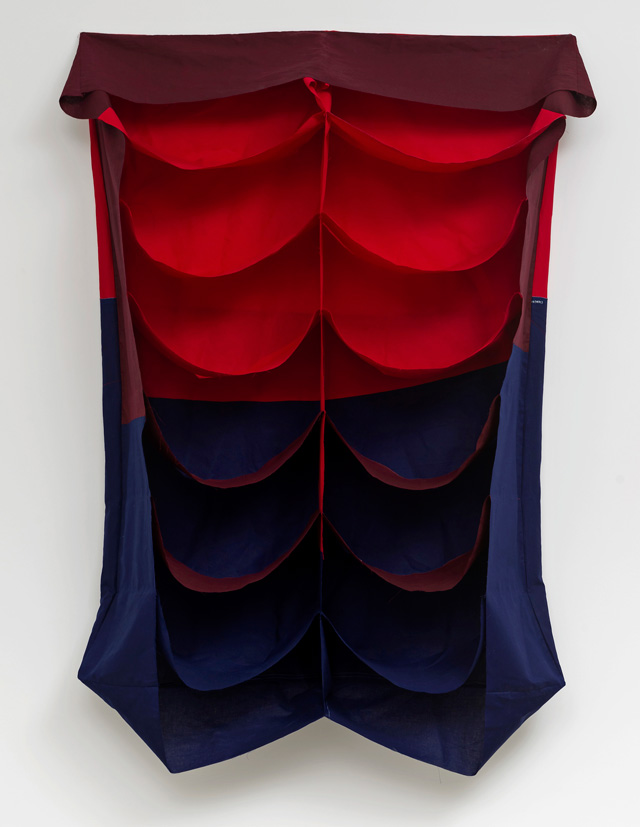 Gerda Scheepers. Shelve for the past, 2019. Fabric, 170 x 90 x 27 cm (67 x 35 2/5 x 10 3/5 in). Image courtesy the artist; Mary Mary, Glasgow. Photo: Malcolm Cochrane.

The endemic, subtle collapse that these pieces suggest, together, creates a vision of the everyday in which the effort to construct the ideal is given its own spotlight. Little failures, unspoken frustrations and tense gaps grace the walls, under their flickering, clinical striplights. It is as if the furniture – or near-furniture – begs to be broken further. This lingering sense of potential chaos becomes compelling, quietly decadent.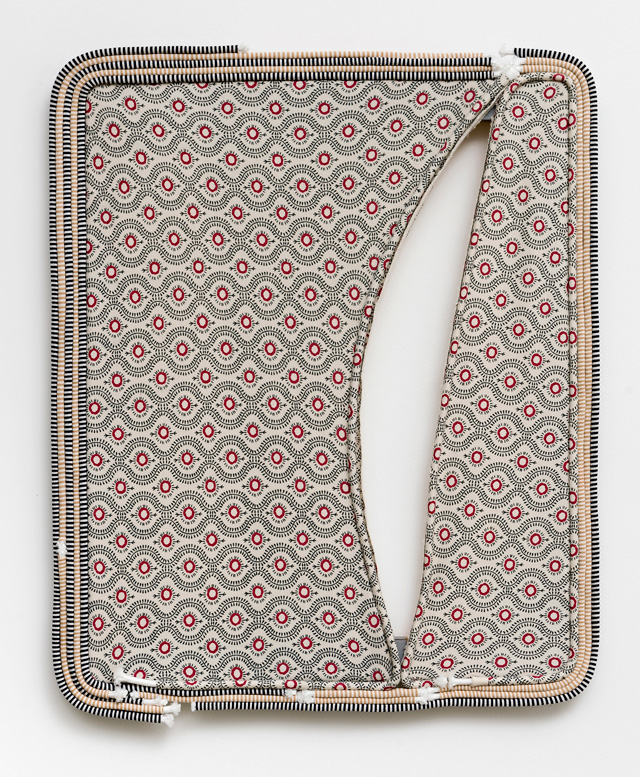 Gerda Scheepers. The border's border, 2019. Fabric, rope, wood, 57 x 48 x 3 cm (22 2/5 x 18 4/5 x 1 1/5 in). Image courtesy the artist; Mary Mary, Glasgow. Photo: Malcolm Cochrane.

Inspired by the practice of painting, and seeing her work as a form of it, by employing fabric instead of paint, Scheepers uses these layers of material inventively and expressively, revealing in the breaks and absences her interest in the ambiguity of form and physical things, and the crossovers between inanimate objects and human bodies. In so doing, Scheepers creates a world in which the personal breaks out of the sanitised structure of domestic life, infused as it is with wider social expectations. Inherently political, she shows a subverted domesticity, in which human emotions pull at the seams of their physical environments, tugging at the structures that do not hold, do not fulfil, do not contain. In this critique of "the wonderful everyday", Scheepers reveals, with pathos, the eternal, petty struggles of regular, human life, and the sisyphean struggle of the most basic DIY – a sweetly modern existential crisis, told in furniture that no longer serves any clear purpose.