David Kohn: 'In trying to broaden what architecture could be, it feels like there is room to breathe'
From a house extension modelled on a fox, to a new quad for an Oxford college, to a hotel in the air, Kohn has tackled them all, with – as he explains – a little help from some very strong-minded clients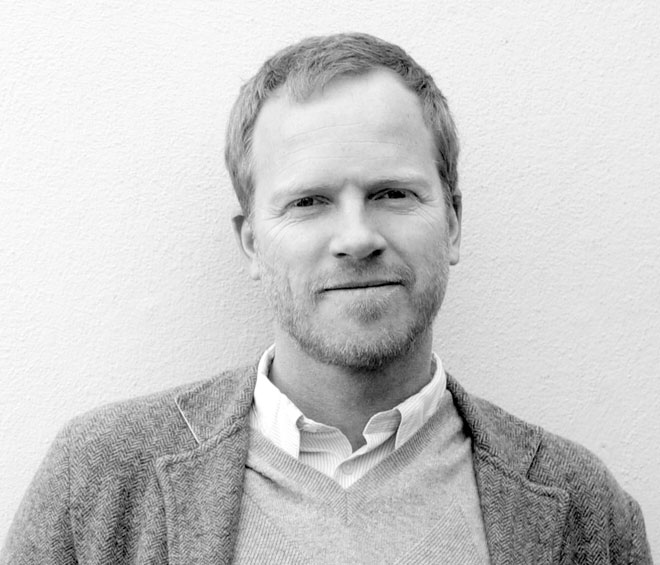 by VERONICA SIMPSON
He helped artist Fiona Banner to insert two fighter jets into Tate Britain's Duveen Gallery (Harrier and Jaguar, 2010), and placed a hotel in the shape of a boat on top of one of London's premiere concert venues (Room For London, 2012). He has created understated but distinctive gallery spaces for Sotheby's, Stuart Shave, Stephen Friedman and Thomas Dane, then been invited to design homes for the last three gallerists. Despite setting up his practice David Kohn Architects (DKA) only in 2007, he recently won the UK establishment's ultimate benediction – a commission to design a new quad for an Oxford college. He is also working on a major refurbishment project for one of London's most iconic contemporary art spaces.
This multiple award-winning architect has made his mark, both for the subtle yet distinctive qualities of his spaces and for his generous, collaborative approach. Here, he reveals the advantages and challenges of working with strong clients and strong material.
Veronica Simpson: Collaboration is a real buzzword in architecture at the moment, although there are not so many architects who perhaps truly understand or practice it. Looking at your work, it seems that ethos was embedded from an early stage.
David Kohn: I'm not sure we could do it any other way. It's all dependent on the conversation (with the client). So with our domestic clients, I'd like to think they all feel like they have also designed their homes, but that … the work looks sufficiently consistent to imply that we've been able to apply the same rigour to each project. That's also true of gallery spaces. For example, with Thomas Dane, he often reminds me of the moment where he influenced the design of his gallery in a very particular way.
VS: What was his intervention?
DK: His gallery is quite oddly shaped. It's a (former) showroom on Duke Street, St James's [London]. We stripped all the linings in the space out to reveal a very raw shell with a couple of odd corners. Our strategy was to put inside this shell a white box, but just up to a certain level or datum, so it would be like a theatre set inserted into this raw architecture. We wanted it to be a clean, cube shape, to keep it quite pure. I think he took (our plan) to an artist and came back with the idea that we had to make the plan follow the line of the building. It was a very good judgment, and has helped to make it a very particular place to show work in. There wasn't such a stark contrast between the raw, awkward shell and the perfect white cube inside. The two were slightly more accommodating of each other. It gave it personality, where maybe the previous concept was quite cold. That felt like an important moment in the design process.
VS: Which experiences in your early life as an architect helped form your approach?
DK: For 10 years after graduating, I worked in several practices. I spent the longest time at Caruso St John [creators of many galleries, including several Gagosians, the recent extensions at Tate Britain, and Damien Hirst's Newport Street gallery, which won the 2016 Stirling Prize]. I was there for four years before I set up. I taught with Adam [Caruso] and Peter [St John], and that was a good education – they certainly taught me how to teach. The first job I got was teaching and I taught at Cambridge with Tom Emerson [founder of 6a Architects, another London art-world favourite]. We were in the same year in diploma and then taught together for a year and then taught at what is now The Cass [at London Metropolitan University].
In my first year of teaching at Cass, I decided to do a year's research into restaurant design. That was partly because I was interested in what architects tended to shun. They tended to be slightly sniffy about interiors – restaurants, retail. On the one hand, that was a way to somehow slightly critique what architecture is meant to be and, second, to find a territory that was fairly uncrowded. So we set about trying to find examples where architects were involved in restaurant design and look at why. We took students to Vienna, and we looked at coffee shop designs. The coffee shop was an integral part of a residential block. A lot of historic city blocks have cafes built in, so they were designed to be a permanent part of the city fabric. Here in the UK, cafes tend to be a fit-out of a shell and core, so there's an insubstantial feeling and they turn over very quickly and then that gives this feeling that the identity of the cafe is all surface.
So that gave us a lot of stuff to work with. We started inviting restaurateurs to come and talk to our students, and one of them asked if we would do a project with them, which just happened to be at the Royal Academy of Arts. That was fortuitous. It was very collaborative because the client wanted it that way. A good restaurateur, in my view, will have very strong feelings about the entire experience of the customer. So, as architects, you're not in that situation of having to invent everything. You're trying to realise that particular atmosphere and experience. And that's what this restaurateur brought, with Bistrotheque. It was great. They brought a lot of artists, fashion designers, who worked on the same project. I think it was being exposed quite early on in my practice to that way of working that informed everything else.
When you establish your own practice, you are looking for what distinguishes how you work. People rapidly came to enjoy this way of working.
VS: You also collaborated closely with artist Fiona Banner on a couple of projects. How did these schemes come about?
DK: Fiona had been approached by Tate to pitch for a Duveen Gallery commission. She was looking for an architect to help her plan where these planes would fit in this space, and we were recommended. So she came to our studio with this incredible idea: "I'm going to buy these aeroplanes and I'm going to polish one and paint the other, hang one from the ceiling and have one on the floor. Could you do a drawing to see if they'll fit?" We thought: "Wow, this is amazing!"
As we were sketching the plane in that space, this extraordinary thing started to happen. If you look at the architecture of the hall, it has this classical shape, with cornicing and embellishments, and the shape of the plane just sort of began to echo the shape of the void, and you realised that there was … this strange resonance between the architecture and the plane. It became a strong, sculptural experience in a way I hadn't expected, but that Fiona would have. I had thought it would be about that object and its particular history and the shock of it being a plane in the wrong place, and I began to realise it was much richer than that. It was very enjoyable.
So when the competition for Room For London came along (in 2012, Kohn and Banner beat 500 others to win the Living Architecture and Artangel competition to create a year-long arts venue, to be perched on top of the Queen Elizabeth Hall, on the Southbank), you were encouraged to work in conjunction with an artist. We were delighted when she said yes.
VS: It takes a kind of generosity as an architect to work with someone who has such a strong visual language of their own – confidence, too.
DK: Yes. I find that there's an excitement that comes out of working with people who have strong ideas: it's the dialogue, or the tension, or the trying to bring together seemingly incompatible things that forces a kind of synthesis that is surprising. You're not falling back on a formula.
VS: There was a great quote from an interview at the time that when you worked with Fiona you found: "Layers of disciplinary convention were being stripped away each time the project was discussed and reformulated."
DK: Yes, I think there were a few standout examples. One I remember is that the boat's interior was going to be made out of timber. We said we'd make it out of plywood, which is a material we use a lot. Fiona looked at it and said: "It's going to be like a sauna. This is a terrible idea." And I remember thinking we'd got all these reasons for doing it: it's boatlike, we know how to work with it, it's quite affordable. She was able to point out that the thing needed a degree of imperfection in order to have a texture that perhaps wasn't what a polite, contemporary architect influenced by minimalism but looking for something else would do. So I took her to the Sir John Soane's Museum, which she had not been to before. It's just an amazing place for inspiration for anyone. And I think that gave us the idea that the interiors would be very saturated in colour. So we started to look at stains, and the interior became very dark red, stained timber. We've gone on to use colour a lot.
We had done Stable Acre as this pure white house for Stuart Shave and … we'd done a lot of white cube stuff. But then, with Bistrotheque it was pattern and texture everywhere, a really rich environment. So we thought, right, we can do that. Then, working with Fiona, we realised it had to have this atmosphere that was not a result of this clinical "making of a place". I appreciated the process of incorporating these new elements. The eventual experience of going on the boat, with its dark, rich interior, is absolutely critical to the atmosphere that it creates, and I think it allows us then to talk about what is the atmosphere in the novella Heart of Darkness [Joseph Conrad's novel, which inspired the boat concept].
At the Soane's Museum, a certain element of unknowing is built into the architecture. We needed that built into the boat. The novella is very disquieting. It starts in a place you think you know, London, and ends in a place you really don't know at all … maybe you do know it … but it's the parts you keep hidden. The country's institutions are built on a business that has incredibly dark dimensions to it. London has covered over it as a city. So then there was an interest in how could the space be a metaphor for this type of journey, both to a place but also an interior journey. That conversation was because of the direct involvement with Fiona. It's heavy stuff as an architect to engage with, but with Fiona it was possible. It's probably affected our confidence in our ability to engage with things of a certain complexity.
VS: Can you give me other examples, perhaps inspired by that experience, where you've gone somewhere that you might not otherwise have gone?
DK: Yes. We did a back extension for a house in Tufnell Park and we took on the commission because the conversation with the client from the outset was: let's do something fun and interesting but also unexpected. We ended up doing something incredibly richly coloured and with lots of narrative elements. The whole shape of the extension took the outline of a fox. There was a figurative element to it – a fox in the garden. They have three young boys and the conversation about the fox came from them attending one of the client meetings. And I think there was a lot of pleasure in it being many different things… There are colours inside we took from Adolf Loos' interiors, which the client was initially not sure about – it was too much. They asked if they could change one colour (out of three), and we went through loads of samples and it clearly showed that these colours are contingent on each other and it was almost impossible to change. That was also quite satisfying: that somehow we proved to ourselves that this was a set of relationships that worked. And I think it was also nice to feel that colour is something that architects don't normally engage with. It is becoming more common. Again, in trying to broaden what architecture could be, it feels like there is room to breathe; one can find these areas of practice that are in a way normally dismissed. It's about trying to engage with the discipline and not just the project.
VS: And are you able to bring any of that to your latest project, an apartment for Thomas Dane?
DK: It's in Westbourne Terrace, a Grade II listed London terrace. They were palatial houses divided into flats. His is on the first floor, the piano nobile, so he has two incredible rooms facing the street, with very tall ceilings, generous windows. But then the rest of the apartment is kind of little spaces that don't connect with these two rooms. He felt there was no flow. It had previously been refurbished by Annabelle Selldorf and she made a decision to make large openings, from the ground to near the ceiling, in these two front rooms. And that had the effect of making them feel very like a gallery. We are trying to domesticate it, in a way. All of the openings are resized to make a sequence that has less abrupt transitions.
The second bedroom had a tiny bathroom so we turned the second bedroom into a much larger bathroom. The flow and proportions balance out against the show spaces and it ends up being quite an extraordinary apartment. This has been more of an exploration of spatial design.
VS: You have said that architecture should always be background to human activity.
DK: We have often returned to the domestic as a grounding experience that can be a way into making places more familiar in some ways, or more sympathetic. I'm keenly aware that people are often forced to travel through spaces that bear little relation to how we like to orientate ourselves, or how we occupy things in terms of the scale of a table, the scale of a conversation.
VS: Like airports?
DK: Exactly: a classic example. But even offices, even galleries. I think architectural practice has something to do with it. The act of drawing something, which abstracts it, allows one to make all sorts of judgments that are slightly divorced from the human experience. And often social experiences can be conducted in much more intimate spaces than architecture provides for. We've often tried to domesticate other building types. A lot of gallery spaces are trying to reconnect to the space of a home. The dimensions of the grand 19th-century home, which gave birth to the salon, is the forerunner of a lot of our institutions. They provided space for discussion, for art, for music. We're not trying to recreate that social model. But you can recover the pleasures of listening to music or looking at things in a setting that is about different scales.
VS: What spaces, for you, exemplify that?
DK: The Villa Necchi in Milan. It was a private house built in the 1920s for a wealthy industrialist. I was taken there by a local architect when it was turned from a private house into a museum. It's now well-known as the interior that [the 2009 film] I am Love was shot in. And I remember going round there thinking: this place is amazing. And the reason it's amazing is because the ground floor is like a series of hanging out spaces, but within a slightly grand 1920s architectural envelope. There are quite large rooms, but in each room there is a secondary architecture of bookshelves that make little niches; they were designed for card games. You could have 60 people in the room playing cards in groups of two or four, quite comfortably.
The problem with public space is it's usually a vast, empty space with a bench. Or it's a restaurant where the acoustic is such that you can hear everything else, but you can barely hear the person opposite. The Villa Necchi was designed to be large enough for lots of people, but it was a setting where everyone could have a conversation. I realised that probably the origins of a lot of public spaces were these kinds of interiors. But for economic or political reasons - the disassembling of that culture of patronage in order to make a different kind of public institution - it probably meant things were removed …
VS: … which are now being put back – for example, in The Switch House at Tate Modern, there is as much emphasis on hanging out and conversational space as there is on gallery space.
DK: There's a return to greater concern for the journey, for the thresholds: thresholds allow us to comfortably encounter other experiences. And that comfort can make us more receptive. It can allow us to have greater confidence in new conversations. Once one has experienced the shock of no threshold or endless abrupt changes, one realises that the value was the shock. If it's no longer shocking, but one has no means of acclimatising or decompressing, then one has no way of mentally shifting to an appropriate mode of reception. Why shouldn't architecture be generous in allowing people to have access to their faculties?
There's (also) a certain scale that makes an enclosure. If it's too large, too far away, it won't feel like an enclosure. All our galleries have that (consideration for thresholds and enclosure) to a degree. They're all very episodic. While working on New College [new student accommodation and facilities at New College, Oxford], we came across this fantastic essay written by [art and architectural historian, Sir Nikolaus] Pevsner in the 1940s but only published in 2012. It's called Visual Planning and the Picturesque. There are a number of walks through Oxford that he documents and photographs in the book. And one of them is around the perimeter of New College. He (takes photos at strategic points to show) there's … the Bridge of Sighs here, in the distance, a tower and over the top you'll see a dome. Basically, the book is like a theory that this has been by design. The person that put the bridge in, placed it in such a way as to frame the view of what was already there. There's this very particular English love of the picturesque that's informing all of these decisions. In fact, this is a theory about how the English plan cities. It is around the constant reframing of views. It's urban design. It feels connected to this way of studying thresholds, planning houses. We've adopted that and now in our scheme for Oxford there's a sequence of spaces you go through where new and old fragments are framed by new and old pieces of architecture so that one bit is synthesising the whole. It's allowed us to make what we hope will be a very Oxford experience, but with a lot of new architecture.
VS: You have also created a very curvaceous and more open structure than the traditional introverted quadrant. [The structure is only three-sided, with the open edges curving in like a voluptuous horseshoe, leaving the fourth side open to the landscape.]
DK: Yes, the brief was: we want something timeless but contemporary and it has to be as significant architecturally as the Great Quadrangle (commissioned by William of Wykeham in the 14th century).
VS: No pressure there, then! It's always such a badge of honour as a young practice to win an Oxford or Cambridge building.
DK: Yes, it has been an incredible privilege. They are an amazing client - incredibly supportive and generous.
VS: Are there any new materials or techniques that you'll be experimenting with there?
DK: We're thinking of using pebbledash on the building. It's had a hard time, pebbledash. There is a listed building on the site that is pebbledash. At competition stage, we drew the scheme as entirely stone. But the more we thought about it, we thought the form is so distinctive and emphatic: is that already enough? To make it stone would be to monumentalise it. The pebbledash becomes almost a domesticating aspect. If it's stone, it's very much monumental architecture: it's about the prestige and wealth of institutions. Also, we quite enjoyed the fact that it would have this slight frisson. This slightly unexpected contrast. But that might allow you to find out how to engage with it yourself.
VS: After the prestige of an Oxford college, are there any other projects on your wish list?
DK: We are doing a large art gallery refurbishment, but we can't announce it yet. That's extremely exciting. That will probably finish in 2019. There's a new director starting in November. He's determined to make the artistic programme exceptional, though he wants a big, open space, so it will be interesting to see how we can incorporate that sense of thresholds and the visitor journey
DKA's project Carrer Avinyo is currently appearing in In the End: Architecture – Journeys Through Time 1959-2019, a major historical survey of contemporary architecture at the Architekturzentrum Wien, Vienna, which runs until 20 March 2017.
DKA also created the exhibition design for The Ulm Model at Raven Row, London, until 17 December 2016.