After Industry
This exhibition of works by Christer Karlstad, Willy Verginer and Jason DeMarte, fittingly staged in a former firehouse in Detroit's Eastern Market district, explores the post-industrial condition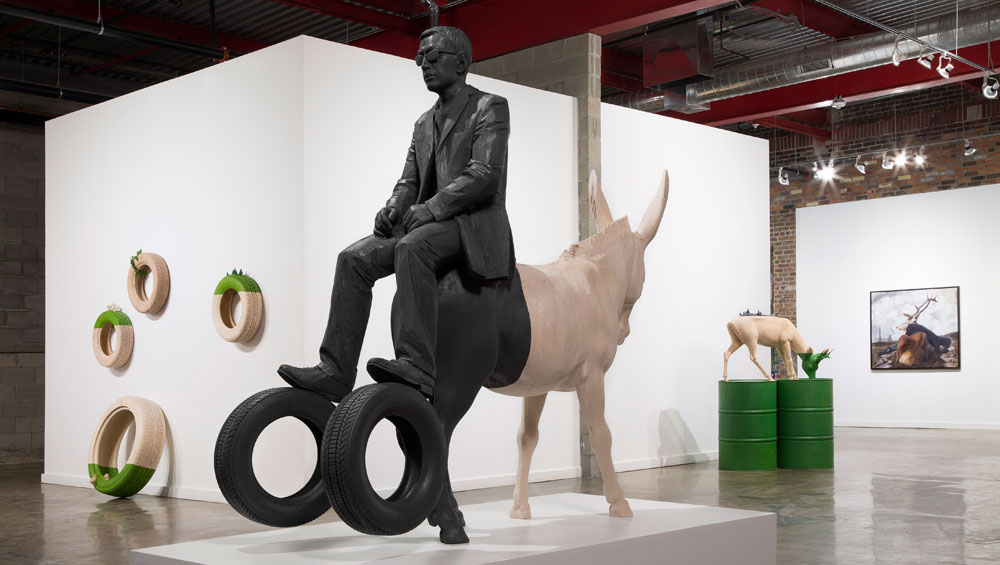 Wasserman Projects, Detroit
3 February – 8 April 2017
by ALLIE BISWAS
A hefty deer with soaring antlers forms the centrepiece of two paintings by Norwegian painter Christer Karlstad (b1974). In Sulphur (2012), the animal lies with its back to us, occupying a grey, murky terrain suggestive of a derelict industrial zone. Psychopomp (2016), which hangs next to it, presents a brighter environment. In this work, the deer is positioned frontally within a verdant field, meeting the gaze of the viewer. Against each of their dominating bodies, almost as an aside, is draped a fully clothed figure, whose face is concealed and slumped towards the ground. Although the narrative is ambiguous, the power dynamic in each picture is unmistakable.
The works in this three-person show, which also includes the Italian sculptor Willy Verginer (b1957) and the American photographer Jason DeMarte (b1973), present images of an urban environment that has failed – or is set to – and the subsequent resurgence of the rural. Furthermore, each artist reflects on the extent to which nature can in fact be controlled by people, and the consequences of intense human consumption.
The deterioration of industry drives Verginer's sculptures, which are grounded by standout manufacturing tropes: tyres, oil drums, overalls. Trained in the methods of traditional wood-carving, the foundation of each of his works is lindenwood, which he skilfully shapes to the point that the wood often takes on the patina of another material. The exhibition opens with Between Idyllic and Reality (2014) , a glaring statement that depicts a couple of upright oil drums on the floor painted the colour of luminous green grass, on top of which stands a young deer. Its head is painted in the same shade as the drums, while its body is left bare. This colour coding is a didactic system that Verginer consistently relies on. His series of four life-size tyres that are arranged against a wall (Wasserman Tire, Goodyear Tire, Detroit Tire, General Motors Tire, all 2016) use the same half-green, half-uncovered aesthetic, symbolic of both the separation and merging of the man-made and natural worlds. These references to the original Motor City are poignant, and a reminder that there is perhaps nowhere quite as post-industrial as Detroit.
DeMarte offers the most compelling take. His large-scale photographs, from a series titled Confected, are constructed scenes of domestic birds in backyard settings. From among this ordinariness emerge plastic toys, striped candies and foil-wrapped sweets that exist alongside the everyday flora, clinging to stems and hanging in mid-air. To create each work, DeMarte first takes pictures of individual parts of the composition before collaging them together. His digital manipulations result in exaggerated colours and forms, creating an atmosphere of hyperreality, as well as humour and beauty.
Whereas Karlstad and Verginer focus on the potentially catastrophic outcomes of industry clashing with tradition, DeMarte's studies contemplate the collective efforts to cultivate and enhance natural terrains, highlighting society's relentless attitude. Rather wittily, DeMarte's method of production – assembling his compositions segment by segment, and generating artificiality within the frame – echoes this very sentiment. The point, perhaps, is that there are limits to such meddling. The conclusion may result in confectionery falling from the sky.
The immense space of Wasserman Projects is an apt site for these formally diverse works. The building previously functioned as a fire station and it is difficult not to keep this history in mind when viewing the works on display. As the city of Detroit reminds us, with its recent resurrection, the post-industrial does not have to result in doom and gloom. Yet, as this exhibition signals, the new state of things is one where industry is no longer in charge.