Marlie Mul: 'It's not a refusal. It's that, basically, nothing was possible'
Until the end of October this year, there will be no exhibition in Gallery 1 of Glasgow's Gallery of Modern Art. Here, Marlie Mul, the artist who was meant to be showing in the space from May onwards, explains why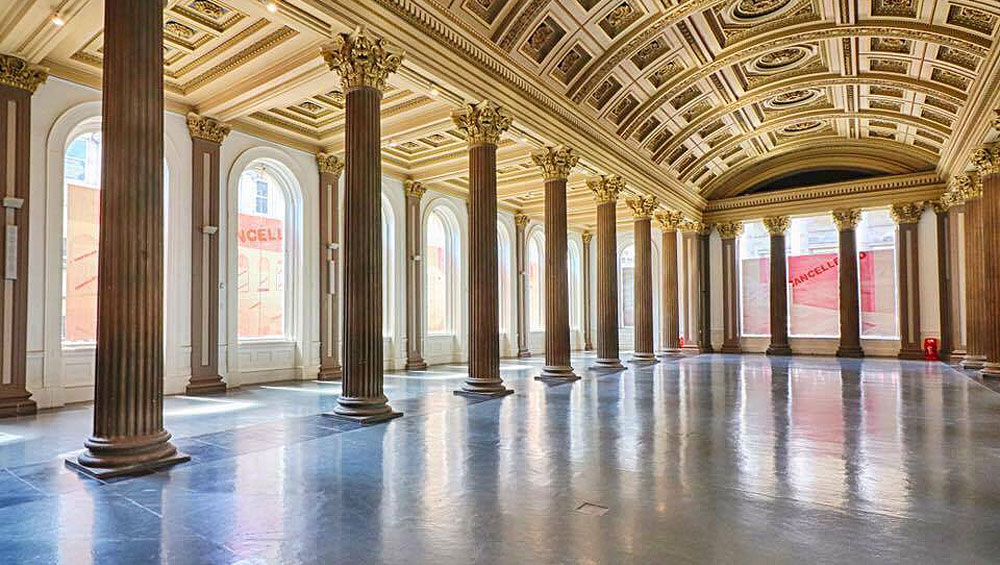 by KRISTIAN VISTRUP MADSEN
In the middle of Glasgow's historic centre, the Gallery of Modern Art (GoMA) has, since 1996, introduced more than half a million people a year to contemporary artists, free of charge. The impressive neoclassical building was originally built in the 18th century for a wealthy tobacco merchant, but, today, beneath its distinctive clock tower, is a completely open and public space for culture.
Inside, the lavish hall is all but cleared: the corinthian columns and the adorned ceiling stand out all the more because of the emptiness of the room. The light coming through the windows has a pinkish hue, reflected by the posters advertising the cancellation of Marlie Mul's exhibition. Outside, on the facade of the building, is a banner with the same words: Marlie Mul – Cancelled.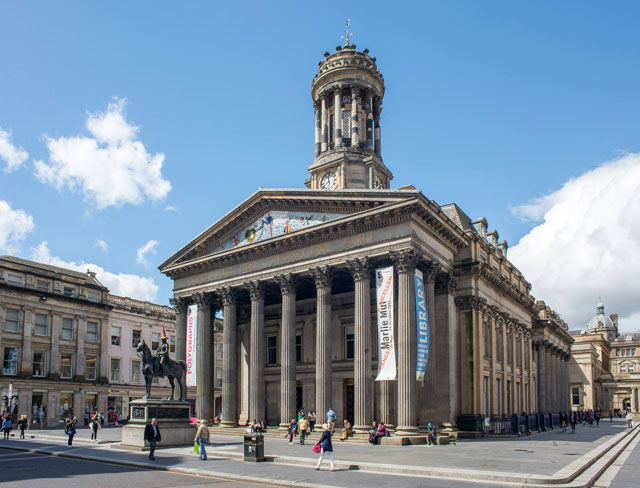 Marlie Mul: This exhibition is cancelled, Glasgow Gallery of Modern Art until 29 October 2017. Photograph: Max Slaven.

GoMA is a largely state-funded gallery, which, as is the case in most places, is always threatened by budget cuts, and otherwise relies on severely unstable funding models. During these times in Britain, it is not surprising that such an institution would have to cancel an exhibition. What is surprising is that, in this case, the cancellation appears to have an author.
Mul is an artist who, in the past decade, has exhibited widely in group and solo exhibitions internationally. While the GoMA exhibition would have been her first in Scotland, she has previously exhibited in the UK, most recently at the now-closed Vilma Gold in London in 2015. She is represented by Croy Nielsen in Vienna. Mul, who was born in the Netherlands in 1980, has been a Berlin-resident for many years. I met up with her in the gentrified Prenzlauer Berg neighbourhood, where we drank vegan vegetable smoothies. "They cost as much as a meal," she remarked, as we paid for our spinach-coconut-ginger concoctions.
Berlin being a city undergoing a rapid change, fuelled not least by the immense presence of art and artists, it is impossible not to be aware of the contentious role that culture plays in local politics and city planning. But with her exhibition in far-away Scotland, Mul became entangled in such issues rather more unwittingly. As we gulp down the expensive green liquid, I ask her: what happened in Glasgow?
Marlie Mul: So, there is no show. After more than a year of working towards what should have been an exhibition of especially new works, I cancelled it, and specifically requested that the museum not plan another exhibition in its place. The space is now empty, and the only thing there are billboards glued to the windows of the gallery advertising the cancellation of the exhibition. The billboards show photographs of a cardboard scale model of the museum's main gallery space that I had made in my studio. In the windows of the model, I stuck these miniature posters that have the words "CANCELLED" written on them in red letters. This is the last proposal that I sent to the museum's curator. That's all there is.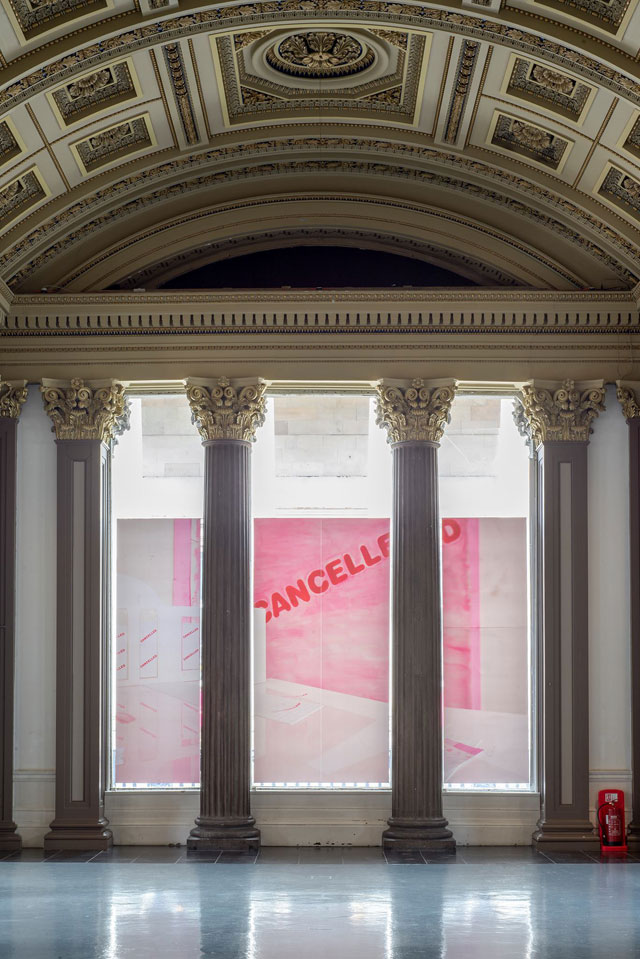 Marlie Mul: This exhibition is cancelled, gallery view, Glasgow Gallery of Modern Art 2017. Photograph: Max Slaven.

Kristian Madsen: So it's cancelled, but there was also a proposal. In other words, it's as slight an exhibition as it could possibly be?
MM: None of my proposals could be realised in the space. This was coming from the gallery and, as I was told, was either down to budget, or health and safety issues. Some of these are obvious, given the accessibility of the museum, and its location on a busy street. But not being based in Glasgow, I wasn't aware of the extent of these issues, and nor were they clearly presented to me. What wasn't clear either was how much, or rather, how little budget was available for my project. Between these issues, it was difficult to imagine what was possible and what was not possible for me to realise. In the end, there are no objects in the space, and because there is no empty wall surface in the gallery, I've used the windows to hang the billboards. There were certain other elements that I would have liked to show, but, for the same reasons, these were cancelled right before the show's planned opening. It really started to feel as if this exhibition was cancelling itself out day by day.
KM: There are many examples in art history of what we might call artistic inaction: from Yves Klein's empty gallery and John Cage's silent symphony, to Charlotte Posenenske ceasing to make art for the rest of her life. I'm wondering what relation this platform you have made in Glasgow has, or doesn't have, to this history of refusal, or withdrawal in art?
MM: It's not really a refusal, it's that, basically, nothing was possible. I was really looking forward to doing an exhibition at this gallery. Instead, I am exhibiting the impossibility of the situation, and the failure of the museum's administration to take responsibility for the artists it involves in producing its programme. The limitations and requirements of the institution were taking over my work, and for this project still to make sense to me, I had to flip this negativity around and turn it into a generative element. Staging this refusal is not so much a conceptual as a constructive response to the situation.
KM: So although it was your decision to cancel the exhibition in the end, it sounds as if the institution didn't leave you much choice?
MM: Regardless of the ideological position an institution might have, financial pressures mean that a lot of concessions and compromises have to be made. But when an institution cannot fully live up to the responsibility that this scale of exhibition demands, be that due to financial pressure or other internal and external logistics, it can be very difficult for them to produce a situation that is completely satisfying for the artist and for the audience. Having done numerous exhibitions, one learns that the circumstances and bureaucracy one is presented with as an artist always become a part of the work to a certain extent. Although relative to the enormous expectations there were of this exhibition, the initial means were not realistic in comparison. I started to feel that my practice was completely limited and instrumentalised by the institution, so much so that, yes, at some point there was not much choice.
KM: Where these examples from art history are deliberate conceptual gestures, one might say that your cancellation is more like a product of necessity. Thinking also about postmodern sculpture and Lucy Lippard's dematerialisation of the art object, it seems that, here, it is the brutality and precarity of the art system that has forced the art object to dematerialise.
In a sense, you were caught in a clash between the demand for art institutions to have an international profile and invite artists from abroad, and then the very particular local politics that inevitably play out around and inside the gallery space.
MM: Exactly. Because I am not based in Glasgow, I'm not familiar with the local cultural politics. I was aware that making a gesture, as the one I have made in this institution, would have local political repercussions, but I could not have guessed the exact extent of this. As an artist coming from elsewhere, I could only respond to my direct experience with this specific institution and the effects it had on my personal artistic practice. Now that I understand slightly more about the local context, in hindsight I see that the problems that have arisen were latently present, and would inevitably affect my work and position.
KM: And what has the effect been, so far, of bringing these issues to the surface in Glasgow?
MM: Well, I'm not in the city myself so it's hard to know exactly how people are taking it, but from the day that the space opened, presenting the cancellation, local, usually conservative, media and tabloids have been using this narrative to antagonise art, saying: "Look at what artists do with our taxes. They don't do anything and even get paid for it." Or it becomes a chance for the local government to question the importance of having art exhibitions in this space at all. Although my name is used in connection with all of this in the media, it doesn't really have anything to do with me personally as such, seeing as the issues that have been arising following the cancellation were obviously already there. But I do hope that the institution sees all of this as an opportunity to address these issues and won't shy away from potential discussions about what are, in my opinion, quite timely questions about the role of the art institution in a city. However, it could also very well be that it lets it all blow over until everything is back to normal with the next planned exhibition. That would be a shame, I think.
KM: What's now on GoMA's website is a link to an application form for members of the public to apply to use the space. Do you see that as a conceptual extension of your work, or is it much more simple than that?
MM: From my side, the cancellation is definitely not a conceptual strategy. The form is their initiative because by cancelling the exhibition I basically invited them to repurpose the space for the period of time planned for the exhibition, which they could do in any way they wanted. Technically speaking, the space is open to the public during regular museum opening hours, and people can just walk in and do things in there. But I assume that because of what are, in the end, the same logistical and health and safety issues that I had to deal with, people have to write proposals to the museum, and they will go through them and decide what will happen in there.
KM: It's quite ironic how the scenario doubles here.
MM: Yes! But you also just see people being inside the space and starting to appropriate it, which is amazing. It was quite hot there for a week, and, hiding from the heat, people started having spontaneous dance practices in there. People are not scared of the space. It's very grand and ornate, so visitors are happy to just look at the interior. A local amateur photographer actually posted to Twitter: "The Marlie Mul exhibition at GlasgowGoMA is 'Cancelled' the main #gallery is empty! Great for photos!" The general public might not mind if there is art inside this space or not, but that doesn't mean it isn't important to have space for exhibitions and to engage with art in such an accessible and central location. It is just really important that we stand still to rethink what such institutions can do for us today, and what role their role is in a city, often large cogs within the machinery of gentrification.
KM: This question is quite a serious one: If the public wants art, the city has to be willing to invest in it, and if it doesn't, then we need to talk about what that means. Were you prepared for having opened such a can of worms?
MM: Like I said, the cancellation was first and foremost a response to my personal experience with this institution. But this experience, of course, is not unique, but native to cultural politics everywhere right now. My idea was to emphasise the production process and the labour that I do as an artist, that is: the premise for making, or not making, the work. Basically, it became important to show where to draw the line in terms of my working conditions. The posters in the windows show photographs of a cardboard scale model of the gallery that I made in preparation for my exhibition. After working on the exhibition for a while, it was the only thing that remained. The cheap materials and the model standing in my studio are very important factors to me because they bring the entire situation back to the reality that I have been, and am normally, working in. With this, I wanted to foreground the working process, one that, in this case, was blocked over and over again by the endless row of concessions and compromises that this institution has been imposing onto my practice. It comes back to this idea that you, as an artist, are so very lucky to be given the privilege to exhibit, regardless of how you are treated within that framework. Of course it is also an incredible privilege for me to be able to cancel the exhibition – that would not have been an option for everyone. Therefore, I really felt that I had to use this exhibition as an opportunity to start addressing these issues, starting from my own experience, but hopefully also opening up a wider conversation.
• Marlie Mul: This exhibition is cancelled is at Glasgow Gallery of Modern Art until 29 October 2017.