Lucia Nogueira
As this selection of work shows, the sculptures and installations of the Brazilian artist, made from found or secondhand objects, are full of contradictions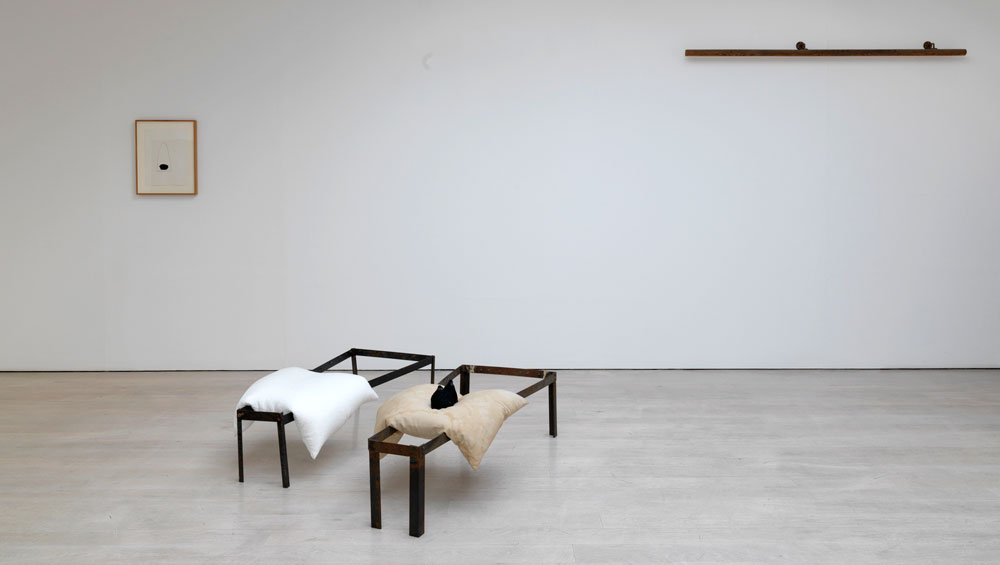 Annely Juda Fine Art, London
22 September – 29 October 2016
by CASSIE DAVIES
Lucia Nogueira collected everyday objects that she found on the streets of London or in secondhand shops, and adapted them as works of art. For Nogueira, discarded objects had a surprising potential. Her sculptures and installations have an uncanny quality, her found objects released from their ordinary function and given some other meaning. That meaning, however, is difficult to pin down. Artist Liam Gillick once wrote of Nogueira's skill of "taking things that are close to hand and imbuing them with malignancy and magic", and those terms, "malignancy" and "magic", perfectly capture the atmosphere created by the works currently on show at Annely Juda Fine Art.
Nogueira was born in 1950 in the town of Goiânia in central Brazil. In 1975, she made a visit to her brother in London, and ended up staying there until her untimely death in 1998. She studied painting at Chelsea College of Art (1976-79) and after at the Central School of Art and Design (1979-80). Following her first solo exhibition at the Carlile Gallery in north London in 1988, she had major shows at the Serpentine Gallery and the Chisenhale Gallery, among others.
Many of the works on show at Annely Juda demonstrate Nogueira's extraordinary eye for placing random objects in conversation with each other. In one piece, titled Step (1995), shards of broken glass are scattered at either end of an oriental rug. There is nothing unusual about a rug placed on the floor, but it is the broken glass that unsettles this ordinary object. The viewer is given no indication of what the shards once were as a whole, or what event – real or imaginary – caused the object to be shattered and violently flung across either side of the carpet. The objects that make up Step are juxtaposed: with the shards of broken glass scattered as they are, the carpet is no safe ground for stepping on.
Step forms the centrepiece of the show at Annely Juda, and around it other ambivalent conversations between objects unfold. Another piece, titled At Will and The Other (1989), is composed of two metal frames, two feather pillows and a bag of black beans. The objects sit uncomfortably together, their relationship even more incongruous than that of Step. The dried black beans reappear in Untitled (1990) but, despite Nogueira's Brazilian heritage, we are told that they are not an extension of this, nor of Brazilian art. Neither does her work reflect London's art scene at the time – instead, Nogueira's sculptures and installations manage to circumvent any cultural classification.
The focus is wholly on the conversation between the objects Nogueira has brought together, and between those objects and their audience. Part of the discomfort that arises when observing Nogueira's sculptures and installations is the way that they draw attention to an absent body. In another untitled piece, for example, two slates hang side by side on the wall, chalk notes scribbled on them. Alongside this, a black wooden box is propped against the wall, just inches below the ceiling. Suspended as it is, the box is made entirely inaccessible, and even more so because of its hidden interior, left to the audience's imagination. A pair of Dr Martens shoes rest on top of the box, crammed in to the small gap between its surface and the ceiling. Even if they did have an owner, they are awkwardly out of reach. A single piece of thread, with a crocodile clip attached, hangs from beneath the box, its delicateness juxtaposing with the sturdy object attached to it. Both pieces have a ghostly presence, recalling a body that was once there but is now absent.
Boxes and closed spaces appear to be a running theme in Nogueira's practice, or at least in the selected works at Annely Juda. Both Residue (1991) and Store (1992) are sealed wooden boxes, their contents (if they hold anything) hidden from the audience. Sometimes, Nogueira suggests the contents of these closed spaces, although her ideas of what these spaces might hold is tauntingly ambivalent. Like the wooden cabinet of Without This, Without That (1993), which has a metal chain and rubber plug leaking from its door. Or Monosyllable (1993), which is composed of two boxes, one open and the other with its lid slightly ajar showing hair bunched inside it. Then there is Cupboard (1996), which has no surprises – a small black cupboard with open doors, showing an empty interior.
Closed or open, all these objects share the purpose of holding other objects, and Nogueira challenges this. She detaches objects from their original use, manipulating them and leaving them instead as spaces for the audience to project their imagination on to. It is not always easy to imagine how Nogueira's found objects fit together: as the selection of work at Annely Juda shows us, Nogueira's sculptures and installations are full of contradictions.
Alongside these works are a selection of Nogueira's ink and watercolour drawings, which give the audience some insight in to the imaginary process behind her sculptures and installations. Drawing was essential to Nogueira's practice – in 2005, The Drawing Room, London, curated a show that focused solely on the artist's extensive collection of works on paper. Nogueira meddles with figures through ink and watercolour, producing images that have both a humorous and sinister quality. The selected drawings at Annely Juda lean towards the sinister, and their dark, incongruous shapes relate to the sculptural works that surround them, allowing the audience to enter in to the inner workings of Nogueira's creative process.