Pre-Raphaelite and other Masters: the Andrew Lloyd Webber Collection
20 September-12 December 2003, Main Galleries, Royal Academy of Arts, London
Andrew Lloyd Webber's collection of Pre-Raphaelite paintings is probably the most distinguished in private hands. Built up over 40 years the collection mostly comprises mainly 19th century paintings and decorative art. The exhibition at the Royal Academy this autumn provides the opportunity to view these fine works for the first time since they were acquired by Lloyd Webber. Three hundred paintings are on show.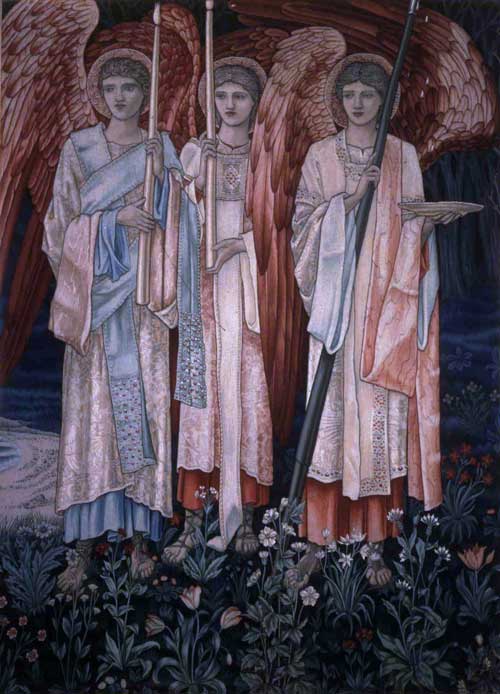 Sir Edward Coley Burne-Jones The Attainment: The Vision of the Holy Grail to Sir Galahad, Sir Bors and Sir Perceval, (detail) 1890-99. High-warp tapestry: wool and silk weft on cotton warp242 x 714 cm © Collection Lord Lloyd-Webber

The strength of the collection lies in the paintings by Millais, Rosetti, Burne-Jones, Waterhouse, Stanley Spencer, Tissot, Holman Hunt and Alma-Tadema. The show is complemented by superb examples of furniture by Pugin and Burges, ceramics by William de Morgan and tapestries by Burne-Jones, executed by William Morris & Co. The collection also extends backwards and forwards chronologically from the Victorian period to include Canaletto's panorama of mid-18th century Whitehall: 'The Old Horse Guards, London, from St James's Park' c. 1749. Canaletto spent time in England between 1746 and 1755 where he painted detailed panoramas of London. Lloyd Webber's collection also contains a large portrait of the young 'Prince of Wales' (later George IV) by Joshua Reynolds and two paintings by Edwin Landseer. Moving into the 20th century, paintings by Stanley Spencer, Picasso and L.S. Lowry reveal Lloyd Webber's eclectic taste. Indeed, Lloyd Webber himself describes his collection as 'very much a personal collection based on (my) own taste'.
The strength of this exhibition certainly lies in the fine collection of Pre-Raphaelite paintings but it is not surprising that some critics have felt unsympathetic towards it for Victorian painting has long been unfashionable. It is important to remember, however, that Pre-Raphaelite painting grew from a spirit of disenchantment with modern life. The Pre-Raphaelites took their name from the early Renaissance artists such as Raphael and Michelangelo whom they considered purer, in spiritual terms, than later artists. The Pre-Raphaelite Brotherhood, formed in 1848, chose a somewhat monastic life gleaning subject matter from the Bible, Shakespeare, English and French history and Romantic and contemporary literature. The Royal Academy is a fitting venue for a large exhibition of Pre-Raphaelite work, since the Pre-Raphaelite Brotherhood was formed in and around the Royal Academy Schools, which at that time occupied the eastern half of the building in Trafalgar Square (now home to the National Gallery). Artists such as John Everett Millais and Dante Gabriel Rosetti attended. As with all members of the Brotherhood, Rosetti and Millais were thoroughly individual artists. Indeed, one of the problems they faced was that they could not be easily categorised, and their work was extremely diverse. One has only to look at paintings as different as Rosetti's 'A Vision of Fiammetta', 1878, Burne-Jones's 'The Attainment: The Vision of the Holy Grail to Sir Galahad, Sir Bors and Sir Perceval', 1890-1899 and Waterhouse's, 'St Cecilia', c.1895 to see that, as a movement, it had no stylistic unity or unified common purpose. The three artists, Hunt, Rossetti and Millais who formed the Pre-Raphaelite Brotherhood, 'were bound together by their friendship, by their dissatisfaction with the art establishment, and by their own indefinite aspirations. It was Rossetti, conceivably with some Italianate feeling for a cosa nostra rather than an English liking for a club, who had the idea of consolidating and crystallizing these discrete elements into a Brotherhood'.1
Their numbers were expanded in a fairly haphazard manner; they were largely friends of Rossetti's and their art varied considerably. The first meeting took place at Millais's studio in September in 1848. There, the members expressed an affinity with themselves and the Italian painters of the Quattrocento:
In purpose if not in technique; and that they determined that was absent from academic painting of a conventional sort. They would have discussed their dislike of the classical and baroque traditions… Rosetti would have talked of the poetic content of painting, and perhaps of the Nazarene-derived ideas he had learnt from Brown. They might - might - have talked of some moral and religious purpose. In any case, they were to follow Ruskin in the historiographical shift that depressed the status of post-Renaissance art and elevated that of the early masters and - potentially - contemporary painting.2
The Pre-Raphaelites did not possess the certainty of Ruskin, who was nevertheless a central figure in their movement and in the development of their aspirations. They did, however, share a common purpose, part of which was maintaining secrecy. There was a degree of naivety in their aspirations; they had a list of heroes who appeared (in sometimes unlikely sequence) in paintings by various members of the Brotherhood: Jesus Christ, Shakespeare, Homer, Dante, Chaucer, Leonardo, Goethe, Keats, Shelley, King Alfred, Landor, Thackeray, Washington and Browning.
In 1850, the Pre-Raphaelite Brotherhood published 'the first house journal of a self-consciously avant-garde artistic group'. In fact, the problems faced by many art magazines ensured that The Germ only published four issues. In the process, however, the secrecy of the society had to be abandoned. The Germ provided the first opportunity for Rossetti to publish his poetry, and it established a dialogue between poetry and painting, significant interaction between text and image. At the next Royal Academy exhibition, the news of the secret society who professed themselves to be practitioners of Early Christian art, caused a vitriolic attack on their work. Millais's painting 'Christ in the House of his Parents (The Carpenter's Shop)' was described by The Times as, 'plainly revolting'; the Literary Gazette dismissed it as 'a nameless atrocity … in which there is neither taste, drawing, expression, or genius'. Dickens, in his journal, Household Words, was damning in his response describing the kneeling woman as, 'so horrible in her ugliness that (supposing it were possible for any human creature to exist for a moment with that dislocated throat) she would stand out from the rest of the company as a monster in the vilest cabaret in France or in the lowest gin shop in England'.3
The Pre-Raphaelite Brotherhood brought into focus much about art that was taking place in England at this time. John Ruskin was a pivotal figure, not just in his views on the artists in the Brotherhood but also in elevating art as a significant activity. Ruskin asserted the view that art was capable of expressing moral power, that it could express good and evil, and that there was more to art than visual appearance.
The Pre-Raphaelites prompted debate and controversy in the arts. They were high-minded in their pursuit of deep feeling, literal truth and truth to nature. Colour was heightened by the use of a white ground; luminosity was achieved which exaggerated the energy and wonderment in nature. Minute detail and faithfulness to the subject was thus achieved. This was in contrast with early 19th century painting, which was very dark. Where Pre-Raphaelite painting had an even light across the canvas, the work that had preceded it possessed a 'principal light', where colours were organised from the central light to the dark parts of the canvas.
'Pre-Raphaelite and other Masters: The Andrew Lloyd Webber Collection', is accompanied by an excellent catalogue which charts the rising interest in Victorian art throughout the 20th century. Essays by leading authorities including Debra N Mancoff, Julian Treuherz and Stephen Wildman and Richard Dorment introduce the artists and the themes raised by the exhibition, and work of this period. The collection is testament to Lloyd Webber's passion for art of the 19th century (incidentally, a passion he shares with another brilliant man of the theatre - fellow collector, Barry Humphries). This exhibition is another success for the Royal Academy.
References
1. Timothy Hilton, The Pre-Raphaelites, Praeger Publishers, New York, 1974, p.32.
2. Ibid, pp. 33-34.
3. Ibid, p. 52.