Paul de Monchaux: Ten Columns
In only his second solo show, the 82-year-old artist explores the potential of the column as a site for improvisation and movement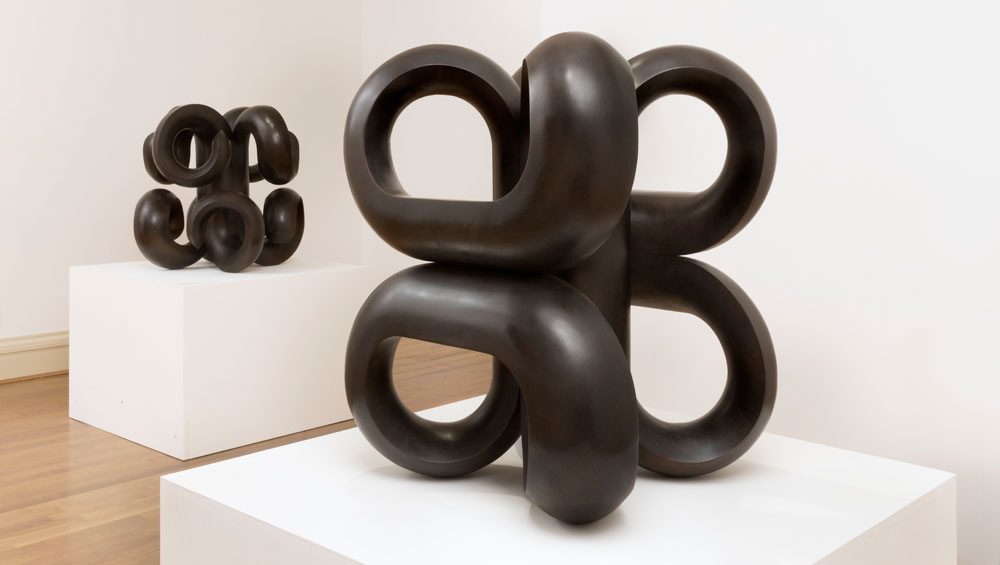 Megan Piper Gallery, London
24 November 2016 – 13 January 2017
by MATTHEW RUDMAN
On the surface, classical columns don't readily suggest improvisation, interpretation, creative licence – we are more likely to see them as static objects of rigid geometries and rigorous order. Not so for Paul de Monchaux, who cites the architectural historian Joseph Rykwert's 1996 book The Dancing Column as an important influence on the work he is showing at Megan Piper.
Ten Columns is a modestly sized exhibition comprising two bronze sculptures, Volute IV and V (2016), and a collection of eight small limewood sculptures, Studies for Male & Female Columns (2014/15). With these works, De Monchaux explores the potential of the column as a site for improvisation and movement.
This is only the second solo show from the 82-year-old De Monchaux, who first exhibited with Megan Piper in 2013. Speaking then in the Guardian of his late start, the artist remarked that his busy teaching schedule meant: "Simply getting the work made was the priority – there was little or no time to promote it." After more than 25 years of teaching sculpture full-time at Goldsmiths, University of London, and Camberwell School of Art, where he was head of sculpture and fine art, de Monchaux retired to focus on public commissions, which include works for Girton College Cambridge, Euston Station and the Wilfred Owen Memorial at Shrewsbury Abbey.
Megan Piper's gallery champions older artists, with careers of 40 years or longer, who may have been overlooked because of the art market's emphasis on youth. The gallery is housed within the lower level of Harris Lindsay, an antique dealership on Jermyn Street, and descending the stairs to the exhibition it is the eight studies that visitors will first encounter. These understated sculptures stand neatly in sequence on a raised platform; with their smooth surfaces and few visible seams, these are works of elegance and simplicity. Each column evokes either an Ionian or Doric column, often thought of as possessing female and male profiles respectively due to the varying shaft thickness and levels of ornamentation.
When the Canadian-born De Monchaux enrolled as a sculpture student at the Slade in 1955, life study was dominant. It is tempting to trace this early influence across the decades to this most recent output, hovering as it does between figuration and abstraction. The studies use familiar visual language to gesture at male and female forms, swelling in rounded bulges or projecting outwards at sharp angles.
De Monchaux's Volute series play on the ideal of the classical column more clearly: each is made up of a central shaft, with capital and base splitting into four segments that peel back on each other, curling into opposed or parallel trajectories. Visitors should take care to walk around, to view them from all perspectives – the profiles of these works are complex, their rounded furls shifting wave-like against the white gallery walls, coalescing from multiple angles to resemble the spiralling decoration of classical Ionic columns from which the series takes its name.
In the catalogue for Ten Columns, De Monchaux describes Studies for Male & Female Columns as a "utopia" in their completeness and self-sufficiency, but says: "It's surprising what a slippery concept that is. It is very difficult to get there." What difficulty he experienced is well hidden: these new works are calm, considered and enigmatic, revealing just enough to make one want to look again.