ChiaoHan Chueh: Intimate Play
Seamlessly joining calligraphic and ink painting techniques to the painterly gestures of western brushwork, her works are exuberant but defiant, loaded with psychological reverberations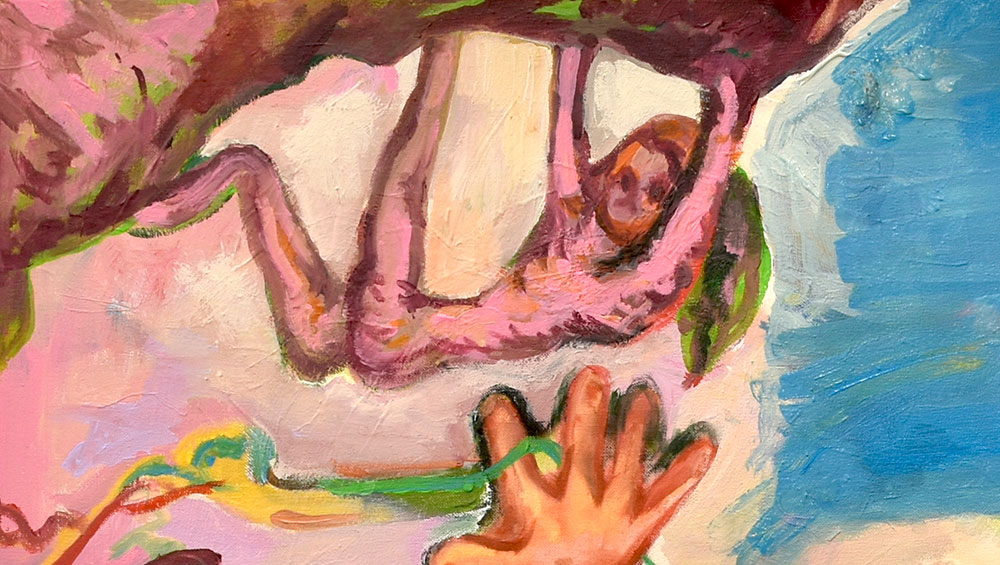 ChiaoHan Chueh. Orange Body in the Dry, Heated Desert, 2023 (detail). Oil and acrylic on canvas, 90 x 75 cm.
Nunu Fine Art, New York
15 June – 19 August 2023
by LILLY WEI
ChiaoHan Chueh's new paintings, all from this year, portray women in various stages of undress and sexually audacious and improbable postures, their elasticised limbs flamboyantly splayed and stretched, buttocks tauntingly turned towards the viewer. The deconstructed, often sharply outlined bodies, however, serve as critique rather than seduction, the ratio of abjectness and agency variable. The Hamburg-based artist (b1989, Taiwan) said that these works protest the strictures imposed on women by Taiwanese familial and societal norms that still tilt conservative, patriarchal. In some ways, I thought it surprising that Cheuh experienced such constraints since Taiwan is considered one of the most progressive countries in Asia, with a democratically elected woman as president, which is still a rarity, and not only in Asia. (Where, for instance, is the US's first women president?) But it should not have been a surprise, I suppose, since sexism is firmly entrenched in Taiwanese (and Asian) culture even as younger generations push back, seeking change, demanding equal rights for women.
The exhibition, the artist's first solo in New York, is called Intimate Play, a title that can be read in several ways. Intimate as an adjective means familiar, close to; intimate as a verb means to imply, to tell in an indirect manner. Play as a verb means to be engaged in an enjoyable activity or to assume a role; as a noun, a play is a dramatic composition, a performance. Cheuh's idea of "play", however it is parsed, is not merely an exuberant romp among butterflies and flowers but defiant, loaded with psychological reverberations, such as the shame of being female, she said. Her sketchy cartoonish figures range from impish to ghoulish, the human bodies at times transitioning into hybrid creatures of the artist's unsettling invention, conjuring wild animals, leering ghosts, disembodied heads and skulls and other strange fauna. The entangled figures are hard to separate and identify, more about dissonance than harmony – a metaphor for life today?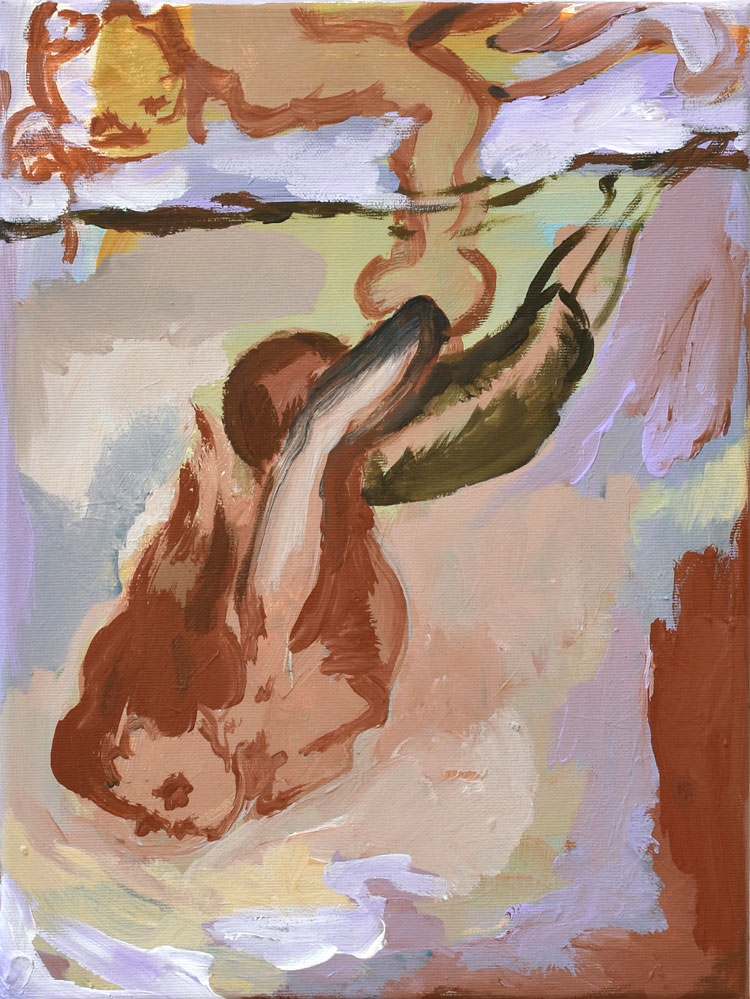 ChiaoHan Chueh. Diving Woman, 2023. Acrylic on canvas, 40 x 30 cm.

The emotive shapeshifting might also refer to Chueh's outsider status as a Chinese artist living in Hamburg, although artists are usually outsiders, thus compounding her sense of otherness and underscoring her probing of her subjects' elusive identities: where does one body end and the other begin? How is a body seen and defined out of its cultural context?
Females rule Chueh's world; the few men present are marginalised or subjugated in a reversal of roles (and fortunes). They are not masters here, as seen in Jobs for Daughter (2022), the naked father figure upended, colourless, in contrast to the two young women who grasp his legs, as if to drag him out of the picture.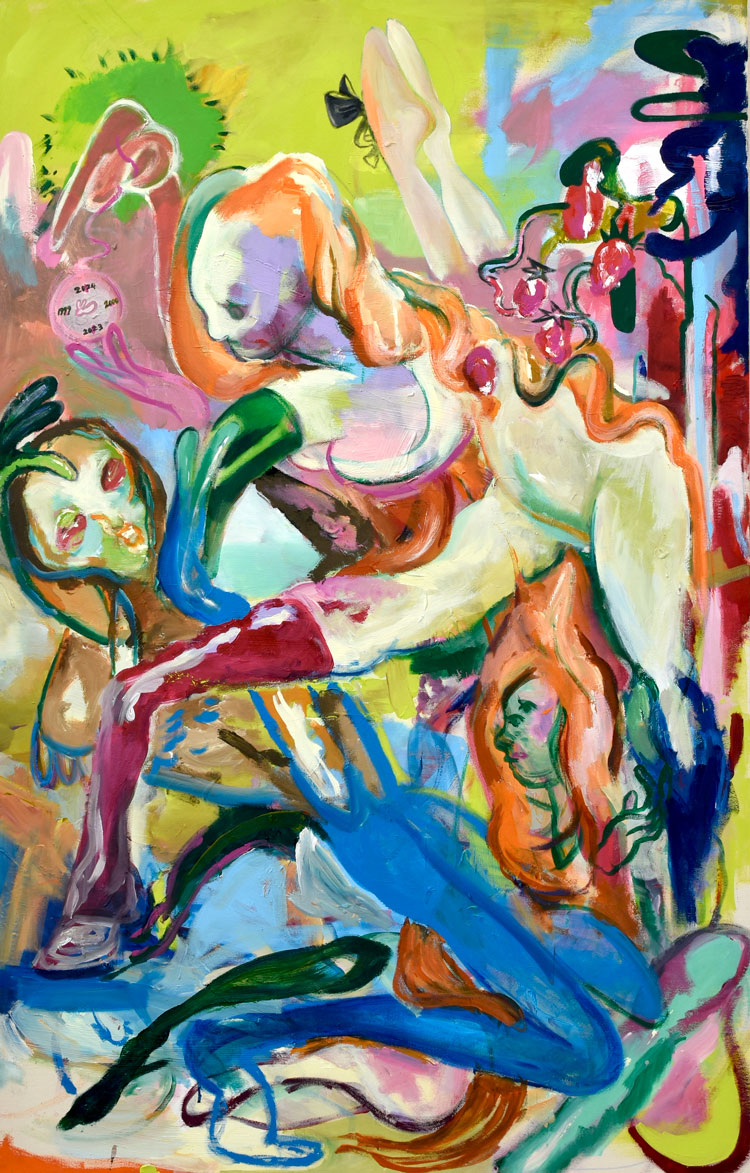 ChiaoHan Chueh. Dance me to the end of world, 2023. Acrylic on canvas, 195 x 125 cm.

Dance Me to the End of the World (2023) is a richer, more expansive work, its ambience that of a brothel, carnival, or cabaret, and focused on a commanding central figure that is a combination of dominatrix and mistress of ceremonies. Pushed forward, occupying most of the foreground, her twisted, nearly naked body is bent at the waist, legs wide apart, one elbow jutting outward as if into our space (and we should get out of her way). The painting evokes early 20th century German expressionist canvases, although not as sombre or brooding, not as dramatically chiaroscuroed. Chueh's palette here consists of candied colours for the most part, the effects sliding in scale between raucous, even violent, to muted and tender. Her hues range from bubble-tea pinks, violets, crimsons and magentas to aquas, pale blues, ultramarines, chartreuse and other shades, like artificial colouring tamped down by flesh tones and darker, earthy notes. The descriptive and formal are tautly balanced, but, ultimately, the formal demands of the painting take precedence, which, as every painter knows, has a will of its own.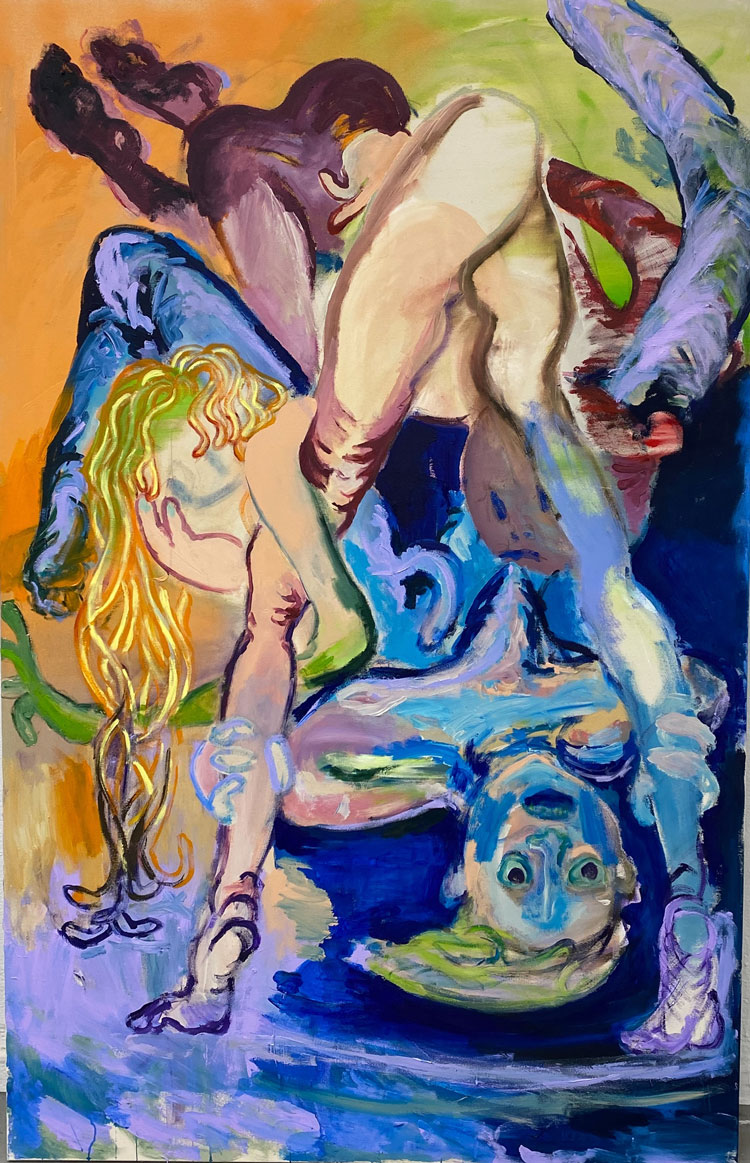 ChiaoHan Chueh. An Intimate Play, 2023. Oil and acrylic on canvas, 195 x 125 cm.

One of the highlights of the show is An Intimate Play (2023), the title painting, consisting of a cooler scheme of colours, although the palette is similar, the blues shading to violets, the oranges set to low but still an arresting counterpoint, the ground interlocked into a patchwork of sorts spread behind the action. The main structural component of the composition, placed just off-centre, is a triangle formed by two extremely long, rather emaciated legs, its apex the female protagonist's pale forbidding rump, characteristically facing the viewer. At the bottom edge is the head of another upturned man, his legs flailing about as he grips the ankle of the woman, although how many figures are present is not clear. Emphatically geometric, the clarity of the construct is reassuring but also disingenuous, trumped by the work's many ambiguities and all the more engaging because of them.

ChiaoHan Chueh. A Long Time Since We Had a Good Rain, 2023. Oil and acrylic on canvas, 90 x 75 cm.

Water is a major motif, a nod to environmental concerns as well as to migration and diaspora, to place and displacement, to borders and escapes, another recurrent theme. One such painting is A Long Time Since We Had a Good Rain (2023), the single figure with enormous hands and a lolling, grotesque tongue poised on her knees avidly lapping up water from a puddle (although is that water safe to drink?). The act is repeated by a green serpent that seems more pet than devil slipping out from beneath her legs, eyes blissfully closed as it sucks up water from its own little pool in a compromised Eden – one without Adam. There is another (small) painting of a woman diving into water, a figure stretched across the top, as if on a cloud, holding on to her arm as if to prevent her escape, swimming equated with escape in the artist's lexicon.
Trained in Taiwan and Europe, Chueh deftly, seamlessly joins calligraphic and ink painting techniques to the painterly gestures of western brushwork. In her treatment, the blend seems perfectly natural, even inevitable. While there are many reasons to admire her work, it is the freshness and candour of her paintings in both subject and form that constitute their greatest appeal as what looks at first like naivete blooms into sophistication.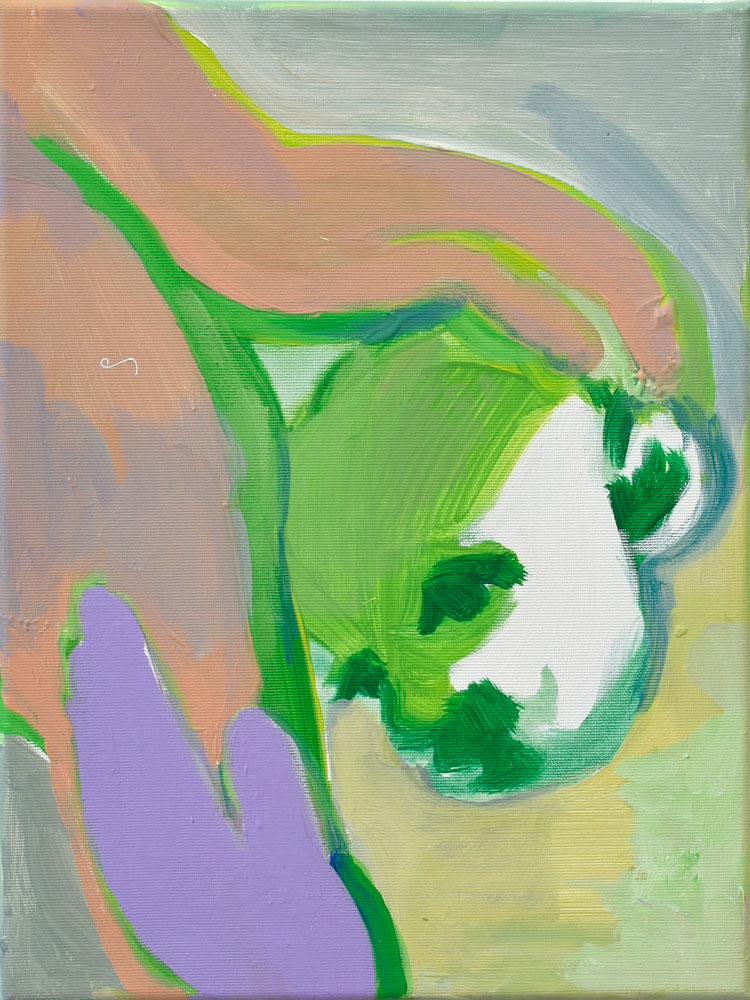 ChiaoHan Chueh. Legs, 2023. Acrylic on canvas, 40 x 30 cm.