Australia's Impressionists
This exhibition highlights the paintings of four artists working at a crucial turning point in Australian history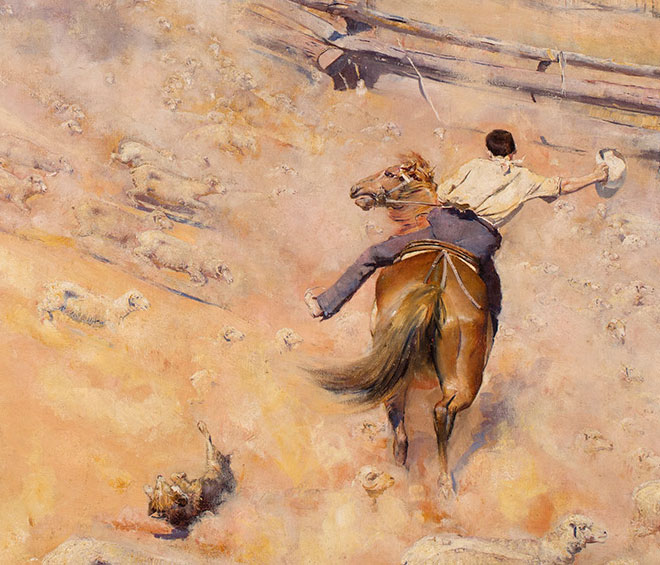 The National Gallery, London
7 December 2016 – 26 March 2017
by EMILY SPICER
On a dismal December morning in London – the clouds hanging low over the Shard, the pigeons soaked by fog – Australia's blue skies really do feel 10,000 miles away. Perhaps to lead us gently into the sunshine, this exhibition begins with small studies of London by Tom Roberts (1856-1931) – Trafalgar Square and the Thames looking very much like they do outside, little studies in grey. Roberts made the long journey from Melbourne to study at the Royal Academy Schools in London before travelling around Europe, learning the skills needed for painting en plein air. On his return to Australia in 1885, inspired by the artworks and artists he had seen on his travels, and by Whistler in particular, Roberts painted a dusty, bustling Bourke Street in Melbourne. Allegro con Brio, Bourke Street West (c1885-6) is a beautiful assembly of warm pinks and blues, criss-crossed by trails of people and carriages dissolving into the sandy-coloured dirt.
If Roberts was the father of Australian impressionists, then John Russell (1858-1930) was the prodigal son. He left Australia for more than 40 years, choosing to develop his career with the avant garde of Europe and counting some of its biggest names among his circle of friends. He happened upon Claude Monet on the cliff tops near Port-Goulphar, befriended Vincent van Gogh and Auguste Rodin and the studio he built on Belle-Île became a regular port of call for visiting artists. Russell painted a deliciously moody portrait of Van Gogh, his pink-white skin glowing like a pale moon against a dark backdrop. There are no portraits in this exhibition; instead curators have focused on nationhood and what it means to be an Australian painter, a question, it seems, firmly rooted in the landscape.
It is likely that, in addition to his absence, Russell only came to recognition in his native country decades after his death because, at the turn of the last century, Australians were hungry for an Australian art, tackling uniquely Australian themes. The year 1888 marked the centenary of the settlement of Sydney and a year later Roberts, Arthur Streeton (1867-1943) and Charles Conder (1868-1909) debuted as a group with the 9 by 5 Impression Exhibition. The fact that Conder was born and died in England and spent only seven years in Australia seems to have had no impact on his status as an "Australian artist".
However, Russell's brightly coloured, post-impressionist canvases of his later career, all painted in Europe, probably seemed irrelevant to the visual story of a burgeoning nation that was calling for nationalist narratives. This appetite was better met by Roberts, whose A Break Away! (1891) verges on a history painting in its scale and drama. The orange earth is whipped up into clouds by a flock of fleeing sheep. Two ranch hands, one in the foreground waving his hat, the other almost obscured under eucalyptus trees, are directing their charges under a cerulean sky. This can only be Australia.
Without doubt the most striking painting in this exhibition is Streeton's Fire's On (1891). Streeton painted it en plain air, looking down on the excavations of a railway tunnel in the Blue Mountains, just west of Sydney. The call "fire's on!" was a cue for the navvies – and Streeton – to duck for cover as the rigged explosives were lit. It was perilous work and, while painting there, the artist witnessed tragedy. At first glance, you could easily miss the tiny figures carrying the body of navvy on a stretcher out of the foreboding mouth of the tunnel, or the distant crowd running to the scene behind by a trail of blue smoke.
The hardships of life in the Outback were an obvious draw for a new, Australian school of artists, but coastal pleasures were – and are – as much a part of the national life. A particularly idyllic canvas by Conder captures the well-to-do middle classes enjoying the beach, all be it trussed up in top hats and corsets. And in its bright white tones A Holiday at Mentone (1888) captures something that all the Australian paintings mentioned above share; the "glare aesthetic". The incredibly bright sunlight that beats down on the white sand beaches, sandstone rocks and weatherboard houses produces gleaming surfaces so unlike the gentle diffused light captured by the European impressionists, giving these works a character of their own.
This small, but pleasing, exhibition finishes with Russell's canvases, which have been segregated from the others because, it seems, nobody is quite ready to accept him into the fold of Australian artists, or impressionists. His career, after all, was almost entirely restricted to Europe, and his palette approached the fauvist end of the spectrum as he moved away from the subtleties of tone employed by his compatriots. Some of these later experiments are more successful than others, but Rough Sea, Belle-Île (1900) seems oddly modern in its pastel-coloured abstraction of a wave crashing. Whether any of these artists can truly be seen as impressionists is up for debate, but they certainly worked with an impressionist's sensibility, while making the style their own, making it uniquely Australian. And for the most part, the results were glorious.